If you follow Ally's Kitchen, you know a few things about me. I love to cook. I love experimenting with new spices and spice combinations and infusing global flavors into regular every day routine foods. I'm totally into cooking easy. I don't want to be a slave in the kitchen, so my recipes are simple. Healthy ingredients is tops on my list when it comes to creating recipes. I love sweets, but not real sweet. I call myself a rogue baker, which basically means, my desserts and sweets might not win a competition for prettiness, but they sure are delicious. I call them rustic, earthy and organically natural! So, if you you like this kind of cooking, then you're at the right place. And, this recipe for super easy oven baked salmon hits the target for easy, healthy and simple!
The sauce for this salmon seals in the juices and keeps it even more tender and moist. It's also a nice complement to the veggies that steam right under the salmon since it's placed on top. Who doesn't like a one pan, skillet, dish or whatever vessel you're cooking in meal? Makes for uber quick clean up, and after a busy hectic day, you don't want to have a sink full of dishes or be filling the dishwasher with everything but the kitchen sink from your cooking!
Here's another pan seared salmon recipe that's equally as yummy and easy!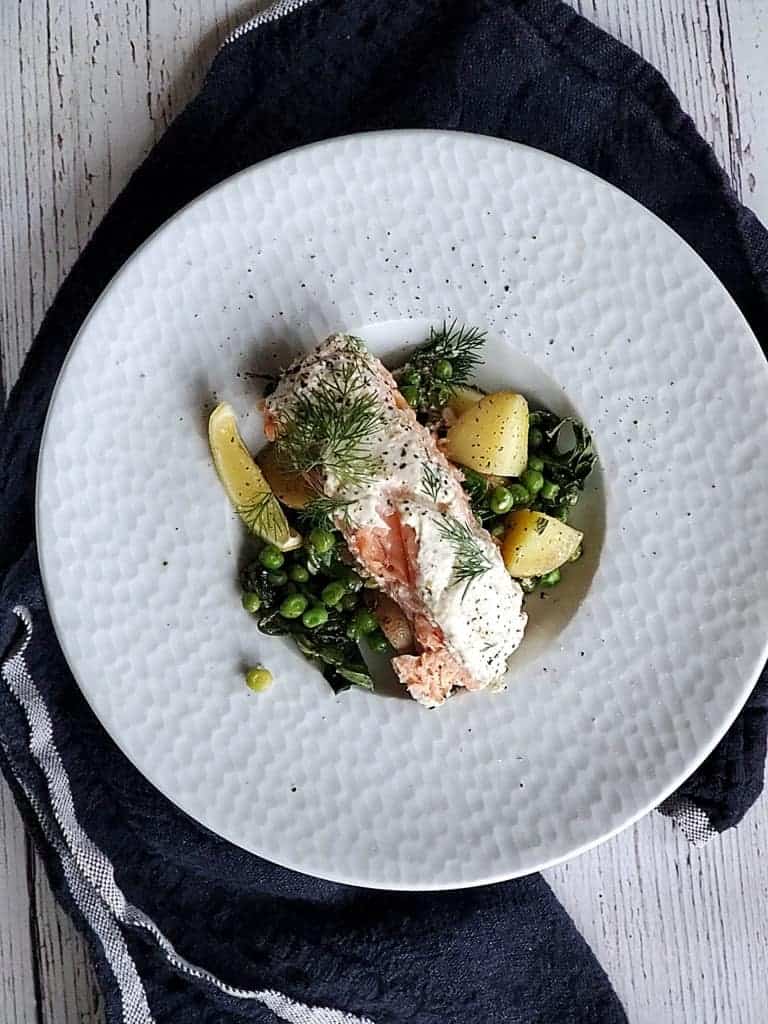 super easy oven baked salmon
Ingredients
Preheat oven to 400
¼ cup mayonnaise
½ cup Greek yogurt, plain
1 tsp. Italian seasoning
1 ½ tsp. sea salt, divided
½ tsp. pepper
3 Tbl. extra virgin olive oil
4 cups Yukon potatoes, medium cube, cover and precook in microwave on high for 4 minutes
2 cups fresh spinach, packed
10 oz. peas, previously frozen
1 to 1.25 lb. salmon filet, skin on one side
1 tsp. fresh dill + more for garnish
Instructions
In a small bowl combine the mayonnaise, yogurt, Italian seasoning, one-half teaspoon salt and pepper. Blend and set aside.
Drizzle the olive oil in a baking dish. Add the potatoes, spread out and sprinkle on the remaining salt. Add the spinach then peas on top the potatoes.
Put the salmon on top. Score with a sharp knife making a crisscross pattern. Coat the salmon with the mayo/yogurt sauce.
Cover the baking dish tightly with foil. Bake in a preheated 400 oven for 30 minutes.
Remove and let the dish rest for about 5 minutes. Remove the foil and sprinkle on the fresh dill.
Notes
This cooking time yields a medium rare to medium finished salmon, moist and translucent in the center.
If you prefer your salmon more done, cook 5-10 minutes longer.
https://allyskitchen.com/super-easy-oven-baked-salmon/
©ally's kitchen intellectual property