Super Easy Oven Baked Salmon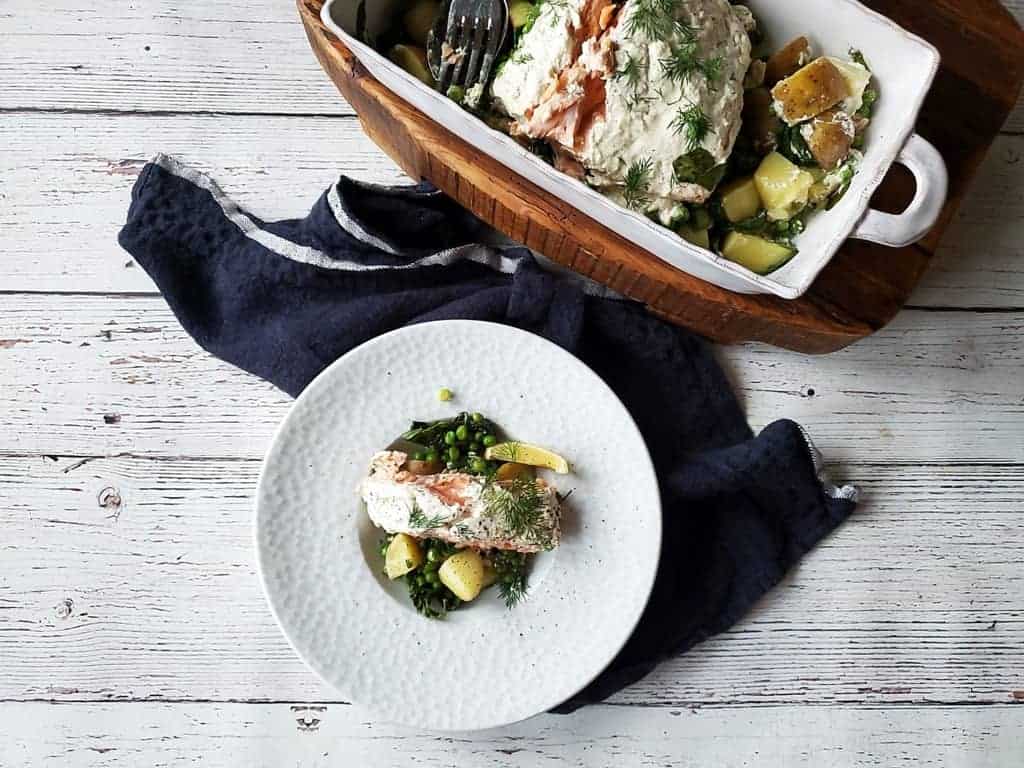 When I say super easy oven-baked salmon, I mean SUPER EASY! All in one casserole dish, a hot oven, a little bit of time, and minimal cleanup! What a deal!
Super Easy Oven Baked Salmon
If you follow Ally's Kitchen, you know a few things about me. I love to cook. I love experimenting with new spices and spice combinations and infusing global flavors into regular everyday routine foods. I'm totally into cooking. I don't want to be a slave in the kitchen, so my recipes are simple. Healthy ingredients are tops on my list when it comes to creating recipes. And this recipe for super easy oven baked salmon hits the target for easy, healthy and simple!
Salmon Patties
These aren't really "patties" but the tender moist meat inside after baking will be reminiscent of salmon patties.
Salmon filets like salmon patties are very simple to prepare. And, with this recipe, you don't have nearly the 'mess' of frying those patties.
This is done quite quickly, but it turns out very tasty. Such a delicious lunch or dinner in 20-30 minutes, depending on how quickly you work in your kitchen. I wish you bon appétit!
Asparagus And Salmon
This dish is very simple, and very healthy at the same time. You can also cook it outdoors. Minimum hassle and maximum taste! If you want to substitute asparagus for the veggies, then by all means, swap!
Asparagus with salmon is prepared in a gentle way, which means that most of the vitamins in the products are retained. Despite the fact that the dish is dietary, it is not inferior in taste and aesthetics to any high-calorie delicacy.
I have so many delicious recipes. How about trying the asian inspired salmon & mandarin oranges! I'm telling you, crazy good!
Baked Salmon in Foil
This perfectly cooked baked salmon in foil will give your family a delicious, healthy meal! And, rather than doing the salmon in a baking dish, you could very well bake the individual servings in foil.
Baked salmon is a noble dish that is loved for its fresh, bright taste and healthy properties. If you cook in foil, then the fish will turn out to be light and dietary. It can be pre-marinated or immediately baked.
Sauce for Salmon
The sauce for this salmon seals in the juices and keeps it even more tender and moist. It's also a nice complement to the veggies that steam right under the salmon since it's placed on top.
One Pan Meals Healthy
Who doesn't like one pan meals that are healthy! And, when I say 'pan', you could use a skillet, dish or whatever vessel you're cooking in a meal? Makes for uber quick clean up, and after a busy hectic day, you don't want to have a sink full of dishes or be filling the dishwasher with everything but the kitchen sink from your cooking!
Here're other recipes that feature salmon! And, you'll be glad you tried them!
One dish salmon and vegetables
South african spiced salmon eggs
Thai Mango Baked Salmon with Roastede Vegetables
Oh, yeah, good stuff! xoxo ~ally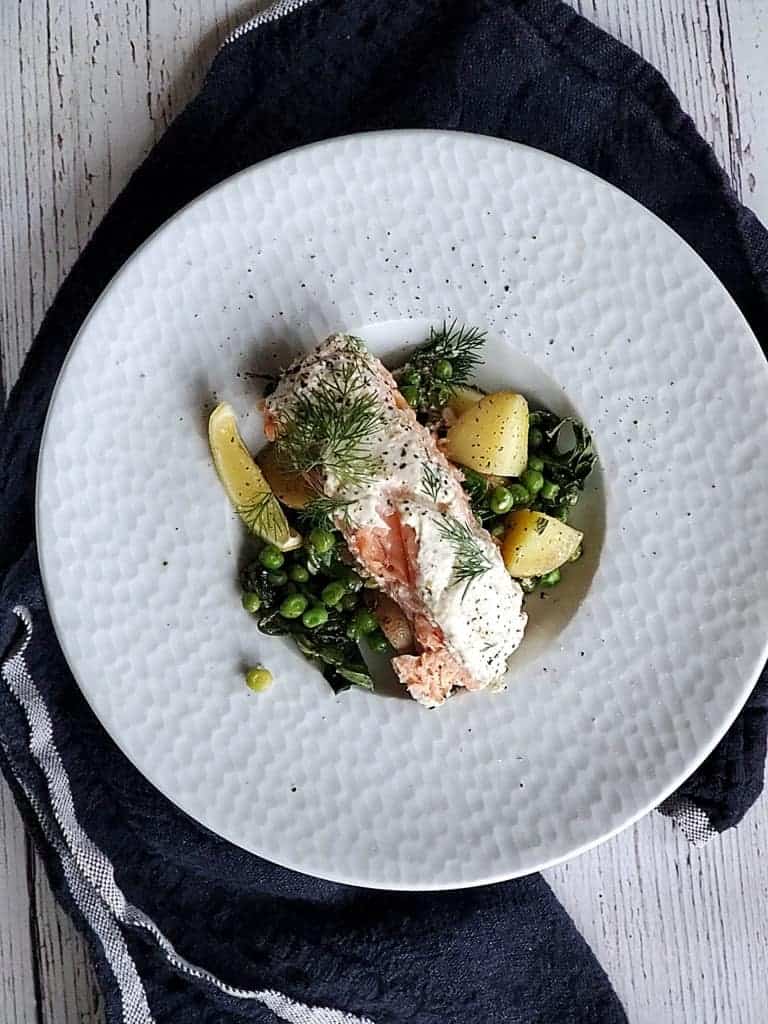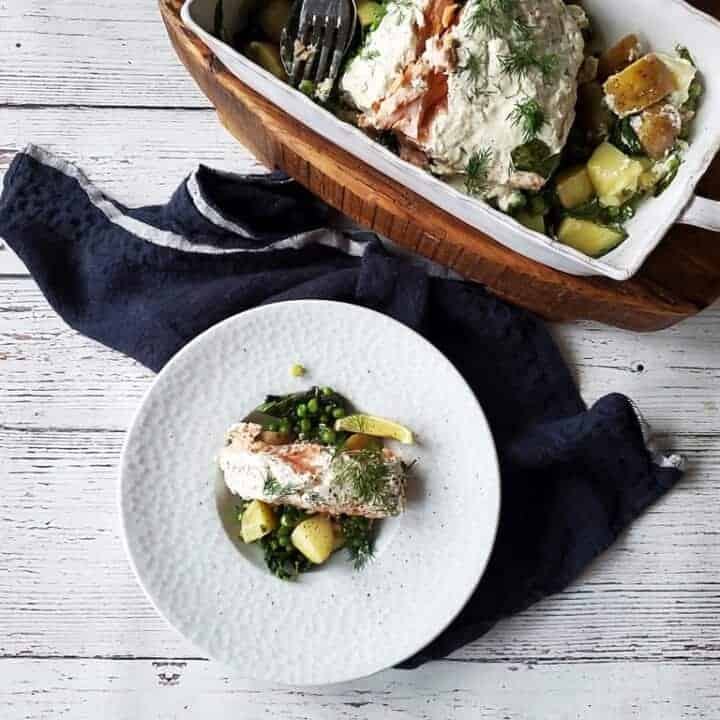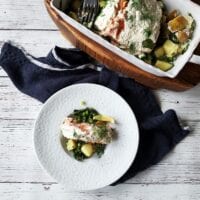 Super Easy Oven Baked Salmon
When I say super easy oven-baked salmon, I mean SUPER EASY! All in one casserole dish, a hot oven, a little bit of time, and minimal cleanup! What a deal!
Ingredients
Preheat oven to 400
¼ cup mayonnaise
½ cup Greek yogurt, plain
1 tsp. Italian seasoning
1 ½ tsp. sea salt, divided
½ tsp. pepper
3 Tbl. extra virgin olive oil
4 cups Yukon potatoes, medium cube, cover and precook in microwave on high for 4 minutes
2 cups fresh spinach, packed
10 oz. peas, previously frozen
1 to 1.25 lb. salmon filet, skin on one side
1 tsp. fresh dill + more for garnish
Instructions
In a small bowl combine the mayonnaise, yogurt, Italian seasoning, one-half teaspoon salt and pepper. Blend and set aside.

Drizzle the olive oil in a baking dish. Add the potatoes, spread out and sprinkle on the remaining salt. Add the spinach then peas on top the potatoes.

Put the salmon on top. Score with a sharp knife making a crisscross pattern. Coat the salmon with the mayo/yogurt sauce.

Cover the baking dish tightly with foil. Bake in a preheated 400 oven for 30 minutes.

Remove and let the dish rest for about 5 minutes. Remove the foil and sprinkle on the fresh dill.
Notes
This cooking time yields a medium rare to medium finished salmon, moist and translucent in the center.

If you prefer your salmon more done, cook 5-10 minutes longer.