aussie simple easy lamb loin chops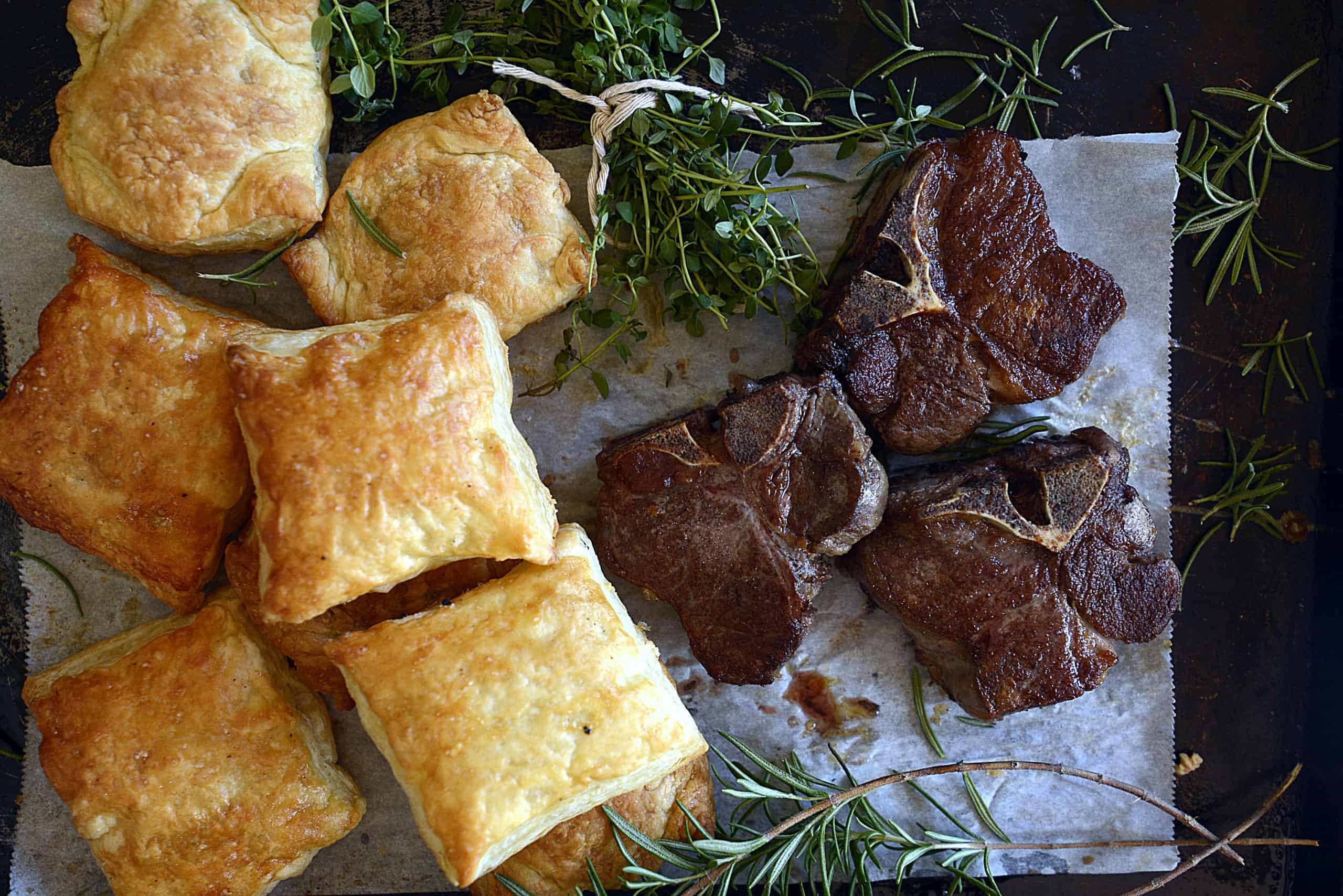 This is a sponsored post in paid partnership with True Aussie Beef and Lamb. This recipe and what you're reading is entirely my own creative intellectual property. Enjoy!
These simple easy lamb loin chops are great anytime of the year, BUT they're most special sometimes on holidays. And, when better to do this recipe than New Years Eve! I've heard the saying that going out on New Years Eve is only for amateurs, which basically means, well, let's avoid all the possibilities of things going wrong because of the revelry. Let's stay tucked into our cozy nests and enjoy ringing in the new year with loved ones, family, friends and more.
Making this recipe will make the evening even more spectacular. In fact, you might just start blowing those horns and lighting sparklers as you bite into these lamb loin chops. What makes them so delicious? Well, not much other than some salt and pepper and a simple pan searing. Then a swanky sauce that I promise even amateurs can make with no trouble! Because this lamb is pasture raised and free range, all the deliciousness is already in the meat, so you don't need to gussy it up with a lot of extras. And, when you eat it, you know that you're eating protein that truly GOOD for your health!
Convince me to Buy Aussie Lamb
Why do I love True Aussie Beef and Lamb? Probably the most important reason is that the grassfed beef and pasture-raised lamb are good for you. You're getting more flavor and taste. Plus, because these animals graze out in the free open range they're eating grass and natural ingredients full of antioxidants, minerals and vitamins that are passed on to you in the meats. Honestly, making this choice is good for you and good for your family. Aussie lamb not only is a special treat for my family, but it's the kind of meal that makes our gatherings truly memorable and lasting.
If you're not sure where to find True Aussie Grassfed Beef & Lamb, then just click here, put in your zip code, and you'll find available retailers! xoxo ~ally
For more great holiday recipes and to see where you can buy Aussie Grassfed Beef and Lamb in your area visit their website!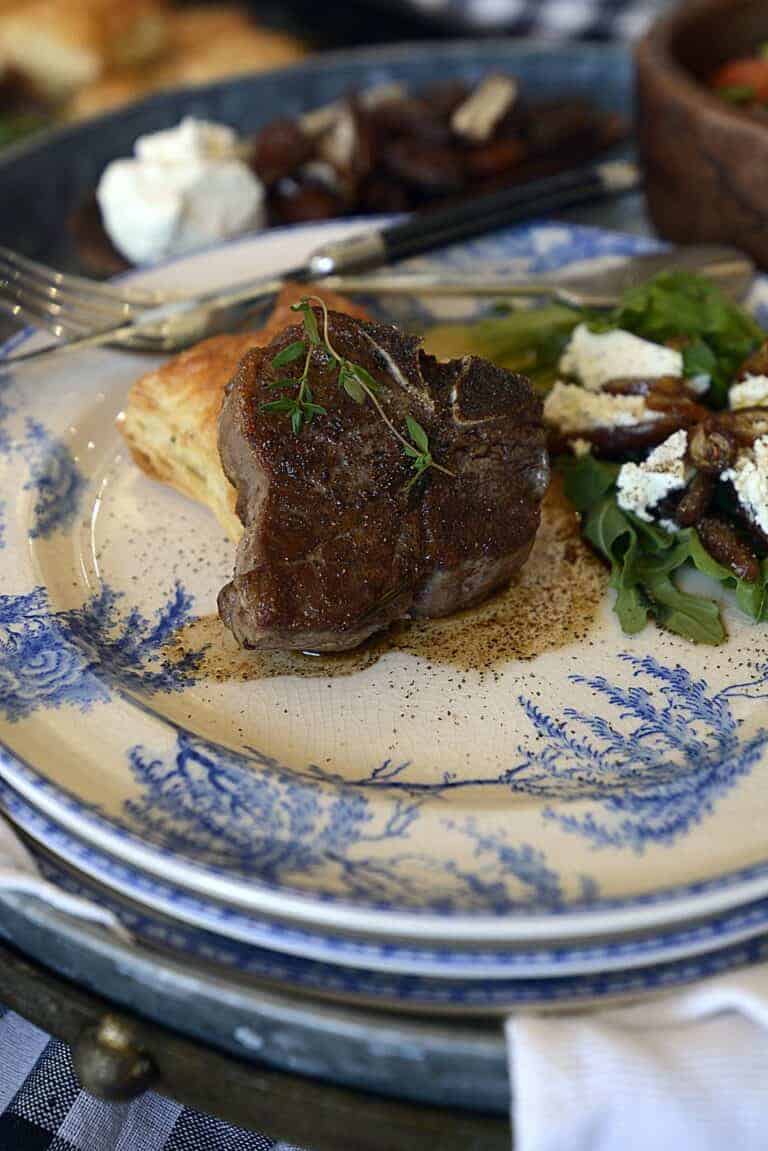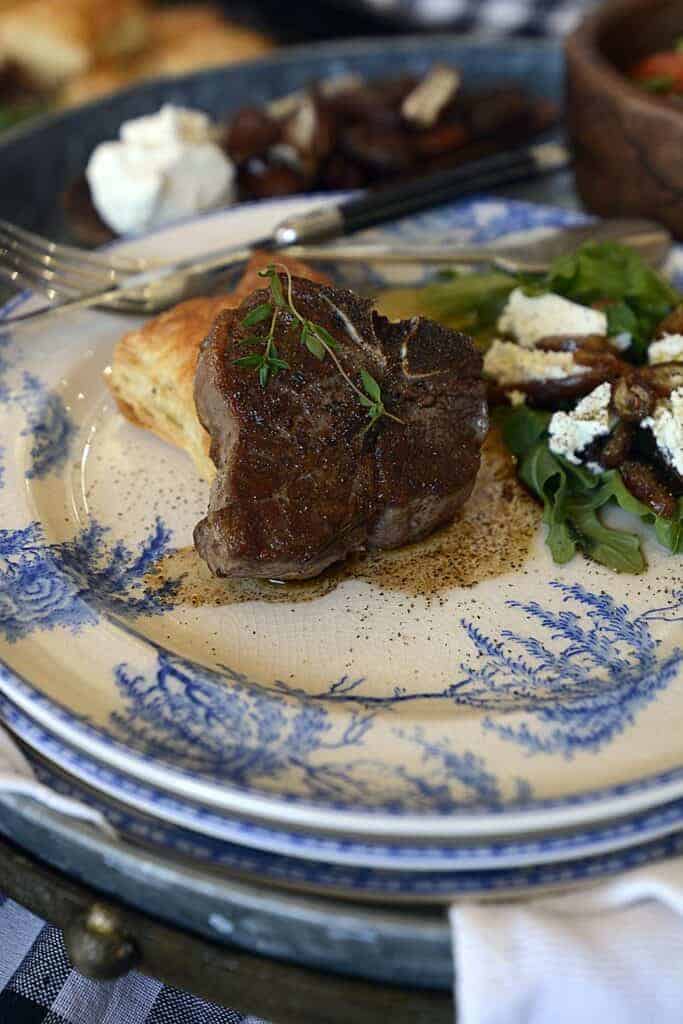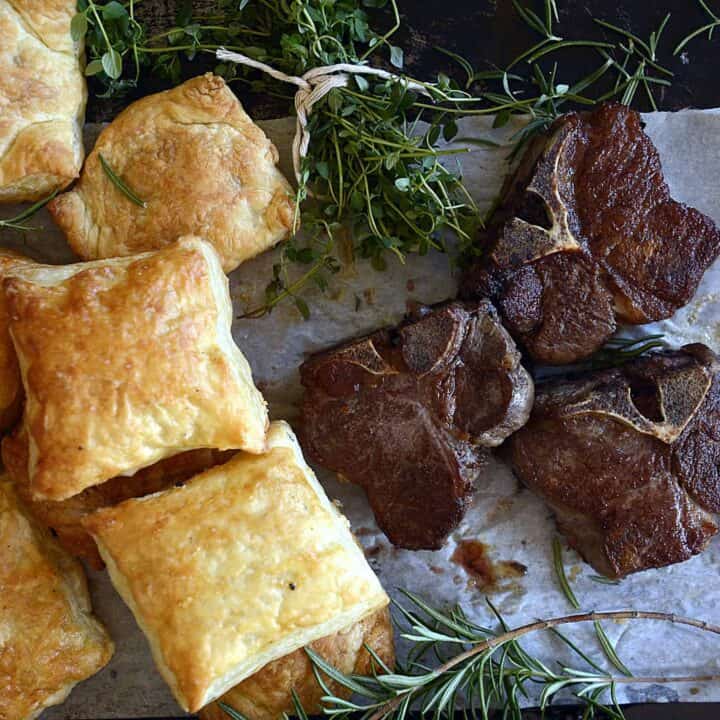 aussie simple easy lamb loin chops
Ingredients
Preheat oven to 400
3 (3 x 9") pieces puff pastry, room temperature and gently patted out to about 12 x 12", then cut into 9 equal square
1 egg white
Sea salt flakes
12-16 whole figs, pitted, sliced lengthwise in halves
½ cup goat cheese, about room temperature for easy use
4 True Aussie Beef & Lamb lamb loin chops
1 tsp. sea salt
4 Tbl. extra virgin olive oil, divided
3 Tbl. butter, unsalted
Fresh thyme sprigs, about 6-8 tied in a bundle with cooking twine
4 fresh rosemary sprigs, tied in a bundle with cooking twine
¼ cup cognac
3-4 cups Fresh arugula, packed
Fresh ground pepper
Instructions
Put the puff pastry squares on a parchment paper lined cookie sheet. Give adequate space between each. Brush with the egg white and sprinkle with a few flakes of sea salt. Bake in a preheated 400 oven about 10 minutes or until puffed and a golden brown. Remove and set aside.
Take about half the figs and put about one-half teaspoon of goat cheese in each. Serve the remaining figs and goat cheese on a plate when serving. Set aside.
Put equal amounts of salt on both sides of the lamb loin chops.
Heat a large (10-12") cast iron skillet on medium high heat. Add two tablespoons of olive oil. Put the chops in and pan sear on each side about 2 ½ minutes. Remove to a plate. Cover with foil. Put in the still warm oven.
In the same skillet, put butter. Turn heat to medium. Melt the butter. Add the thyme and rosemary bundles and 'fry' (basically flavoring the oil and butter) about 2-3 minutes. Use tongs and remove the wilted herb bundles. Add the cognac and deglaze the skillet cooking on medium about 60 seconds. Drizzle this sauce into a small container. Use a rubber spatula to wipe the skillet clean!
For plating, put to the side of the plate, some arugula, a few goat cheese stuffed figs and a drizzle of olive oil. Add a piece of baked puff pastry and a lamb loin chop leaning on the pastry. Drizzle with some of the butter/herb sauce, a dusting of pepper, and the additional figs/goat cheese.