buttermilk crunchy spicy herb chicken breasts
The technique for cooking this chicken and getting the crunch involves two steps~~first you have to flash fry for a few minutes to mold the outter crust, then you let the chicken slow cook in the oven to get the juicy tender inside completely done. Another thing to consider when you make this recipe is the size of your chicken breasts~~the ones I used were really large.
I think when I redo this recipe, which I love, I'll go to a medium size~~mine were almost too big~~like mega Pterodactylus birds! You could also do this recipe with boneless chicken breasts, but the bone-in does keep the insides more juicy!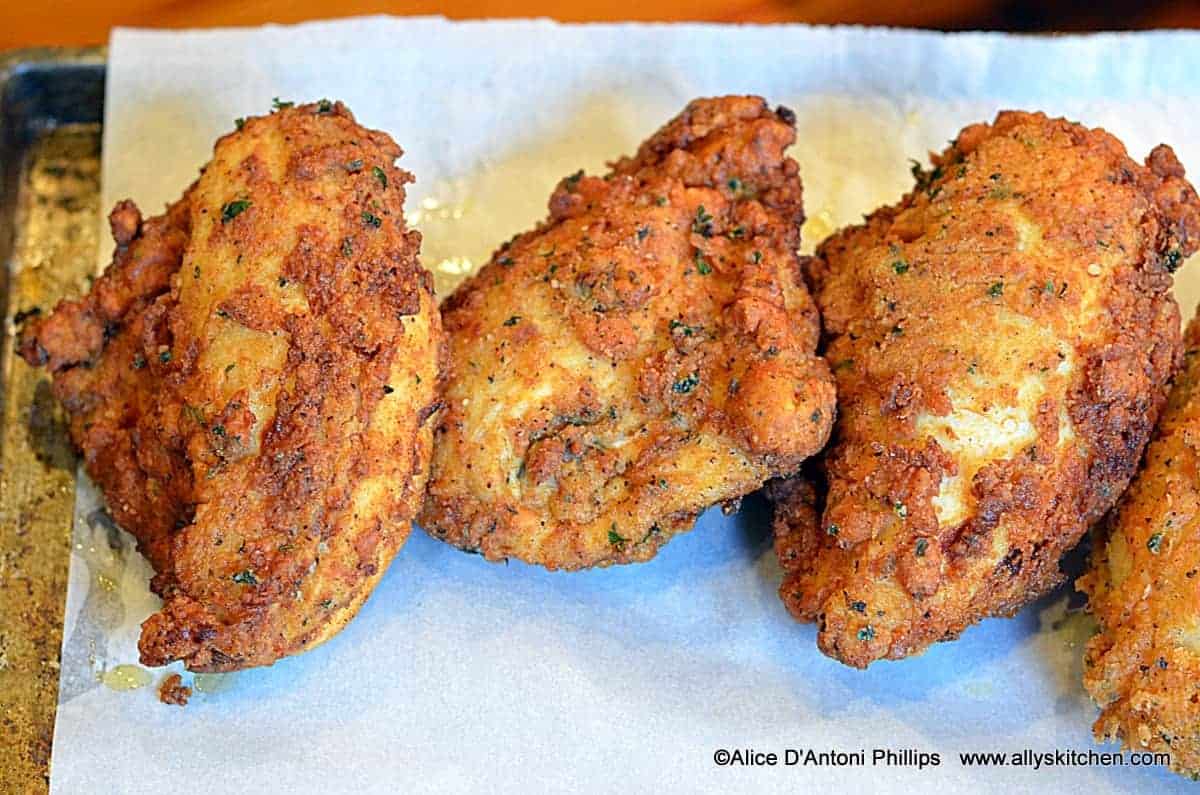 Preheat oven to 325
What you need & What you do:
Chicken~~
4 pieces bone-in medium to large size chicken breasts
3 cups canola or coconut oil
Buttermilk Soaking~~
1 cup buttermilk
1/4 cup sour cream
1 tsp sea salt
1 tsp coarse ground pepper
2 beaten eggs
Mix together well all the ingredients EXCEPT the eggs and put in a large baking dish. Put the chicken breasts in and soak for a couple of hours in the refrigerator.
When ready to coat the breasts in the flour dredge. Remove the breasts to another plate. Add the eggs to the mixture and whisk together. Return the breasts to the mixture and get ready to dredge.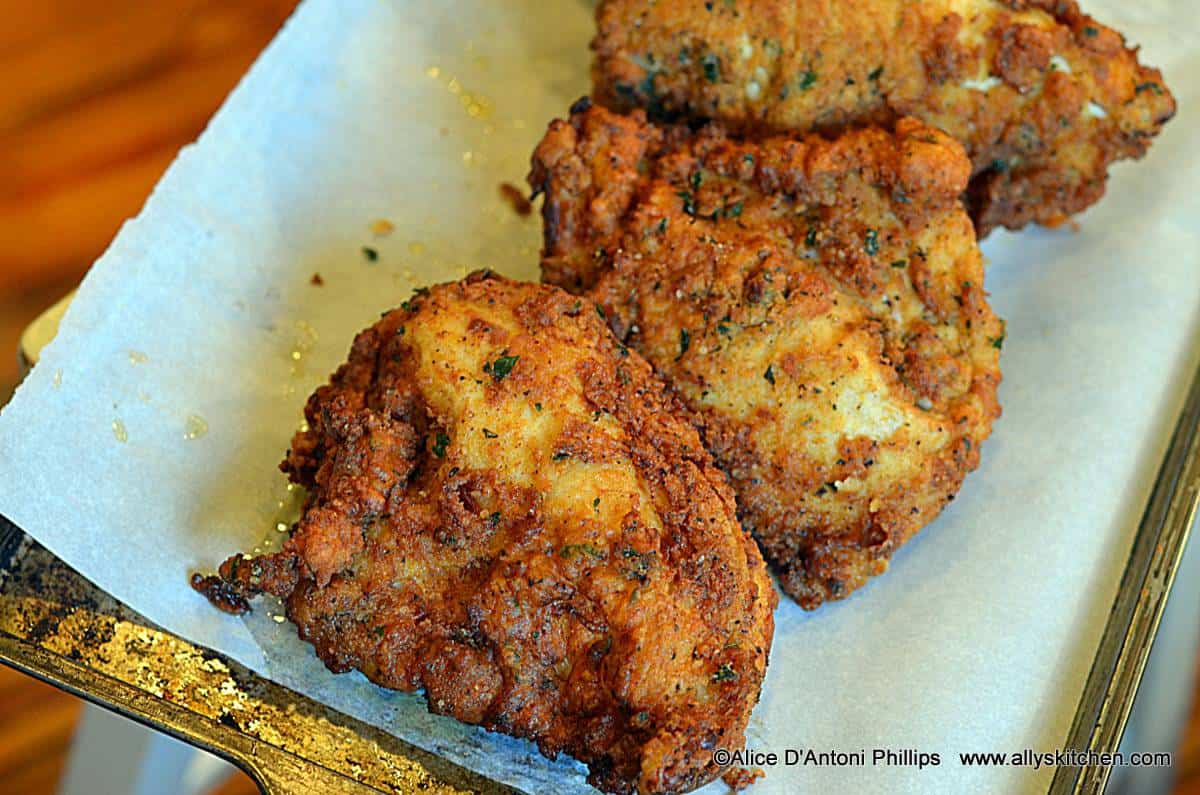 Flour Dredge~~
2 cups flour (all-purpose)
2 tsp sea salt
1 tsp coarse ground pepper
1 tsp red chili flakes
3 sp Moroccan spice mixture or Harissa spice mixture
1 tsp Chinese 5-spice
1 tsp smoked hot paprika
2 tsp garlic granules
1/4 each of finely oregano and Italian flat parsley
3 tbl finely chopped fresh lemon thyme
Mix all the ingredients together in a mixing bowl then put in a pie plate for coating individual pieces of the chicken.
Preparing the Chicken~~
Take a piece of chicken from the buttermilk. Shake off some of the liquid. Place in the flour dredge and coat well. Return to the buttermilk and give a quick coat then return tot he flour dredge. Place the chicken on a parchment-paper lined cookie sheet.
Repeat with all the pieces of chicken.
Heat the oil in a medium sized heavy pot over high heat. Get to about 350 degrees or until you flick a few drops of water and there's a sizzle! Place one piece of chicken bone side down in the hot oil and flash fry for about 2 minutes. Carefully turn to the other wide and flash fry another about 2 minutes or until golden brown. Use a large pierce into the side, take out and put on the cookie sheet. Repeat with all the chicken breasts.
Cover the crispy chicken with a double layer of foil tucking the foil all around but not too tightly. Put in a preheated 325 oven for about 45-50 minutes. (Note: The size of your bone-in breasts will make a difference in the amount of time needed to slow bake.) Remove from oven and let cool. Remove foil. Dig in!
©alice d'antoni phillips www.allyskitchen.com