pan seared salmon & fresh greens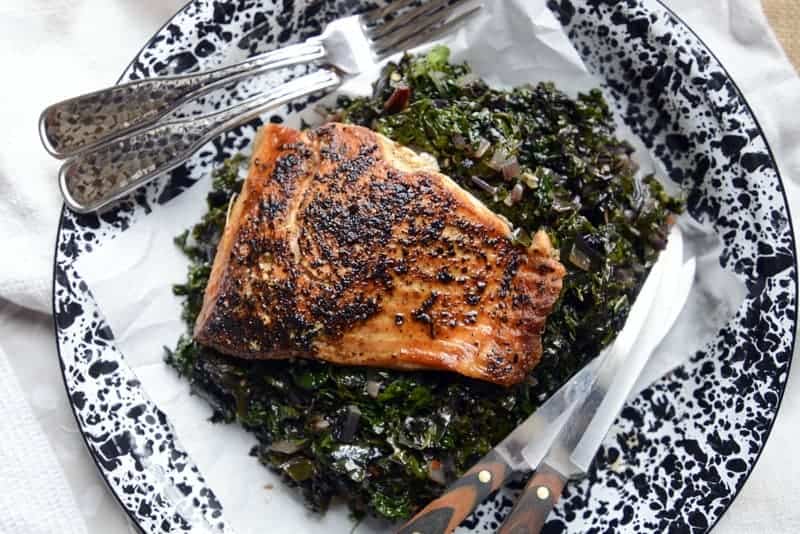 Who doesn't love a meal, and I mean a great meal, that you can prepare in about thirty minutes. That's exactly what you can do with this recipe! You'll be dining on pan seared salmon and fresh greens in no time at all. And, if you're not as adept in the kitchen, then you may spend forty-five or fifty minutes. I can guarantee you that the wait is well worth it. Especially, IF you're a salmon and greens lover like we are!
Now this one plate is enough for two. And, we both just took our forks and dug into the salmon and greens and put on our small salad plates. That's one thing about eating. It's an illusion. And, if you're using a salad plate that 'fills up' fast, you have the illusion of eating more. When in fact you're eating less. Dinner plates of yesteryear as in decades ago were much smaller than they are now. In fact, I've got some vintage dinner plates that look like today's salad plates. The dinner plates are way too big, and we're mentally prepared usually to fill that plate. That means we're usually eating more. Right? Why not try eating on salad plates versus the Barney Rubble dinner plates and see what happens!
Here's the thing about salmon. It's like a steak. Some like it moist and translucent in the center most part, and that's the way this salmon is prepared. But, if you like it more well done, then it's as simple as cooking just a tad bit longer to your desired finish. Remember that you're gonna let that salmon rest for a few minutes before diving into it, so it's going to basically continue to cook in the reserved heat as it rests.
So, this recipe is for two folks. Perfect for a lunch on the weekend. A lazy evening dinner at the coffee table. Maybe a girlfriend's come over and you want to fix something fast, quick and healthy. Yep, this is the ticket for you! This pan seared salmon and fresh greens will make you feel like a million bucks. Keep your energy up and running for hours. Not spiral you into those low blood sugar rushes. And, it's gluten free to boot! What else can you ask for? Well, maybe that Ally come to your kitchen and do it for you!   xoxox ~ally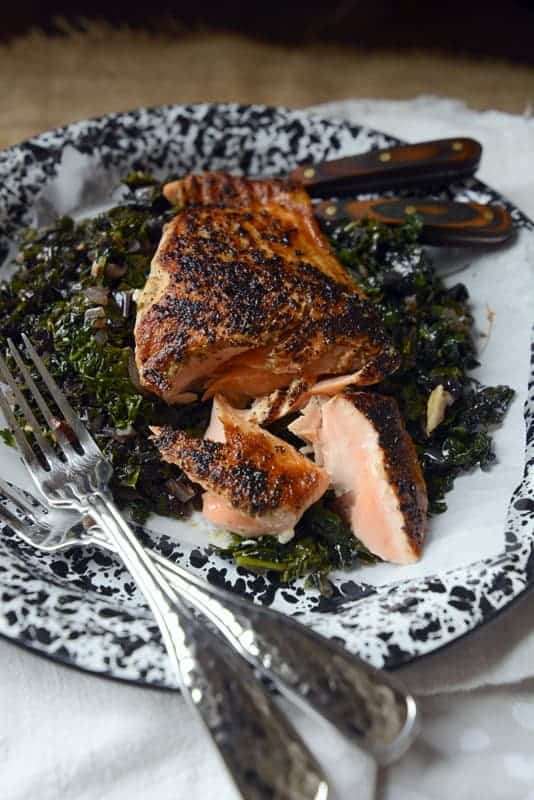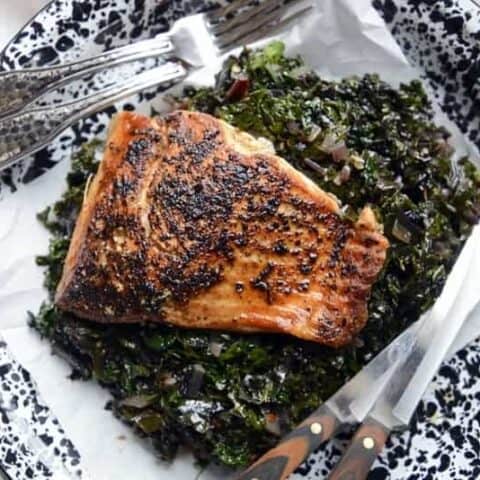 pan seared salmon & fresh greens
Ingredients
2 bunches fresh organic greens, chard and Tuscan kale, cleaned and chopped
1/3 cup bacon drippings
½ cup shallots, finely diced
1 ½ tsp. sea salt, divided
1 tsp. pepper
½ tsp. red chili flakes
¾ lb. salmon filet, thick cut, skin on, about 1 ½" to 2" thick in centermost part
Cooking spray
Instructions
In a large pot over medium heat, put the bacon drippings. Add the shallots and sauté about 3-4 minutes. Add the chopped greens and blend well. Add one-fourth cup of water.
Turn heat to medium low. Sprinkle with one teaspoon of salt, pepper, and the red chili flakes. Blend well.
Cover with a lid and let the greens cook about twenty to twenty-five minutes tossing with tongs a few times. Meanwhile, pan sear the salmon. Sprinkle the remaining salt and jalapeno spice mixture on the meat side of the salmon. Coat the top with cooking spray.
Let a medium non-stick skillet get hot on medium high heat. When hot, coat with some cooking spray.
Place meat side down in the skillet. Cover and pan sear two minutes. Reduce heat to medium and cook another two minutes. Flip to the meat side up, cover and cook another three to four minutes.
Salmon will be moist and translucent in the centermost part. Remove from the heat. Leave covered and let the salmon rest for about three to five minutes.
Serve atop the cooked greens.
Notes
If you want your salmon cooked more well done, then cook a few minutes longer.

Chard greens have tender stems that can be sliced thinly and cooked with the leaves. Greens with thick tough stems, like collards, should be deveined.