roasted caramelized farm veggies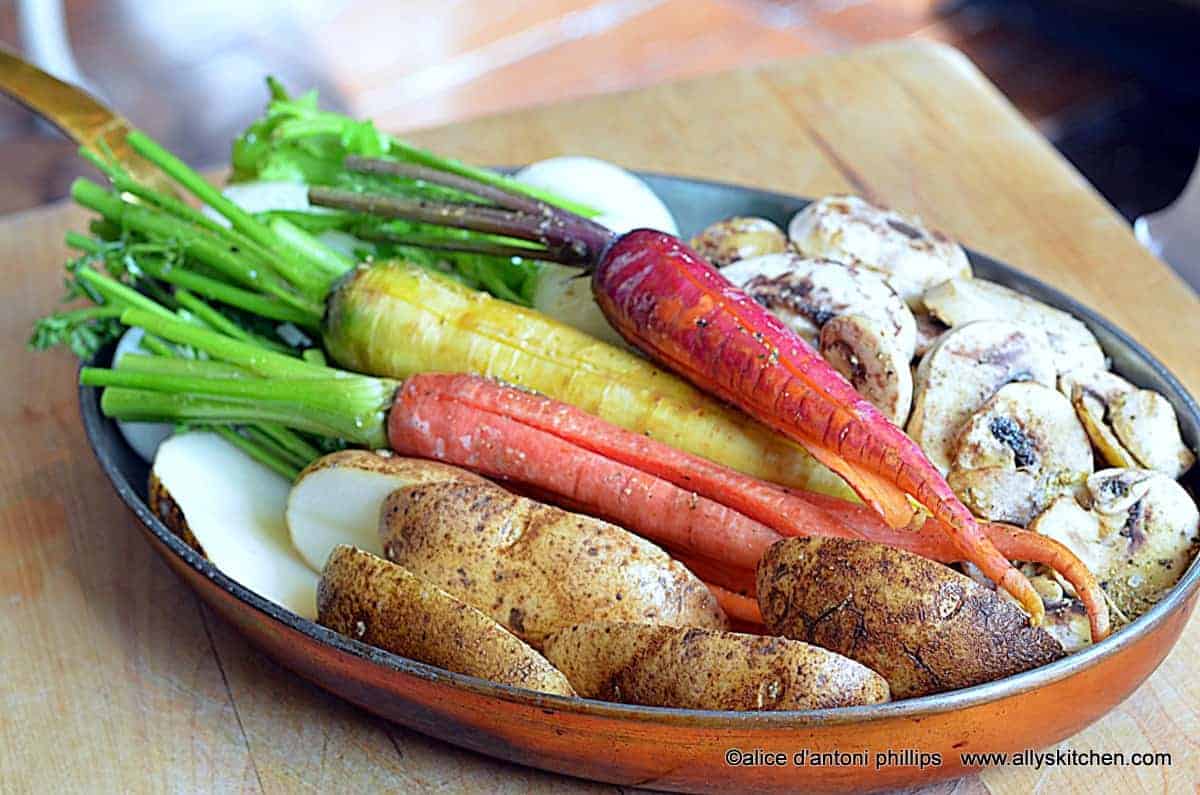 This is the authentic farm to table eats~roasted caramelized farm veggies!  For me, there's nothing more romantic and alluring than to serve food in its most natural form~~that means skin on for potatoes, the trimmed green stems of fresh organic carrots, whole garlic cloves or even the entire garlic itself gently peeled but intact and roasted.  I also like to maintain the integrity of the size of the veggies by not chopping and cutting up into small pieces.
There's a few cuts like with the carrots where I sliced them down the centers (careful, it's kind of tricky…steady hand!)…this helps with cooking time as well as giving the carrots a prissy flair! And, isn't that just part of good eats~~food that is styled and charmingly crafted.
Find a skillet that you love~yep, if you don't have a cast iron one then make that investment~, one that makes you happy when you pull it out of the oven, one that makes the veggies look nestled in and gorgeous~~that's not hard to do either~~nothing is better than black cast iron~~you can pick these up at yard sales, thrift stores and, yes, you can buy one new, but there's nothing like getting an old one that's had decades of seasoning~~oh, if it could talk!  I also picked up this oval shaped copper pan at a thrift store~~I knew when I saw it, it was mine!  And, I knew it would be a fabulously decorative as well as functional cooking and serving piece.  Keep your eyes peeled…you never know when you'll find that treasure!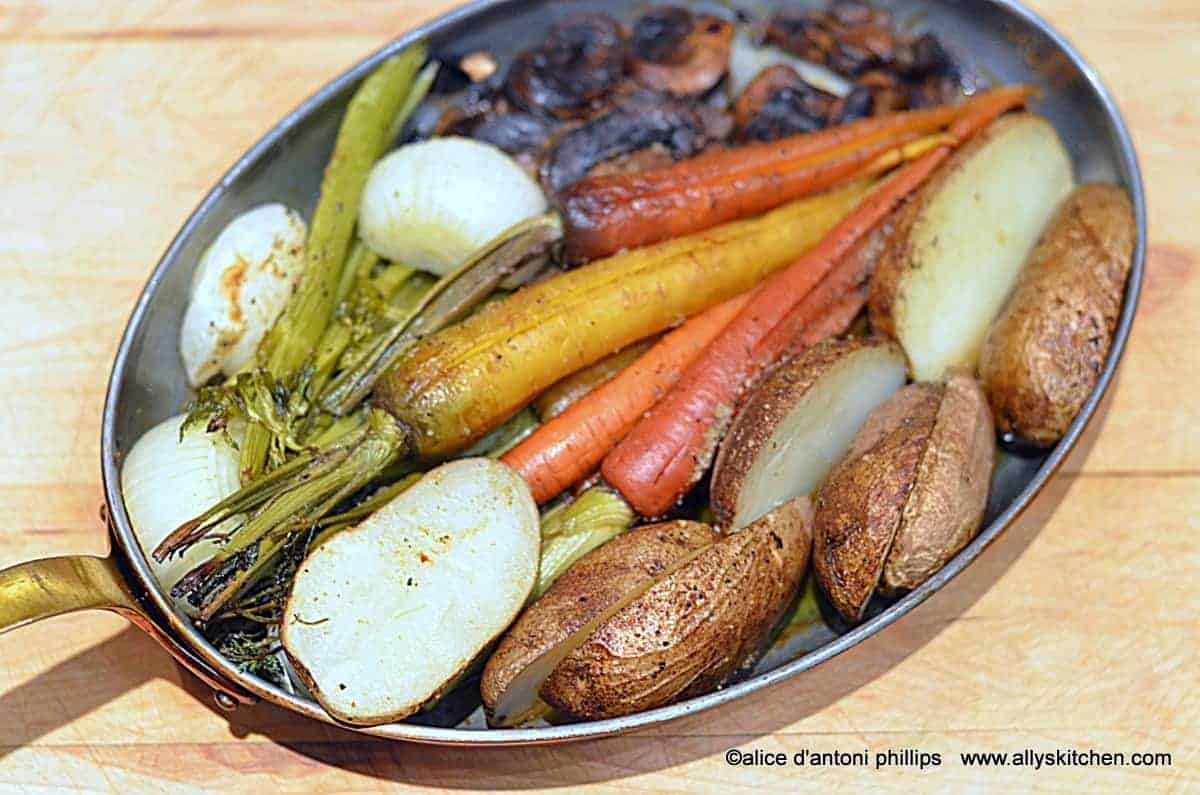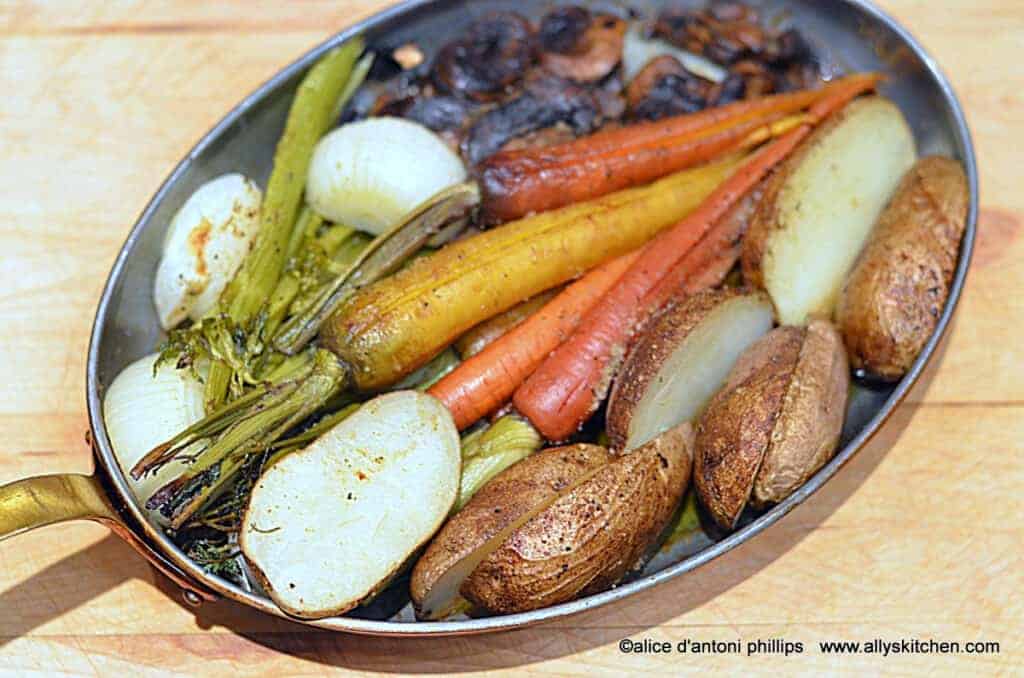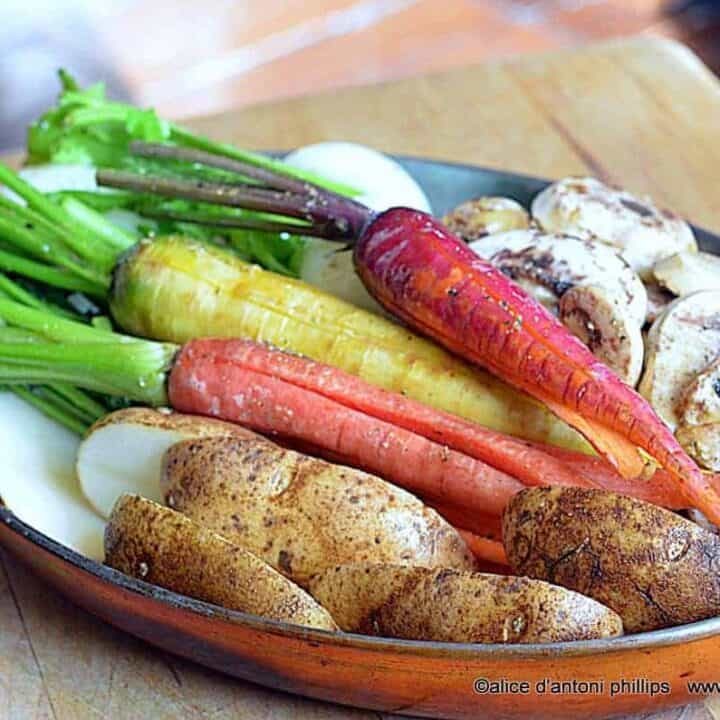 roasted caramelized farm veggies
Ingredients
Preheat oven to 425
Assorted Fresh Vegetables, your choice
1/4 cup extra virgin olive oil
1 tsp. sea salt
1  tsp. red chili flakes
2 Tbl. spice mixture. your choice, Herb de Provence, Italian, Greek, Za'tar, Ras el Hanut, Harissa,
Balsamic Glaze
Instructions
Clean the veggies and cut as you like. Put on a cookie sheet. Drizzle with olive oil and toss. Mix the salt, red chili flakes and spice mixture in a small bowl, then sprinkle on the veggies and toss again coating all well.
Put in the skillet of your choice. I serve directly from this skillet to table. Roast in a preheated 425 oven about 25-30 minutes or until done (use a toothpick to test for doneness).
Remove, cover loosely with foil and let the veggies rest. Drizzle servings with balsamic glaze if desired. Really yummmeeee!!