bagel garlic butter croutons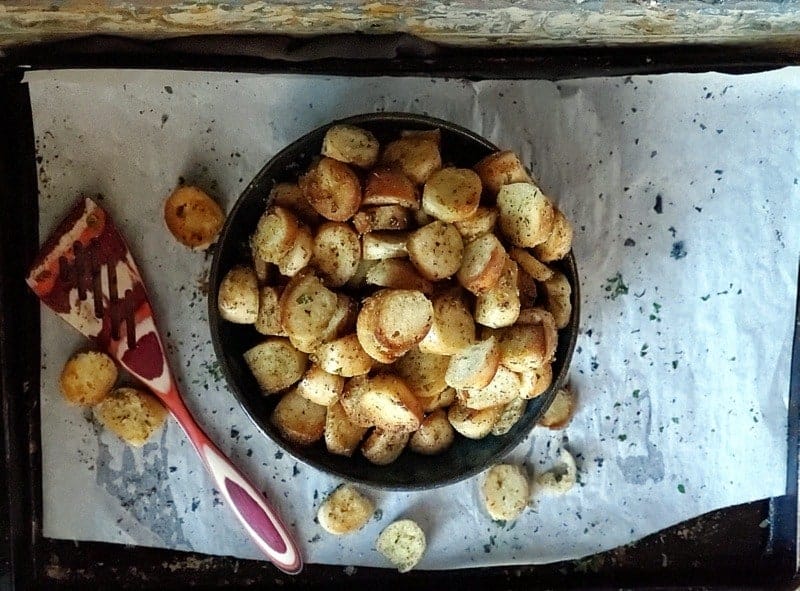 You'll never buy another store boxed crouton in your life. Once you see how easy these bagel garlic butter croutons are to make, wow!
How to Make Homemade Croutons
I like to buy the mini bagels. And, when I get them at Costco, I get a huge bag! Now, there's no way that we can eat them all.
Homemade Croutons Ceasar Salad
Yep, I do freeze some, but I'll also make these bagel garlic butter croutons with the mini bagels.
And, they're perfect for your next Ceasar salad!
Best Homemade Croutons
Buying croutons in the grocery store is expensive. And, with this simple easy recipe, you'll be saving money plus you'll have a much tastier bagel.
Homemade Croutons Recipe
And because it's such an easy simple recipe, you can make a big batch and freeze some for later use.
Put in an airtight zip lock bag. Freeze. Use within about six weeks.
Easy Homemade Croutons
These croutons are great on so many things. Try them on this amazing lamb chili stew! And, if you're not a lamb fan, well, then you can substitute beef! xoxo ~ally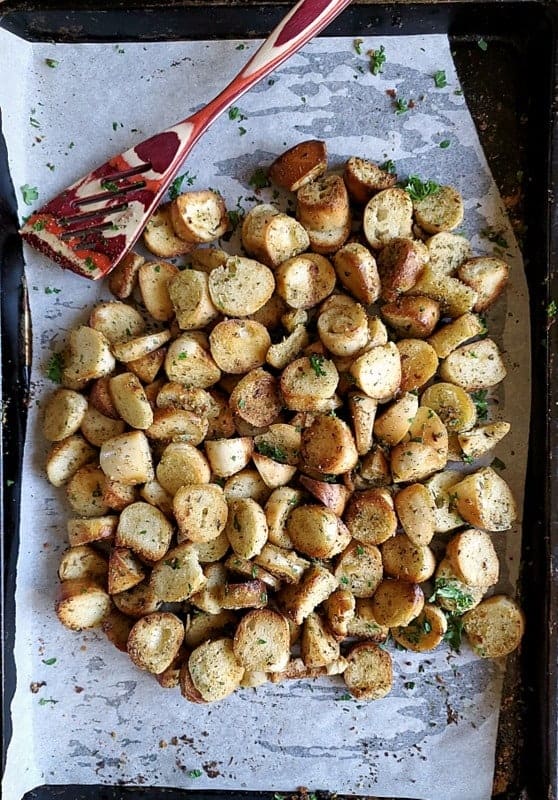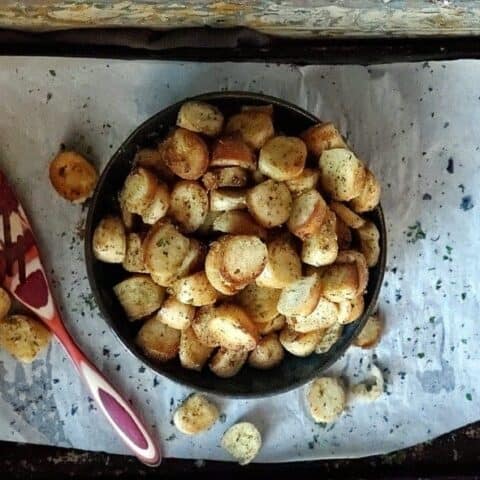 bagel garlic butter croutons
Ingredients
Preheat oven to 400
4 large plain bagels, or 9 mini plain bagels, cut into bite size pieces
1/3 cup extra virgin olive oil
2 tsp. garlic granules
2 tsp. Italian seasoning mixture
1 Tbl. Kirklands No-Salt Seasoning Mixture
½ tsp. sea salt
¼ tsp. red chili flakes
4 Tbl. butter, salted, melted
¼ cup fresh parsley, finely chopped, packed
https://allyskitchen.com/wp-content/uploads/2019/08/20190711_102512.jpg
Instructions
Put the bagel bites on a parchment paper lined cookie sheet.
In a large mixing bowl, blend together the olive oil, garlic granules, Italian seasoning, no salt seasoning mixture, salt and chili
Add the bagel bites and coat all with the seasoning oil mixture
Drizzle on the melted butter. Toss and bl
Pour the seasoned bagel bites on the cookie sheet. Bake in a preheated 400 oven about 7-8 minut
Remove and toss the golden-brown warm bites in the chopped parsley.
Store in an airtight container.