one pan sausage and veggies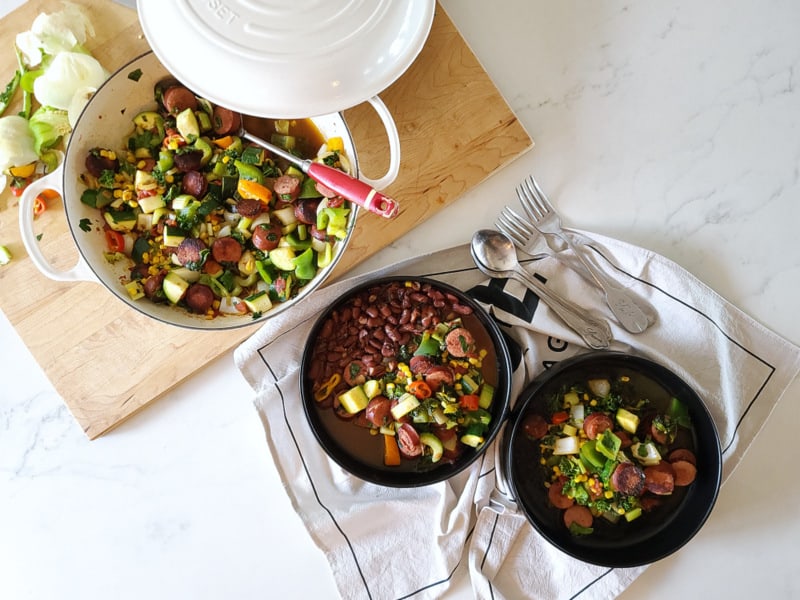 Discover two ingredients that will boost the nutrition and flavor of this one pan sausage and veggies. Ready to eat in under 30 minutes!
Recipes with Smoked Sausage
There's nothing easier to make into a gourmet meal than something with smoked sausage.
How to Cook Smoked Sausage
Cooking smoked sausage is simple. It's usually seasoned deliciously. And, you can cook it so many ways. On the grill. Skewer for kabobs. In the oven. Frying in a skillet. Throwing in soups and stews. Using for tasty appetizers. So many possibilities.
Smoked Sausage Recipe
This smoked sausage recipe can be prepared in under 30 minutes. And, it's super healthy with all the vegetables. I like using leftover veggies in my crisper that might be on the 'verge' of being past the prime. But, when cooking you have the chance to save these precious healthy veggies!
And, if you're looking for a casserole baking dish type sausage meal with a KILLER sauce for the sausages, well, then check out the East Roasted Sausage and Vegetables.
One Pan Sausage and Veggies
And, of course, cooking with minimal clean up is always a bonus. We'll cook and serve from this one pan.
Summer Kielbasa Recipes
Now is there a difference between kielbasa and smoked sausages. Well, not a whole lot of difference. So I use them interchangeably depending upon what might be on sale at the grocery store.
Polish Sausage Stir Fry
This recipe is almost like a Polish sausage stir fry. You've got a variety of gorgeous colorful vegetables cut into bite size pieces and then you have savory bites of the smoked sausage.
Sausage and Veggies
Packaged sausage comes in a variety of types and kinds. I love mixing some of them. For instance, I might throw in a little andouille sausage for some kick. And, then use a milder type of sausage for the balance of the dish. And, you know that you can get this sausage in beef, pork, chicken, which makes it extra attractive for options.
Easy Family Dinner Ideas
Easy family dinner ideas anytime is a plus. Our family loves to have Sunday dinner, and that's usually around 3-4 p.m. in the afternoon. I don't want to spend the entire time cooking, and this recipe is done in a flash. Plus, I served it with some delicious homemade beans. Everything goes into the individual serving bowls. We don't mind mixing food together!
Skillet Cooking
Now I love love my favorite skillets. And, here are two that I use all the time. In fact, my videographer mentioned one day that these were the skillets I most all the time used in our video work! That's because they're awesome! So if you're looking for the skillets that prove the test of time, here you go! Some choices and price points. Skillets like these are perfect for my one pan chicken and broccoli!
Quick Dinner Ideas
Anytime I'm making quick healthy dishes, I love to sneak in extra nutrition and flavor. I've done this with this recipe with two ingredients. Nutritional Yeast and Coco Aminos.
Have a look at some quick recipes:-
coal miner's dinner
italian chicken alfredo pasta
winter lager chuck roast
Easy Weeknight Dinners for Family
For more of my easy weeknight dinners for the family, check out these delicious creations.
flounder creole
great american diner grilled burger patties & onions
cast iron skillet chicken caprese
One Skillet Meals
Sure hope I've convinced you that cooking and creating something delicious, elevated and stunningly delicious can be done in less than 30 minutes. Leave me a message and let me know how you've changed up this recipe. That's what cooking is all about. Using recipes as a template, then making them 'your own'!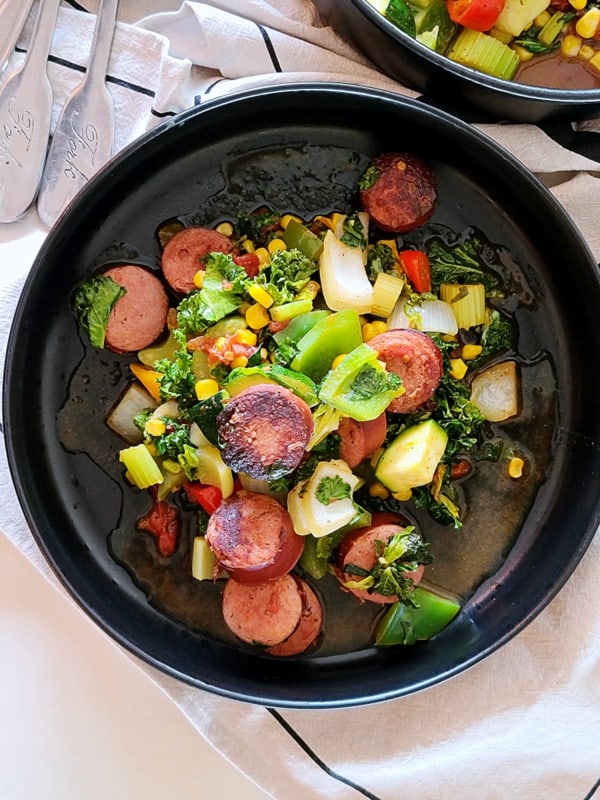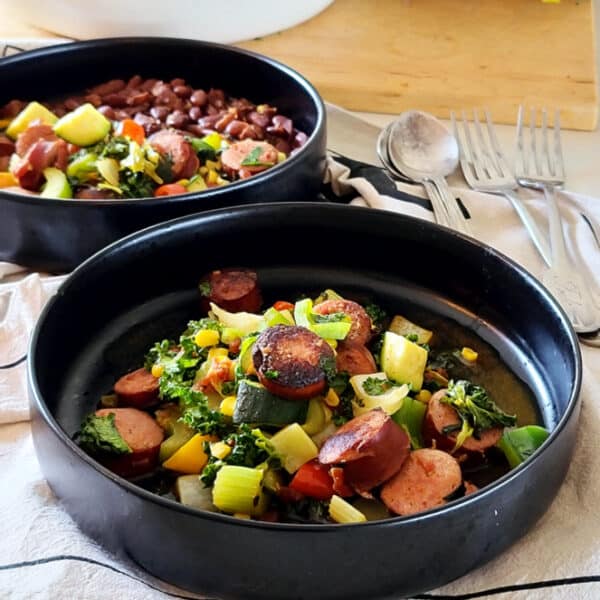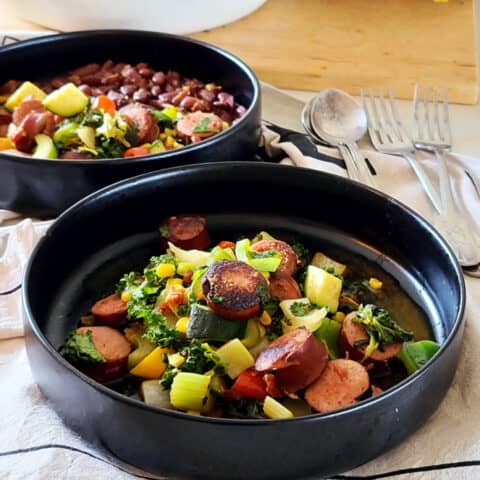 one pan sausage and veggies
Ingredients
5 Tbl. extra virgin olive oil, divided
1 ½ packages of smoked sausage, sliced into about 1" rounds
1 can (10 oz.) tomatoes and green chiles
2 Tbl. coco aminos
1 sweet onion, medium dice
3 celery stalks, with leaves, sliced
1 green pepper, medium dice
4-5 mini multi-colored peppers, sliced with seeds, ends cut off
1 large zucchini, medium dice
2 cups fresh kales, packed
½ cup flat parsley, packed
1 ½ cups corn, previously frozen
2 Tbl. nutritional yeast
1 Tbl. Old Bay seasoning mixture
1 tsp. coarse ground pepper
Instructions
In a large (10"+) skillet over medium heat, put three tablespoons of olive oil. Brown the sausage pieces on both sides.


Move the sausage to one side of the skillet. Add the tomatoes and coco aminos and blend and mix the sausage in with the tomatoes.


Mix the nutritional yeast, Old Bay and pepper in a small bowl.


Add the vegetables then sprinkle on the seasoning mixture. Use tongs to toss and blend into the sausage and tomato mixture.


Turn heat to medium low. Cover and let this mixture steam about 15 minutes tossing and turning one or two times. Right before serving, drizzle with the remaining olive oil.


Ready to serve! Vegetables will be al dente!