slow cooked spiced leg of lamb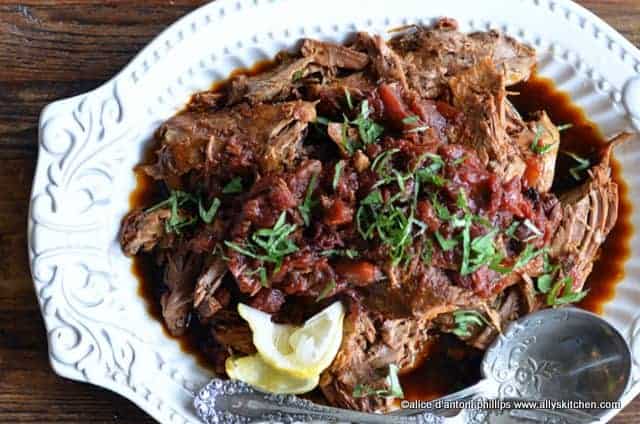 Names. Yep, they're important in life.  Your name follows you wherever you go. I mean if you become President, you'd want a regal strong name, right?  Parents usually give their kids a first and middle name like, Alva Grace, Bo James, Shelby Lynn, Mary Taylor.
Most of the time, one name sticks in life. Not so in the Deep South, oftentimes when there's a first and middle name, it is the whole name, and that's what the youngen is called in life. In this case, Sugar Taylor, is the name of my friends' oldest child. So, when they launched a search for inventing a bodacious BBQ sauce, they named it~~Sugar Taylor! I think it's really catchy and cool, and it rocked this slow cooked spiced leg of lamb!
I cooked the lamb in the oven in my new Le Creuset beautiful blue cast iron pot, but you sure could make this a slow cooker leg of lamb, too. I served this lamb at a dinner party, and one of my guests commented that usually he doesn't like leg of lamb because of its 'gamey' taste for him, but he said this lamb had no trace of that whatsoever~~and, yep, he went back for seconds!
PS~My mama never gave me a middle name~~I was just Alice. ***sniff sniff***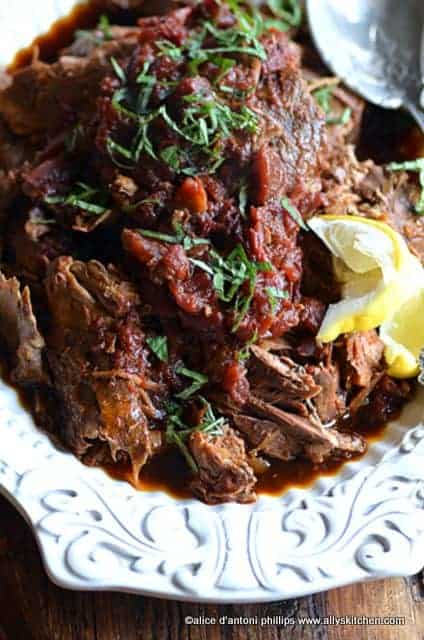 Serves: 8+
Preheat oven to 375
What you need:
2 Tbl. olive oil
4-5 lb. leg of lamb
2 (14.5 oz.) cans chopped tomatoes + 1 can water
1/4 cup Sugar Taylor Sauce
Ally Notes: No Sugar Taylor, no worries. Substitute this mixture of 4 Tbl. pomegranate molasses and 2 Tbl. stone ground mustard. If you don't have pomegranate molasses, which is sweet and tart, then mix 2 Tbl. honey and 2 Tbl. balsamic vinegar together.
4 Tbl. Harissa paste (if using dried harissa, use 2 Tbl.)
2 tsp. cumin
3-5 large peeled whole garlic pieces
1/2 large lemon, juice
3 Tbl. fresh mint, thinly sliced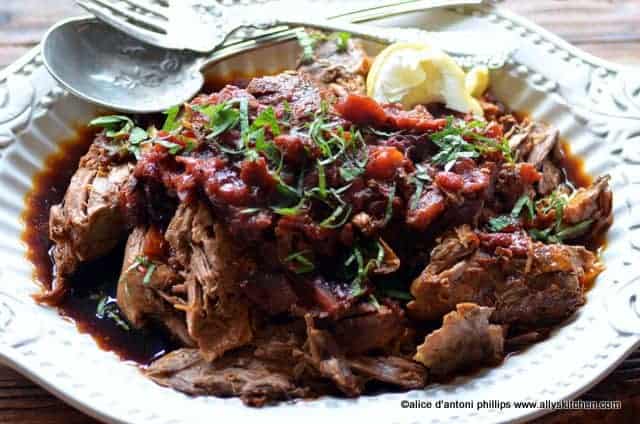 What you do:
Put the oil in a large heavy cast iron roasting pot. Put in the lamb. Combine the tomatoes, water, Sugar Taylor sauce and harissa in a small bowl, blend and pour over the lamb. Put the garlic pieces in. Cover tightly and cook in a preheated 375 oven for about 4 1/2 to 5 hours.
Check occasionally to see if you need to add water (or you can use a vegetable broth). The meat should be fork-tender and fall from the bone. (Note: All ovens differ. If it's not fork tender and falling off the bone, then continue cooking (adding liquid as needed) another 30 or so minutes.)
Serve on a large platter (no bone!) with some of the tomato sauce. Drizzle with fresh lemon juice and mint.