crispy spicy orange chicken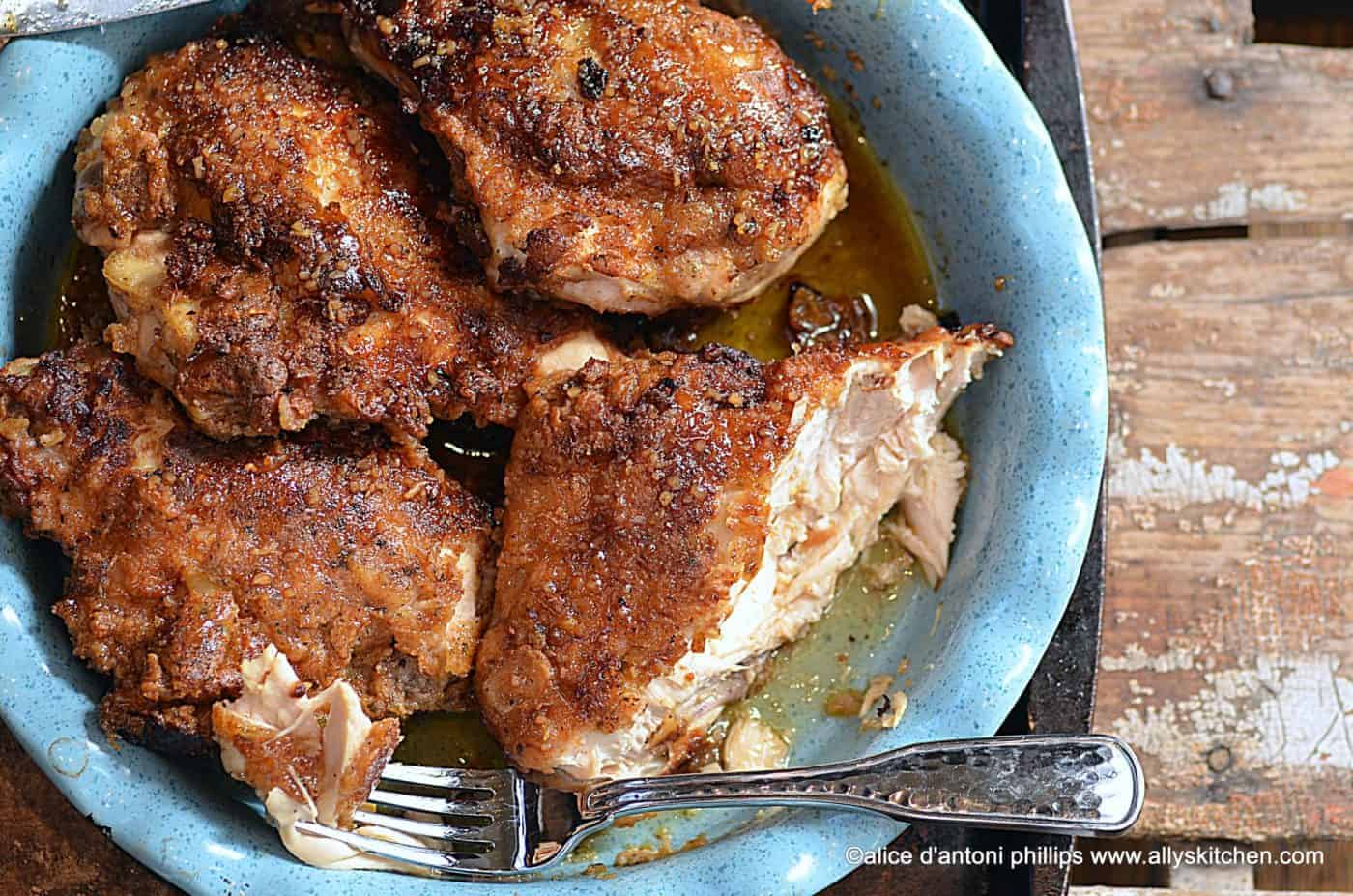 Chicken with Orange Sauce
Bite into this crispy spicy orange chicken and you've found THE BEST oven fried chicken recipe ever! Perfect for Sunday dinner and family!
OK, there's nothing quite like chicken with orange sauce.
Crispy Buttermilk Chicken
Now here in the South we make crispy buttermilk chicken by dredging it in buttermilk! Nothing better than a buttermilk chicken breast! The buttermilk is what we call acidic. That means it's going to tenderize without toughening the meat. Buttermilk helps break down chicken proteins that mean more flavorful and tender fried chicken. But, we're not just frying this chicken, we're also going to finish the cooking with oven baking it.
Chicken Tasty
Chicken that's tasty like this crispy orange chicken is worth all the effort you're going to put into it. It's important to keep the end goal in mind. You're making an easy orange chicken recipe that's flash fried for crispy and oven baked for finishing the cooking of the meat.
Now you're gonna have a little mess too. For instance, when you're dipping the chicken then dredging in the flour/spice mixture, your fingers get the gooey wet floureeee stuff on them. I keep a few damp paper towels nearby and/or step to the sink and wash off my fingers then start re-dipping and re-dredging. The oil in the skillet needs to be hot to get the nice crispy golden browning, so expect a little flicking and popping, but it's manageable.
Sides with Fried Chicken
Anti-Inflammatory Roasted Vegetables
Rainbow Kale & Roasted Potatoes
Parmesan Mashed Potatoes and Peas
Easy Side Dishes for Chicken
If you're looking for super easy sides, well, take a gander at these recipes!
Middle Eastern Roasted Baby Gold Potatoes
Fresh Cranberry Mandarin Nut Salad
Harissa Fried Potatoes & Olives
Easy Orange Chicken Recipe
An easy orange chicken recipe that is your go to is perfect for Sunday dinner and also for special occasions.
What inspired this crispy spicy orange chicken and the recipe is that my girlfriend, Sally, wanted a lesson in making 'fried chicken'. See she's a Rocky Mountain girl, and she wanted good ol' Southern fried chicken. I explained to her that my 'Southern' chicken was more baked than fried, and she'd be super satisfied with the results. So together we worked, and my pal Sal took home two big pieces of this lovin' chicken for her dinner!
Baked Orange Chicken Recipe
This baked orange chicken recipe is so worth the effort. Once you get your groove going, it moves quickly. Believe me, when you bite into this chicken it will be really moist and tender. You'll have the crunch of the crust and then that sweetness of the orange ginger honey maple sauce sauce.
When you do this recipe, be prepared with all your tools and get yourself organized. You'll be needing two pie plates, a cookie sheet lined with parchment paper, a large baking dish, aluminum foil, tongs, wooden spoon, cast iron skillet, sauce pan…hummmm, I think those are the big things.
Spicy Chicken Sandwich
If you want to use this recipe for a spicy chicken sandwich, just swap out the bone-in chicken breasts for boneless skinless chicken breasts. You could even use thin chicken breasts. The only thing you're going to do is adjust the cooking time. Bottom line is that you want the right temperature of a cooked chicken breast.
Temperature of Cooked Chicken Breast
Be sure to have a meat thermometer on hand. You want the correct temperature for your cooked chicken breast. And, the right temp is 165 degrees. Insert the thermometer into the thickest part of the chicken to be sure it's cooked to 165. If you haven't tried my dill pickle chicken, then check it out! xo ~ally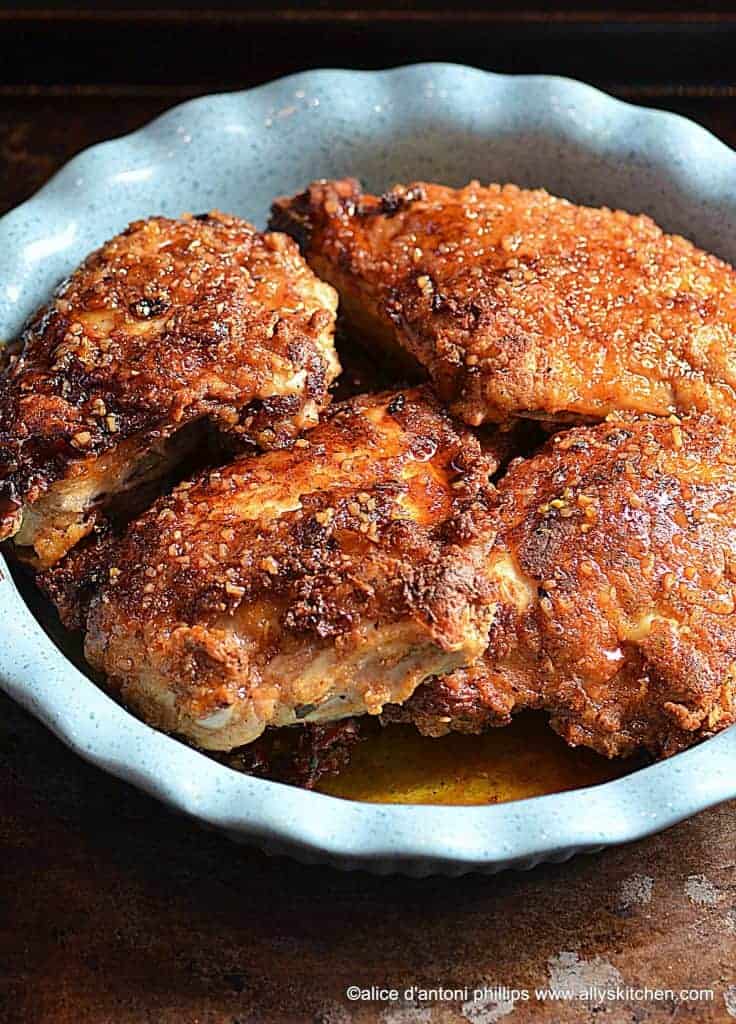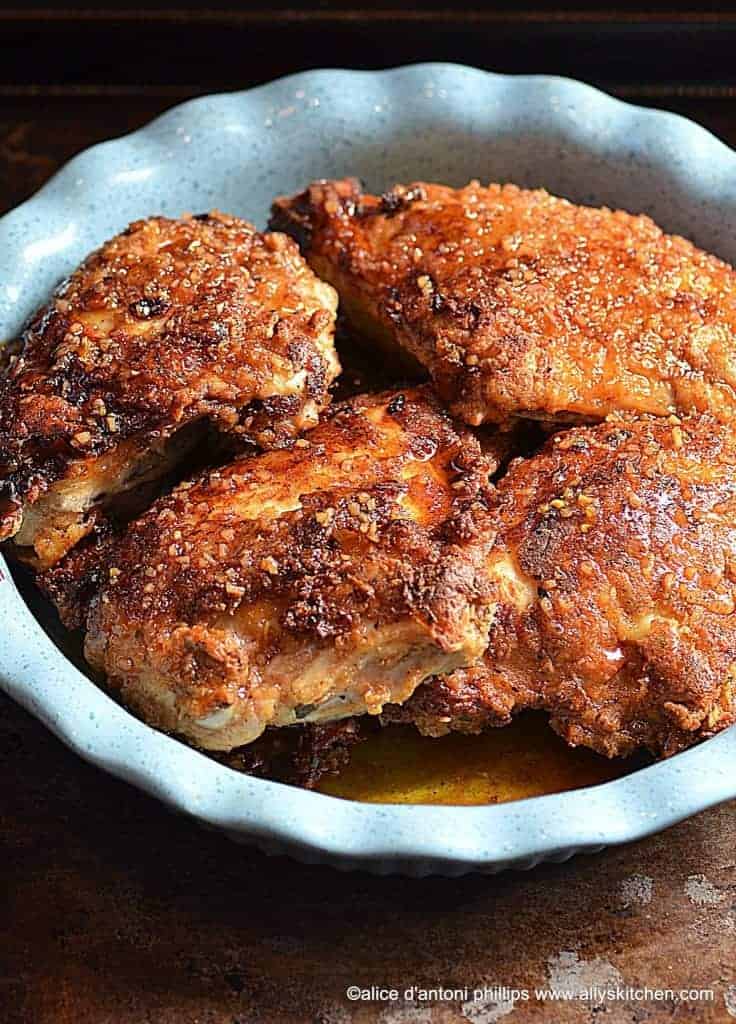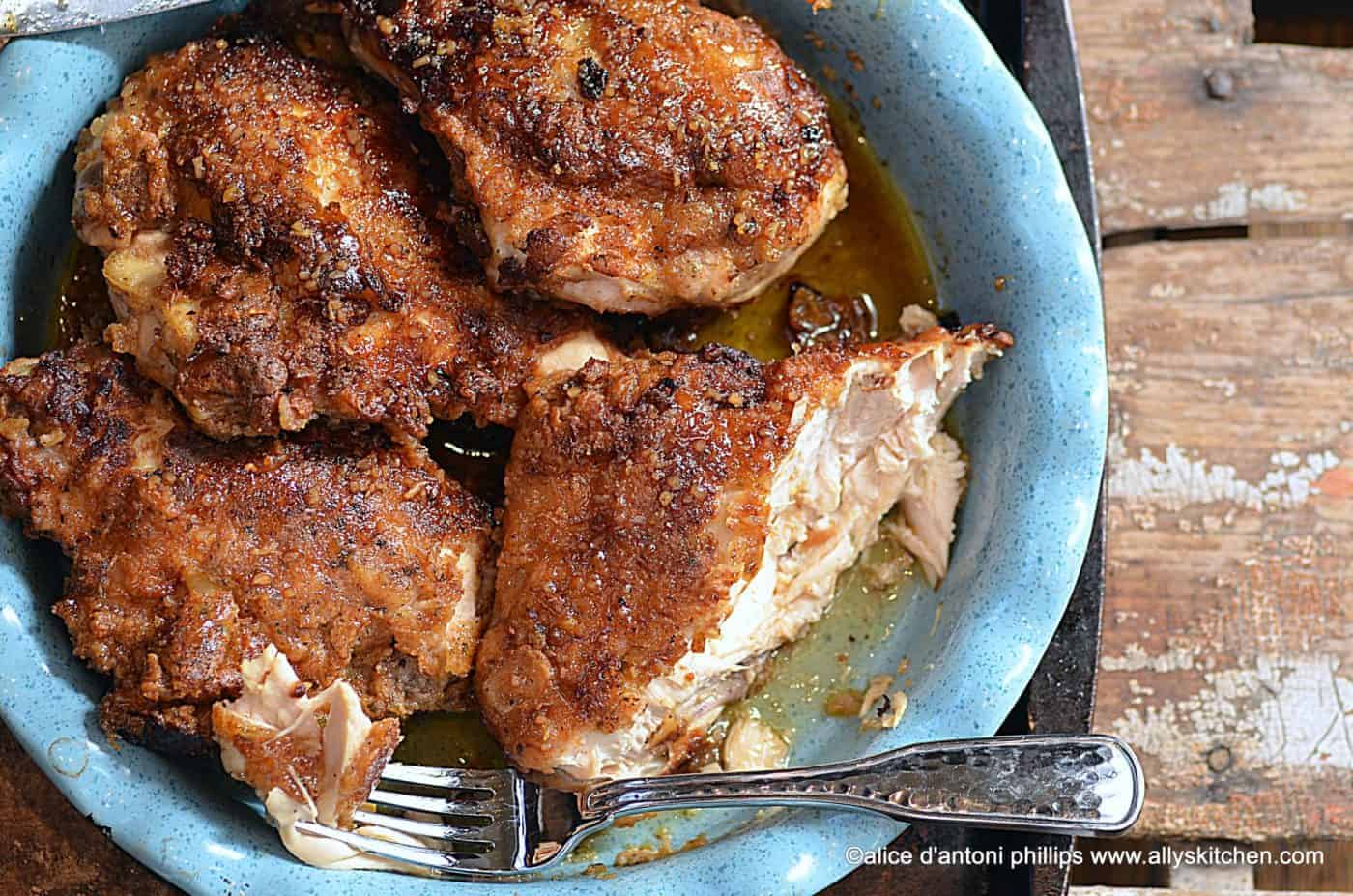 crispy spicy orange chicken
Bite into this crispy spicy orange chicken and you've found THE BEST oven fried chicken recipe ever! Perfect for Sunday dinner and family!
Ingredients
SAUCE:
2 Tbl. coconut oil
1 Tbl. garlic, minced
1 Tbl. ginger, grated
1 cup orange juice (no pulp)
1/2 cup pure maple syrup
1/4 cup thick raw honey
1/8 tsp. sea salt
1/2 tsp. coarse ground pepper
CHICKEN
4 bone-in skin on chicken breasts
1 1/2 cups buttermilk
2 tsp. garlic, granulated
2 tsp. cumin, ground
2 tsp. sea salt
1 tsp. onion powder
1 tsp. smoked hot paprika
1 tsp. tsp. lemon pepper
1 Tbl. fine herb blend (parsley, chives, chervil tarragon~~Spice Islands brand)
1/2 tsp. red chili flakes
1/2 tsp. corinader
1/2 tsp. allspice
1/2 tsp. nutmeg
1/2 tsp. coarse ground pepper (divided)
1 1/2 cups all-purpose flour
1/2 cup coconut oil
Instructions
Let's make the SAUCE. In a heavy saucepan over medium heat, put the coconut oil and garlic and saute for about 3-5 minutes. Add the ginger, orange juice, syrup, honey, salt and pepper and blend. Increase heat to medium high and bring to a boil for about 10 minutes.
Reduce heat to medium to have a simmering boil. Cook about 18-20 minutes stirring occasionally. Sauce will thicken. Turn off heat and let sauce sit until ready to use on chicken.
Now for the CHICKEN. You want to 'set up' your 'assembly line' for the chicken.
First, clean the chicken. Pat it dry with paper towels. Put the buttermilk in a pie plate. Then put the flour in another pie plate, add all the spices (garlic, cumin, salt, onion powder, paprika, lemon pepper, herbs, chili flakes, coriander, allspice, nutmeg, and pepper). Blend together.
Put two pieces of chicken in the buttermilk and coat both sides.
Then dip these two pieces of chicken in the flour dredge, re-dip in buttermilk and again in the flour dredge. Put these pieces on a cookie sheet lined with parchment paper. Repeat with the remaining chicken.
Put the oil in a cast iron skillet (at least 10" size) over medium high heat. Let it get hot. You'll know it's ready by flicking just a drop or two of water and you hear a healthy sizzle. Put two pieces of chicken in, top side down, and fry to a golden brown, about 4-5 minutes.
Using tongs, carefully turn the chicken and fry another 3-5 minutes on the under side. Remove the chicken to a large baking dish. Repeat for all pieces of chicken.
Use doubled foil to securely and tightly cover the baking dish. Bake in a preheated 375 oven for 45-50 minutes. Remove foil and bake another 7-10 minutes. Remove to a cooling rack. Loosely place the foil on the chicken as it rests for about 5-7 minutes.
Reheat your sauce and drizzle on the chicken for serving; additional sauce can be served as a side.