one skillet harissa chicken and vegetables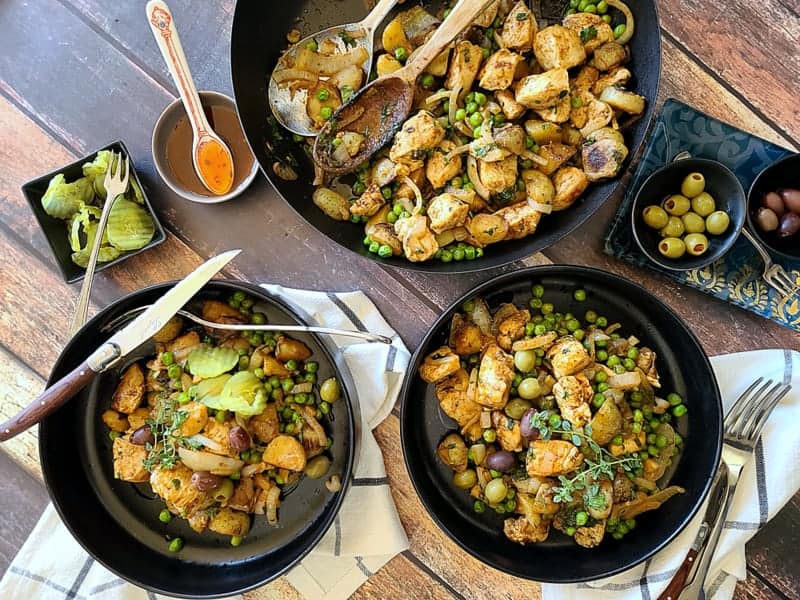 One skillet harissa chicken chunk dinner gives you gourmet in about 30 minutes! Hearty, tasty and sure to please, leftovers are delicious!
What is Harissa
Harissa is a beautiful spice mixture. With distinct earth and nutty tones, it's got some heat going on because of the chili peppers. Don't think harissa is going to be difficult to source. It's a very trendy and really well-known spice mixture in today's markets.
How to Make Harissa
I have an easy and fabulous recipe for making your own harissa, which is super easy in my cookbook which is available on Amazon! Don't miss it! It reads like a novelette.
Harissa Spice Blend
Here's my recipe! Homemade Harissa.
Recipes with Harissa
I have lots of delicious recipes with Harissa. So get ready to explode with unique flavors, like one in this list that won me 25 grand and really changed the trajectory of my cooking adventure!
Harissa Fried Potatoes & Olives
Harissa Buttermilk Baby Back Ribs
Harissa Eggplant and Roasted Red Peppers
Chicken with Harissa
Chicken with harissa is one of my most favorite ways to season chicken! And, now I'm going to show you how to make your own harissa. It is just so ridiculously simple. And, the homemade version is infinitely better than anything you could buy from a grocer, gourmet shop or anywhere! Just click here for my YouTube video on making homemade harissa!
Moroccan Harissa Recipe
Here's the perfect escape to Morocco for dinner! Moroccan Beef Ragu Sauce!
Harissa Chicken Recipes
If you want to explore more harissa recipes, not just chicken, here on my website (I love harissa!), then you might check out these including the Veal Harissa Meatballs that won me $25,000!
Harissa Chicken Tomatoes & Feta
Chicken Harissa
Now this recipe for Harissa Chicken is another one skillet wonder!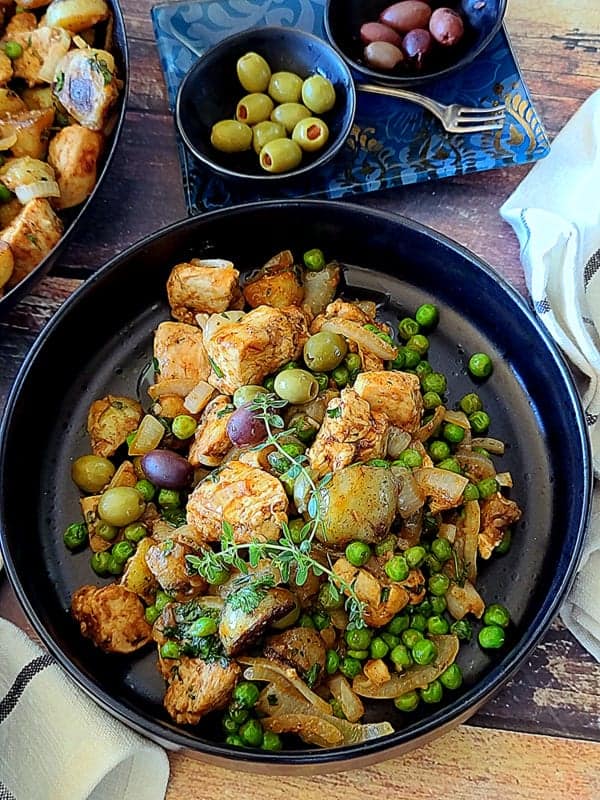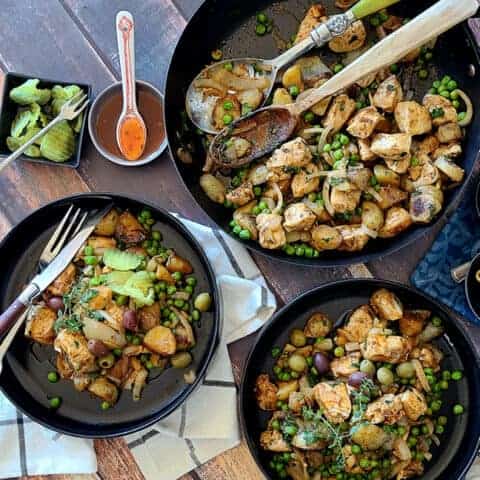 one skillet harissa chicken chunk dinner
Ingredients
7 Tbl. olive oil, divided
6 cups Yukon potatoes, washed, skin on, cut into chunks
2 lbs. chicken breasts, boneless, skinless, cut into about 1 to 1 ½ inch chunks
2 cups sweet onions, French slice
2 tsp. garlic, minced
1 Tbl. + 2 tsp. harissa dry seasoning mixture
2 tsp. salt, or to taste
2 cups petite peas, somewhat thawed, previously frozen
1/3 cup Fresh mint, parsley, basil, chopped, loosely packed
Instructions
In a large heavy deep skillet over medium high heat, put four tablespoons of the oil. Add the potatoes, mix, cover and cook for about 5 minutes.

Move the potatoes to one side of the skillet (or out of the skillet temporarily), add the chicken and onions and pan sear, uncovered, for about 7-9 minutes. Add the garlic and harissa and blend into this mixture.

Reduce heat to medium low. Cover and cook about 8 to 10 minutes. Add the peas, and herb mixture and blend.

Turn heat to simmer. Drizzle on remaining olive oil. Cover and let this mixture 'steam' (about 15 minutes) or until the peas are warm. Serve immediately.
Notes
If you want more 'broth' in your skillet, add one-half cup of chicken stock after the fresh herbs. Blend and combine.