rustic italian chicken shitake mushroom pot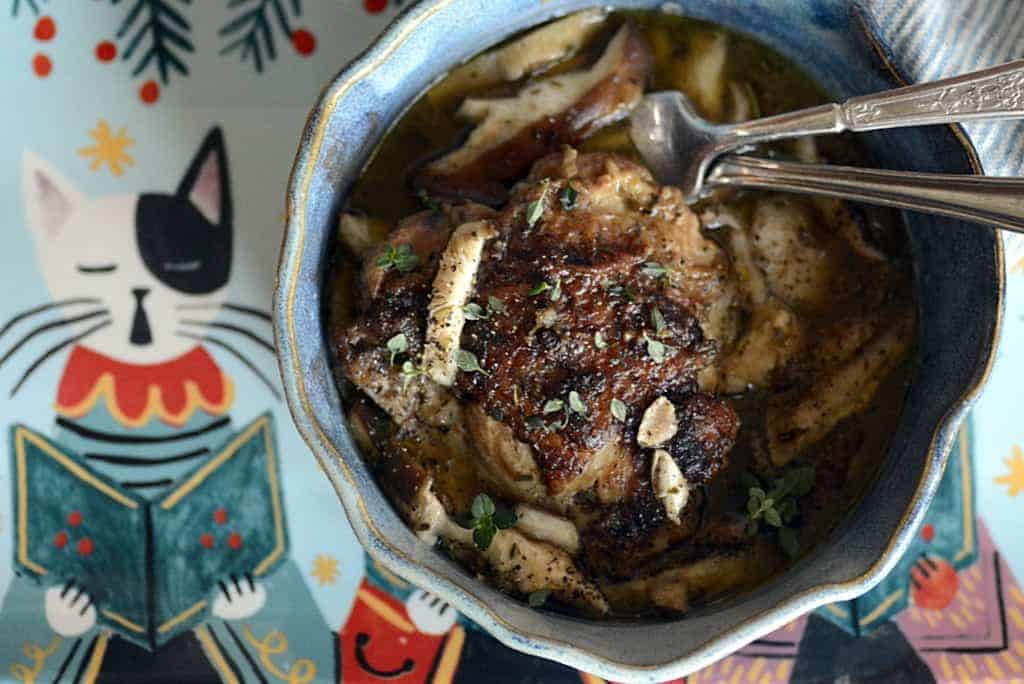 Rustic Italian Chicken shitake mushroom pot is an easy recipe that you can prepare quickly and devour! Have plenty of baguette bread!
One Skillet Chicken Dinner Recipes
OK, who doesn't love a one skillet or, in this case, one pot meal. And, one skillet chicken dinner recipes are what we need in our stash of easy meals on any night!
One Skillet Chicken
This chicken is super simple. Just watch the video and you'll be a pro without any effort.
One Pan Meals
One pan meals are all the rage. And, no wonder they're popular. Makes for super easy clean up and if you just plop everything in one pan or pot, what's easier! And, since we're all ususally operating each day on overdrive with so much to do, we need recipes that save us time. And, this one-dish baked italian chicken pasta fills the bill.
Best Chicken Recipes
Honestly, I think after you make this recipe it very well could be one of the best chicken recipes you've tried. There are a few steps to it. But nothing that's daunting.
Ifyou're wondering how I got this chicken a kind of golden brown on top? The glow of some color, that beautiful warm mahogany hue, well, read on in the recipe for this one-dish baked Italian chicken pasta. It's just an extra little step that makes your chicken glow! And, who doesn't love serving glowing chicken!
Weeknight Chicken
We all love simple, easy and quick recipes. Especially on the weekdays when we're rushing around with so many things to do once we get home. So, this weeknight chicken can be prepared ahead of time, covered then popped in the oven when you get home. When we make recipes simple and recipes ultra healthy, well that's a big win all around. Our palates. Our waistline. Our health.
Putting it all in one baking pan, and you can use glass, ceramic, metal, whatever you like that's oven usable, makes the preparation of dinner super quick. All you need with this dish when serving is maybe a salad. And, if you like, bread!
Bowl Foods
Meals in bowls always seem a little bit more comforting to me than on a plate. There's just something about maybe the broth, the gravy, the au jus or whatever there is that you can sop up with crusty hot bread, cornbread, rolls. You get the idea!
Power Bowl Recipes
This rustic Italian chicken shitake mushroom pot is one of those kinds of dishes. it's got all the trappings of a dish you'd serve plated, but put it in a bowl, and you'll have an entirely different experience!
Chicken Bowl Recipes
That's what food's about. The experience. And, sometimes it's small things that you swap out, change, tweak and change that make an entirely new experience. For instance, say you're having spaghetti and meatballs. You serve them inside at the dining room table. Yeah, good, but there's something different about those same spaghetti and meatballs if you take them outdoors, throw a tablecloth on the table, light some candles, and dine al fresco as the sun is setting.
Bowl Eating
In the case of this recipe just swapping a plate for a shallow bowl creates a unique visual and palate sensation. The next time I do this recipe, I'm going to make garlic mashed potatoes and dollop a big scoop in the bowl, then cover it with the broth, chicken and mushrooms. And, if you want to throw in a few petite green peas, have at it! OMG, imagine the ecstasy!!
Meal in a Bowl Recipe
We all know that food is all about presentation and the appearance. And, here are some of my favorite pasta bowls for meal in a bowl recipes. They're so versatile. I use them for everything from soups and pasta to eggs and ice cream!
Bowl Food
I love bowl food. Here are a few more recipes you might put in some gorgeous serving bowls!
Simple One Skillet Oven Chicken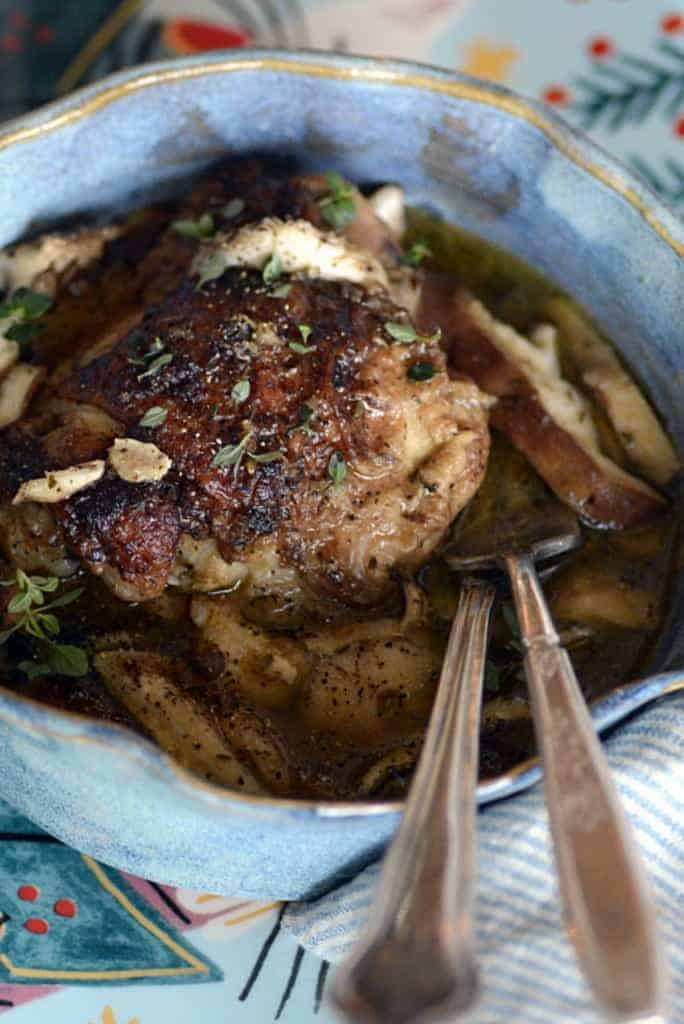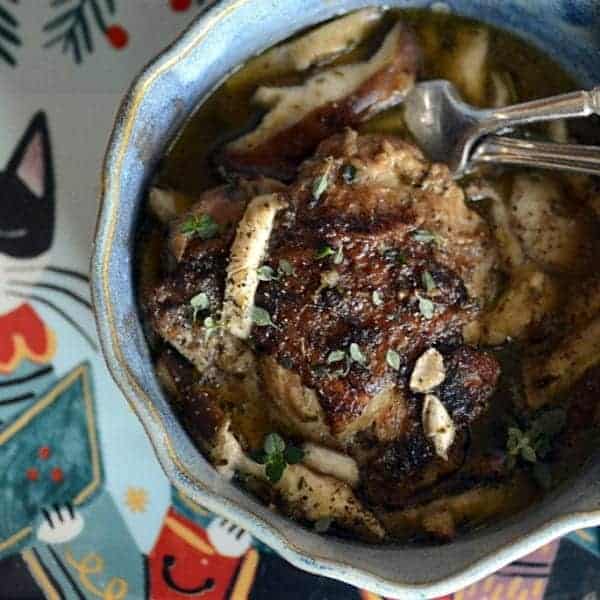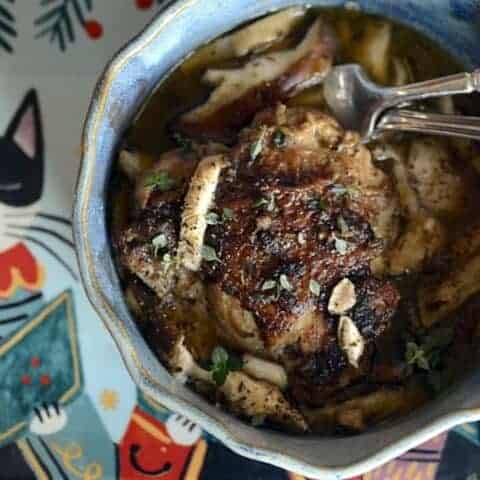 rustic Italian chicken shitake mushroom pot
Rustic Italian Chicken shitake mushroom pot is an easy recipe that you can prepare quickly and devour! Have plenty of baguette bread!
Ingredients
Preheat oven to 350
¼ cup flour
2 tsp. sea salt
1 tsp. coarse ground pepper
1 tsp. sweet paprika
1 tsp. onion powder
1/2 tsp. red chili flakes
2 tsp. Italian seasoning mixture
3 lb. chicken, skin on, bone in thighs (4) and skinless boneless breasts (4)
5 Tbl. butter, salted
1 cup wine, chardonnay (can substitute apple juice)
2 cups chicken stock
4 garlic cloves, smashed
1 bouquet fresh thyme, tied in bundle
5 ounces shitake mushrooms, sliced
Instructions
In a large bowl, combine the flour, salt, pepper, paprika, onion powder, chili flakes, Italian seasoning mixture. Toss and blend well. Rinse and pat dry the chicken pieces. Roll and coat in the flour mixture.

In a heavy stock pot (Dutch oven) over medium high heat, melt the butter. Brown the chicken pieces on all sides (about 5-6 minutes of cooking). Reduce heat to medium. Move chicken to the side, stack up and deglaze the skillet with the wine. Scrape all those good flavorings that are sticking to the pot. Add the remaining flour mixture to the pot and blend well.

Spread the chicken in the pot. Add the chicken stock, garlic cloves and thyme bundle. Cover tightly. Bake in a preheated 350 oven for 45 minutes. Remove. Add the mushrooms, blend into the broth. Recover the pot and cook another 15 minutes.

Ready to serve!