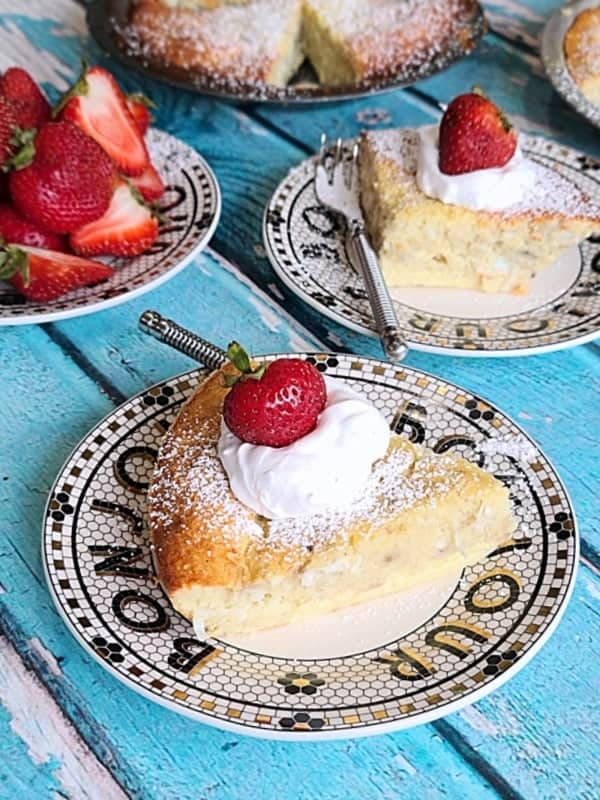 The magic coconut banana pie is gonna be your go to coconut pie with a banana twist! And, the crust happens magically! A spin off of the impossible pie!
Bisquick Impossible Pie
Social media is a perfect place to see all kinds of recipes and to get inspiration. So I saw this recipe for a bisquick impossible pie. Now it's made with coconut, which I LOVE. So I wanted to make it. Then I thought, as I aways do, how can I take this Bisquick impossible pie recipe and put a new twist on it. Enter bananas, which I happened to have, so this bisquick impossible pie has now become the magic coconut banana pie. Isn't that the way new creations are born? New ideas come from the other great ideas out there. Bisquick has been around for a long time. And, it just so happened that I had some in my pantry that I definitely needed to use. So the stars lined up for a variation of the Bisquick impossible pie.
Oh, why is it called the 'impossible pie'. Well, it's because by some magical process this pie makes its own crust. I was also intrigued with that and wanted to try it!
Coconut Custard Pie
Now nothing is better than a coconut custard pie. And, I must say that I have one killer good coconut custard pie. It's from my memory of a vintage graham cracker custard coconut pie that one of my dear friends asked me to try to reconstruct. There's a great story about this coconut custard pie with a graham cracker crust that you don't want to miss. It's also one heckuva recipe! And, here's something else that you'll love a CREAMY coconut pie and lemon cream cake .
Cream-Pie
When I started looking at my cache of recipes for cream pies or cakes or a variation in between, wow, I didn't realize I'd created so many. Here're few you might like to check out!
Boston Cream Banana Whiskey Pie
Banana Cream Pie
This magic coconut banana pie also has the primary component of a banana cream pie, bananas! While my coconut banana pie is not as creamy as a banana cream pie or a coconut custard pie, it is moist and dense and melts in your mouth. And, yes, there's a 'quasi' crust that forms during the magical baking of this pie. You must try it. I promise it's something that's just divine and will be an easy one for quick desserts in a flash!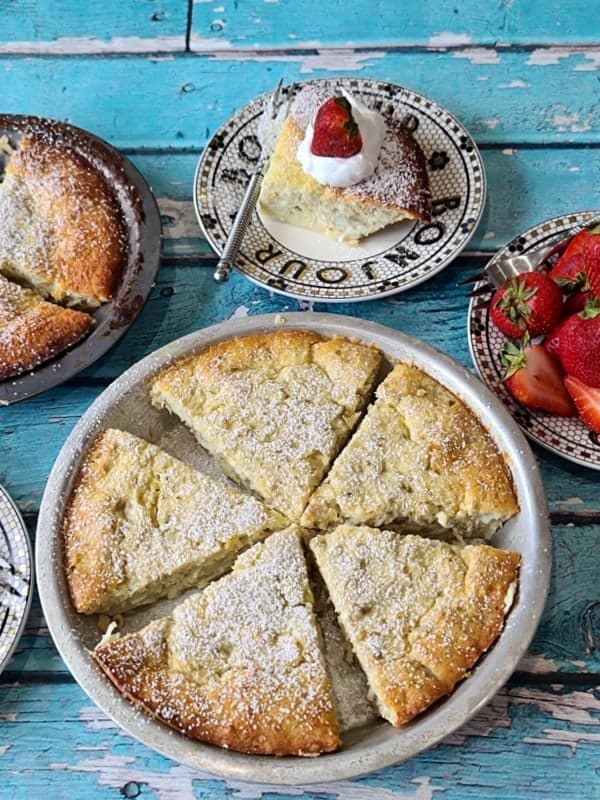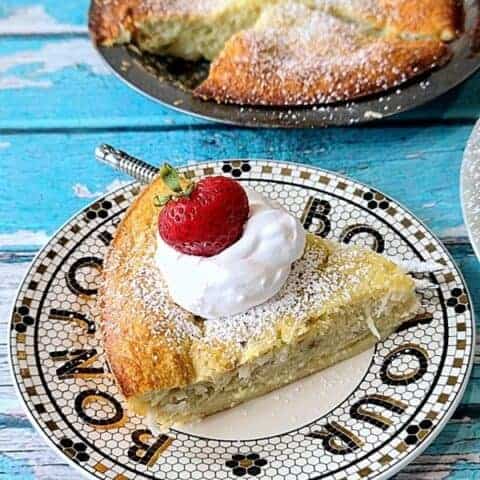 Magic Coconut Banana Pie
The magic coconut banana pie is gonna be your go to coconut pie with a banana twist! And, the crust happens magically! A spin off of the impossible pie!
Ingredients
1 ¼ cups Bisquick mix
1/3 cup sugar
2 bananas, medium diced, about two loosely packed cups
4 eggs, beaten
2 cups milk
1 ½ cups flaked coconut, sweetened, divided
2 tsp. vanilla
1 Tbl. butter, melted
GARNISHES and SERVING:
Vanilla Ice Cream Scoop
Whipped Cream
Crème Fraiche
Cool Whip
Fresh Berries (strawberry, blueberry or blackberries)
Powdered sugar dusting
Instructions
In a large mixing bowl combine the bisquick and sugar. Work out any lumps in Bisquick.

Add the bananas, eggs, milk, one cup of coconut, vanilla and butter. Blend together well. It will be an almost 'soupy' mixture.

Grease a large pie plate/pan (10 to 11 inch diameter) well. I like to grease with solid Crisco. Place the pan on a large cookie sheet.

Pour the batter into the greased pan (full). Sprinkle the remaining coconut on top.

Put the pan (on the cookie sheet) in a preheated 400 oven for about 25 to 30 minutes. Test the center with a wooden skewer (8") to see if it comes basically clean. Remove to a cooling rack.

Note: If using a smaller pie plate/pan, you could pour remaining batter in another smaller pie pan or use ramekins.