Easy Sour Cream Coconut Cake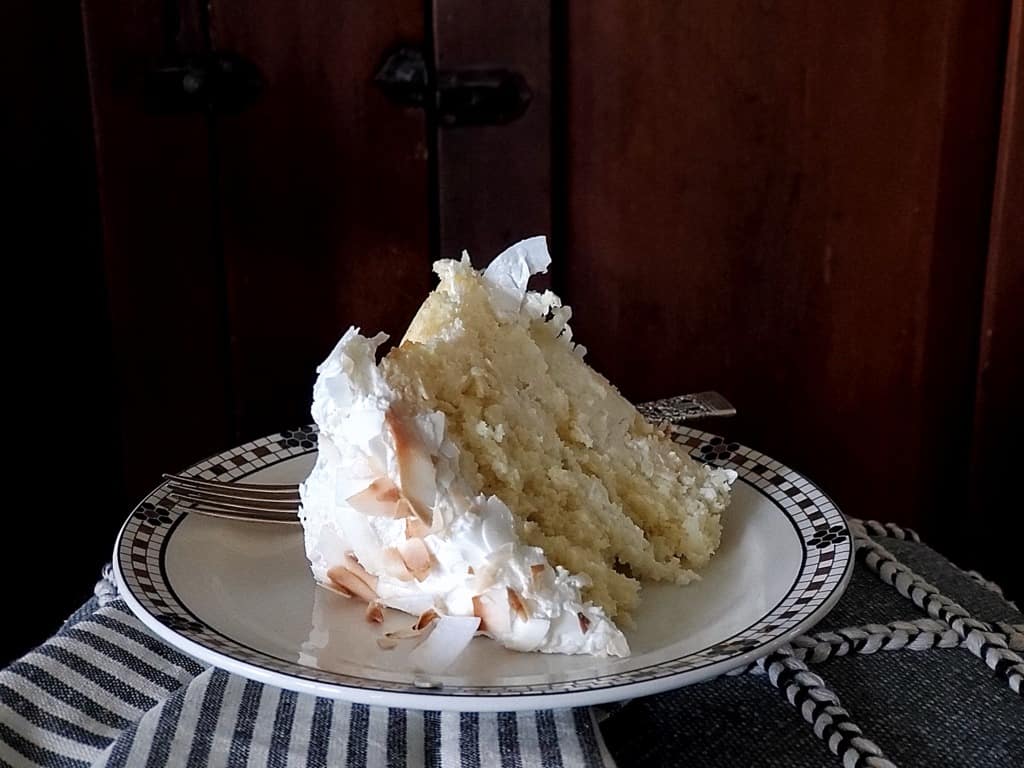 This easy Sour Cream Coconut Cake is super easy! Moist and lasting several days refrigerated, you'll love the layers of flavor!
Sour Cream Coconut Cake
I'd like for you to know that this recipe for easy sour cream coconut cake is a homerun! The moist layers of cake and the fluffy creamy coconut filling or 'icing' is sheer pleasure in every bite!
Coconut Milk Cake
Coconut Milk Cake is perfect for an after-school snack, coffee breaks, and late-night study sessions. Lightly sweet, with a soft, tender texture, this cake is back-to-school fuel!
Now I do know that coconut cake recipes are popular on my website, and that's because, well, I LOVE coconut! So, why not add coconut to this dump cake. Pineapple and coconut just shout tropical, and that's the flavor I wanted to get, something that reminds me of a pina colada and sitting somewhere in the Caribbean.
Cakes with Buttermilk
Cakes with buttermilk are just better. And, I love cooking with buttermilk. It adds a pleasant albeit subtle tang to baked goods, breads, biscuits cakes. And, it adds very little fat. Buttermilk, like yogurt and sour cream, has that acidic ingredient that helps to tenderize gluten making the finished products a softer texture with more poof, rise, and body.
Basically, buttermilk is fermented milk, and it's interesting to just see how magical it is in recipes. Not only more poof, rise, and body, but buttermilk helps with more moistness. So, I say here's to buttermilk, let's use it more in our baking!
Cake with Coconut Cream
Layers of moist cake. The filling that's made of ingredients that are sure to make the palate happy. Yummy delicious coconut cream icing. You'll think that you're eating a serving of something exceptional special! You're gonna be using creamy sour cream in both the cake and the icing, so get ready for some explosive delicious flavors.
Easy Coconut Cake
Yes, NAILED IT with this sour cream coconut cake! How do I know?
Ten different people have tasted it over three days and all have licked their plates clean.
There's been only one suggestion for improvement, don't use the large coconut shavings on top. Rather use regular toasted shredded small coconut.
This cake keeps refrigerated for several days and up to a week. Yes, sounds crazy, but if it lasts that long, it's still amazing.
Over a couple of refrigeration days, this cake gets more moist and tasty!
Finally, It doesn't matter if you have 'haggled' slicing of the cake, it's still beautiful and scrumptious!
Coconut Dessert
If you're a coconut dessert fan-like, me, then you'll definitely want to try more of my creations!
No Bake Chocolate Coconut Dessert
Best Coconut Cake
If you want something that is 'refreshing' in a cake then make this sour cream coconut cake! Yes, every bite is like a refreshing cool taste of happiness. And, it kind of borders on a cake 'ice cream'. Hard to describe all the excitement that your palate will experience. Words just can't capture. So, I just reckon you'll have to make it! And, if you can help me with the descriptions, PLEASE leave me comments because I'll surely return and edit this text!
And, I'm a coconut lover, so here's another recipe for French brioche coconut milk waffle toast! Yuuuummmmmmmmmmmm~
xoxo ~ally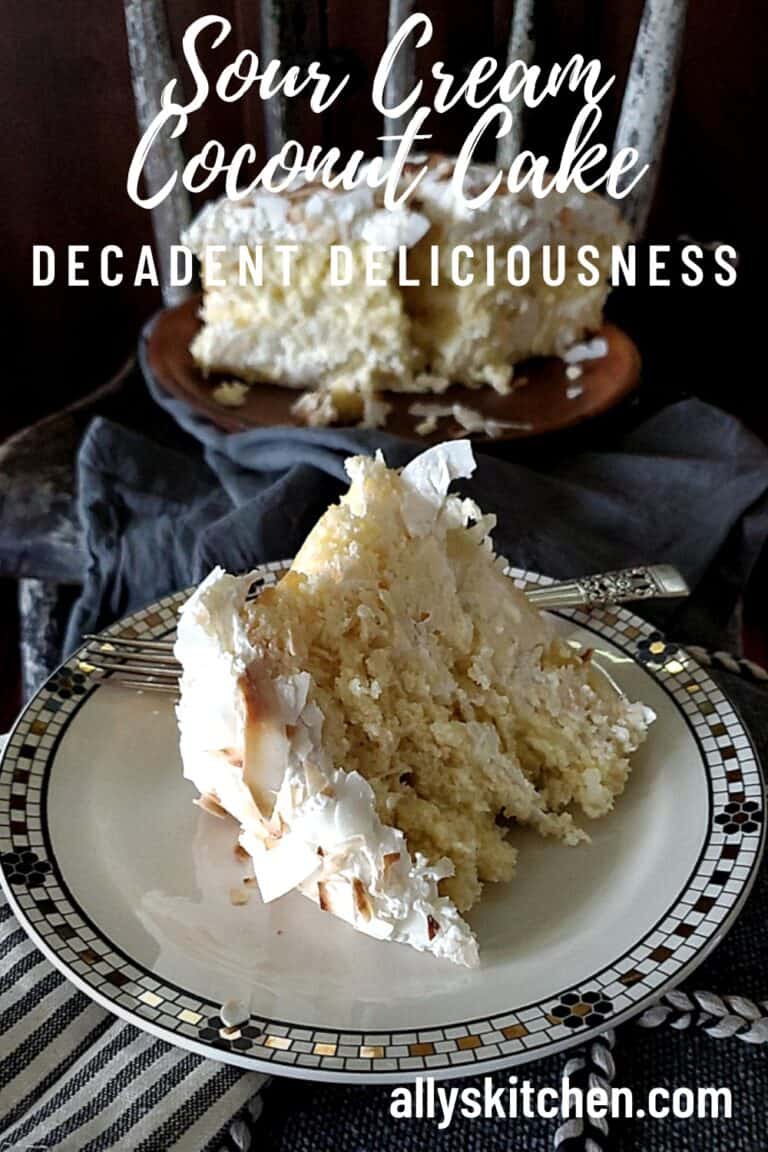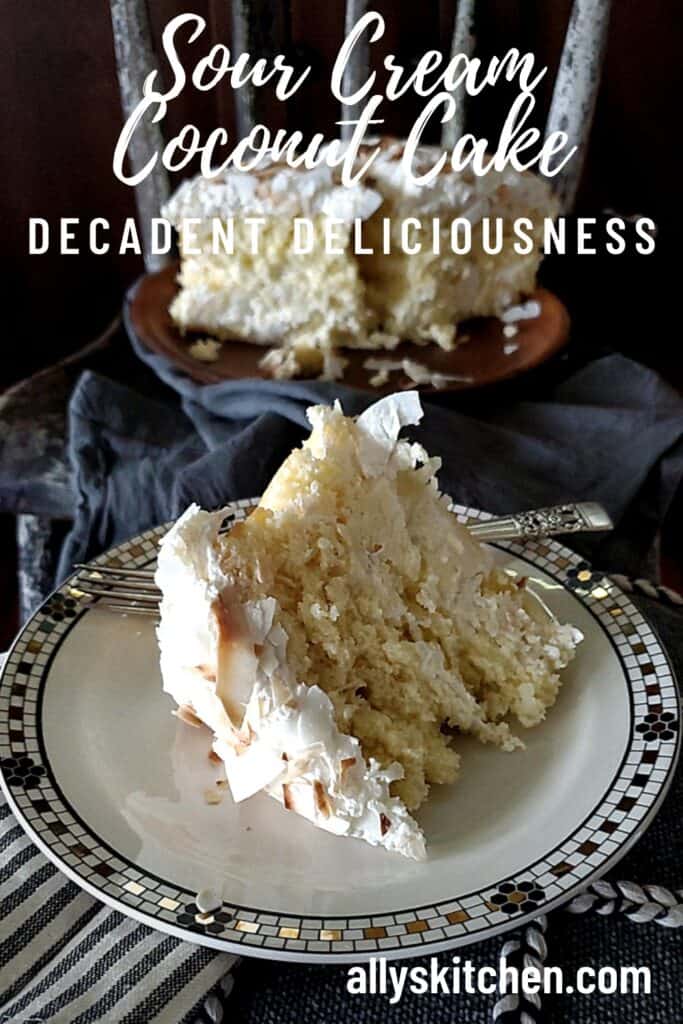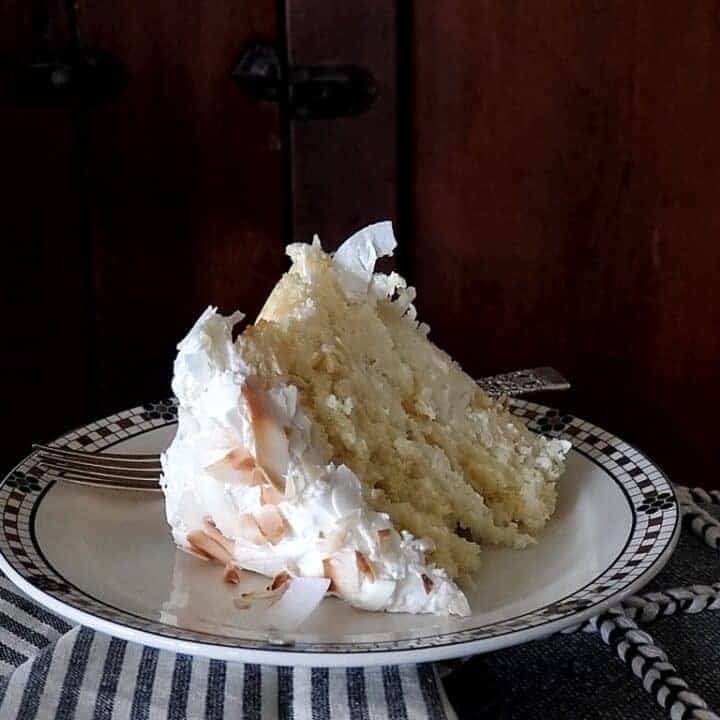 Easy Sour Cream Coconut Cake
This easy Sour Cream Coconut Cake is super easy! Moist and lasting several days refrigerated, you'll love the layers of flavor!
Ingredients
Preheat oven 350
1 (14.25) white cake mix
1 (3.25) vanilla pudding mix, quick cook
½ cup oil
4 egg whites
2 ¼ cups sour cream, divided, use one cup for ICING
1 cup Bolthouse Farms Vanilla Chia beverage, can substitute almond, oatmeal, etc. milk or regular milk (2%)
1 cup unsweetened coconut
ICING:
(1 cup sour cream, divided from cake above)
1 (8 oz.) container cool whip, check notes for substitution
2 cups Greek yogurt, plain
1 cup shredded Unsweetened coconut
2 cups shredded Sweetened coconut, can substitute flaked coconut
Instructions
Grease two round cake pans well.

In a large mixing bowl, combine the cake mix and vanilla pudding. Blend well.

In a medium bowl, whisk together the oil, egg whites, one and one-fourth cups sour cream, and the vanilla chia beverage. Pour into dry mixture.

Use a hand mixer to blend into a thick batter. Add the one cup of unsweetened coconut. Pour equal amounts into each of the cake pans.

Bake in a preheated 350 oven for 28 to 30 minutes. Remove and cool. Then release cakes from pans.

ICING: In a medium mixing bowl, combine the cool whip, yogurt, the remaining one cup sour cream and blend well. Add in one cup sweetened and one cup unsweetened coconut.

When cake is cool, slice one through and make two halves. Slather about one third of the icing mixture on the bottom and then add the top and add another about one-third. Put the final cake on top and ice with the remaining icing. Sprinkle with remaining coconut.
Notes
You can substitute heavy cream (whipped) for the whipped topping. Use 10 oz. of heavy cream and whip into cream.

I used shaved unsweetened toasted coconut on top the cake for garnish. I must say, my son, who LOVES this cake preferred the shredded (smaller) toasted coconut. Just an FYI!

I use Crisco (solid) to grease my baking pans.

You can toast the coconut that you use for garnish on top or leave it as is. If toasting, put in a small pan, spread out, and put about 10 inches from the oven broiler. Turn to broil. Watch closely. Takes only a few minutes or less.

If you have 'icing' left over, you can use to dollop on slices of cake when serving.

You do have the option of slicing the both layers (making two thin round layers) and icing accordingly each layer.