Boston Cream Whiskey Banana Pie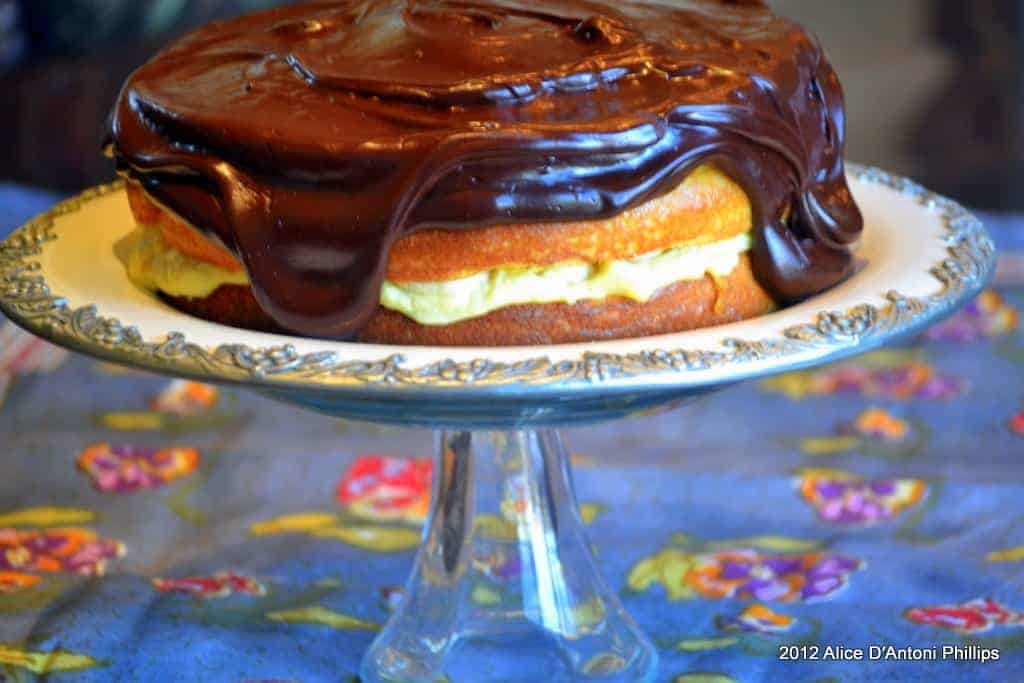 Yummyyyy Boston cream whiskey banana pie will wow your food seekers! The crunchy crust, warm sweet pie, and a scoop of Boston cream is all heavenly!
Banana Cream Pie Recipe
The banana cream pie turns out to be so delicate that you will be happy to make it again and again. The cream will be prepared and inside the cake. It's going to moisten the cake and it's going to melt in your mouth.
You can't even imagine how tasty such a dessert is. Usually the banana flavor disappears when baked, but in this cream it remains and even intensifies! Believe me, guests and family will definitely ask you for more!
Bourbon Banana Pudding
Who said that boxed cake mixes can't be beautiful and delicious? The addition of the sour cream and creme fraiche just makes it ultra creamier and adds to the dense moistness!
Banana Cream Filling Recipe
Do you love the flavor of bananas? Then this cake is for you! There are banana slices between the layers. Using real whole milk with this filling makes it delicious and rich. You know your banana obsessed friends will justtttt love it!
Banana Pudding With Pecans
You'll get many compliments when you serve this layered banana beauty. Delicate, firm, with beautiful pores, it will melt in your mouth with its distinctive banana flavor unlike anything else. And, if you want to add some nuts, like pecans to the layer with pudding and bananas, then go for it!
Banana Cream Pie Recipe
Yes, I do consider this to be the ultimate banana cream pie recipe. You won't be disappointed. And, if you want to make it a 'pie' complete with a crust. Then simply pre-bake your pie crust, and add the pudding. You could add a meringue topping or simply serve with a dollop of whipped cream or cool whip. There's no problem making a beautiful banana cream pie with a pie crust and this filling!
Want something more delicious, and then try these recipes!
Boston Sour Cream Cake
Whiskey smoked cowboy chili
Banana almond pie pan cake
healthier banana walnut bundt cake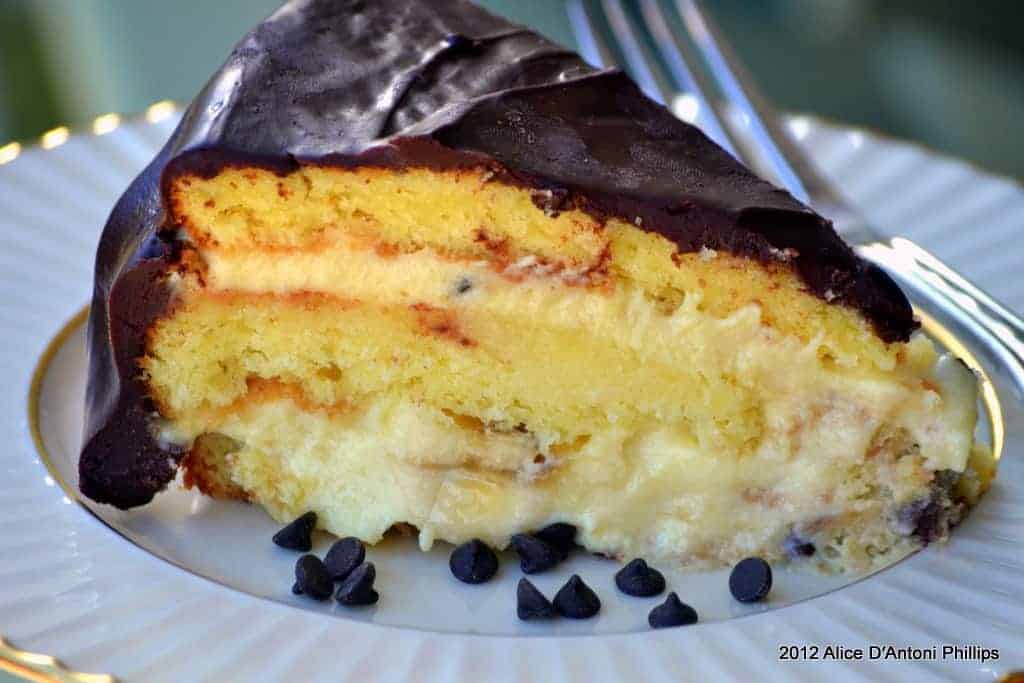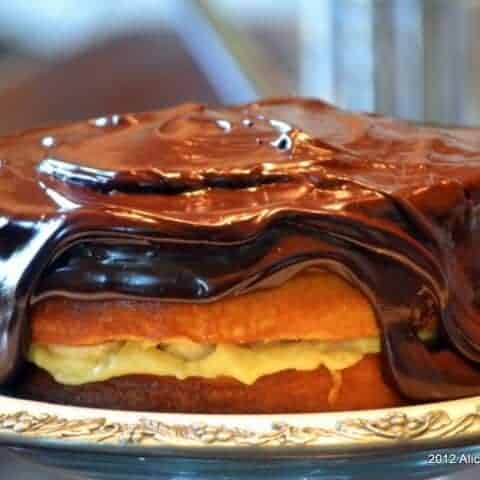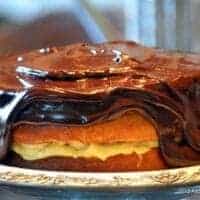 Boston Cream Whiskey Banana Pie
Yield: Makes:  One 9" triple layer pie (cake) (Note:  This can be made into two layers.)

Yummyyyy Boston cream whiskey banana pie will wow your food seekers! The crunchy crust, warm sweet pie, and a scoop of Boston cream is all heavenly!
Ingredients
Preheat oven to 350
CAKE:
One yellow boxed cake mix
Prepare cake according to directions adding ½ cup sour cream and ½ cup crème fraiche to batter
FILLING: 
1 ¼ cup milk
1 ¼ cup cream
4 egg yolks
1 Tbl. + 1 tsp. flour
½ cup sugar
1 tsp. vanilla
1/4 cup whiskey, non-alcoholic substitute 2 tsp. almond extract + 3 Tbl. apple juice
2 large firm bananas
GANACHE
1 ¼ cup excellent quality chocolate chips (I used Ghiradelli 60% cocoa chocolate chips)
¾ cup cream
Instructions
CAKE
Prepare cake mix to instructions. Add ½ cup sour cream and ½ cup crème Fraiche to batter. Whip batter with a hand mixer until fluffy.

Coat sides (and lightly on bottom) of three 9" cake pans with cooking spray. Line the cake pans with parchment paper (cutting circles to fit).

Pour equal amounts of batter into each of the three. Bake in preheated 350 ovens until done and golden brown. Remove and place on a cooling rack.

FILLING
In a small bowl, place blended egg yolks and whisk in flour, sugar and vanilla. Set aside.


In a medium saucepan over medium, its heat, pour milk and cream. Whisk consistently as you bring it to boil. Remove from heat.

Slowly pour in, while constantly whisking, the egg mixture. Return to medium-low heat and whisk for about 3 minutes then add whiskey and continue to whisk consistently for another 7 to 9+ minutes as the custard thickens.

Remove, pour into a glass dish, and cover with plastic wrap (patting the wrap on the filling). Place in the refrigerator to chill well.

GANACHE
Make a double-boiler with a pot of water and a glass bowl over it.

Over medium heat. Put chocolate chips in a bowl and add heavy cream.

Stir and blend as chips melt. (Add a little more cream if needed if the ganache is too thick.)

Consistency of ganache should be like a sauce.


PUTTING TOGETHER THE "PIE"
On the first layer of cake, spread half of the filling smoothing around to within ½ inch of the perimeter. Slice bananas on top. Add a second layer.

Place remaining filling (leaving ½ inch around the perimeter because the filling will squooosh out…is that a word? My spell check says 'no' but I like it, so it stays J!)

Add the top layer of the cake. Cover top with somewhat cooled ganache and allow it to run down the sides in a very natural 'organic' nature.
Notes
You can make the filling hours in advance of making the cake because the cream filling needs to chill in the refrig for several hours prior to using in the cake. Cover with plastic wrap.