This cake has a history and a story behind it…well, actually three stories.  First of all, as a littl' girl growing up in West Virginia, I lived in the hollers.  On usually one Saturday a month, Dad and Mom would take us kids to the 'big city,' the county seat, to 'shop' at the 5&Dime and to go grocery shopping at the 'big' store.  Part of this special adventure was having lunch, and we'd eat at the popular 'grille' in town.  This is where I first experienced 'Boston Cream Pie'…it was glorious!  Every time we went into town the best part of the day was not listening to 45rpm records at the dime store, but sitting down in the booth at the grille  and eating the Boston Cream Pie!
The second story behind this creation is my first go round with making the cake.  I wanted to do it from scratch, worked my bahooootie off doing it, took step pictures along the way.  When the cakes were done and I took them out of the oven to let them 'rest' and cool, it was like 'Houston, we have a problem!'.  When I flipped to release them, there was NO release…they were stuck like cement!  I tried and tried to work some surgical procedure to make  them come out without totally falling apart.  I mean I could fix a clean break, some small cracks, but, alas, no luck, these cakes were nothing but disasters!  So after all this work, making a special batter with some expensive mascarpone in it, I decided the cakes and the pans were history.  Not to be defeated, I marched out the door, cranked my engine and headed to the store where I bought 3 new cake pans and pre-packaged cake mixes–I mean I was exhausted and needed a shortcut!
Finally, the third story.  I wanted a nice creamy, light, subtly sweet custard.  I surfed the Internet reading and reading recipes even watched a YouTube video or two.  Made the custard I thought would work.  Let it sit over night.  Next day, tasted it…hummmm, so so…looked at it, and the color just didn't ring my bells…sooooooooooooooo, down the drain it went!  Then by a stroke of LUCK, my sweet dear foodie friend, Melissa, at ChinDeep, had posted a great 'Apple & Bramble  Cake with Bushmill Whiskey Custard!'  It was like an answer to my prayers!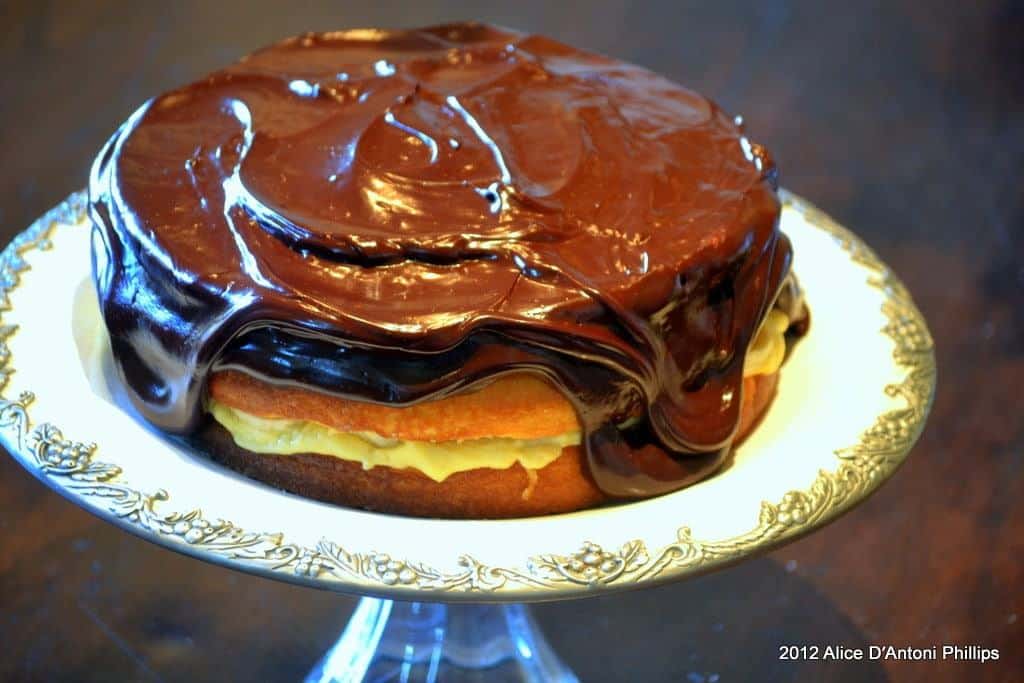 Makes:  One 9" triple layer pie (cake)
(Note:  This can be made into two layers.)
What you need:
CAKE:
One yellow boxed cake mix
(Note:  Prepare according to directions adding ½ cup sour cream and ½ cup crème fraiche to batter.)
FILLING:  (This recipe is Melissa's from ChinDeep!)
1 ¼ cup milk
1 ¼ cup cream
4 egg yolks
1 tbl + 1 tsp flour
½ cup sugar
1 tsp vanilla
1/4 cup whiskey (optional to omit or substitute 2 tsp. almond extract + 3 Tbl. apple juice)
2 large firm bananas
(Note:  You can omit the bananas if you wish, but it makes it more yummy!)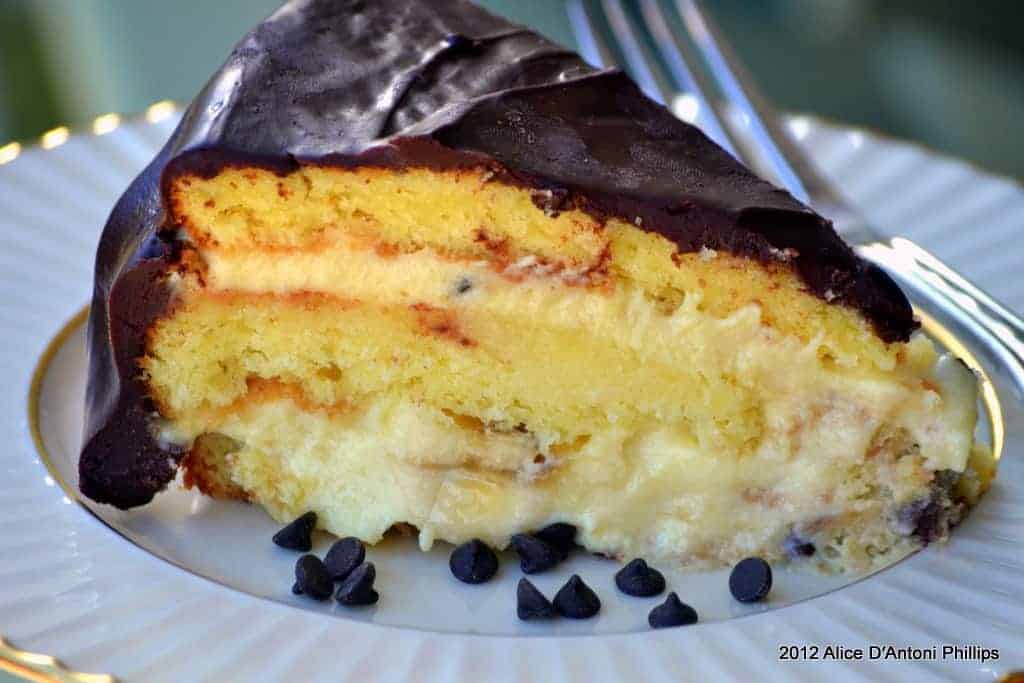 GANACHE
1 ¼ cup excellent quality chocolate chips (I used Ghiradelli 60% cocoa chocolate chips)
¾ cup cream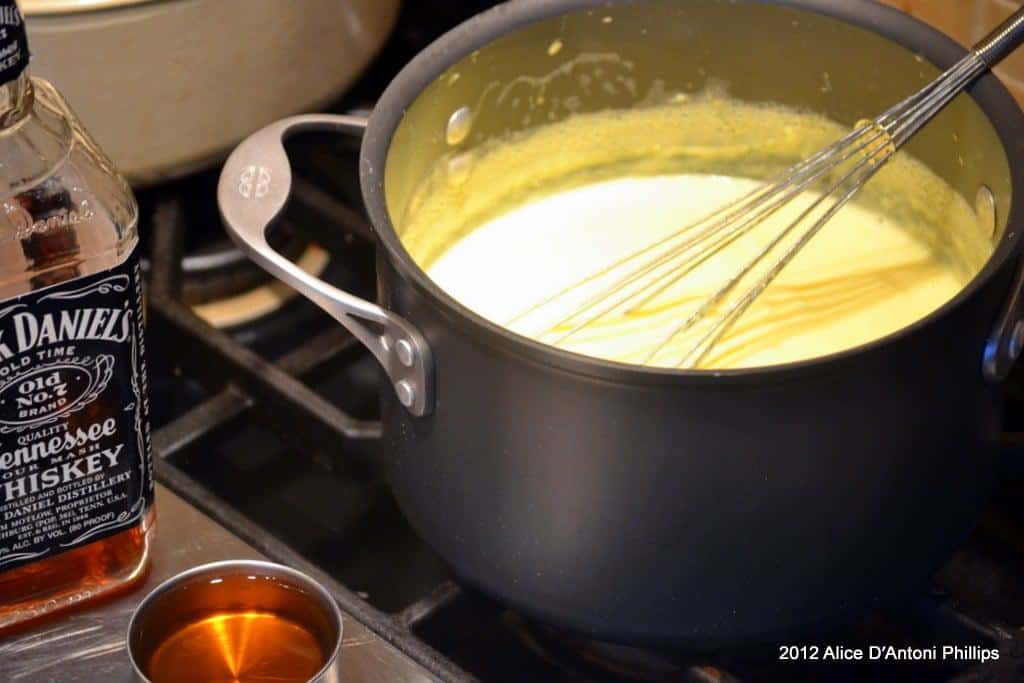 What you do:
(Note:  You can make the filling hours in advance of making the cake because the cream filling needs to chill in the refrig for several hours prior to using in the cake.)
Cake:
Prepare cake mix to instructions.  Add ½ cup sour cream and ½ cup crème fraiche to batter.  Whip batter with hand mixer until fluffy.  Coat sides (and lightly on bottom) of three 9" cake pans with cooking spray. Line the cake pans with parchment paper (cutting circles to fit). Pour equal amounts of batter into each of the three.  Bake in preheated 375 oven until done and golden brown.  Remove  and place on cooling rack.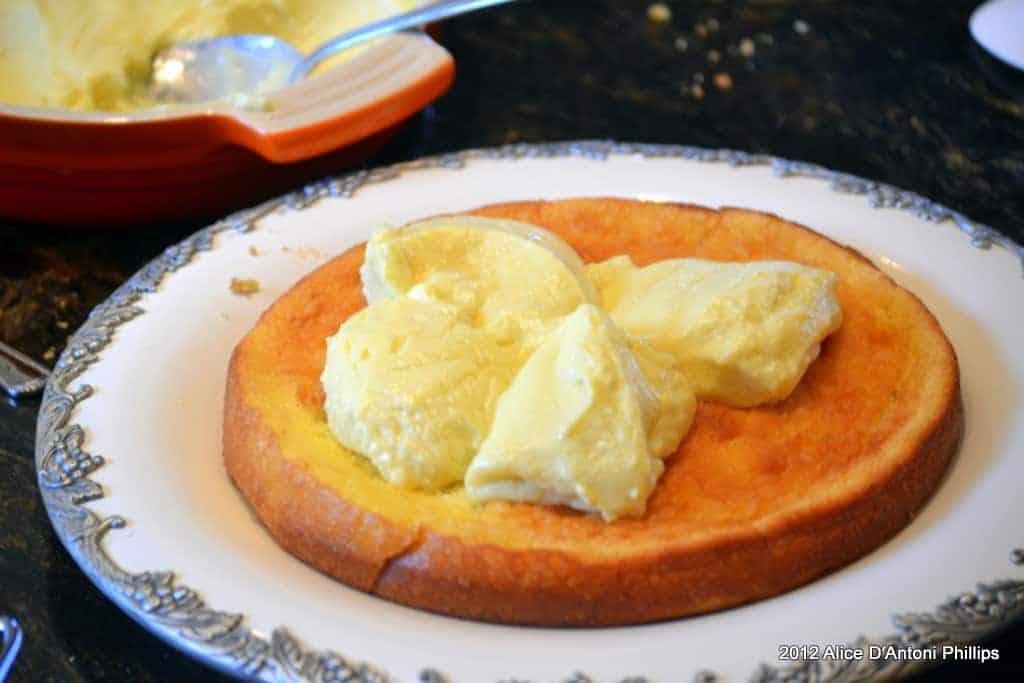 Filling:
In a small bowl, place blended egg yolks and whisk in flour, sugar and vanilla.  Set aside.
In medium saucepan over medium it heat, pour milk and cream.  Whisk consistently as you bring it to boil.  Remove from heat. Slowly pour in, while constantly whisking, the egg mixture.  Return to medium low heat and whisk about 3 minutes then add whiskey and continue to whisk consistently for another 9-12 minutes as the custard thickens.  Remove, pour into a glass dish, and cover with plastic wrap (patting the wrap on the filling).  Place in refrigerator for a few hours before using.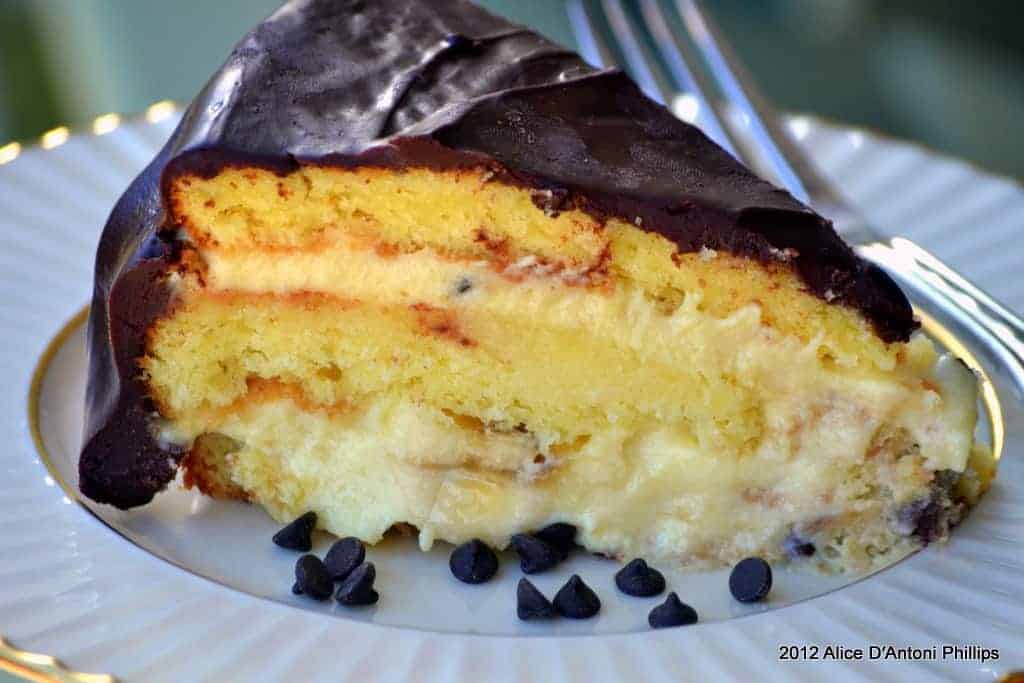 Ganache:
Make a double-boiler with a pot of water and a glass bowl over it.  Over medium heat. Put chocolate chips in bowl and add heavy cream.  Stir and blend as chips melt. (Add a little more cream if needed if ganache is too thick.)  Consistency of ganache should be like a sauce.
Steps for pie construction:
On first layer of cake, spread half of the filling smoothing around to within ½ inch of the perimeter.  Slice bananas on top.  Add second layer.  Place remaining filling (leaving ½ inch around perimeter because the filling will squooosh out…is that a word? My spell check says 'no' but I like it, so it stays J!)  Add top layer of the cake.  Cover top with somewhat cooled ganache and allow it to run down the sides in a very natural 'organic' nature.