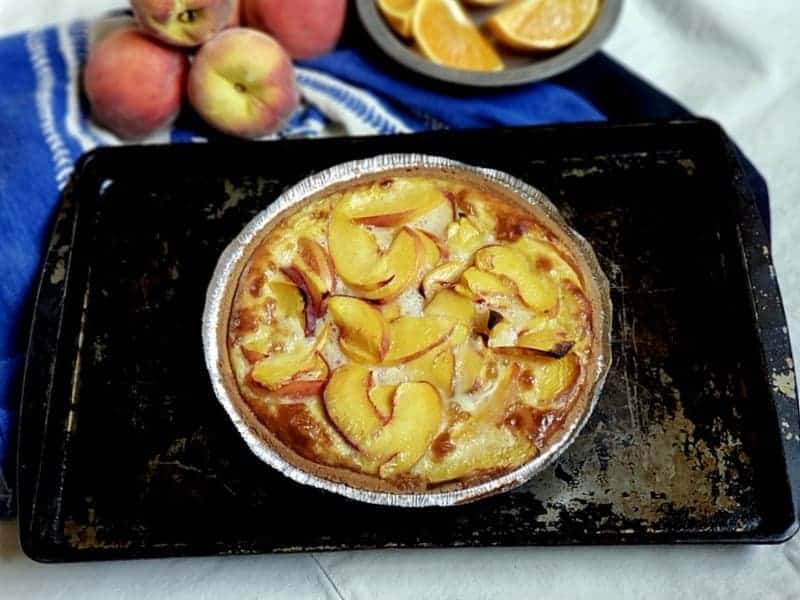 Put on a scoop of vanilla ice cream on this custard peach pie, and you'll know that you're eatin' the best peaches and cream custard pie ever!
Easy Peach Pie Recipe
This easy peach pie recipe, for me, is inspired by two things, fresh peaches in season in the Summer and make a custard peach pie that's no sweat as in easy! Of course, cooking with Frenchie. Frenchie, my dear girlfriend is just, so French. Very French. Born and raised in Brittany, she's been in the United States for a while, but she has not lost any of her Frenchness!
I have learned so very much from her from her artistic tendencies and decorating to her incredible cooking. And, one of the big ideas that I've learned from Frenchie in cooking is that 'less is more'. Simple and simplified is the best kind of cooking. Yes, if you start with wonderfully fresh high quality ingredients then cooking and baking are simple.
Custard Peach Pie
That's how this custard peach pie came about. I wanted to use the star of the pie, peaches, and just kind of bring them together with a simple custard. I know that the more simple I can make cooking for you, the more likely you are to make a recipe. And, you're going to definitely want to make this peaches and cream custard pie.
Custard Recipe EASY
Now creating a custard recipe is not a problem, but designing a custard recipe EASY is more of a challenge! It's really hard to believe that in this peaches and cream custard pie there are only five ingredients. I'm thinking that because of this being one easy custard peach pie, you're gonna make it. So t make this easy custard that bakes into the peaches all you need are two ingredients!
Peaches and Cream Custard Pie
When I pulled the peaches and cream custard pie out of the oven, I knew the custard was done, and as you can see there are little bubbles that migrated to the top. I do believe that's the combination of the juices from the peaches with the custard. Actually, I wasn't sure if this pie would cut into definable 'slices' and it really doesn't. There's just too much ooozeee tasty creaminess. But, what the heck, you can scoop it out into a bowl or on a plate with some vanilla bean ice cream, and you'll be perfectly happy!
In the Fall, when those apples are in season, try making another of my most elementary desserts quick apple tart. Yes, this is why I call myself a 'rogue baker'. Nothing I do would probably make it into a fancy bakery or patisserie, but I guarantee you'll love eating it!
Peaches Recipe
Now don't thing that this is my only peach recipe. Oh, heavens sakes no! Check out more of my recipes, both sweet and savory, using peaches!
Frozen Peaches
Peaches in recipes are simply fabulous. Whether they're canned, frozen or fresh, you can eat peaches year round. Frozen peaches from Dole Sunshine are absolutely perfect slices and fresh as fresh an be anytime of the year. And, if you don't have fresh peaches for this custard peach pie, then, by all means, buy the frozen peaches. You'll save some serious time, too, because they're peeled, sliced and ready to go! And, these peach slices have the vibrant color of fresh peaches unlike canned peaches, which can tend to have a darker hue.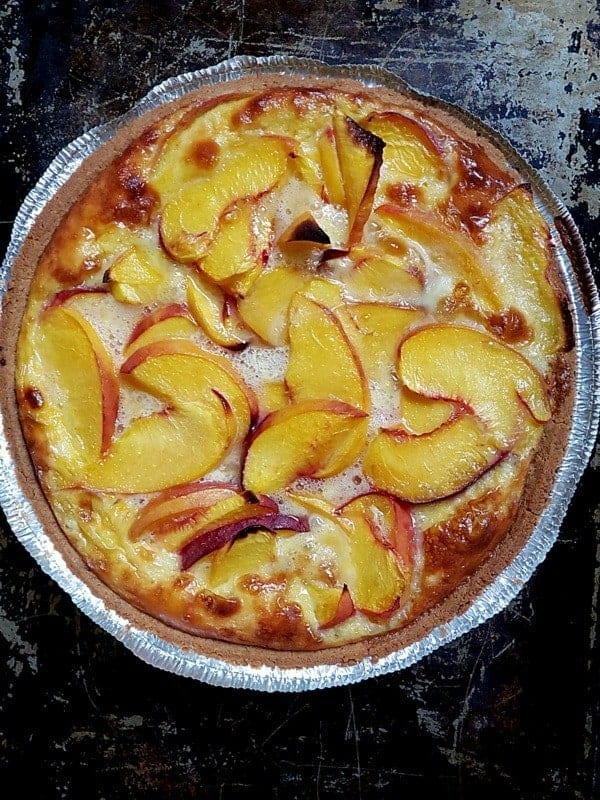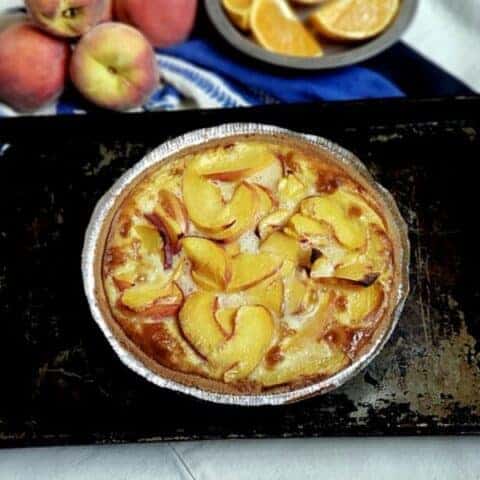 peach custard pie
Put on a scoop of vanilla ice cream on this custard peach pie, and you'll know that you're eatin' the best peaches and cream custard pie ever!
Ingredients
Preheat oven to 350
1 premade graham cracker crust
5-6 cups fresh peaches, thinly sliced, skin on
1 large orange, juice only
2 organic eggs
1 cup sweetened condensed milk
Instructions
Put the peaches in a mixing bowl with the orange juice and toss and coat then put into the graham cracker crust.
In a small bowl, whisk together the eggs and sweetened condensed milk. Pour over the peaches.
Bake for 32 to 35 minutes in a preheated 350 oven or until a toothpick comes basically clean from the center.
Notes
You can substitute fresh lemon juice for orange juice.

If you can't find tasty fresh peaches, use the frozen peach slices.