Lemon yogurt cake. It just sounds like something you want to bite into! In fact, when I think about the tart lemon flavors and the creaminess of the filling, some serious drooling can fire up!
If you want to serve it warm, then by all means do it. Just give it sufficient time, about an hour or more, after removing from the oven for it to rest and settle. The addition of the walnuts and the cottage cheese really add some nutritional value to this cake that helps alleviate the sweets guilt factor.
What I love about this cake is that it keeps for several days, and it's good for breakfast, lunch or dinner. You could actually make this cake with a puff pastry crust and no crust at all. Yes, that's how good it is!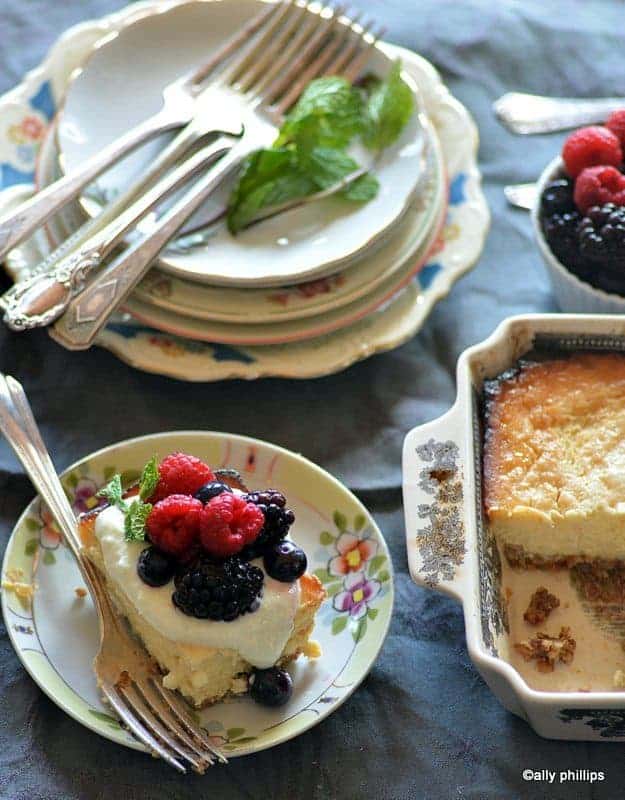 Ingredients
Makes: One rectangle baking dish (about 6-7" x 10")
Preheat oven to 325
CRUST:
6 Tbl. Butter, salted, melted
1 ½ cups graham crackers, crushed
½ cup walnuts, crushed
FILLING:
1 cup cottage cheese, small curd 4%
½ cup sour cream
3 (6 oz.) containers lemon yogurt, divided
2 Tbl. all-purpose flour, sifted
½ cup sugar
1/8 tsp. sea salt
3 eggs, beaten
2 tsp. lemon extract
2 lemons, zest & juice
GARNISH:
2 (6 oz.) containers Greek lemon yogurt
2 cups berries, your choice
Fresh mint for garnish
Instructions
In a medium mixing bowl, combine the melted butter, graham crackers and walnuts then put into the bottom of the baking dish.
In a large mixing bowl, combine the cottage cheese, sour cream, two containers of the yogurts, flour and blend together with a hand mixer for about 3 minutes. Add the sugar slat, eggs, lemon extract and lemon juice and zest and whip another couple of minutes.
Pour into the baking dish. Place on a cookie sheet. Put on the oven rack (preheated 325 oven). Add 2 to 3 cups of water to the cookie sheet making a baking 'bath' for the cake. Bake for about 1 ½ hours or until a toothpick come basically clean from the center.
Remove to a cooling rack for an hour or so and then refrigerate a couple of hours before serving. Serve with a dollop of the lemon yogurt, berries and fresh mint.
https://allyskitchen.com/lemon-cream-cake/
©ally's kitchen intellectual property