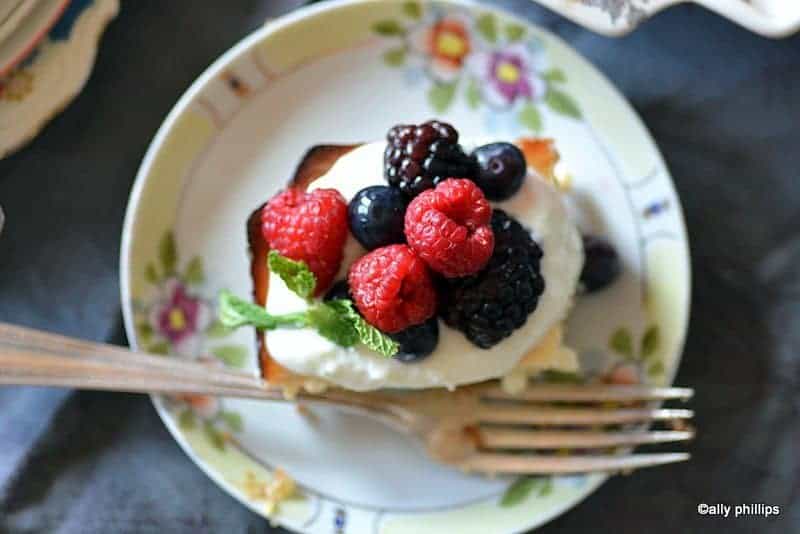 Best Desserts in the World
Lemon cream cake just sounds decadent. And, that's a good thing because it's worth making and serving for your next party, picnic, BBQ, cookout, whatever! Honestly, I'd put it up against any of the best desserts in the world! It's simple. It has some health features that help assuage the 'guilt' (sometimes!) of eating desserts. And, it's rustically and farmhouse style beautiful!
Cottage Cheese for Cheesecake
If you've never used cottage cheese for cheesecake, you're missing a glorious ingredient. A lot of Eastern European recipes, both sweet and savory, have cottage cheese in them. Growing up with my Croatian mom, we always had cottage cheese in the refrigerator. And, her cheesecake recipe, which has won me some great recognition in the food world, is primarily cottage cheese.
This will be a smaller lemon cream cake! You'll need about a 7 x 10 (outside measurements) baking dish!
Cake Recipes with Yogurt
Another thing about my sweets and desserts I create is that I love to cook with yogurt, mainly either plain Greek yogurt or lemon yogurt. Sometimes I'll use another kind of fruit yogurt, but not as much as the plain and lemon.
This lemon cream cake uses twenty-four ounces of Greek lemon yogurt!
Cheesecake at Home
Making cheesecake at home is so simple! Here're some of my favorite recipes for you to try!
Chocolate Banana Cheesecake Bites
Blueberry Lemon Cheesecake Bars
Homemade Cheesecake No Bake
King Pineapple No Bake Cheesecake
Homemade Cheesecake Recipe Easy
Cherry Ricotta Cheesecake Jars
Healthy Cheesecake
I suppose with all the cottage cheese and Greek yogurt in this recipe, it's 'kinda' a healthy cheesecake! That might be stretching it!
Yogurt Desserts
Yogurt desserts might be more oftentimes found with smoothies and yogurt topped with things like cacao nibs, nuts, fruit, chocolate ganache and more. But this cheesecake is almost a yogurt dessert because yogurt is the largest amount ingredient. Yes, twenty-four ounces of it.
Recipes with Cottage Cheese
You'll find many recipes with cottage cheese for savory dishes, even things like lasagna, which I like almost better than ricotta cheese. Cottage cheese has so many other possibilities besides just eating scooped out with maybe fruit, tomatoes, cucumbers and other things. But, I'll take a big bowl of cottage cheese with pineapple tidbits and lots of walnuts any time of the day!
Lemon Cream Cake Recipe
My lemon cream cake recipe has just a few steps. You're going to make the crust with graham crackers and ground walnuts. If you want to add more nutrition to it, reduce the amount of crushed graham crackers and substitute wheat germ or ground flax along with more ground walnuts and/or almonds.
Amazing Desserts to Impress
Lemon cream cake. It's one of those amazing desserts to impress! In fact, when I think about the tart lemon flavors and the creaminess of the filling, some serious drooling can fire up!
If you want to serve it warm, then by all means do it. Just give it sufficient time, about an hour or more, after removing from the oven for it to rest and settle. The addition of the walnuts and the cottage cheese really add some nutritional value to this cake that helps alleviate the sweets guilt factor.
What I love about this cake is that it keeps for several days, and it's good for breakfast, lunch or dinner. You could actually make this cake with a puff pastry crust and no crust at all. Yes, that's how good it is!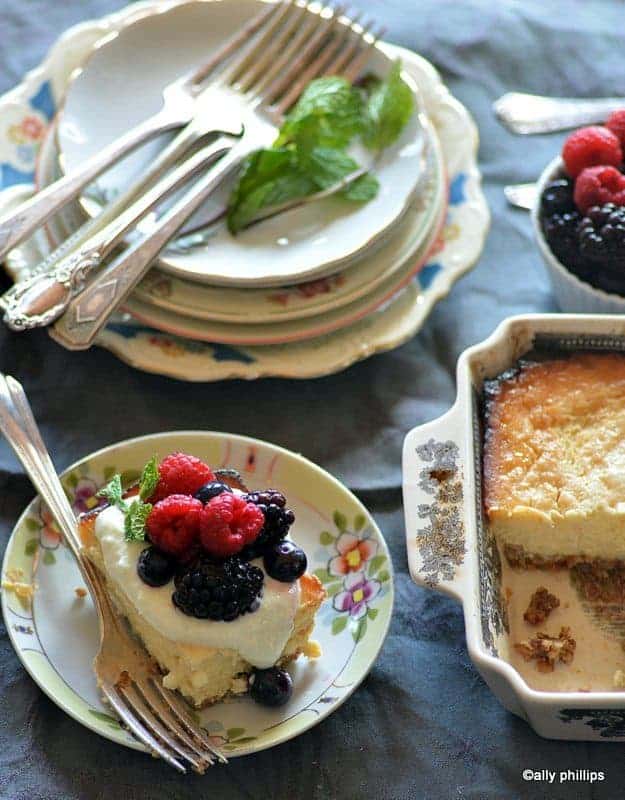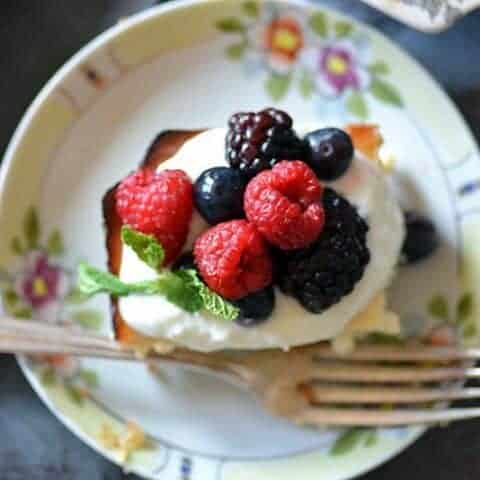 lemon cream cake
Yield: Makes: One rectangle baking dish (about 6-7" x 10")

Lemon cream cake just sounds decadent. And, that's a good thing because it's worth making and serving for your next party, picnic, BBQ, cookout, whatever!
Ingredients
Preheat oven to 325
CRUST:
6 Tbl. Butter, salted, melted
1 ½ cups graham crackers, crushed
½ cup walnuts, crushed
FILLING:
1 cup cottage cheese, small curd 4%
½ cup sour cream
3 (6 oz.) containers lemon yogurt, divided
2 Tbl. all-purpose flour, sifted
½ cup sugar
1/8 tsp. sea salt
3 eggs, beaten
2 tsp. lemon extract
2 lemons, zest & juice
GARNISH:
2 (6 oz.) containers Greek lemon yogurt
2 cups berries, your choice
Fresh mint for garnish
Instructions
In a medium mixing bowl, combine the melted butter, graham crackers and walnuts then put into the bottom of the baking dish.
In a large mixing bowl, combine the cottage cheese, sour cream, two containers of the yogurts, flour and blend together with a hand mixer for about 3 minutes. Add the sugar salt, eggs, lemon extract and lemon juice and zest and whip another couple of minutes.
Pour into the baking dish. Place on a cookie sheet. Put on the oven rack (preheated 325 oven). Add 2 to 3 cups of water to the cookie sheet making a baking 'bath' for the cake. Bake for about 1 ½ hours or until a toothpick come basically clean from the center.
Remove to a cooling rack for an hour or so and then refrigerate a couple of hours before serving. Serve with a dollop of the lemon yogurt (the 3rd container), berries and fresh mint.