mango ginger ice cream pie
In this crazy world of everyone being super busy, it's always great to have recipes that are completely brainless, simple, quick and easy. And, that's what this mango ginger ice cream pie is. All you need is a food processor, about ten minutes to prepare (if that!), and then let the ice cream pie head to the freezer for the night. You're in business when you want to serve it. And, I'd suggest you do so in the next few days!
To make this refreshing tart mango ginger ice cream pie even more luscious, try adding some whipped cream. Then I wanted some crunch and more texture, so i diced up into bite size pieces a really nice artisan granola bar. If you want to serve with shaved or grated chocolate, chocolate chips, a drizzle of warm honey, maybe some salty peanuts and sweet coconut, hey, there's no limit to how you can top off this ice cream pie.
One thing's for sure, it freezes hard. So, you'll need a good twenty minutes or so to let it sit at room temperature to thaw before you release it from the springform pan. I sliced mine up and placed in glass freezer storage containers, separating each slice with parchment paper. That way when we want a slice, we just pull it out.
Enjoy every last bite of this pie. It's one that's unexpected in so many ways for your sweet little palate! xoxo ~ally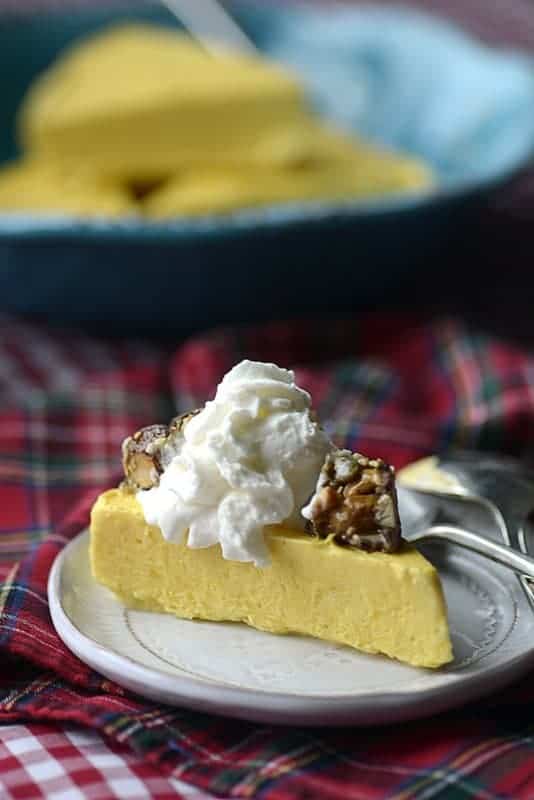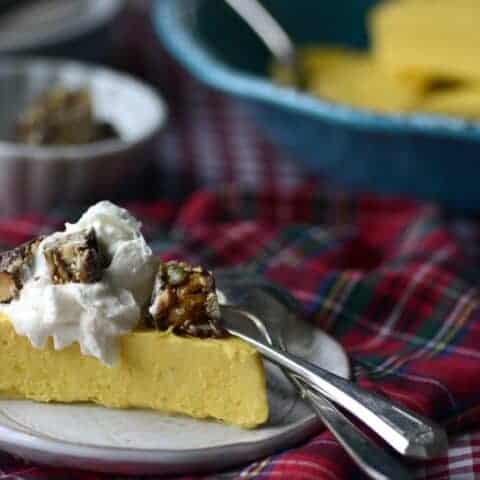 mango ginger ice cream pie
Yield: Makes One 6-8" springform pan/about 2-3 inches thick
Ingredients
6 cups mango pieces, previously frozen and mostly thawed
1 ½ cups heavy cream
3 tsp. fresh ginger, grated
Pinch sea salt
GARNISH:
Whipped Cream, fresh or canned
Nut & Granola Bars, cut into bite size pieces
Instructions
Put the mango chunks in a food processor. Blend into a puree. Add the cream and ginger. Pulse several times to blend together.
Pour into a springform pan. Cover with plastic wrap and aluminum foil. Set on a flat surface. Freeze overnight.
When ready to serve, remove and let it thaw about 20-30 minutes. Gently move a butter knife around the perimeter to help release.
Cut into slices with a serrated knife. Serve immediately with whipped cream and nut and granola bar pieces.