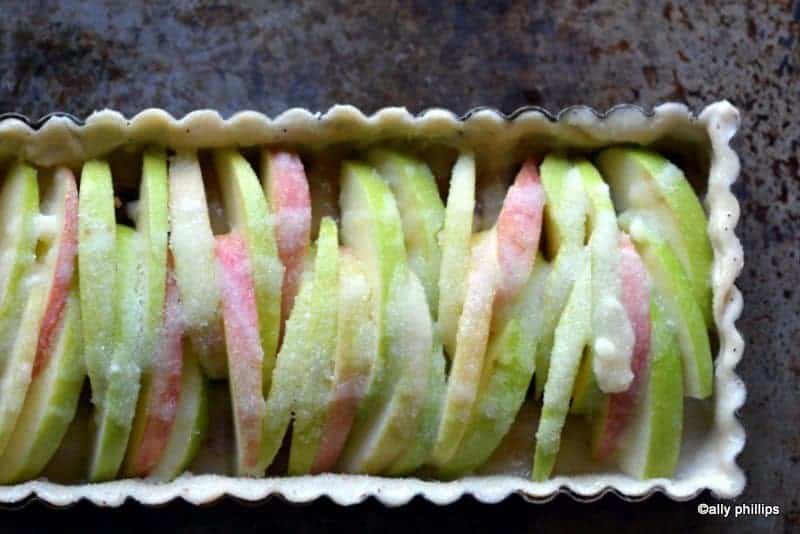 Rustic Apple Tart Recipe
This apple custard tart is so simple to make! You'll think that you're some kind of fancy French pastry chef. But, wait, you are a darn great cook!
My desserts and sweets are rustic. Rustic really means they're not perfect the way they look. This rustic apple tart recipe is a perfect idea of how I like to prepare pastries.
Apple Custard Pie
Apples floating in custard just sounds delicious. And, this apple custard tart can be redesigned and engineered into an apple custard pie. All you'd need to do is use your favorite pie plate. I love recipes like this that are simple and quick. And, that I can reinvent into something else. Apple tart. Apple pie. Whichever you prefer!
Apple Tarts
What exactly is an apple tart? And, is it the same thing as an apple pie. Basically apple tarts have a thicker bottom crust than a pie crust. Apple tarts can be made with both pie dough and puff pastry dough or any other kind of dough.
Recipe for Apple Tart
Simplicity. That's the word of the day. And, that's the word that resonates with this easy recipe for apple tart. Busy lives mean that you can take a few short cuts with cooking and baking and still enjoy the food artistry that comes with your home cooking. So, in this recipe, we're gonna use a refrigerated pie crust to save us some time!
And, if you need to add a tart pan (or two or three), which also great to make a great quiche, to your baking dishes, well, here are some options! I have several sizes and shapes.
Apple Tart in Puff Pastry
You could do this apple tart in puff pastry as well as a pie crust. The puff pastry is generally flakier, lighter and more buttery. It's wonderful for making any kind of tart, pie, or palette. Puff pastry is prepackaged so you don't have to make. It's a go to dough that are perfect for so many recipes. I usually keep puff pastry in my freezer all the time.
I never know when I have the urge to create something, even if it's as simple as rolling out the puff pastry, drizzling it with butter, then doing a cinnamon sugar filling. Roll it up and bake. Ohhhhh, yes, divine! When working with puff pastry be sure it's about at room temperature before you begin to handle, roll out and put into your baking dish.
Apple Tart Pie Crust
Now an apple tart with a pie crust, like this recipe, is also great. Pie crust has a more biscuit-like thin texture, It's flaky but not as flaky as puff pastry. I have no issue with using prepackaged pie crust, the refrigerated roll out type, either. Gosh, these products have come so far in quality that it's good to have these alternatives for our busy lifes.
Apple Tart Easy
I love this apple tart recipe because it's easy and just seems so French. I've visited many places in France, and one thing is for sure, the French love their pastries, and tarts are found in most bakeries and pastry shops and on some restaurant menus. This tart has a caramelized 'cushion' that the apples sit on. By that I mean, you're going to create a brown sugar and butter bottom on the pie crust that adds a tad bit more flavor.
This tart, or if you'd like to do it as a pie, will keep for a couple of days and still be just boholicious! I have to restrain myself from eating huge servings because YES it's that good!
Hey, here's another savory tart that I created! Featured on the cover of Food Network Magazine! xoxo ~ally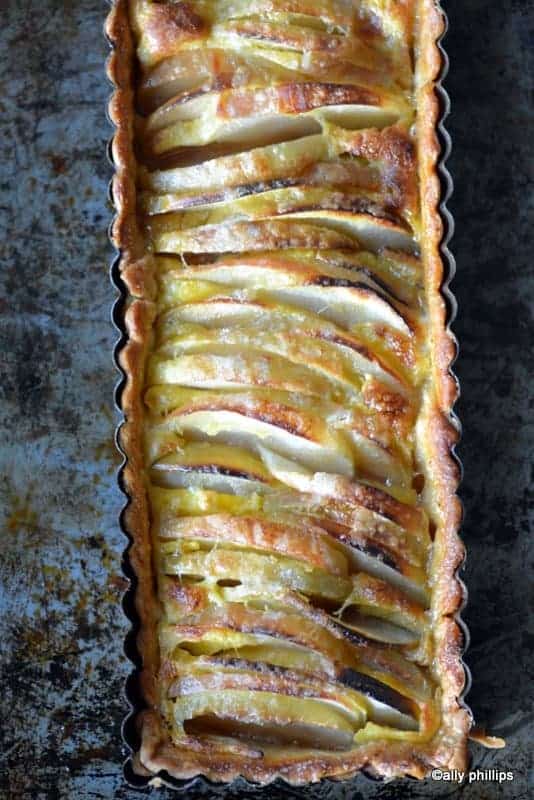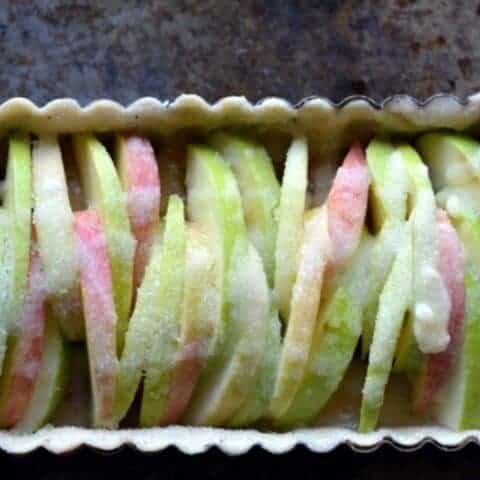 apple custard tart
Yield: One rectangle tart (about 4"x14")

This apple custard tart is so simple to make! You'll think that you're some kind of fancy French pastry chef. But, wait, you are a darn great cook!
Ingredients
Preheat oven to 350
Cooking spray
1 refrigerated roll-out pie crust
2 Tbl. Brown sugar
4 Tbl. Butter, salted & melted, divided
6 Tbl. Sugar, divided
4 Tbl. Lemon juice
2 ½ large apples, thin slices, granny smith and/or pink lady, cut apple in halves then quarters, then slice each quarter into thin pieces. Place in a bowl with the lemon juice coating the slices to keep them from turning brown.
CUSTARD:
1 egg, beaten
2 Tbl. Heavy cream
1 Tbl. Vanilla extract
Instructions
Coat the tart pan well with cooking spray. Roll out the pie crust and place about half of it in one-half of the tart pan. Gently press into the pan then press down on the fluted top edges to cut/trim.
Continue with the dough into the second half of the pan. Take any remaining pieces of dough and place into the pan/sides and press and flatten. You should have the pie crust covering tart pan and up the sides.
Drizzle two tablespoons of butter on the crust then sprinkle on the brown sugar. Place the apple slices in the tart pan on the 'cushion' of brown sugar & butter. Drizzle on the remaining butter to the top of the apples.
Sprinkle with four tablespoons of sugar. Place on a cookie sheet and bake for about 25 minutes. Meanwhile, mix together in a small bowl the egg, cream, two tablespoons sugar and vanilla.
After about 25 minutes, remove the tart and drizzle the custard mixture on top the apples. Return to the oven and bake another about 20 minutes. Remove to a cooling rack for about 30 minutes then gently nudge from the tart pan.