lavender & almond basboussa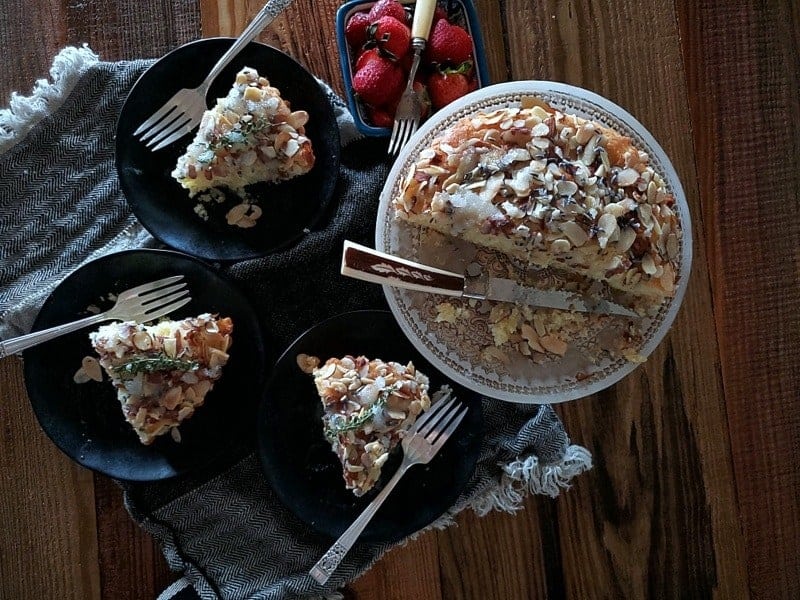 Basboussa is, honestly, one of the easiest cakes you'll ever make! In fact, my 8 year-old grandson made the simple syrup with rose water for it!
The best part of having a Facebook cooking page is meeting all the great foodies from around the world! I'ts like having my own virtual cooking kitchen at my fingertips…I mean I can just post that I need to know more about a particular ethnicity's cuisine, and, within minutes I have comments and suggestions. One of my dearest and sweetest foodies is Nanou who is from the UK. She's a young beautiful Algerian, married to a handsome Italian, Stefano, and she is a great cook!
Nanou has shared with me so many ideas and suggestions from her native land, and I am so very grateful. Just recently, Nanou sent me her recipe for 'basboussa,' and true to my Bohemian spirit and nature, I adjusted somewhat. Instead of rose water, I decided to use lavender water, which I make from edible lavender. You can buy culinary grade lavender on Amazon.com. It's worth the investment. Keep it in the freezer to maintain freshness, then use in other ways, too! Check out these from Boulder Locavore.
All in all, I maintained the integrity of Nanou's recipe. Before I posted my version of her recipe, I sent her pictures and shared what I'd done to it…it met with her approval! Yay!! She said I had done her recipe proud! We both started doing the littl' cheeekin dance! This cake is beyond fabulous! It's not only beautiful, rather heavenly looking with the all white and the slightly contrasting sliced almonds.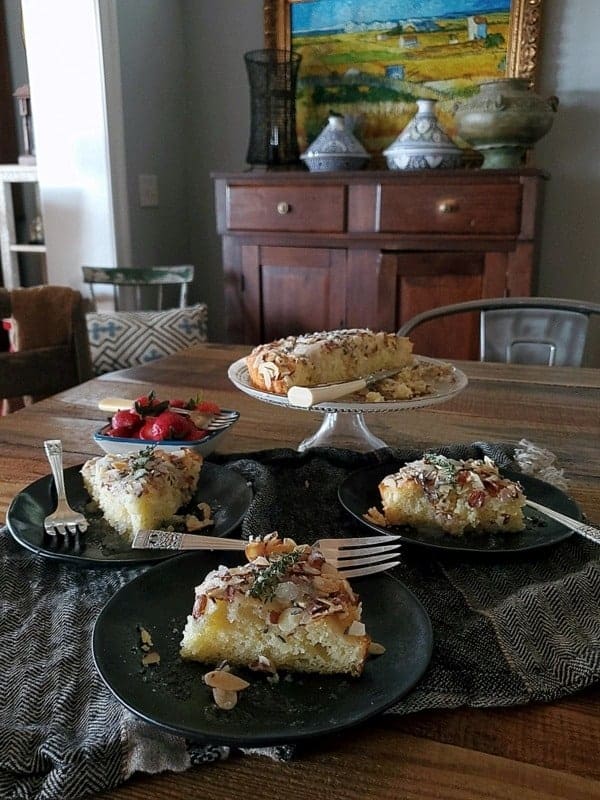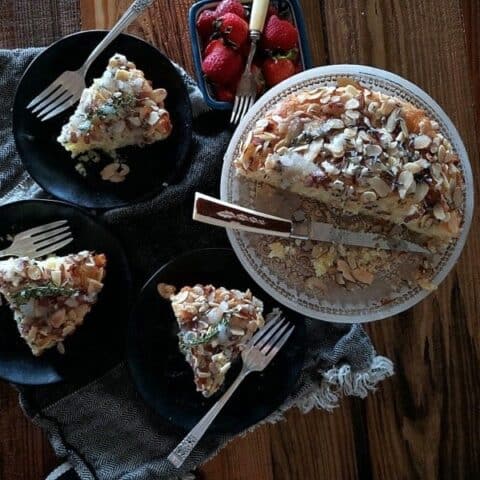 lavender & almond basbousa
Ingredients
Preheat Oven to 350
2 cups flour, self-rising
1 container Greek Lemon Yogurt (6 oz)
1 ¼ cups plain Greek Yogurt
1 egg + 1 egg white
½ cup sugar
½ cup butter, unsalted, melted
1/4 tsp. salt
2 tsp. baking powder
1 tsp baking soda
4 tsp. lavender or rose water extract
1 tsp. pure (natural) lemon extract
¼ cup milk
½ cup sliced almonds
1 Tbl. dried lavender
SIMPLE SYRUP:
1 cup sugar + 1 cup water
2 tsp. rose water extract
1 lemon, juice
1 tsp. dried lavender
1/2 tsp. fresh thyme leaves, chopped
Instructions
Combine all ingredients except sliced almonds in a large mixing bowl. Whisk together gently and thoroughly. The batter will be relatively 'thick' like a pre-packaged spreadable icing.
Coat baking pan well with cooking spray. I used two tart pans. Place batter in the baking dish(es) and spread on top the sliced almonds. Gently pat down almonds with a spatula. Place pan on a cookie sheet.
Bake in a preheated 350 oven about 42-48 minutes or until a toothpick comes out fairly clean. Let cool for about 30 minutes. Sprinkle on top the dried lavender.
SIMPLE SYRUP: Combine water, sugar and lemon juice in medium saucepan on medium heat. Dissolve sugar in water. Turn heat to high & bring to boil for 2 minutes. Reduce heat to medium and simmer 3-5 minutes. Add dried lavender and fresh thyme leaves.
The simple syrup is drizzled on top the cake and on individual servings if wanted.
Notes
Serve cake with simple syrup drizzled on it.