Crème anglaise is a French word for English cream. And, with the addition of coconut, which I love, and which you can omit if you don't care for it, you have this fabulous dessert that's just so very light and velvety smooth. I highly recommend you spring for a vanilla bean for this recipe. Not only do you have a more intense flavor, but you get the speckles of the vanilla specks that are lovely!
Lady fingers, which I also used in this recipe, are oftentimes used in Tiramisu, an Italian dessert. They're a light and not too sweet spongy kind of cake shaped into "fingers"~~using them in this recipe makes it even easier and more inviting to serve because you can do it in just a little time. The best thing about this dessert? Well, for us, it kept for about 4-5 days and was still just as tasty, maybe better, than on the first!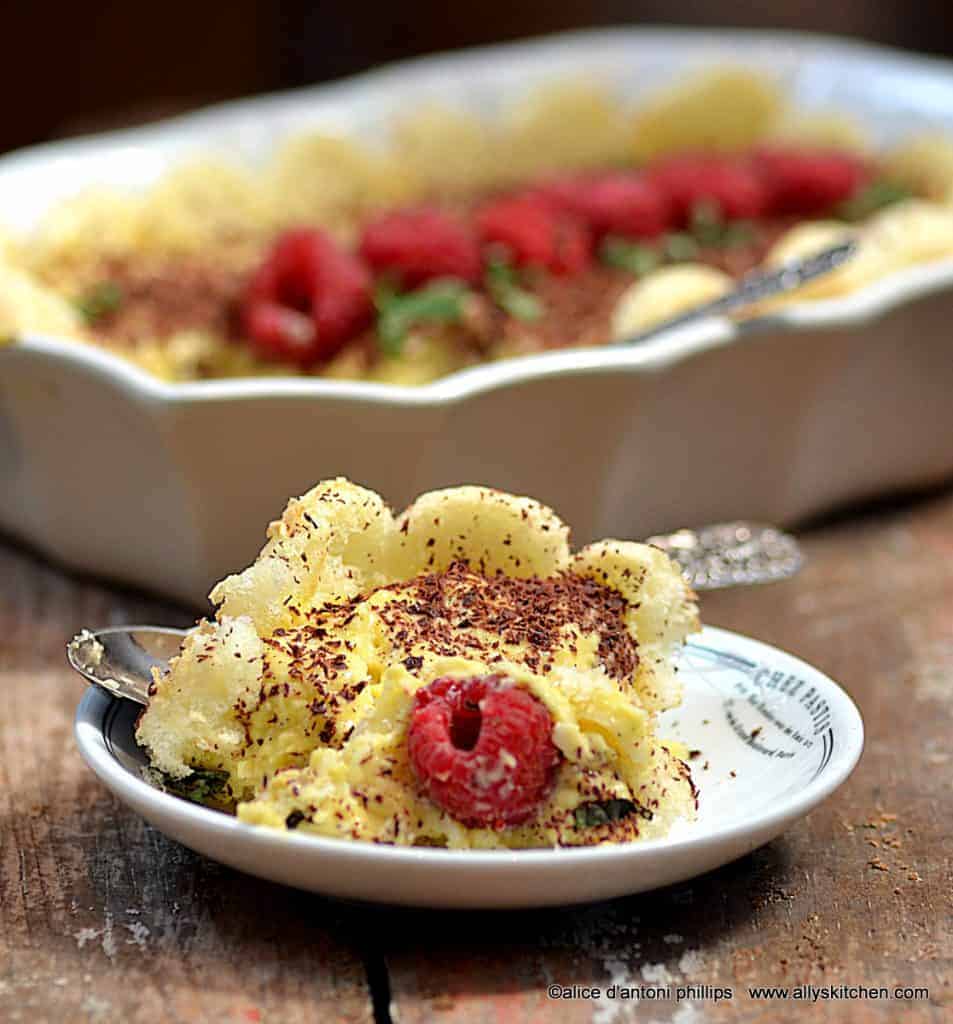 coconut crème anglaise with raspberries chocolate & mint
Ingredients
Note: Use a shallow casserole dish about 6x8"
1 package (3 oz.) Lady Fingers
4 egg yolks
¼ cup sugar
1 vanilla bean, sliced & scraped (can substitute 2 tsp. vanilla)
1 ½ cups half and half (or half cream and half whole milk)
1/8 tsp. sea salt
¾ cup sweetened coconut
7-9 fresh raspberries (and more for individual servings)
1 square of good chocolate (I used 70% sea salt chocolate.)
1 Tbl. Fresh mint, chopped
Instructions
Alrighty, listen up! Preparation is important in making the anglaise.
Fill a medium to large size mixing bowl with some ice and water. Set another bowl (one that will hold about 3-4 cups) on top of the ice water. This will be used for cooling the crème.
Then put a strainer next to it for straining the crème into the empty bowl. Have both a whisk and a spatula handy. I promise it will be worth all this effort.
Line the casserole dish, bottom and sides, with the lady fingers.
In a medium sized mixing bowl, whisk together well the egg yolks, sugar and vanilla bean. Set aside.
In a heavy medium sized saucepan over medium heat, put the half and half and salt. Cook (whisking as it cooks) until little bubbles begin to form around the perimeter. This take a few minutes—maybe 4-7.
Remove from the heat and slowly drizzle about ½ cup into the eggs just to temper the eggs. Whisk together. Put the pot of half and half back on the stove on medium low to low and slowly drizzle and whisk in the 'tempered egg' mixture into the milk. Whisk for a few minutes until the mixture thickens.
Immediately pour into the fine mesh strainer and into the chilled bowl. Put in the shredded coconut and blend. Pour the crème anglaise into the casserole dish.
Top with raspberries, grate on your desired amount of chocolate and sprinkle fresh mint. Cover and refrigerate at least an hour before serving. Can sit overnight!
https://allyskitchen.com/coconut-creme-anglaise/
©ally's kitchen intellectual property