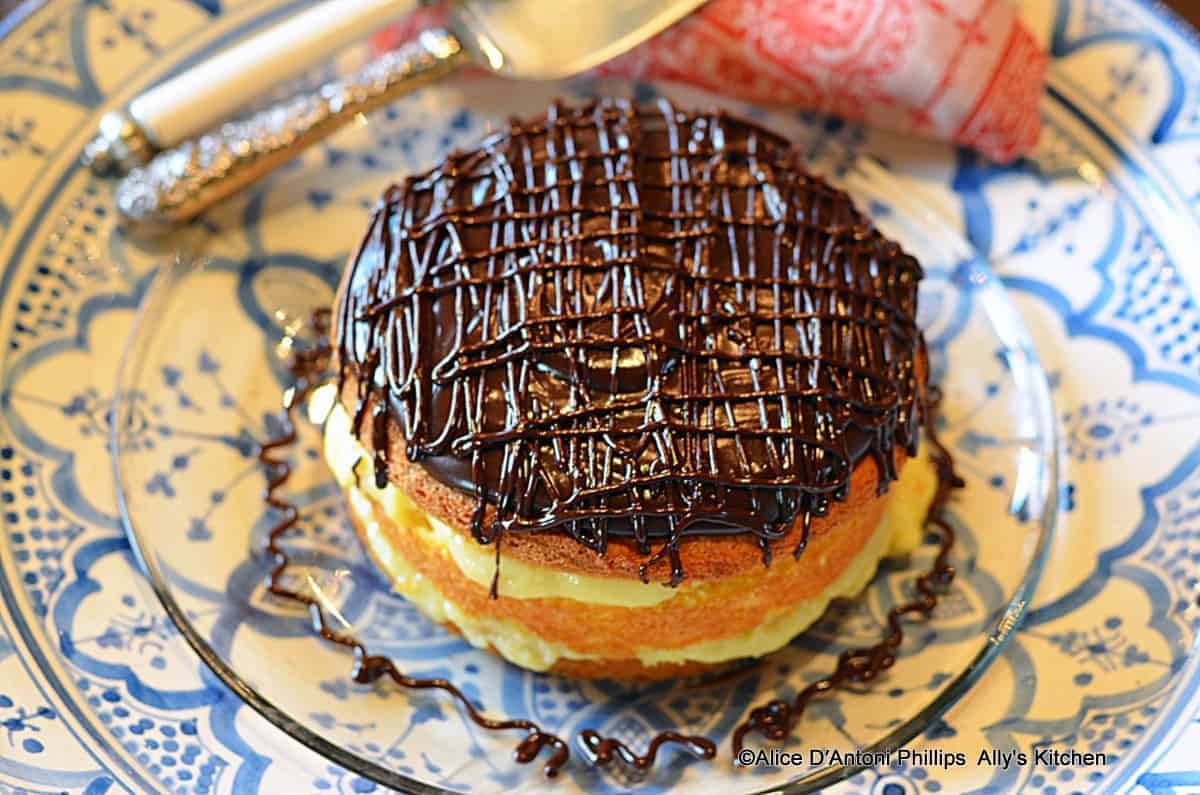 Boston sour cream cake recipe is super easy to make, and it's topped with chocolate icing. Just make this recipe and you will love the taste.
Boston Sour Cream Cake
Babycakes. Yep, that's what these sweet delectable Boston sour cream cakes are! Make one for yourself and one to give away! It's a Boston Cream Pie on steroids with three layers of tender cake, luscious layers of homemade brandy cream between the layers, and then on top, a thick layer of chocolate icing with a healthy drizzle of chocolatee ganache!
Coffee Cake With Sour Cream
Yes, this boston cream cake could be your morning coffee cake with sour cream!
Please don't be shy about making this cake thinking it's too complicated. The only thing that you want to do is have your ingredients organized. Then, you're ready to go! Actually, you could make the cream filling the night before, refrigerate and finish up the cake the next day!
Boston Cream Pie Cake
Yes a Boston cream pie is really a Boston cream pie cake! And, where in Sam Hill did that name come from?
Boston Cream Pie Origin
According to What's Cooking America, "This cake was probably called a pie because in the mid-nineteenth century, pie tins were more common than cake pans. The first versions might have been baked in pie tins. Boston Cream Pie is a remake of the early American"Pudding-cake pie."
Boston Cream Cake Mix
For sure and yes. You can use a boxed cake mix to create the cake layers of this recipe. It will save you some time. And, it's really hard to mess up a boxed cake mix. I'd get a yellow butter cake mix!
How to Make Boston Cream Filling
This recipe gives you a great homemade cream filling to make. But, again, IF you want to take another short cut, then use a packaged pudding and pie filling mix.
Boston Cream Pie Cupcakes Recipe
And, of course, if you want to make this recipe into cupcakes. Well, no problem. Simply slice through the center of your cupcake, add a dollop of the cream filling, then top with the other half of the cupcake and add the chocolate!
Easy Cake Recipes for Beginners
Everyone needs a few easy cake recipes, especially if you're a beginner. Hope you'll take a gander at these ideas!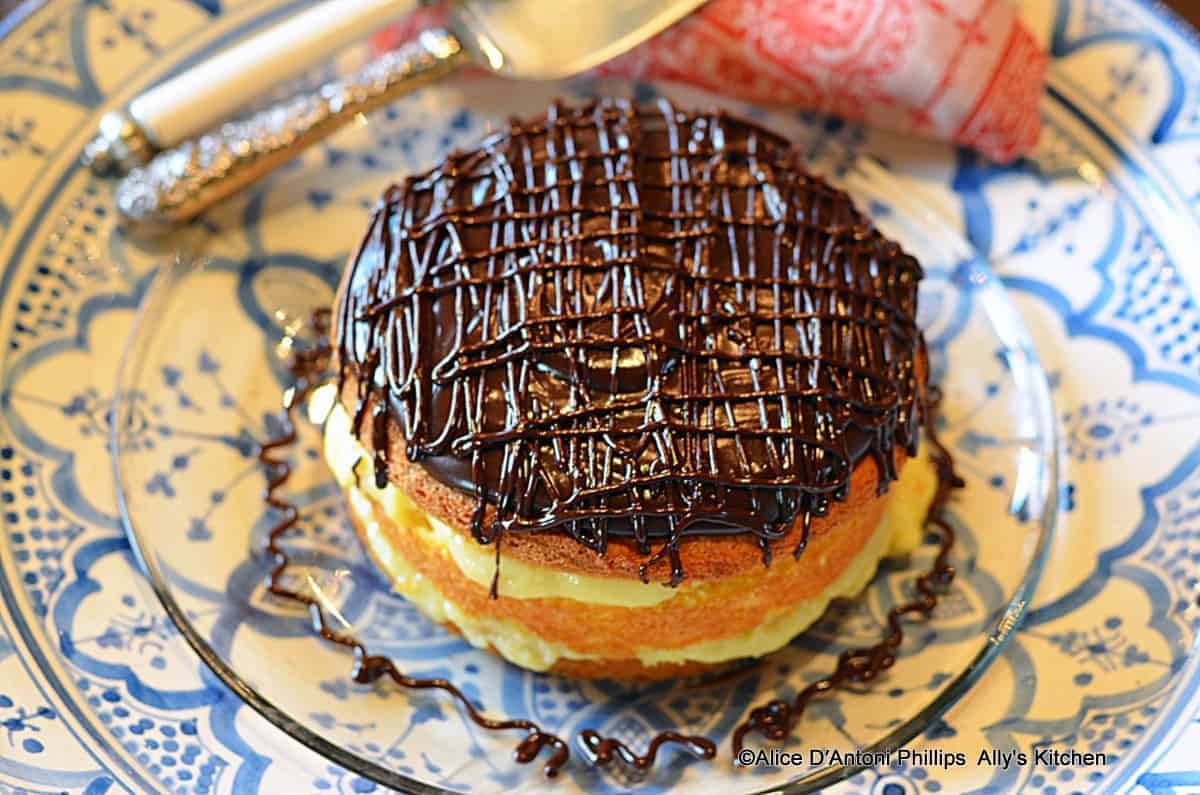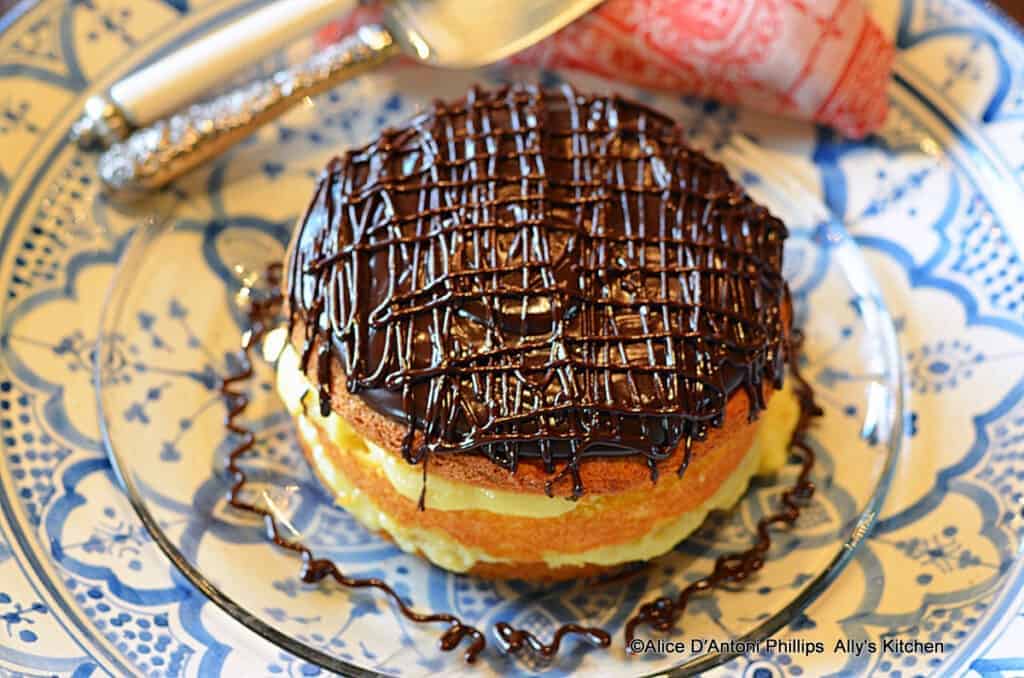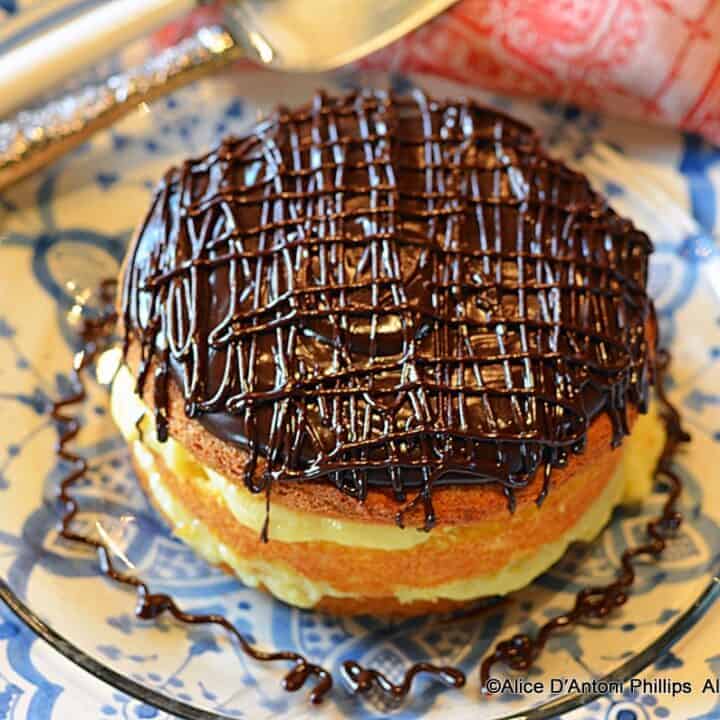 Boston Sour Cream Cake
Yield: Two small cakes (4-6" round/2+" deep) or one large

Boston sour cream cake recipe is super easy to make, and it's topped with chocolate icing. Just make this recipe and you will love the taste.
Ingredients
Preheat oven to 350
CREAM FILLING:
2 cups milk
2 Tbl. cornstarch
1/3 cup sugar
2 beaten eggs
1 tsp. vanilla
1/3 cup brandy
CAKE:
¾ cup softened butter
2 ¼ cups sugar
4 beaten eggs
3 ¼ cups flour
1 tsp. salt
4 ½ tsp baking powder
1 cup milk
1 cup sour cream
2 tsp. vanilla
ICING:
1 container (16 oz.) chocolate icing, refrigerate any remaining icing
1 ½ cups Chocolate Ganache
12 ounces 60%+ chocolate cut into chunks
1 cup heavy cream
Instructions
CREAM FILLING: Combine in a heavy saucepan the milk, cornstarch and sugar and whisk together well over medium heat. Continue cooking until the edges begin to bubble; the mixture will be thickening. Cook for about 5-7 minutes whisking so as not to burn. Remove from heat. Set aside.

In another medium-sized bowl combine the beaten eggs, vanilla and brandy. Drizzle in 2 tablespoons of the cream mixture and blend. Drizzle slowly the remaining warm cream mixture and blend well. Place a piece of plastic wrap over the bowl patting the wrap down directly on the cream pudding. Refrigerate at least an hour or more to chill.

CAKE: In a large mixing bowl, blend well the butter and sugar into a fluffy mixture. Add the eggs beating in with a hand mixer for about 2 minutes on medium low.

Combine the flour, salt and baking powder in another bowl and blend. Add one-third to the butter/egg mixture and blend. Add another 1/3 of the dry ingredients, the vanilla and half of the milk , sour cream and blend well. Add the remaining dry ingredients and milk and blend into a thick fluffy batter.

Pour the batter into greased and flour dusted baking pans. (If there's extra batter, make some cupcakes!) Bake in a preheated 350 oven about 35-45 minutes or until a toothpick comes out clean.

Remove and let cool. With a serrated knife, slice the cakes through the centers making two thinner layers.

ICING: Put chocolate pieces in a large bowl. In a small pot on medium high heat, bring cream to a simmering bubble. Pour over chocolate and whisk and stir until all is blended, mixed, and there is a 'glossy' shine to to it.

Cool a little before drizzling (I used a glass measuring cup w/a 'spout') over the top/sides of the refrigerated/cooled cake. Ganache gets thicker as it cools and sits. Microwave a few seconds to make it more pourable.

Layer cake and put equal amounts of the cream pudding between the first three layers. Top with the fourth slice of cake. Ice the top of the cake with the packaged chocolate icing. Drizzle the top/sides with chocolate ganache. Refrigerate a few hours before serving.
Notes
If using regular cake pans. Make two cakes, slice through centers, and add pudding to each layer topping off with last layer and chocolate drizzle.