Baby cakes. Yep, that's what these sweet delectable boston sour cream cakes are!  Make one for yourself and one to give away!  It's a Boston Cream Pie on steroids with three layers of tender cake, luscious layers of homemade brandy cream between the layers and then on top, a thick layer of chocolate icing with a healthy drizzle of chocolatee ganache!
Now don't be shy about making this cake thinking it's too complicated. The only thing that you want to do is have your ingredients organized. Then, you're ready to go! Actually, you could make the cream filling the night before, refrigerate and finish up the cake the next day!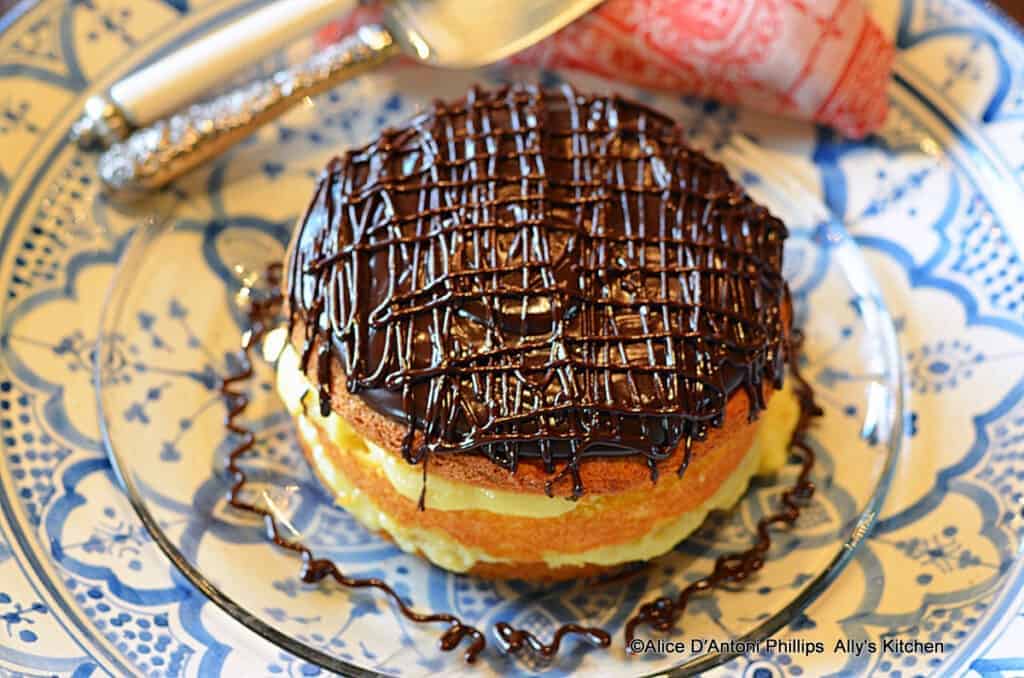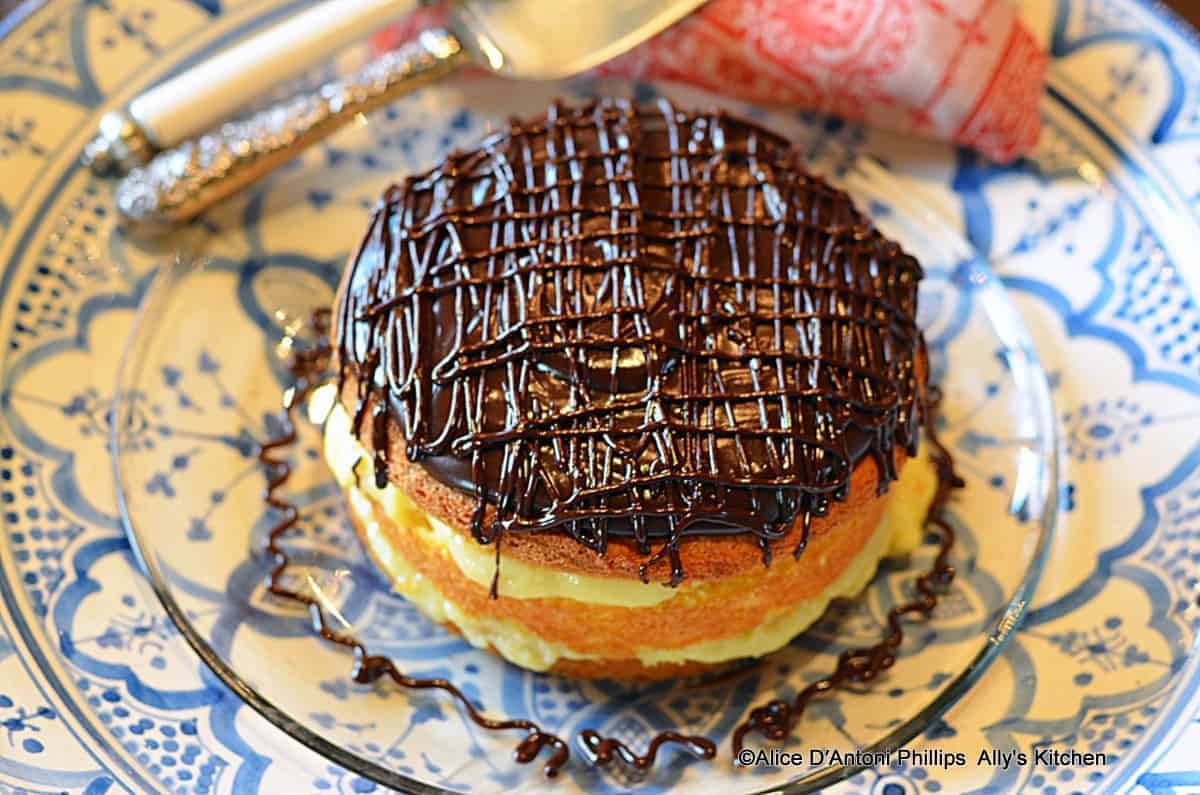 Ingredients
Preheat oven to 350
CREAM FILLING:
2 cups milk
2 Tbl. cornstarch
1/3 cup sugar
2 beaten eggs
1 tsp. vanilla
1/3 cup brandy
CAKE:
¾ cup softened butter
2 ¼ cups sugar
4 beaten eggs
3 ¼ cups flour
1 tsp. salt
4 ½ tsp baking powder
1 cup milk
1 cup sour cream
2 tsp. vanilla
ICING:
1 can packaged chocolate icing
1 ½ cups Chocolate Ganache
12 ounces 60%+ chocolate cut into chunks
1 cup heavy cream
Instructions
CREAM FILLING: Combine in a heavy saucepan the milk, cornstarch and sugar and whisk together well over medium heat.  Continue cooking until the edges begin to bubble; the mixture will be thickening.  Cook for about 5-7 minutes whisking so as not to burn.  Remove from heat. Set aside.
In another medium-sized bowl combine the beaten eggs, vanilla and brandy.  Drizzle in 2 tablespoons of the cream mixture and blend. Drizzle slowly the remaining warm cream mixture and blend well.  Place a piece of plastic wrap over the bowl patting the wrap down directly on the cream pudding.  Refrigerate at least an hour or more to chill.
CAKE: In a large mixing bowl, blend well the butter and sugar into a fluffy mixture.  Add the eggs beating in with a hand mixer for about 2 minutes on medium low.
Combine the flour, salt and baking powder in another bowl and blend. Add 1/3 to the butter/egg mixture and blend.  Add another 1/3 of the dry ingredients, the vanilla and half of the milk , sour cream and blend well.  Add the remaining dry ingredients and milk and blend into a thick fluffy batter.
Pour the batter into greased and flour dusted baking pans.(If there's extra batter, make some cupcakes!)  Bake in a preheated 350 oven about 35-45 minutes or until a toothpick comes out clean.
Remove and let cool.  With a serrated knife, slice the cakes.
Layer cake and put equal amounts of the cream pudding between the first three layers.  Top with the 4th piece of cake.  Ice the sides of the cake with the packaged chocolate icing.  Drizzle the top/sides with chocolate ganache.  Refrigerate a few hours before serving. 
ICING: Put chocolate pieces in a large bowl. In a small pot on medium high heat, bring cream to a simmering bubble. Pour over chocolate and whisk and stir until all is blended, mixed, and there is a 'glossy' shine to to it. 
Cool a little before drizzling (I used a glass measuring cup w/a 'spout') over the top/sides of the refrigerated/cooled cake. Ganache gets thicker as it cools and sits.  Microwave a few seconds to make it more pourable..
https://allyskitchen.com/boston-sour-cream-pie/
©ally's kitchen intellectual property