Blueberry Rhubarb Crumbles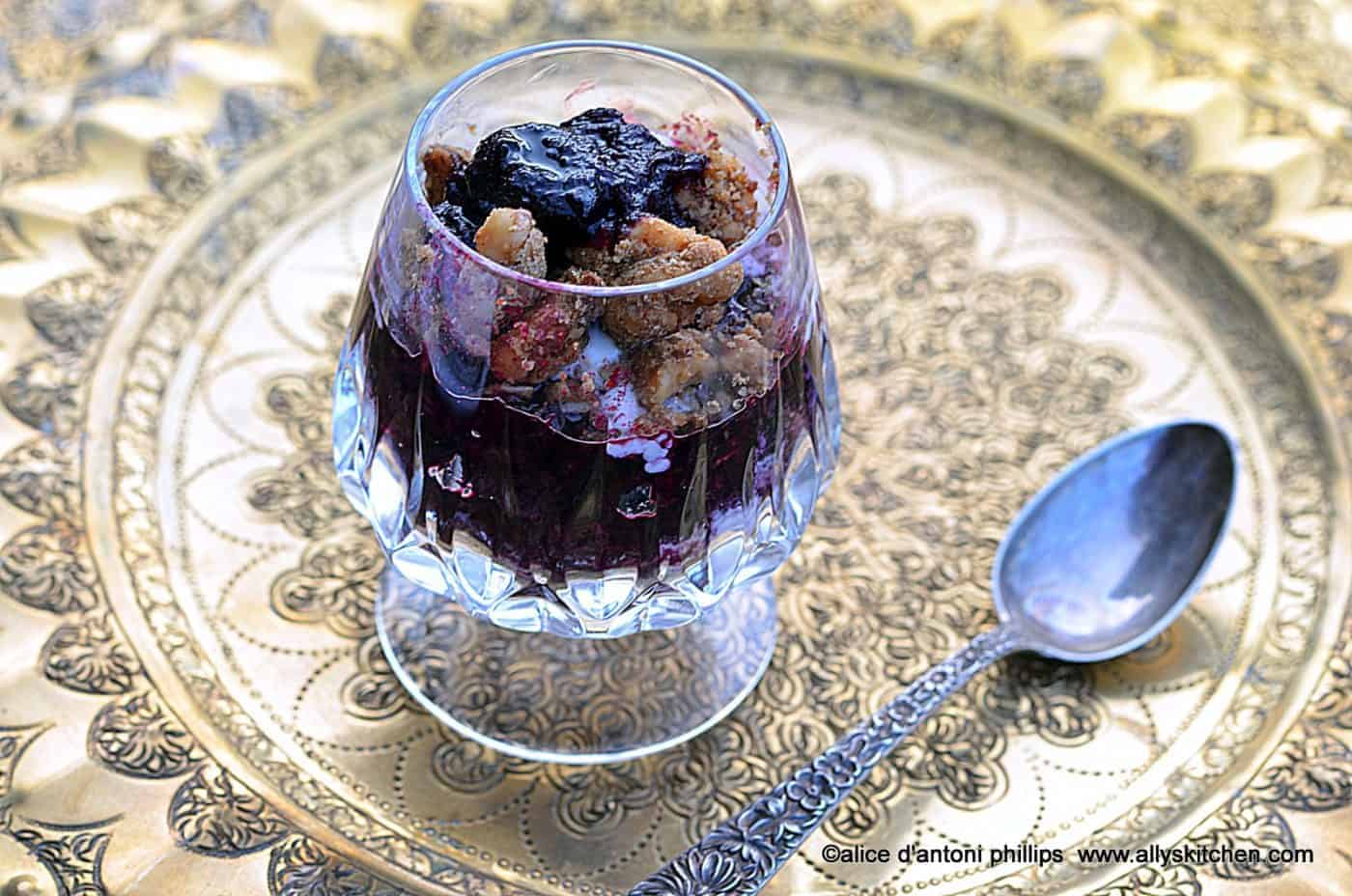 Blueberry rhubarb crumbles is the kind of fancy dessert that seems like it take time to make and it's really super simple! Serve warm!
Blueberry Rhubarb Crumbles
Sometimes you just must cross over to the 'prissy' side of serving your desserts after a fabulously boholicious meal. and, it doesn't matter with me if it's just me or just hubby and me, as in this dessert.
Because these flavors and textures are beautifully varied, a slight tartness in the compote, a crunch of the roasted walnuts, the sweet cool creaminess of the ice cream or frozen yogurt. it's perfect with a cup of espresso, coffee or hot tea. And, the rich vibrant jewel-tone hues of the ingredients insist on being showcased in a clear cup, wine glass, Ball jar, and, yes, even your best crystal stemware!
Rhubarb Bread
Rhubarb bread can easily be made with a pre-packaged cake mix. Simply add some cooked rhubarb to it then reduce the amount of liquid you put in the cake. In cooking the rhubarb, simmer in some water and sugar since rhubarb by itself is quite tart and bitter. Or you might look at one of my banana bread recipes or your favorite recipe and substitute this cooked down sweetened rhubarb for the mashed bananas.
Rhubarb Bread, kind of like banana bread, is moist and delicious! Rhubarb braids are really a highlight of spring and summer baking.
Another super easy, delicious, and healthy recipe that you should try is Rhubarb Raspberry Lemon Mint Sauce and grape walnut compote!
Rhubarb Dump Cake
This rhubarb dump cake is a super easy dessert that anyone can make! This rhubarb dump cake might very well be your new favorite pudding. It is simply that good! Rhubarb dumb cake is sure to be a crowd-pleaser, whether you serve it for your family on a weeknight or as a dessert for a dinner party. Be creative and try it out. For how to make a dump cake with really any kind of fruit, check out my recipe for Pineapple Coconut Dump Cake or Pineapple Dump Cake!
Blueberry Rhubarb Pie
It's easier than you think and your friends and family will love you for it! I love pie. It's rustic and cozy and warm and flaky. There's no fuss, no fancy things, no hassle. Such a lovely dessert, it creates some serious summer pie envy among blueberry rhubarb loyalists. Besides being yummy, fresh blueberries and rhubarb have many health benefits!
Combining rhubarb with blueberries is a tasty combo. These two blueberry pie recipes that are super easy could surely have some rhubarb tossed in!
kid lovers' storeo fruit smoothie
stuffed savory & sweet strawberries
jamaican jerk london broil

Berry Rhubarb Crisp
Amazing! The perfect dessert for anyone with a sweet tooth! Berry rhubarb crisp is a delicious and easy dessert that takes just minutes to prep! With the perfect balance between sweet and tart, everyone loves this easy recipe. Berry rhubarb crisp is amazingly served slightly warm with a little scoop of vanilla ice cream…that starts to melt and mingle with the soft fruity juiciness.
So, go ahead bring some decadence to your evening, or maybe it's a brunch, with blueberry & rhubarb compote & crumbles~~life's short, make everyday boholicious ~~peace & namaste~~ ally
And, here are my favorite recipes that you should try such as pea grape coleslaw & bleu cheese crumbles, and blueberry lemon cheesecake bars! I promise yummy flavors! xoxo ~ally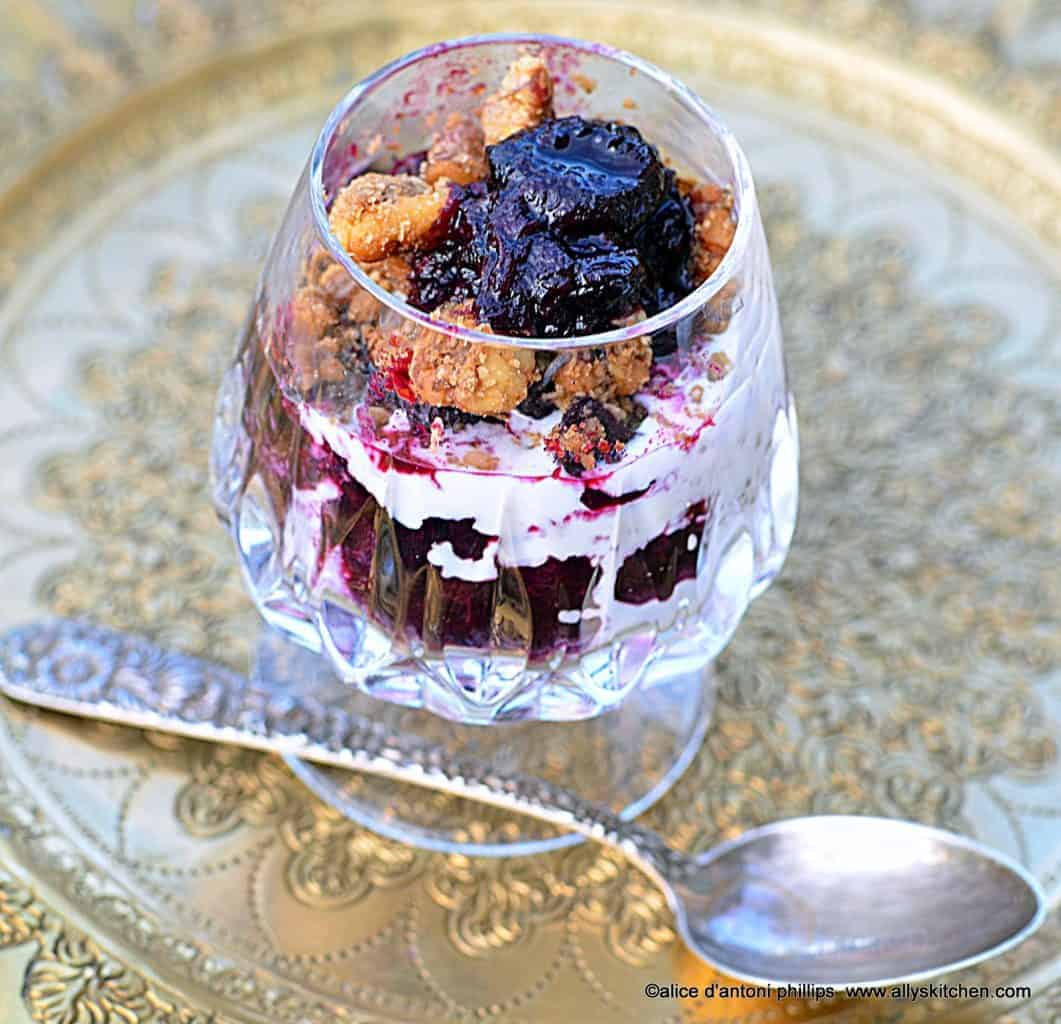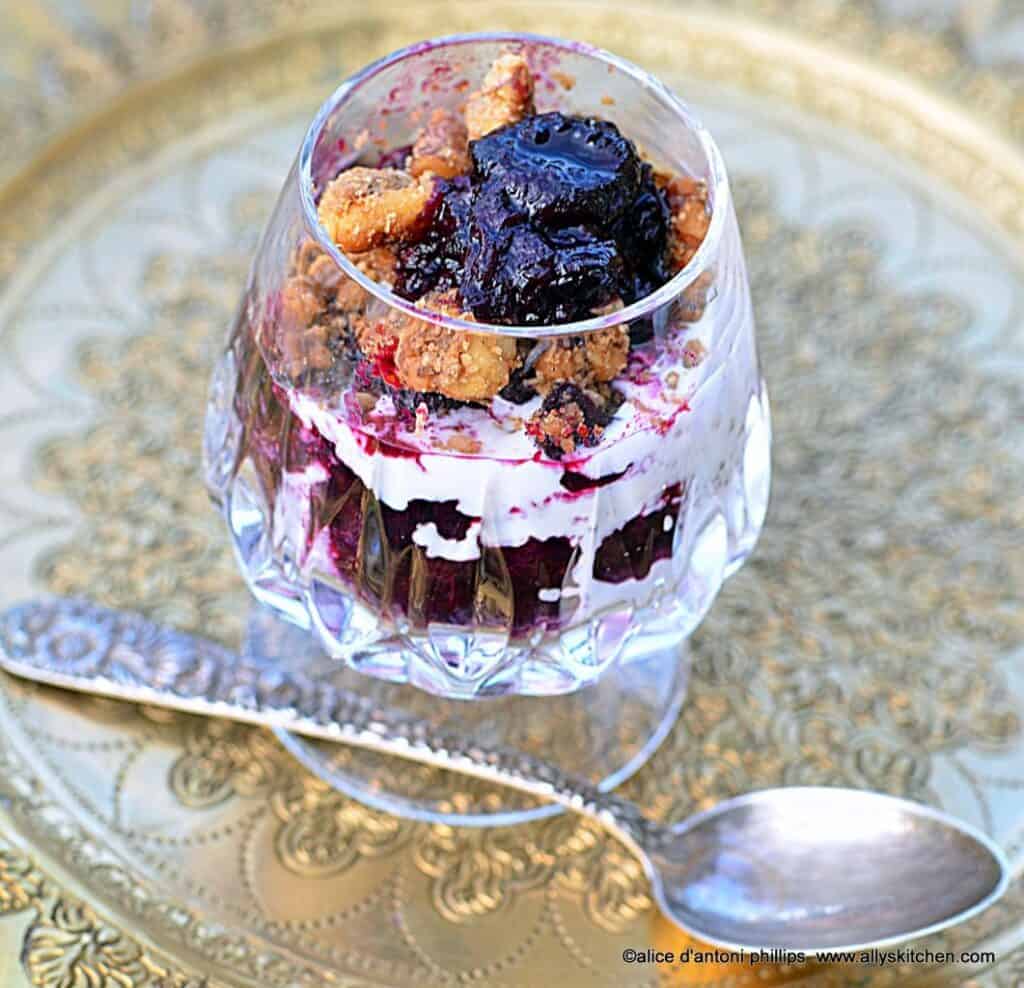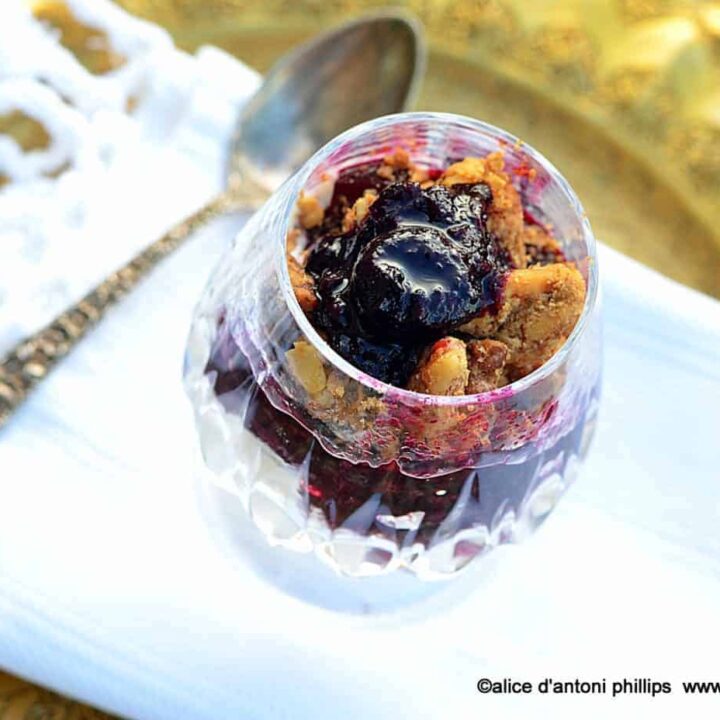 Blueberry Rhubarb Crumbles
Blueberry rhubarb crumbles is the kind of fancy dessert that seems like it take time to make and it's really super simple! Serve warm!
Ingredients
COMPOTE
2 cups fresh or frozen (Dole) blueberries
2 cups rhubarb pieces (sliced in small pieces)
1/3 cup sugar
1/2 cup red wine
1 lemon, juice/zest
1 tsp. cardamom, ground
CRUMBLES
4 Tbl. butter, cut into small pieces
1/2 cup flour
1/2 cup oats, whole
4 Tbl. brown sugar
2 tsp. cardamom, ground
1 cup walnuts, roughly chopped
SERVE WITH:
Vanilla Ice Cream
Vanilla Frozen Yogurt
Serves: 4-6
Preheat oven to 375
Instructions
Compote~Combine all of the ingredients into a heavy saucepan over medium-high heat. Bring to a boil and cook 5-7 minutes stirring. Reduce heat to low, and let it simmer/thicken cooking another 15-18 minutes (stirring occasionally). Remove from heat and set aside.

Crumbles~Combine the butter, flour, oats, and brown sugar in a medium-sized mixing bowl. Blend together with your fingers working the butter into the flour, oats, and sugar. Add the cardamom and blend it into the mixture well. Add in the walnuts and workaround into the mixture.

Spread the mixture on a parchment paper-lined cookie sheet. Bake in a preheated 375 oven for about 12-15 minutes. Midway through the cooking take a metal spatula and toss the mixture around for more even browning/cooking. Remove and let cool.

Assembling your Decadence~This dessert is so screaming for crystal glass, a clear small bowl~~just something where you can see the layers of flavor and the jewel-tone colors! Scoop a spoonful of the compote into the bottom of the container, add some frozen vanilla ice cream or yogurt, then some crumbles, more compote, and more crumbles~~serve and expect gasps of delight!