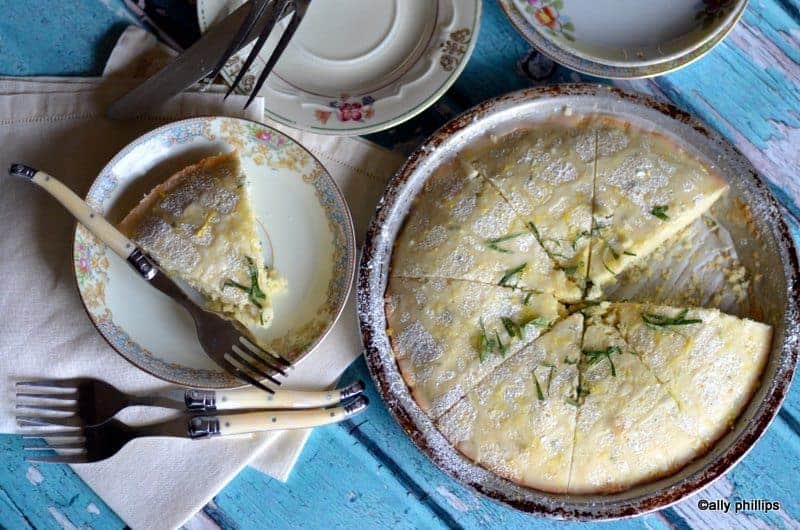 The freshness of the lemons and mint is added to the lemon mint cake pie. And, the lemon drizzle is just icing on the cake.
Lemon Mint Cake Pie
You can see from the ingredients list that this lemon mint cake pie is super simple to create and bake. The freshness of the lemons and mint add to the lip smackin' good flavors that burst with each bite. And, the lemon drizzle is just icing on the cake.
How To Make Lemon Cake?
I love using baking dishes in different ways. So with this cake, I decided it was proper to use the metal vintage pie pan. I put a piece of parchment paper in the bottom. Just cut out a round circle about the diameter of the pan. You don't have to. I just wanted to make sure I could remove the slices easily. Or if I wanted to remove the whole cake from the pie pan, it'd be a tad bit easier. I didn't do that as you can see. It was just too darn cute in the pan!
Lemon Cake Ingredients
The cake turns out to be soft, juicy, with a pronounced fresh lemon flavor. My friends and relatives often ask me to cook it for a holiday. Surprise your guests on New Year and Merry Christmas with this scrumptious cake! Soft cakes with aromatic cream – try it!
Lemon Cake Dessert Recipes
Lemon cake is a scrumptious dessert you can make at home. Desserts with juicy and sour citrus lemon have an incredibly pleasant and rich taste. Cakes, pies, and tarts with lemon turn out to be incredibly tasty and aromatic.
Lemon Mint Cake
This lemon mint cake pie is perfectly served just by itself. Or, it becomes even more lush and fragrant with things like fresh berries, ice cream, lemon Greek yogurt, maybe a lemon-infused sour cream dollop.
And, if you're looking for other mint recipes, then you have to try:
buttermilk mint bleu cheese dressing
kasbah ribeye with grilled onions gourmet mushrooms & mint butter
Easy Moist Lemon Cake Recipe
Such a refreshing treat! The thing I like about this cake is that it gets better on day two. Cover or refrigerate. It stays pretty moist. Slice you a piece of this 'pie'. Pick it up with your hands. No utensils needed!
Simple Lemon Cake
A bright unusual cake that will first amaze you with its appearance, and then with an unusual combination of flavors. Give it try!
And, here are my favorite recipes that you should try:
Coconut Cake
coconut galette
mediterranean eggs olives mozzarella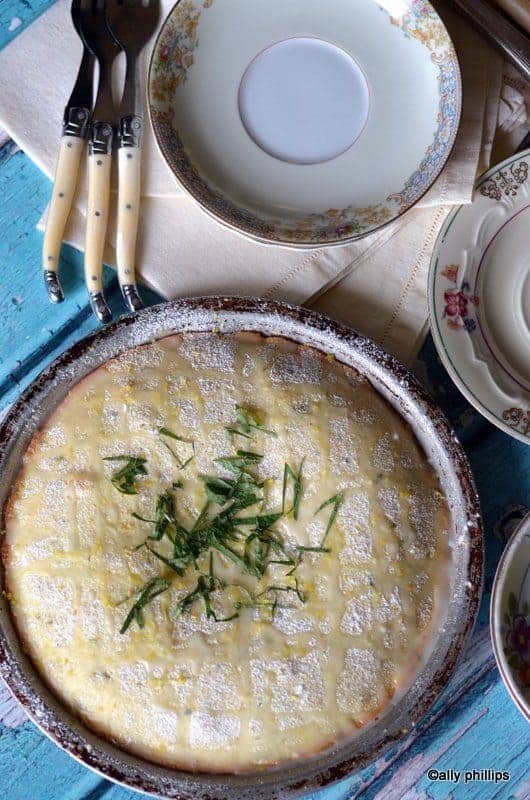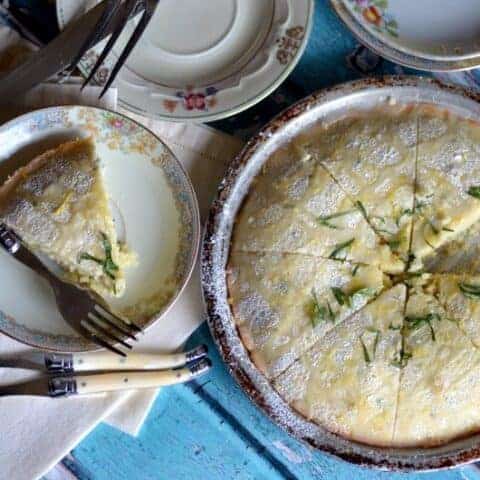 lemon mint cake pie
Yield: One 9" pie pan cake

The freshness of the lemons and mint add to the lip smackin' good flavors that burst with each bite. And, the lemon drizzle is just icing on the cake.
Ingredients
Preheat oven to 325
8 Tbl. Butter, salted, room temperature & soft
¾ cup sugar
1 ½ lemons, juice & zest, divided
2 eggs
2 Tbl. + 1 tsp. fresh mint, chopped finely
1 ¼ cups flour, all purpose
1 tsp. baking powder
1 Tbl. powdered sugar
LEMON DRIZZLE:
1/3 cup powdered sugar, sifted
2 Tbl. Lemon juice
Fresh Lemon Zest (optional for garnish)
Instructions
In a large mixing bowl, combine the butter and sugar. Blend with a hand mixer for two minutes. Reserve two tablespoons of lemon juice for the drizzle. Put the remaining lemon juice and zest in the bowl and blend in with the mixer.

Add one egg, continue blending about 30 seconds with the mixer, then add the second egg mixing another 30 seconds with the hand mixer. Add two tablespoons of mint and blend in with a rubber spatula.

Sift in ¼ cup of flour and the baking powder. Using the rubber spatula, blend well. Add the remaining flour, one-fourth sifted cup at a time, and blend in. The batter will be thick like icing.

Put into a greased pie pan (about 9" diameter). Place this pie pan on a cookie sheet. Bake in a preheated 325 oven about 17-19 minutes. Remove and let cool on a rack. Dust with powdered sugar.

While the cake is baking, make the drizzle. Combine the powdered sugar and lemon juice in a small bowl and blend well working out any small lumps. The mixture should be the consistency of thick syrup.

Drizzle on top the cooled cake. Top with lemon zest and the remaining fresh mint.
Notes
Serve with fresh berries!

A dollop of whipped cream would be fabulous.

Ice cream or frozen yogurt always makes this cake even tastier.