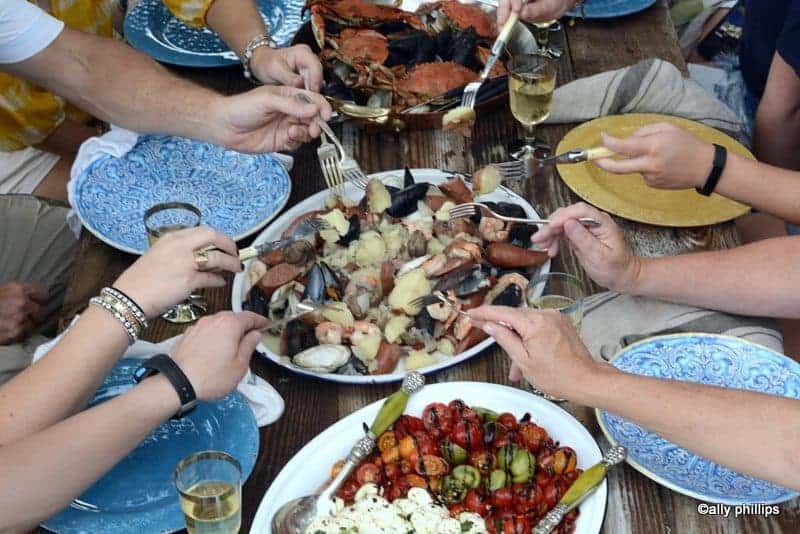 Be a toddler again and eat with your fingers! No utensils required with this low country seafood boil. Guaranteed to bring smiles! Delicious!
Frogmore Stew
From New England. The Chesapeake Bay, and Louisiana, to Georgia and South Carolina, one hugely traditional common thread joins us. We love our seafood boils. And, having lived in South Carolina's Lowcountry for decades, we've done our share of boils and been to more than I can count.
I know that these boils are a lot of work and usually intended for a crowd. Plus, they take some equipment that you might not have.
IF you want a smaller version of the shrimp boil, then here's your recipe! OMG, I think I love it even more than the regular shrimp boil. I could just drink the broth!
Old Bay Shrimp Boil
Depending on the region, the boils vary, but all contain shellfish and a variety of sides indigenous to the area. Of course, most of the time these seafood boils are sometime between Memorial Day and Labor Day with July 4th being the holiday for having a boil that's as popular as a the traditional BBQ.
What is Low Country Boil
If someone asks you 'what is a low country boil'? All you need to say is that it's one of the South's most beloved meals. It's full of flavor, herbs, spices. It's one big ol' pot of the freshest seafood you've ever had and you have dinner for everyone in not time with little clean up!
A Low Country Boil is perfect for a summer holiday like July 4th!
How to do a Low Country Boil
How to do a low country boil is simple. It's done outdoors. You have a big table, maybe a picnic table. It's lined with newspaper and in our case, cardboard boxes cut open.
And, you have plenty of paper towels, cocktail sauce, ketchup, maybe a salad, and paper plates. You do this low country boil very simple and basic. It's all about the people sharing and breaking bread over great food!
And, besides all these fixins' you could also throw in a big ol' pot of clam chowder! OMG, I do make the best! And, as with most all of my recipes, I make it easy peasy!
Frogmore Stew vs Low Country Boil
Oh, the frogmore stew and low country boil are like siblings! They're from the same 'DNA' just from different locations. According to Trip Advisor, "Low Country Boil and Frogmore Stew is one and the same. Frogmore is a little area in SC between Savannah and Charleston. Typically it will consist of potatoes, Sausage, corn, onions and shrimp boiled in a crab boil season. Some people will add crab legs and some other stuff to it depending on their likes and dislikes."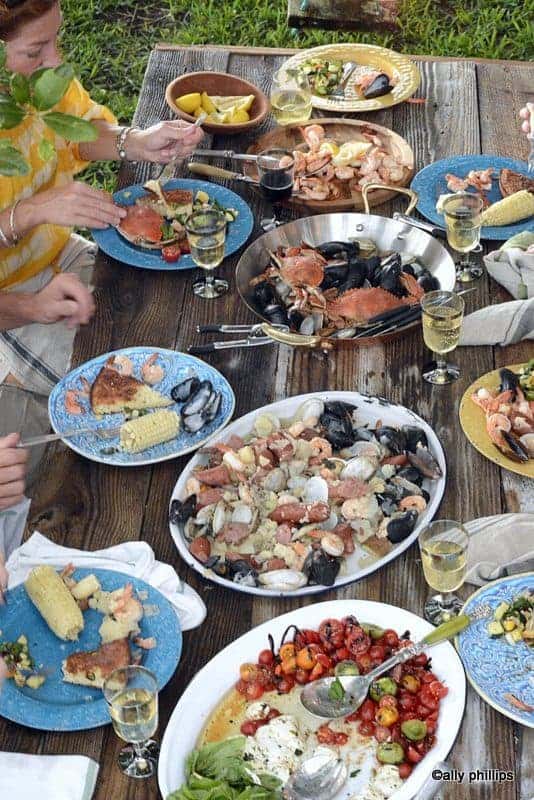 How to Make a Seafood Boil
If you're going to have a Lowcountry Seafood Boil, then there're a few simple priorities:
1. Lots of friends and family. It's a big gathering. You don't make just a small pot of seafood boil.
2. A big table. A great big pot for cooking with a full tank of propane. A paddle and a big draining scoop. Lots of shellfish—shrimp, crabs, clams, mussels.
3. A few sides. Farm fresh salads. Fresh fruit. Coleslaw. There's always buttermilk thin crispy cornbread that's served right from the hot skillet(s).
4. Beer. Wine. Lemon Mint Water. Sodas. Sweet Tea.
5. No cell phones.
Shrimp Boil Side Ideas
Old Bay Green Beans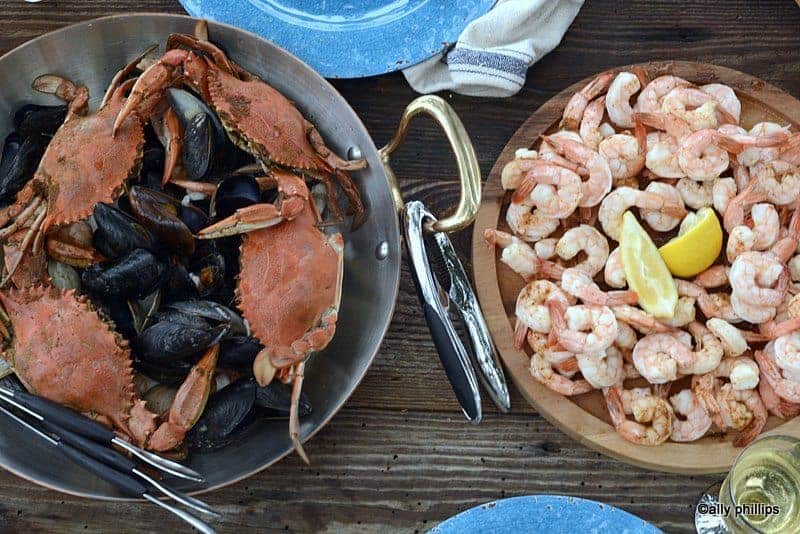 Cajun Shrimp Boil
Our version of the seafood boil is to cook it all together in the large stock pot then 'deconstruct' it to some extent onto platters for serving making it easier for hungry guests to decide which shellfish they prefer and what they want to put on their plates. Then there's a platter devoted to everything that won't be separated—tender potatoes, onions, sausage, maybe some rogue shrimp, clams and mussels.
Sometimes, however, we shift to the more rustic version and spread newspapers on the harvest table. Then the tasty boil is piled high down the center and everyone dives in with their hands. No utensils or plates might be used.
Frogmore Stew History
According to Wikipedia, "Frogmore is the name of a community in the middle of St. Helena Island, near Beaufort, South Carolina. Although there are many versions of this dish around, the name Frogmore Stew was coined in the 1960s by Richard Gay, one of the owners of Gay Fish Company, circa 1948, on St. Helena Island."
Low Country Shrimp Boil
Our seafood boils are a ritual each summer. It's an extravaganza of indulging in the briny water's most precious gifts. Everyone pitches in. Everyone enjoys. Elbows on the table. Eating with your hands. Corn kernels in your teeth. Filling your plates again and again.
As the sun sets and the temperatures cool, maybe a balmy breeze begins to gently blow, the conversation and camaraderie continue as we break bread and taste Mother Nature's finest. And, what follows that? Well, there's cornhole until dark sets in. Teams vying to take the bragging rights! Then there's dessert. Something Southern. A peach cobbler. Homemade ice cream. Root Beer floats. A fresh blueberry pie or blueberry spooncakes with whipped cream. Maybe all of these things.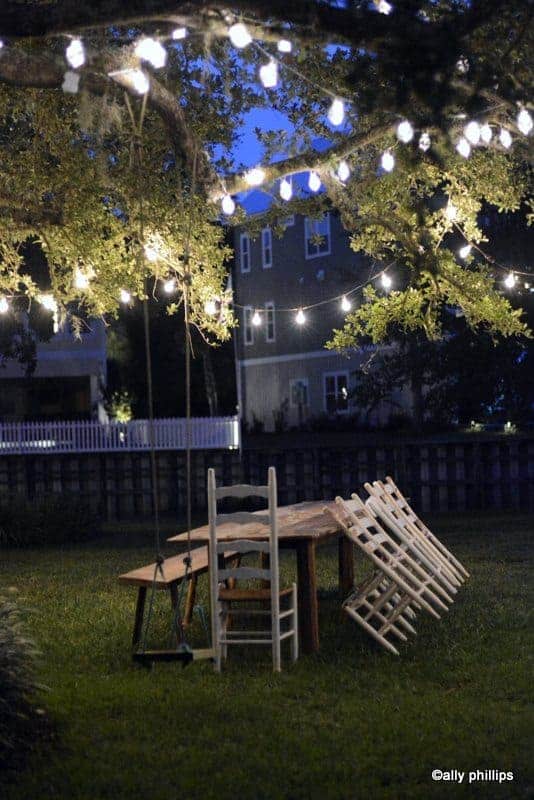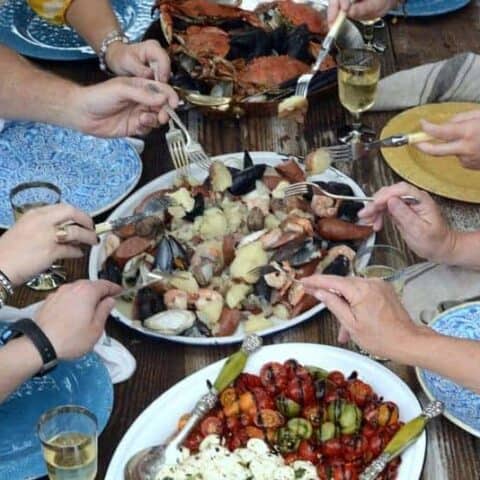 lowcountry Seafood Boil
Ingredients
Serves: 16-18
8 oz. Old Bay Seasoning, divided
3 lbs. red potatoes, medium size and cut into halves
3 lbs. kielbasa, cut into about 2" pieces
4 large sweet onions, cut into large chunks
10 ears fresh corn, broken into halves
1 dozen fresh crabs
2 lbs. mussels
2 lbs. clams, little neck
1 lb. clams, steamer
2 lbs. shrimp, tail on, peeled, deveined, large size
Instructions
Fill the large pot (32 quart) about two-thirds way with enough water to cover all the ingredients.
Add 4 ounces of Old Bay seasoning, cover with a lid and bring to a boil.
Add the potatoes, cover and cook for 10 minutes. Add the kielbasa, onions and corn. Cook another 15 minutes. Stir with a paddle or very big spoon with a long handle.
Add the seafood (starting with crabs, mussels, clams then shrimp) and after each type, sprinkle on some of the remaining Old Bay seasoning. Stir with the paddle to blend seafood into other ingredients.
Cover and cook another 8-10 minutes. Drain and serve.