Sweet juicy seedless grapes. They're just so good. Refreshing. Healthy. And, exceptionally versatile in recipes. They're not just for a cheese tray or snacking.
I love to oven roast grapes. Brings out the flavor and you can top ice cream with these warm explosions of natural sweetness. Another way I love to use grapes (red or green and always seedless) is in salads. They intensify the texture profile and give that burst of unexpected sweetness like in this princess pea coleslaw recipe.
Think of all the ways you can use this salad. Take a pita pocket, fill with the pulled rotisserie chicken (from the market deli) then top with this coleslaw. Serve it with a pot slow cooked beans. It's great as a statement piece 'side' dish accompanying fried fish, grilled shrimp and most any seafood.
Yep, this princess pea coleslaw will make you feel like you're royalty and eating healthy. xoxo ~ally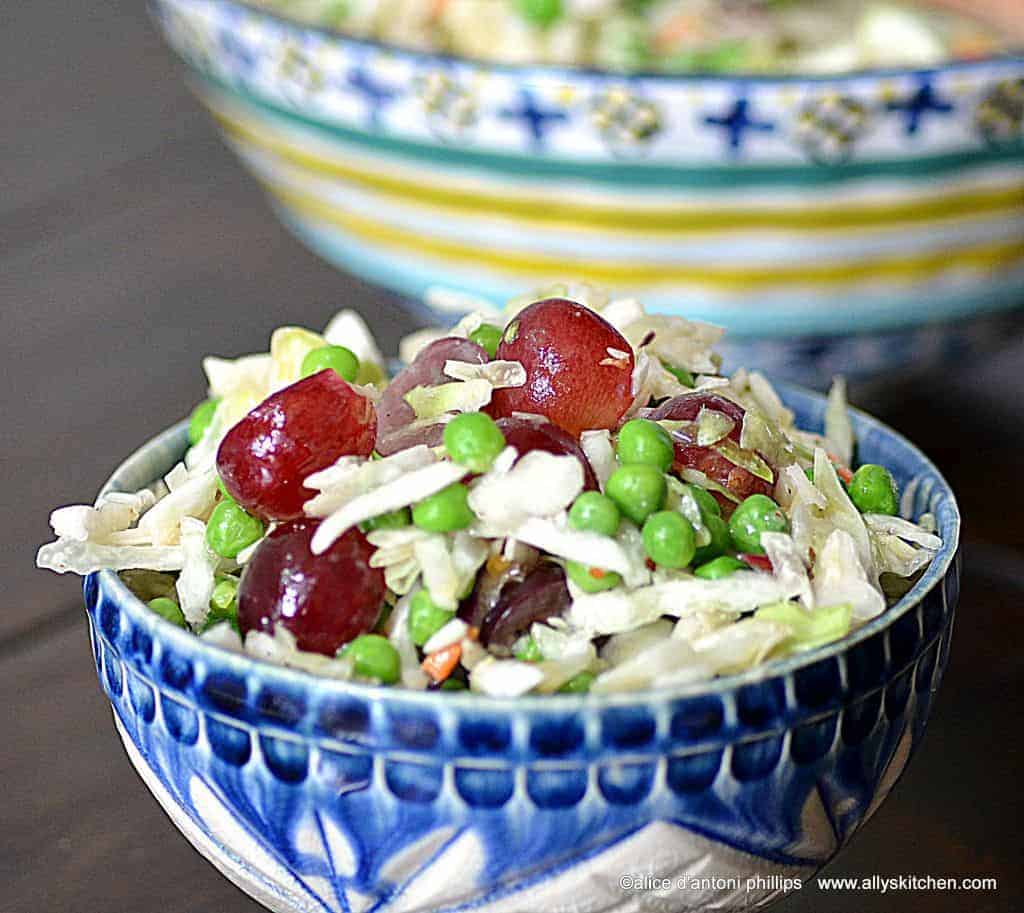 What you need:
10 oz. frozen petite peas, partially thawed
1 Tbl. butter
½ cup plain Greek yogurt
¼ cup mayonnaise
3 Tbl. extra virgin olive oil
1 Lemon, juice & 2 tsp. zest
½ tsp. coarse ground pepper
1 1/2 tsp. sea salt
1 tsp. Garlic granules
2 tsp. Greek Seasoning blend (can substitute Italian)
16 oz (packaged) coleslaw, shredded multi-colored
2 cups seedless red grapes (sliced in halves)
3 green onions, sliced thinly including some of green tops
1/3 cup Italian parsley, chopped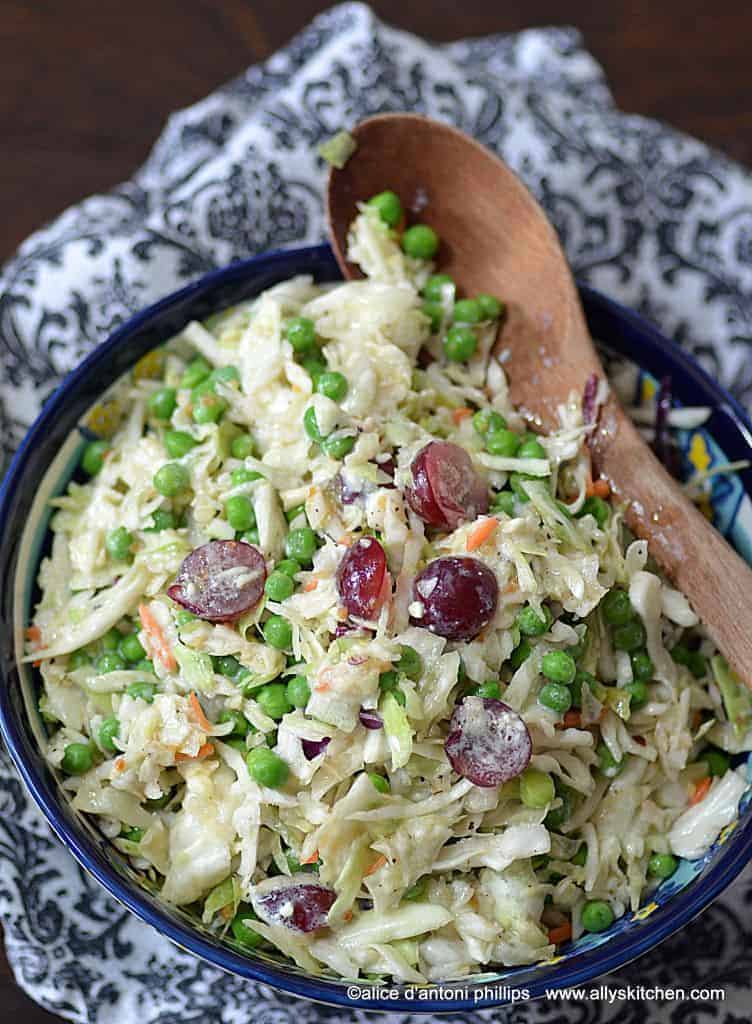 What you do:
Put the peas in a glass bowl with the butter. Cover the bowl with a plate. Microwave on high for 4 minutes. Remove, toss and blend. Set aside to cool.
In a small mixing bowl combine the yogurt, mayonnaise, olive oil, lemon juice and zest, pepper, salt, garlic, and Greek seasoning and blend well.
In a large mixing bowl, add the coleslaw, grapes, green onions and parsley. Toss and blend with your hands. Add the peas and toss again. Drizzle on the yogurt dressing and toss and blend well. Refrigerate until ready to serve.