best homemade pinto beans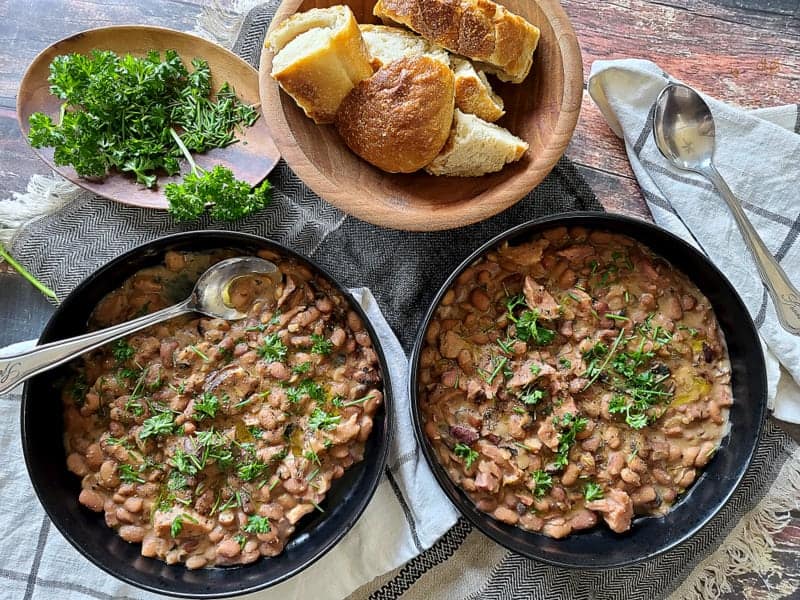 Sometimes it's good to cook pinto beans the old-fashioned way, on the stovetop! Just like Grandma. These are the best homemade pinto beans ever!
Pinto Beans
Pinto beans are a staple of diets worldwide. I grew up on them in southern West Virginia. In coal-mining country, the pinto bean is king.
How to Cook Pinto Beans
Lots of ways to cook pinto beans, but, for me, the preferred way is the old-fashioned way. On the stovetop. Yes, it means you have to keep an eye on them by adding water or stock/broth (like chicken, beef or vegetable) as they're cooking. The last thing you want to happen is for the beans to boil down and burn. Hey, I've done that and it's not pretty!
Are Pinto Beans Healthy
According to Healthline:
Pinto beans are extremely nutritious. They're an excellent source of protein, fiber, vitamins, and minerals. These nutrients may provide several benefits, including improved blood sugar control and heart health. Pinto beans are also rich in various antioxidants and may help lower your risk of chronic disease.
Best Homemade Pinto Beans
As I said, the best homemade pinto beans are those that are cooked over a couple of hours. I start with a roaring boil then turn down the heat, put a lid on (askew to let steam escape) and simmer boil them until tender. For me, I love a thicker broth and this is what I get with this cooking technique.
Homemade Pinto Bean Seasoning
Seasoning pinto beans can be as simple as just salt and pepper. Or you can spice them up with some extras that really ramp up the flavor.
Best Pinto Beans
What makes this recipe the 'BEST' pinto beans is adding a few leftovers. Yes, leftovers! I'm talking about some mashed potatoes (mine were garlic mashed potatoes). And, of course, nothing better than ham, so I had some leftover ham to add to the seasoning.
How to Make Homemade Pinto Beans on the Stove
Making pinto beans on the stove in a big heavy stock pot or Dutch oven reminds me of being in my Grandma's kitchen. That's what food's all about to me sometimes. Evoking those childhood memories about groing up in the Appalachian mountains.
How to Cook Homemade Pinto Beans
It's really simple cook homemade pinto beans on the stovetop. But, you can't stray away and forget about them like you can when you're using a slow cooker, crock pot or multi-cooker. Everything goes into one pot. You'll cook those beans until they're getting tender, then you'll add those mashed potatoes and ham. Now if you don't have leftover mashed potatoes, no problem. Honestly, to make it easy for you, grab a packaged of the " data-wplink-url-error="true">1.5 oz. containers of mashed potatoes are perfect for just a small amount! And, no ham? Well, just buy a nice thick slice of ham and dice it.
Homemade Pinto Beans Mexican
Another totally awesome thing about pinto beans? They're the bean of choice, well, maybe next to black beans, for Mexican dishes! If I have beans leftover. I'll let them cool then put in a freezer zip lock bag and freeze for Taco Tuesday nights!
Freezing Homemade Pinto Beans
Freezing homemade pinto beans works perfectly. So if you're thinking, 'Gosh, this is a lot of beans!' We'll never eat them all. Don't despair. Freeze them for your next meal.
Homemade Chili Made with Pinto Beans
So many things can be done with pinto beans, like homemade chili. And, I love the ham chunks in my chili along with other types of ground meats. It truly makes the flavors off the charts. You'll get rave reviews for your chili!
How to Make Pinto Beans on the Stove
Besides amazing pinto beans on the stove, I've got other bean recipes that I think you'll love. Each has its own unique twist. Most all have been tried and tested many times and get top reviews!
Old-Fashioned Stove Top BBQ Pork and Beans
Smoked Anasazi Beans Fresh Herbs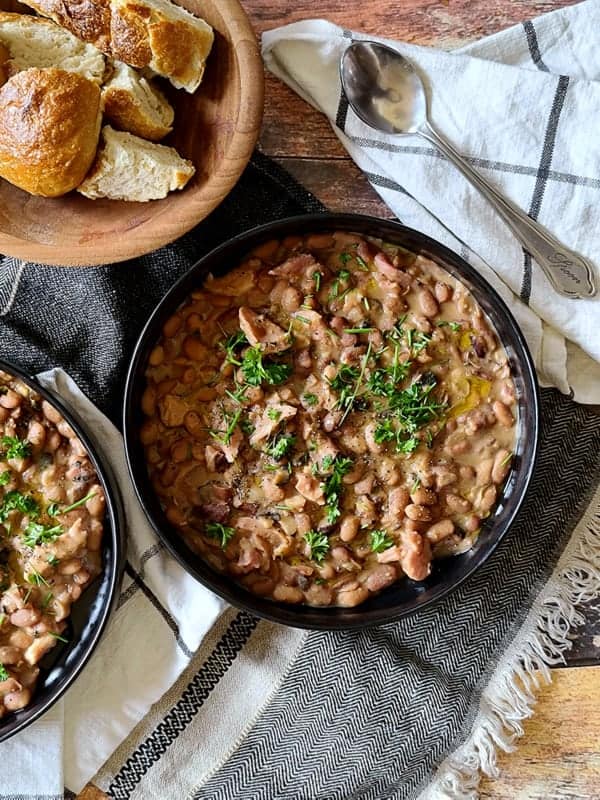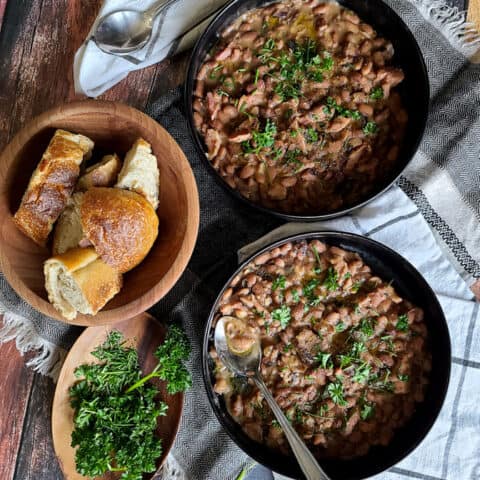 best homemade pinto beans
Ingredients
2 1/2 cups pinto beans, rinsed and cleaned
4 cups chicken stock + 2 cups water, plus water as the beans are cooking
2 tsp. salt
1 tsp. coarse ground pepper
1/2 tsp. red chili flakes, optional
2 tsp. garlic granules
2 tsp. onion powder
1 Tbl. nutritional yeast
1 cup mashed potatoes, leftover
2 cups ham chunks and pieces
1/4 cup fresh parsley, chopped
2 Tbl. fresh chives, chopped
Instructions
Put the clean beans in a large heavy pot over medium high heat. Add the chicken stock and water. Add the spices and blend. Cover and let the beans come to a steady boil for about 30 minutes. Check and add water as needed. The beans should not dry out.

Continue cooking (covered) with a steady roaring boil for another hour adding water as needed. Be sure to stir occasionally. You don't want beans sticking to bottom of pot.

After about an hour and a half, add the mashed potatoes and ham. Reduce the heat to medium. Add water as needed and cook another about 30 minuets or until the beans are tender. Stir occasionally.
Notes
You want to keep your beans covered about 2 inches with water at all times as they cook.

If you want a more soupy bean, add more chicken stock or water. Beans will thicken from the mashed potatoes added.

If you don't have mashed potatoes, make some from scratch or buy a package of mashed potato flakes, follow directions and add one cup to the beans.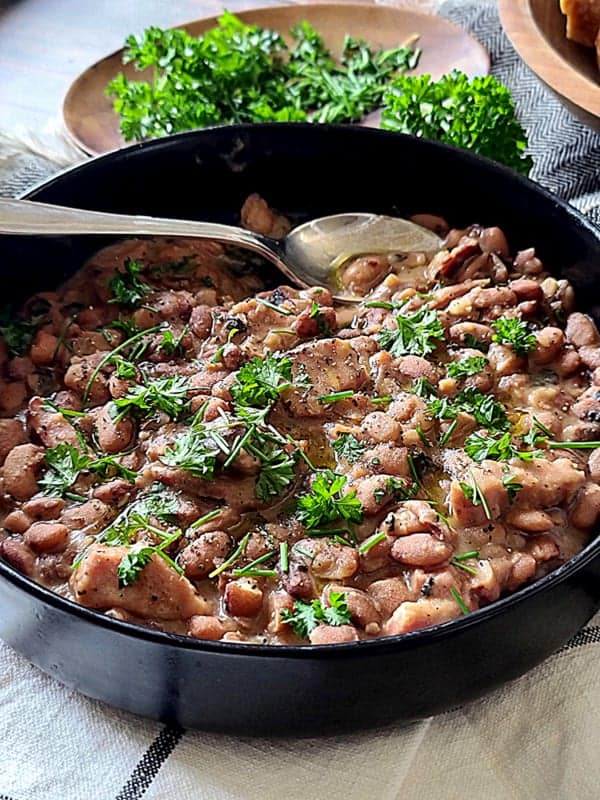 xxx