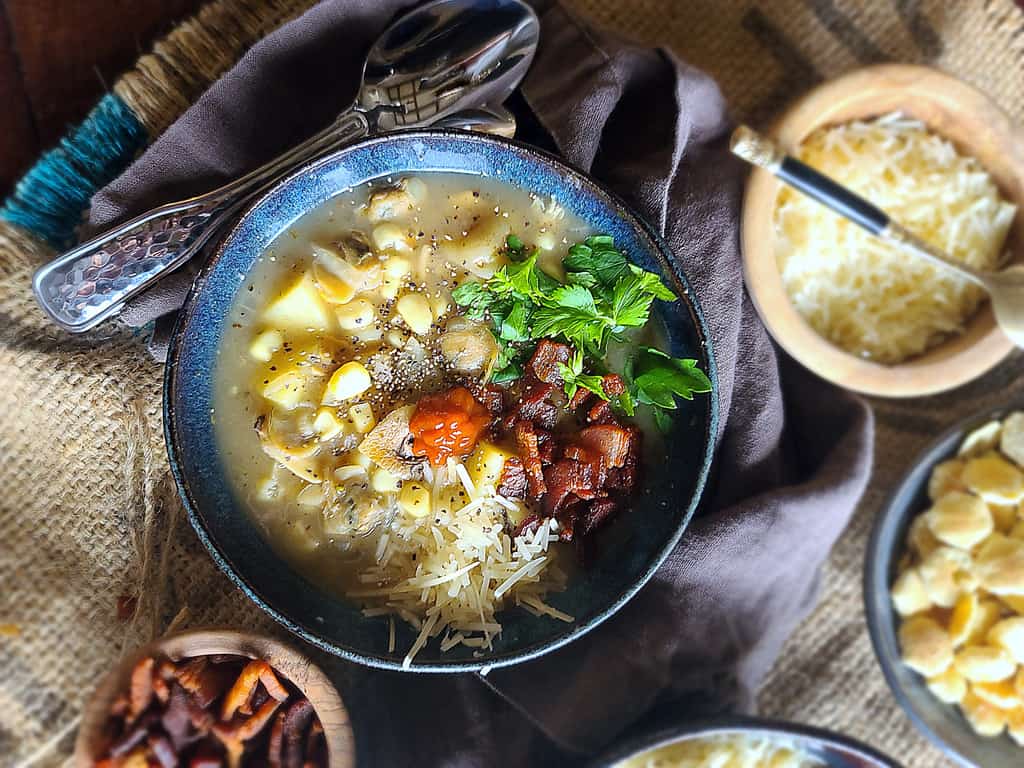 Easy clam chowder is just that. EASY! It's filling, full of juicy clams and perfect any time of the year. You'll be a clam chowder star!
Creamy Clam Chowder Recipe
What's going to make this creamy? We're using coconut milk, unsweetened, instead of heavy cream.
Maybe we'll have a touch of more healthy, too!
Another ingredient in this recipe is Kettle and Fire chicken bone broth. It's got huge flavor and really makes the soup more flavorful. Be sure to check it out. Here's the link and if you decide to purchase, please use my discount code at checkout ALLLYSKITCHEN for 20% off your order. This makes it quite the deal!
Easy Clam Chowder Recipe
Everyone needs an easy recipe that can be adapted for several kinds of soups.
And, that's the beauty of this recipe.
Once you make the roux and add the liquid, you can make this a simple potato soup. Or a corn soup. Or a potato and corn soup. Add shrimp instead of clams. But, regardless, add the chicken bone broth and the clam juice. It's going to give a rich depth of flavor.
Best Clam Chowder Recipe
Clam chowders. There are three types. Most folks might think two, but there are three.
New England Clam Chowder is sometimes also called Boston Clam Chowder. It's a milk or cream-based chowder. And, it's got a thicker consistency.
Manhattan Clam Chowder has an absence of milk or cream. And, it's broth is more liquid and tomatoEEEE. Usually you'll have other vegetables, like celery and carrots.
There's also a Rhode Island Clam Chowder. You'll have a clear broth and no dairy or tomatoes.
Clam Chowder Soup
Hearty and filling, this chowder soup is full of my version of chowder! Potatoes and lots of big juicy clams. When you can't find fresh clams, then you have the option of canned clams and/or frozen clams.
Chowder Recipe
This chowder recipe is intended to be very simple and easy.
The hardest part, I think, is making the roux and whisking the liquid in to make a creamy base.
It might be best to slowly do it and keep your heat even at medium low. Another option, have someone slowly pour in the liquid as you whisk the roux into it to thicken. Might help if you're not comfortable being 'double fisted'. One hand whisking. The other hand slowly pouring.
How to Make Clam Chowder
Now once the thick creamy mixture is made, add those potatoes. Remember the smaller you dice them, the quicker they're going to cook.
I prefer to dice my potatoes into a bite chunkier size because I love the looks of a nice piece of potatoes. But, if you want them more finely diced, then just adjust the cooking time because these smaller pieces will cook faster.
Clam Chowder Recipe with Fresh Clams
Frozen clams, in my humble opinion, are pretty close to fresh clams. Of course, there are some nice canned clams in clam juice available, too.
And, the clam juice is easily sourced in most grocery stores.
All of these flavors come together into a hearty rustic and filling bowl of goodliness!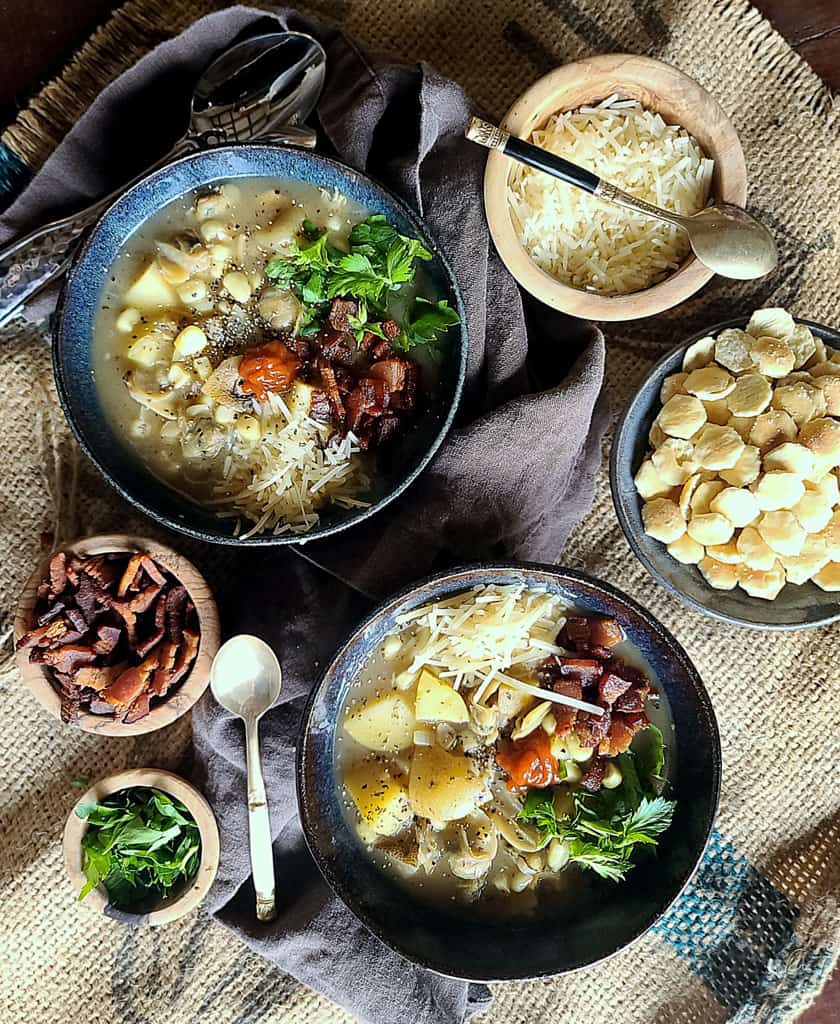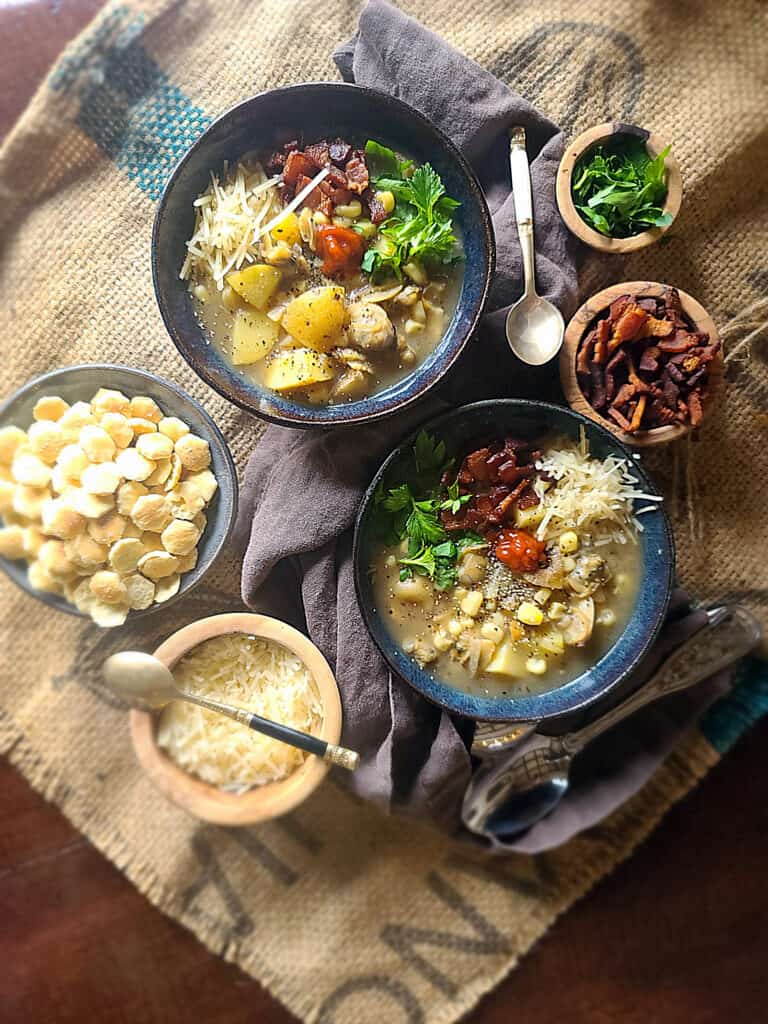 Easy Clam Chowder
Yield:
Plenty for 6+ folks
Ingredients
6 slices thick cut bacon, fried, crumbled, reserve bacon crumbles
3 Tbl. butter, unsalted
4 cloves garlic, minced
1 ½ cups sweet onions, diced
¼ cup arrowroot, can substitute all-purpose flour
2 tsp. Italian Seasoning
2 tsp. sea salt
1 tsp. pepper
½ tsp. red chili flakes
5 cups chicken bone broth
2 ½ cups coconut milk, unsweetened
20-24 ounces clams, canned and/or frozen with or without clam juice
8 oz. clam juice
3 cups Yukon potatoes, medium dice
3 cups corn, previously frozen
Fresh Italian parsley for garnishing
Instructions
In a large stock pot over medium high heat, put the bacon drippings and butter. Melt the butter and add the garlic and onions and sauté about 2 minutes or until somewhat tender and the aromatics are emitting.
Add the arrowroot and whisk into this mixture then add the Italian seasoning, salt, pepper and red chili flakes. Keep whisking. Reduce heat to medium.
Slowly add in the bone broth and whisk continually thickening the mixture. Then add the coconut milk and blend in. Add the clams and clam juice. Blend well, then add the potatoes. Cover and let the this mixture cook about 20 minutes or until the potatoes are tender.
Lastly, add the corn. Reduce the heat to low and let the soup simmer about 15 minutes . Ready to serve with fresh flat Italian parsley and sprigs of fresh celery!