Berbere (Amharic: በርበሬ berberē, Tigrinya: በርበረ berbere) is a spice mixture, whose ingredients usually include chili peppers, garlic, ginger, dried basil, korarima, rue, white and black pepper and fenugreek.[1][2] It is a key ingredient in the cuisines of Ethiopia and Eritrea. Berberé (or Berbere) is an Ethiopian spice mixture that is the flavoring foundation of Ethiopian cuisine, a basic ingredient in Dabo Kolo, Doro Wat, and many other dishes.
Berberé is made from a cupboard-full of herbs and spices, fresh-ground, pan-roasted, and then packed into jars for storage. Among Ethiopian cooks there are many variations of which spices and what amounts. (In the recipe below, ingredients marked "optional" seem to be the least common.) Basic berberé is made by combining roughly equal amounts of allspice, cardamom, cloves, fenugreek, ginger, black pepper, and salt with a much larger amount of hot red (cayenne) pepper. The combination of fenugreek and red pepper is essential to berberé; while one or two of the other ingredients may be left out, the fenugreek and red pepper are must-haves. Milder berberé can be made by substituting paprika for some or most of the red pepper. Berberé is sometimes made as a dry spice mix, and is sometimes made with oil or water to form a paste.
Source:  Congo Cookbook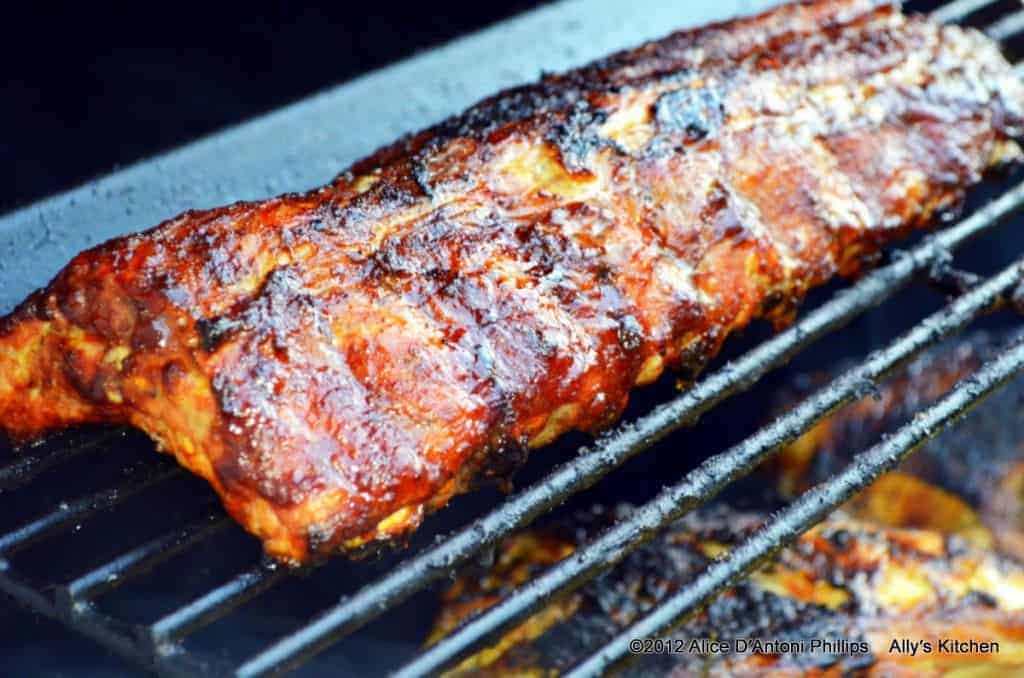 Ingredients
3 Tbl. berbere spice mixture
½ tsp. hot paprika
½ tsp. sea salt
1 tsp. fresh ground black pepper
1 ½ to 2 lb ribs
1 cup BBQ Sauce (your favorite store purchased)
Instructions
In a small bowl, mix together the berbere, paprika salt and pepper.  Rub on both sides of the ribs.
Wrap ribs in foil or paper (brown grocery store bag) and refrigerate for about 6 hours. Remove and let them come to rest at room temperature for about 30-45 minutes.
Slather on top your favorite BBQ sauce and grill at a medium low temperature until done.  
The individual ribs will pull away from the bone without much effort.
Let rest about 10 minutes and serve with more BBQ sauce if you like.
Notes
My cookbook, Ally's Kitchen~ A Passport for Adventurous Palates, has my recipe for berbere in it! If you don't have it, you can buy on Amazon. Or you can use a substitute spice mixture like Harissa or Ras el Hanut.
https://allyskitchen.com/berbere-spiced-ribs/
©ally's kitchen intellectual property