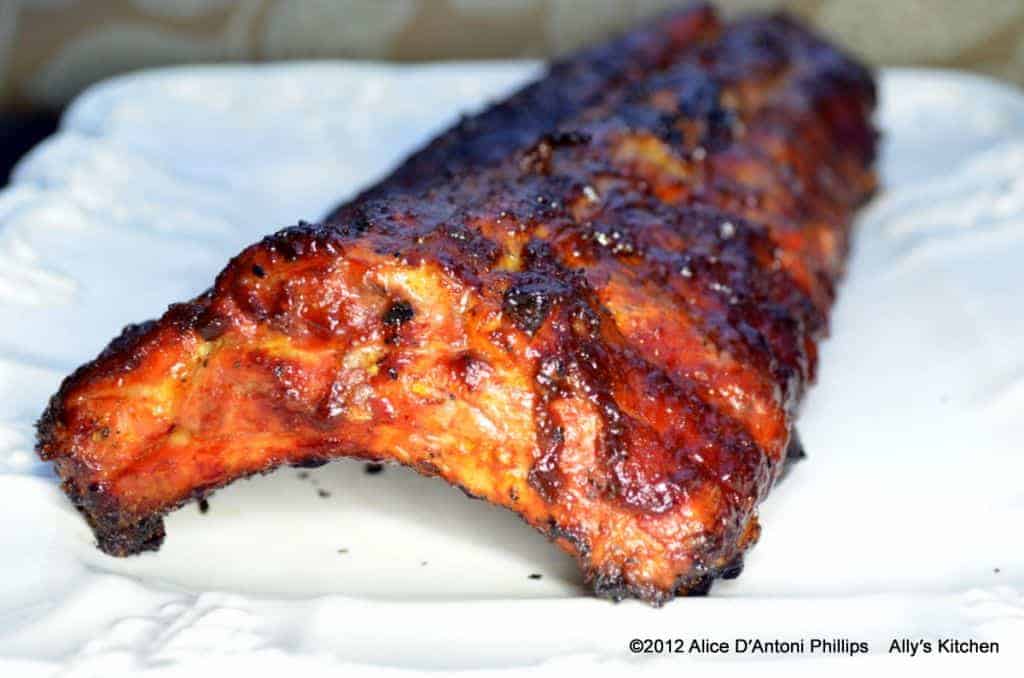 Ribs
Cuisines of the world are as close as your BBQ grill and back yard with these berbere spiced ribs. Taste the intoxicating flavors of berbere spiced ribs!
When Summer rolls around and grilling outdoors becomes a great way to cook, there are smokin' hot grills all over America with ribs on them! With eight types of ribs, you an get confused. Which do I want? Spare ribs, baby back ribs, St. Louis style, country style, short ribs, flank ribs, riblets, pork or beef ribs? You see how it can make you dizzy. Well, clear your head and run over to King of the Coals and all your confusion will become clear as a a bell on which ribs you want to cook!
Baby Back Ribs
For me, I'm loving pork baby back ribs. I like baby back ribs because they're mostly lean, meaty and have little cartilage. The most important thing about baby back ribs, they're easy and almost always come out great. So, for anyone who's not sure, you might just try the baby back ribs. Success guaranteed!
BBQ Ribs
BBQ ribs are the quintessential meat to throw on the grill for holidays like July 4th, Memorial Day, and Labor Day. It's like hot dogs at a baseball game. You go with what is a natural companion to the event. BBQ ribs aren't a lot of work and if you use a prepared BBQ sauce then you've saved yourself some timely steps in making your own. There are some might fine BBQ sauces out there, craft, artisan, mass produced and more. Most folks living in a neighborhood have at least one person who makes their own BBQ sauce, so hit them up for some! Now what makes these BBQ ribs different is that they're a twist on Ethiopian food!
Ethiopian Food
Most of the time, if you want to experience Ethiopian food you have to live in a well-diverse and, oftentimes, larger city. But, these BBQ ribs will let you have a taste of Ethiopian food without leaving home. Ethiopian food is most healthy and full of stews, vegetables, immense flavor and spiciness. Berbere spice is their most popular mixture, and everyone has their own recipe usually. Kind of like homemade BBQ sauces. Everyone has their recipe for success. Cuisines of the world are as close as your BBQ grill and back yard with these berbere spiced ribs! Check out my recipe for berbere spice mixture in my cookbook, Ally's Kitchen A Passport for Adventurous Palates.
Berbere Spice
"Berberé is made from a cupboard-full of herbs and spices, fresh-ground, pan-roasted, and then packed into jars for storage. Among Ethiopian cooks there are many variations of which spices and what amounts. (In the recipe below, ingredients marked "optional" seem to be the least common.) Basic berberé is made by combining roughly equal amounts of allspice, cardamom, cloves, fenugreek, ginger, black pepper, and salt with a much larger amount of hot red (cayenne) pepper. The combination of fenugreek and red pepper is essential to berberé; while one or two of the other ingredients may be left out, the fenugreek and red pepper are must-haves. Milder berberé can be made by substituting paprika for some or most of the red pepper. Berberé is sometimes made as a dry spice mix, and is sometimes made with oil or water to form a paste." Congo Cookbook
Wiki explains berbere spice like this, Berbere (Amharic: በርበሬ berberē, Tigrinya: በርበረ berbere) is a spice mixture, whose ingredients usually include chili peppers, garlic, ginger, dried basil, korarima, rue, white and black pepper and fenugreek.[1][2] It is a key ingredient in the cuisines of Ethiopia and Eritrea. Berberé (or Berbere) is an Ethiopian spice mixture that is the flavoring foundation of Ethiopian cuisine, a basic ingredient in Dabo Kolo, Doro Wat, and many other dishes.
You can also make this spice mixture into a paste by adding a little olive oil and tomato paste. Make it into the thickness you desire.
Also, have a look at some of these spices:
Cumin & Ancho Chili Oven Roasted Corn on the Cob
Roasted Creamy Spicy Root Soup
Bohemian Lasagna with Veggies
skillet salmon with bleu cheese & dill
Chardonnay Raspberry Spicy BBQ
Sweet & Smoky Hibachi Peach Pork BBQ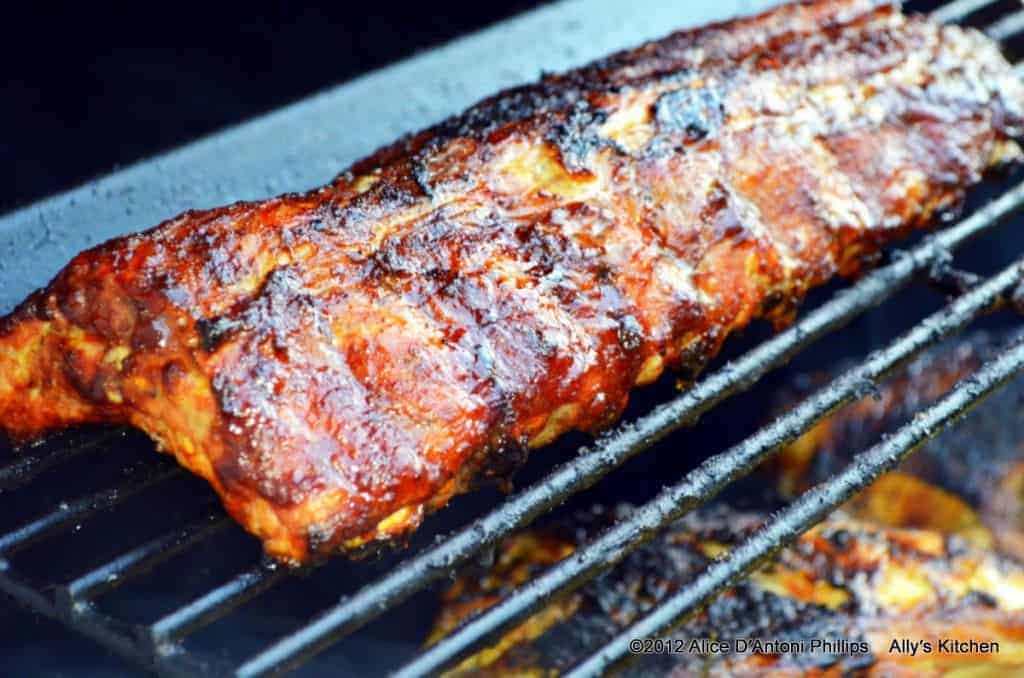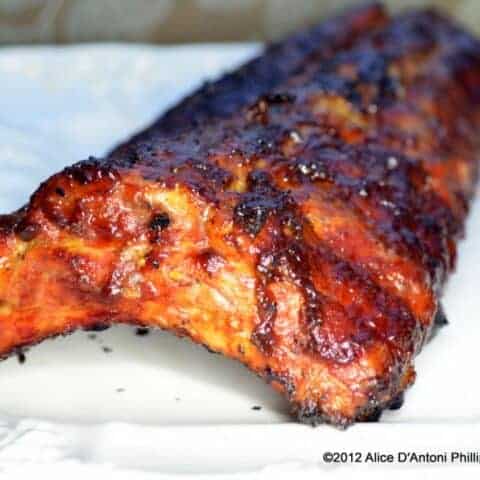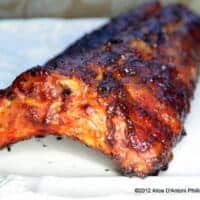 berbere spiced ribs
Yield: Feeds about 4-7 folks

Cuisines of the world are as close as your BBQ grill and back yard with these berbere spiced ribs. Taste the intoxicating flavors of berbere spiced ribs!
Ingredients
3 Tbl. berbere spice mixture
½ tsp. hot paprika
½ tsp. sea salt
1 tsp. fresh ground black pepper
1 ½ to 2 lbs. baby back pork ribs
1 cup BBQ Sauce (your favorite store purchased)
Instructions
In a small bowl, mix together the berbere, paprika salt and pepper. Rub on both sides of the ribs.

Wrap ribs in foil or paper (brown grocery store bag) and refrigerate for about 6 hours. Remove and let them come to rest at room temperature for about 30-45 minutes.

Slather on top your favorite BBQ sauce and grill at a medium low temperature until done.

The individual ribs will pull away from the bone without much effort.

Let rest about 10 minutes and serve with more BBQ sauce if you like.
Recommended Products
As an Amazon Associate and member of other affiliate programs, I earn from qualifying purchases.