cuban style pork picadillo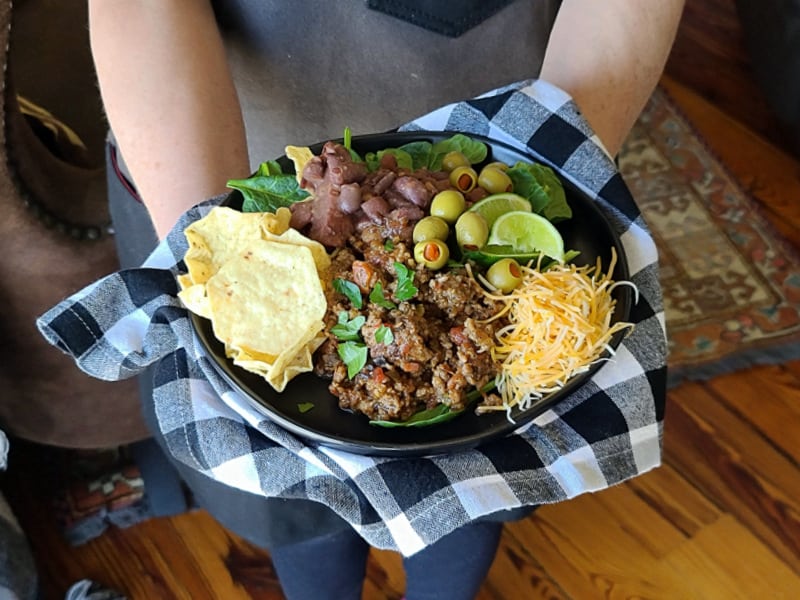 .A Latin inspired staple to dazzle your dinner table! Then this Cuban style pork picadillo is it! So simple. One skillet. Explosive flavors!
What is Picadillo
Like a lot of fabulous dishes and spice mixtures, picadillo is a very simple dish with unclear beginnings. Some say that it was first served in 1821 to the new emperor of Mexico. Who knows!
Picadillo Recipes
In most Latin kitchens, picadillo is a staple. It's kind of like chili but no beans. However, I usually make beans to go with it and the many dishes I can create from the leftovers.
One of my favorite ways to do leftovers? These Picadillo Wraps! Lordy, they're sooooooooooooooo good!
Recipe from Cuba
Recipes for picadillo vary in Latin countries including Cuba. You can use my basic recipe and then morph it into so many other dishes. From tacos, stuffed peppers and burritos to toastados and empanadas, it's so versatile.
How to Make Picadillo
Picadillo is make all in one skillet. Easy, huh? We like that. A combination of sweet and savory, you have options for using things like raisins, dates and those salty olives that we love. It's all up to you and your preferences.
Easy Picadillo Recipe
If you're ready to test the waters with Latin cuisine, then my easy picadillo recipe is your starter recipe. With tons of flavor, it's insanely easy to make. You really can't mess it up. That's what I love about cooking soups, stews, roasts versus baking pastries, The former are more forgiving.
And, here are some of my other simple Latin and Asian-inspired recipes that you might want to look at and add to your growing repertoire of dishes!
Easy Asian Fried Rice
Slow Cooked Cuban Skirt Steak
pico de gallo oven chicken
Cuban Style Black Beans
big daddy pork chops
Asian Chicken and Ramen Noodles
smothered creole pork chops tomatoes & mushrooms
Picadillo Ingredients
You have some basic ingredients for picadillo. Then you have some additional options for add-ins, like raisins and olives. Others might even make it more like a 'stew' and add small potatoes. It's also fabulous served over rice!
This simple homestyle dish can be your first homerun for Latin night in your home!
Picadillo is a Cuban-style hash made with ground pork, ground beef, or both. It's a simple, homestyle dish that relies on building layers of flavor and texture from the addition of briny green olives, capers, and raisins. Traditionally, picadillo is served with white rice, but if that's one too many starch for your tastes, feel free to omit the potato below.
Picadillo Beef
I love to use ground pork or a combination of beef and pork for my picadillo. Pork just gives immense flavor, so I'd say use some in your recipe. Since we're using two pounds of ground meat, I'd go one-to-one with pork and beef. But, you'll see that I decided to use all pork. That's be cause we love 'the other white meat'. If you're using ground chicken or turkey, then it's essential that you use at least the same amount of pork to impart the flavor.
Cuban Pork Picadillo
Now there are some vegetables in this mixture. And, it's somewhat like the 'holy trinity' because you're using onions, peppers and garlic. You could finely dice up some carrots and celery if you like.
Tomatoes are a must. And, you'll see that I'm using coconut milk! Oh, my gosh, talk about elevating the flavors!
Easy Picadillo Recipe
Now you're going to simmer this picadillo for just about 20 to 30 minutes making sure the liquid is not completely evaporating. The coconut milk, as well as the diced tomatoes in the juice, do provide liquid, but you don't want all the liquid to reduce.
Pork Picadillo Recipe Mexican
Whether you're using this pork picadillo as a main dish, garnish, or appetizer, you won't be disappointed.
Here's a great idea. Double the recipe and freeze half of it. I do that for my Bolognese recipes and when I'm hankering for Bolognese but don't want to cook, I'm soooooooooooo glad I can grab it from the freezer! You'll feel the same way about your picadillo! Also, check out these delicious dishes:-
italian inspired bison meatloaf
sweet pepper ginger panko chicken
jamaican jerk steak & grilled red poblano pepper
crunchy honey garlic chicken
garam masala veal & pasta
sweet pepper relish bbq pork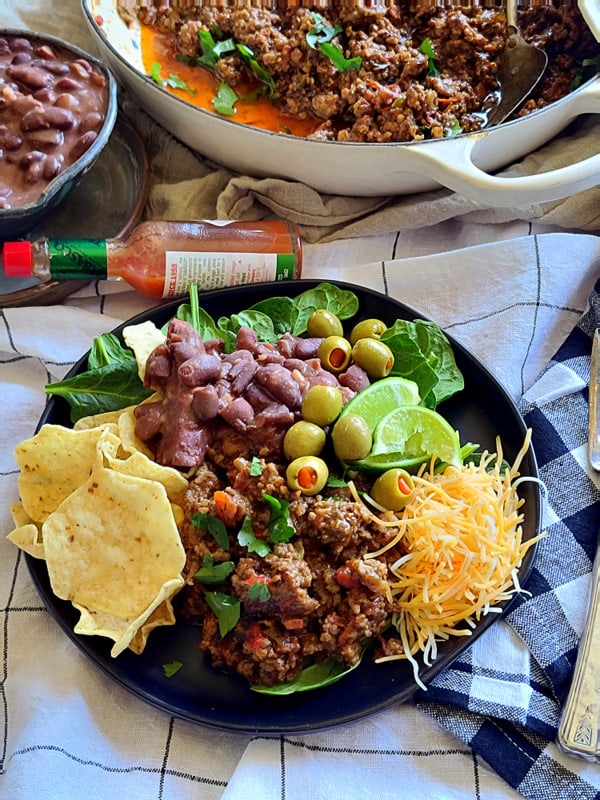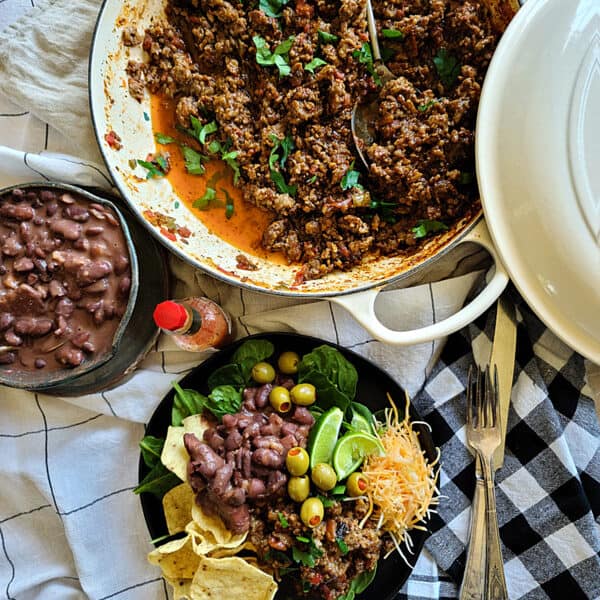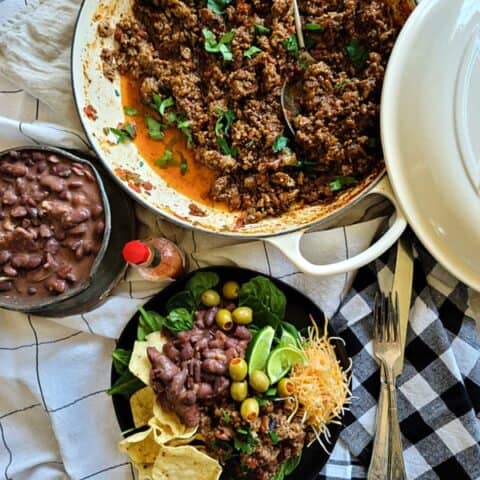 Cuban style pork picadillo
Ingredients
4 Tbl. extra virgin olive oil
1 cup sweet onions, diced, packed
1 cup green pepper, diced, packed
2 large garlic cloves, thinly sliced
2 lbs. ground pork
1 Tbl. multi-seasoning mixture, no salt, try Mrs. Dash, no salt or Costco's no salt seasoning mix
2 tsp. cumin
1 tsp. allspice
½ tsp. cinnamon
2 cans (10 oz.) diced tomatoes and green chiles, mild
1 can (13.5 oz.) coconut milk, full fat not "light"
Salt and Pepper to taste
SERVING:
Fresh cilantro, chopped
Lime wedges
Grated Cheese
OPTIONAL:
3 Tbl. Concentrated Tomato Paste, will give more tomatoEEEE flavor
1/3 cup grated parmesan
Instructions
In a large deep skillet over medium heat, put the olive oil, onions, peppers and garlic slices. Sauté about two minutes. Careful not to burn.
Add the meat and brown.
Add the multi-seasoning mixture, cumin, allspice, and cinnamon and blend well. Add the diced tomatoes and coconut milk and blend. Turn heat to medium low. Cover and let the mixture simmer about 20 minutes.
Add the parmesan and blend. Adjust heat to simmer/low. Let the mixture sit, stirring occasionally, another about 10 minutes.
Notes
Add concentrated tomato paste (optional) for more tomato flavor. Add with tomatoes and coconut milk

If adding grate parmesan, add right before serving or serve as a side with the meal.