Healthy Easy Broccoli Cannellini Bean Bowl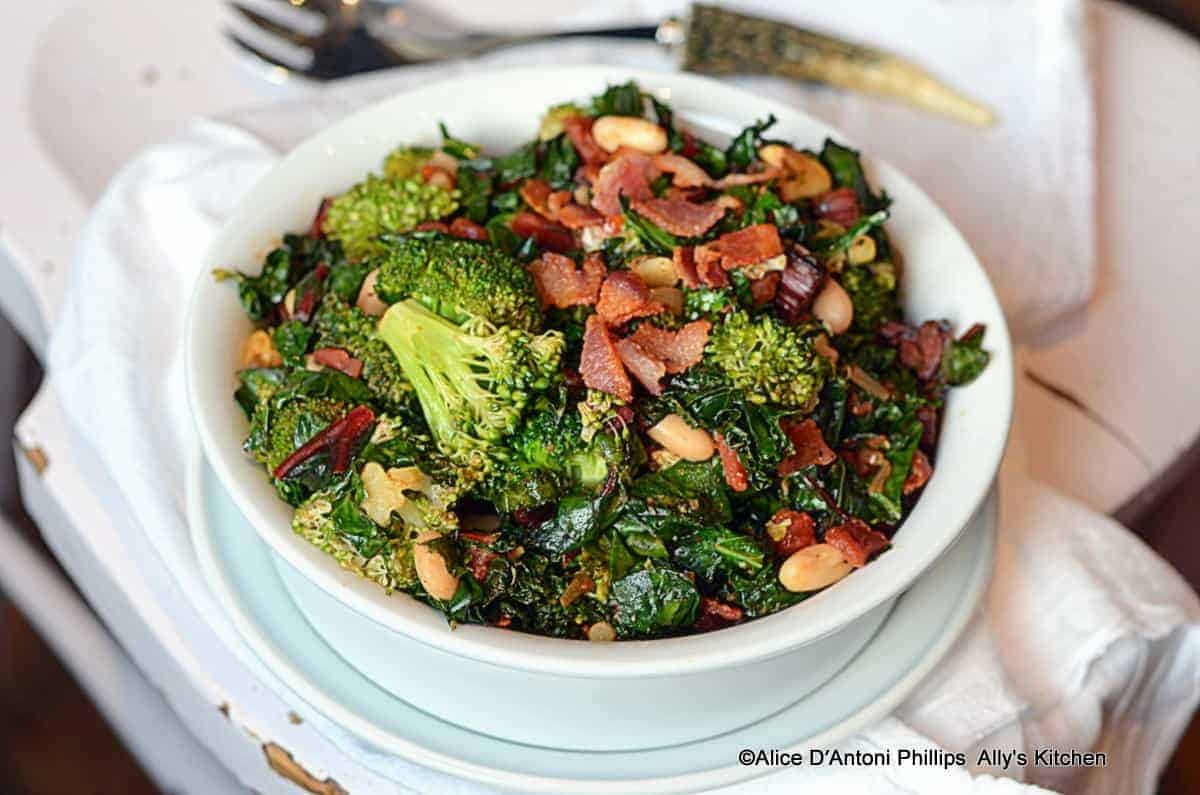 Healthy Easy Broccoli Cannelinni Bean Bowl recipe offers bone-healthy vitamin C, calcium, magnesium, and potassium. And it is yum yum!
Broccoli Recipe
Broccoli when mixed and served with a coconut ginger broccoli carrot soup is going to be mind-blowing, it will taste a bit sour and sugar and refreshing ginger will amaze your taste buds. A pinch of salt along with some other ground spices will do wonders if you are going to serve it to your guest at a dinner table.
Broccoli and White Beans
Never tried broccoli with beans right? So why not try something new for breakfast like go and get a fresh bag of cut broccoli and add the crunch of crumbled bacon and fried beans along with it. And add broccoli slaw tomato garlic & chives egg skillet pie for an amazing mixed taste of eggs with beans and skillet pie. You can take a heavy skillet and put it on medium flame, to fry bacon for a mouth-watering taste.
Broccoli and Cannellini Beans
Heard of cannellini beans? If not then try it for the most fashionable looking food ever because when the colour of the organic beans impacts the crumbled bacon, for sure it will be desirable. You can also get yourself Tuscan broccoli in white wine sauce with Italian chicken wraps, the taste will always be mesmerizing. So try to make it and have it in your evening snack.
Broccoli and Bean Salad Recipe
Salads are versatile and can be eaten even if your stomach is filled with mouth-watering dishes, and that is why we present you the very tasty and refreshing broccoli and bean salad recipe so that you can have it along with your brilliant one pan dinners because when the salad with being served in the table, no one will want to turn down a bite for once. The more you will have it, the more you will want it.
Beans and Broccoli
Beans and broccoli sound like a mixed combination right, but what if we see it in your broccolini mandarin orange pizza because when you will have broccoli and beans in your pizza you will love it, as broccoli mixed with cheese sounds a perfect match. Just add fresh broccoli pieces, some ground peppers, add spicy chilli tomatoes and chillies, put it in the oven and your pizza is ready to be served, with a glass of wine. The boho recipe will blow your mind and even if you serve it to your friends it will do wonders.
Roasted Broccoli and Beans
Roasted broccoli with beans is yet another dish that will blow your mind when you have it. Roasted broccoli is when mixed with beans and a pinch of salt sprinkled must be tasty. It is the easiest dish to make so if you want you can make the easy spicy cooking demo for charity this might be the right choice for you to make. Because when you are in a hurry nothing will come to your mind rather making a dish that is tasty as well as easy to make and at that time think of roasted broccoli and beans for charity.
Healthy Salad Recipes for Weight Loss
The one pan sausage and veggies are the most precious and healthy salad recipe you will ever make because people who are looking to lose weight will never go for oily dishes or salads that are high in fat and carbohydrates. Veggies like broccoli and others as well in the salad are high in nutrient levels and increase the absorption of certain nutrients being consumed. Salads are the healthiest choice because they do not contain any cholesterol and fats and are naturally low in calories and sodium as well.
So, if you are looking for healthy salad recipes for weight loss, you must check out Ally's kitchen and find out your desired salad recipe that helps you lose weight.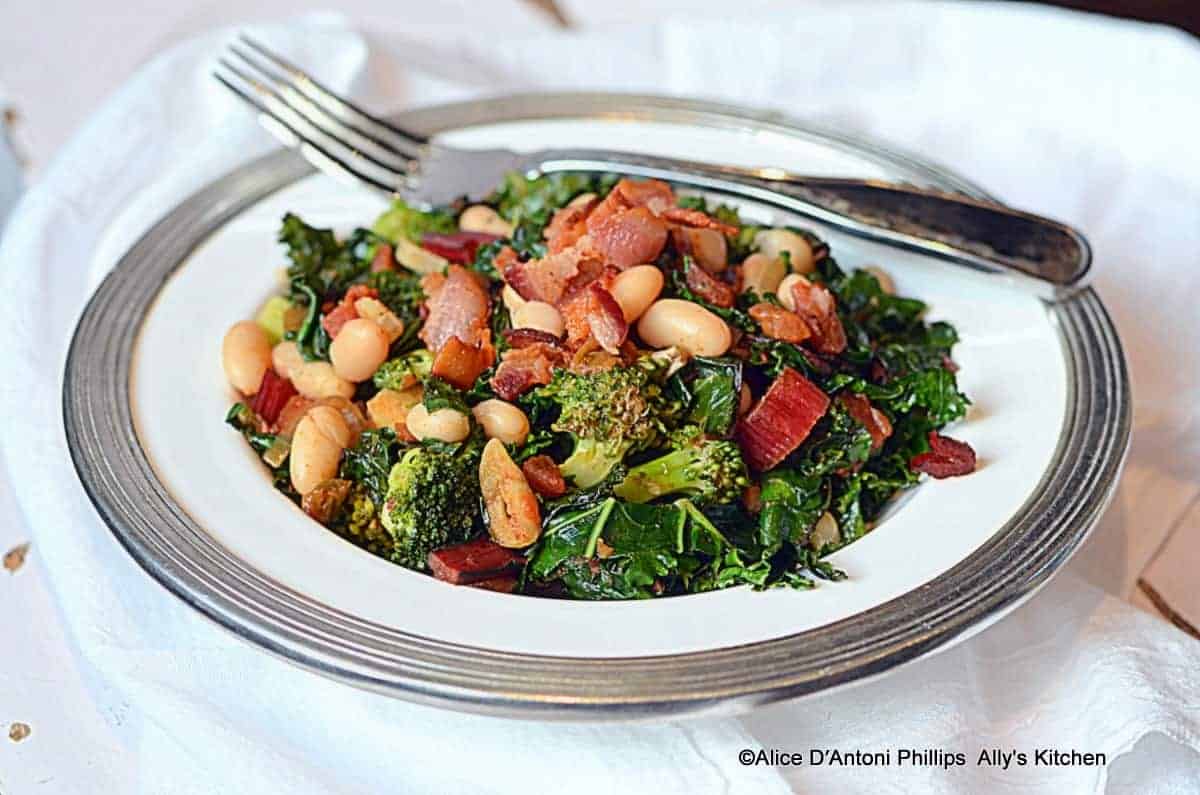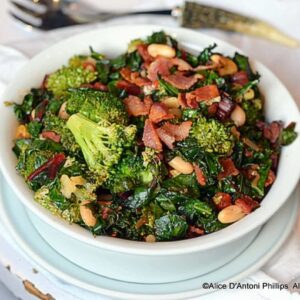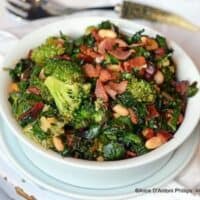 Healthy Easy Broccoli Cannellini Bean Bowl
Healthy Easy Broccoli Cannelinni Bean Bowl recipe offers bone-healthy vitamin C, calcium, magnesium, and potassium. And it tastes delicious!
Ingredients
6 slices thick bacon fried & crumbles removed—reserve drippings
4 garlic cloves sliced thin
¼ cup chopped shallots
3 cups fresh broccoli pieces
1 bunch fresh kale (cleaned, deveined, sliced thin)
1 bunch fresh Chard (cleaned, deveined, sliced thin)—slice stems & save
1 teaspoon sea salt
1 teaspoon coarse ground pepper
1 (10 oz) can diced tomatoes with chilis
1 (15 oz) can drained cannolini beans
Instructions
In a large heavy skillet over medium high heat, fry bacon, remove & put on paper towels, leave drippings in skillet, crumble bacon, set aside. Reduce heat to medium. Add garlic and shallots and sauté to translucent. Deglaze pan with ¼ cup of water. Add broccoli, toss well, and cook about 5 minutes. Add kale and chard (with red stems sliced). Toss well. Add salt and pepper. Reduce heat to medium low, cover and cook about 20 minutes tossing a couple of times.

Add spicy chili tomatoes and drained cannolini beans. Blend well. Cover with lid. Cook another about 20 minutes on low. Ready to serve!