creamy braised white beans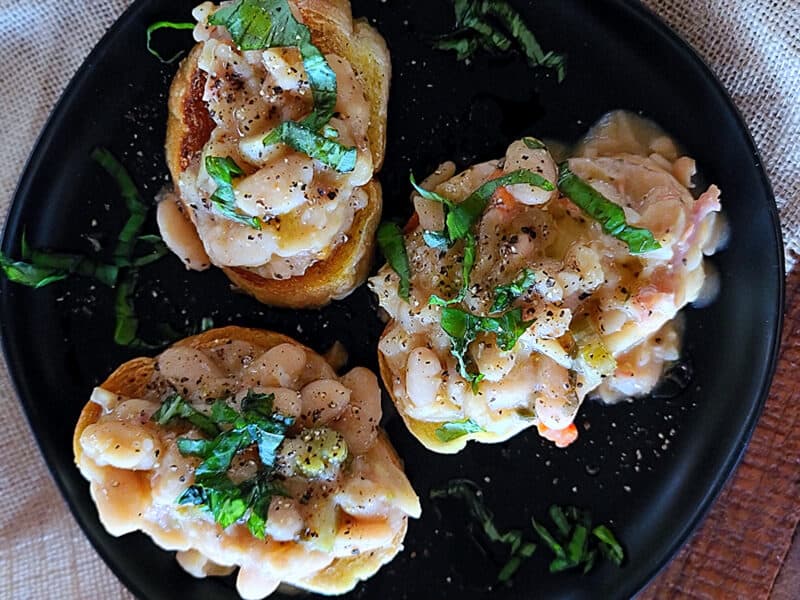 Slide right out of your chair with your first spoonful of these creamy braised white beans! Full of flavor, they melt in your mouth!
Healthiest Beans
Yes, one of the healthiest foods out there? Beans. And, if you're like me, a bean lover, you have no problem with eating more and more.
White Kidney Bean
I do love any and all beans, but this white kidney bean is one of my favorites.
Dried Cannellini Beans
You can buy cannellini beans in the can. Yes, that's easy. But, using dried cannellini beans and getting a creamy, almost gravy liquid, just can't be found in the can. My main way to use the canned cannellini is in chilis and bean salad recipes.
Creamy White Beans
So how do you make creamy white beans? My method is the old-fashioned bean cooking process.
How to Make White Beans Creamy
Making white beans creamy with this gravy-like sauce comes from the old school way of stove top cooking. At least I think so. I've never had this good luck with a slow cooker or multi cooker or even a pressure cooker. My Grandma and Mom cooked beans this way. And, I do so now today even when I have all those fancy gadgets and appliances.
How to Cook White Beans without Soaking
Cooking these white beans without soaking means you're gonna spend a tad bit more time attending to them. But, trust me, it's worth all the attention you're giving them. Using high boiling heat breaks down the bean in the scalding hot liquid and starts the tenderization process that ends up melting in your mouth!
White beans are the perfect choice for a side or even an entire meal. They're inexpensive, high in protein. And, talk about fiber.
These humble-but-satisfying white beans can be plated and served to look like a 5-star meal from an swanky restaurant! And, there are so many ways to use leftovers. From nachos to crostini to chili and vegetable soups, these beans will make anything taste better.
How to Cook Fresh White Beans
I call these braised white beans because the cooking process is like braising. Braising is usually done with meats. It's a process that helps dissolve collagen and connective tissue in gelatin making for, guess what? A richer sauce or gravy.
When you use a ham hock, ham shank, ham bone with meat on it, you get that same result with the beans. Not only does the meat on the ham bone tenderize and literally fall off the bone, but it also helps to make for that delicious sauce or gravy rather than a brothy soup liquid.
White Bean Soup
White bean soup or better described as a 'stew' is perfect when you have that bone and meat to flavor the beans as they cook and make the thick broth/sauce. Save those ham bones from holidays. Put them in the freezer. They'll last for a few months. Then use them for a big pot of beans. If you don't have the bone, and I've even used beef shank bones, then try bone-in thin or thick pork chops. You'll get some of the same broth consistency from the bone cooking in the liquid.
Creamy White Bean Soup
There are a couple of other ways to create the creamy white bean soup. You'll thicken the soup at the end when the beans are basically all tender and cooked. You can make a roux with bacon drippings and add to the liquid broth. Another technique is to make a cornstarch slurry and add into the broth at the end of the cooking.
Cannellini Beans Recipes
Cannellini dried beans really are easy to cook. No different than pintos, navy, great Northern, anasazi. Yes, you can do it. The key is just being patient and making sure you keep an eye on them as they boil and cook adding liquid so they don't burn. Trust me, you do NOT want your beans to burn. Talk about a mess! You'd probably end up throwing out the pot! And, if that's one of your fancy dancy Le Creuset pots, well, talk about some serious depression!
Cannellini Beans Recipe Easy
My easy cannellini beans recipe is perfect for a weekend cooking adventure or a time when you can be 'on call' to make sure those beans are doing well as they boil and cook. My rapid boil method really does ensure that within about two plus hours, you've got a great pot of beans.
Besides cannelllini beans, I have lots of other bean recipes!
Smoked Anasazi Beans with Fresh Herbs
Smoky Poblano Cannellini Beans
Do you Have to Soak Beans
Do you have to soak your beans before cooking? The answer is no. And, this comes from Bon Appetit magazine as well as me. Soaking beans simply reduces the time that they have to cook. And, sometimes you get fewer beans that split open during the cooking process. But, that's precisely what I want when I cook my beans. I want some of them to 'burst' and split open. I believe this is partially why I can create a creamy gravy like broth for the beans.
Bottom line is that if you've not soaked your beans, they'll take longer to cook, but they will cook.
White Bean Soup Recipes
This white bean soup recipe sure is garnering lots of talking on social media! Check on some of the comments from my FB page:
Ken Owensby
Those where the best beans I have fixed in my life wow, they went good with the cake of crackling cornbread I made tks again for your work and recipes.
Tami Parks Guardino
I'm making them today. My tummy was growling yesterday looking at all the comments. So looking forward to this soup. I will post here later today. Thanks Ally!
Karyn Cantees Stagg
This is the kind of meal I love! 🍷 Especially in winter. Perfection, and with so many healthy ingredients! ❤️ Wonder if I could make it with chicken as Alan's doctor has nixed red meat.🥩I know it won't be nearly as good. 😢 Thanks Alice!! Love the video!! ❤️❤️
Gwen Gobble
This soup looks perfect for a cold day like today. I wish you made deliveries. 🤗
Mediterranean Bean Salad
Beans are wonderful in salads. And, here are a couple that have that Mediterranean flair!