Easy 5-Ingredient Green Chile Taco Pork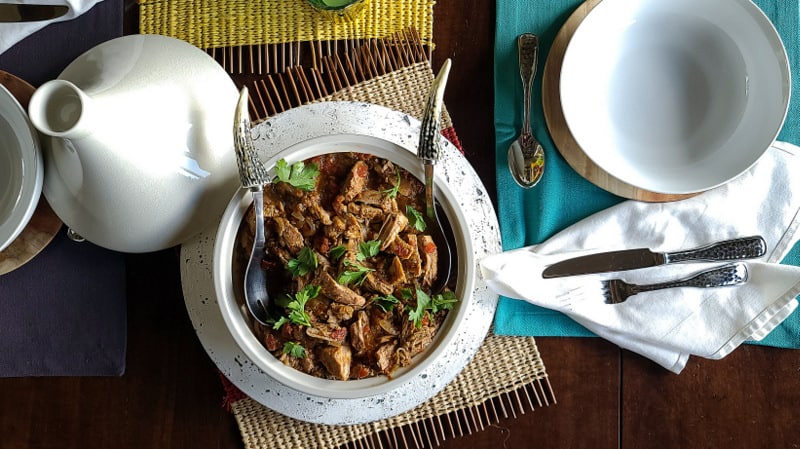 Easy 5-Ingredient Green Chile Taco Pork is an anytime go to dish! Perfect for dinner parties. So many options for serving! Slow cooker magic!
Green Chile Pork Slow Cooker
I love doing this recipe in the slow cooker, multi-cooker (pressure cooker setting) or the Dutch oven and in the oven. It's that versatile. The only thing you'll do is change the cooking times.
Mexican Dinner Party
If y'all follow me closely, you know that I'm big on creating the dinner table theme to go with the food. So for this dish, I'm thinking brilliant vibrant colors and serving pieces. Here are a few of my favorites from Amazon. These are perfect for so many other options, too!
The beautiful colors and patterns work with Middle Eastern, Mediterranean and other cultures, too!
Green Chile Tacos
Green chile tacos are perfect to serve with my pork taco red beans. Yes, a little pork overload, but throw in a nice coleslaw, and you're in business!
Green Chile Pull Pork Slow Cooker
Let's talk green chile!
Essentially, peppers fall into two categories: hot and sweet. There's a big difference is in taste, size and culinary uses.
Most green chile sauces are made with green peppers that are hot. But, don't despair, you can find those green chiles that are more mild.
Slow Cooker Chile Verde
You can certainly make your own green chile from scratch, but there are some delicious ones that you can buy. I have a few options that you can order from Amazon. I keep a couple of jars of green chile in my pantry all the time. I never know when I might want to throw it in a soup, stew, or make something like this recipe, but substitute chicken.
Chile verde is slow cooked, usually with pork, in this luscious sauce of garlic, tomatillos and jalapeño. Chile verde is perfect as a taco or burrito filling, and you can pile high on rice and tortillas. I even love it with some cuts of pasta!
Slow Cooker Pork Green Chili
You're going to cook this about 4 hours on high in your slow cooker or until the meat shreds easily with forks.
Everyone's slow cookers are different, so adjust the time accordingly. If you need to cook longer, do it.
Another thing is that by cutting the meat into smaller chunks, it cooks faster.
Green Chile Pork Carnitas
Carnitas are perfect with this taco pork!
In Spanish, the word carnitas means 'little meats'. And, yes, it's typically a pork dish.
You'll want to use an inexpensive cut of pork because you're cooking it for hours with the seasonings. And, it's ready to eat when you can shred it!
If you don't have carnita shells, then just put tortillas in a cast iron skillet and toast/warm them over medium-high heat for about 20 to 30 seconds. Flip them and toast/warm on the other side. I love to use the flour or corn 'street' taco size for this kind of serving. It's easy to pick up with your hands!
Pork Green Chile
Some of my other delicious taco recipes? Well, here you go. The unexpected!
Killer Good Spicy Taco Meatloaf
Green Chile Pork Tacos
OK, what will I serve with this green chile taco pork? Well, the possibilities are endless, but there are some of my favorites and they'd lots of slaw options. Uou can go with just a plain rice if that makes you happy!
Queso Cotija Buttermilk Corn Coleslaw
Crunchy Pineapple Blueberry Slaw
refreshing rice grape salad
North African Rice Dates & Olives
Tandoori Coconut Jasmine Rice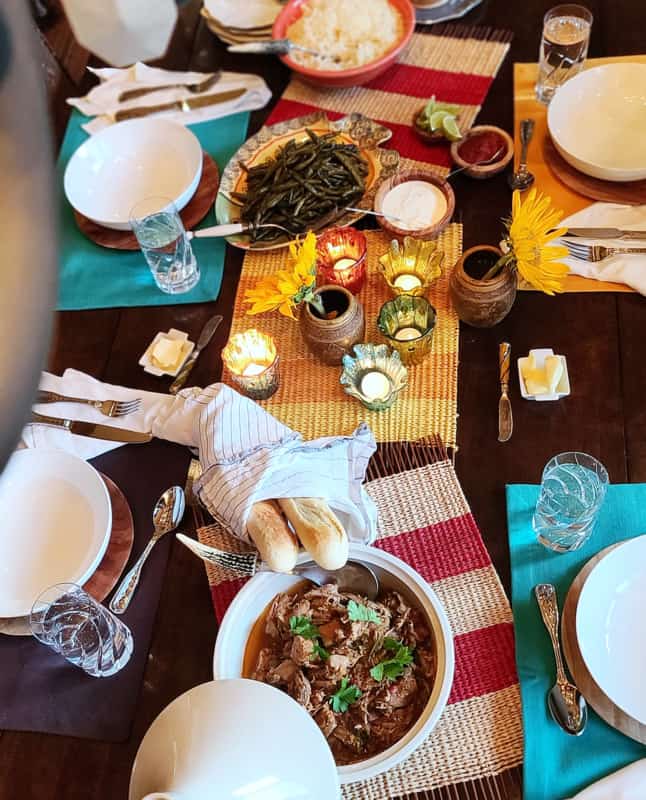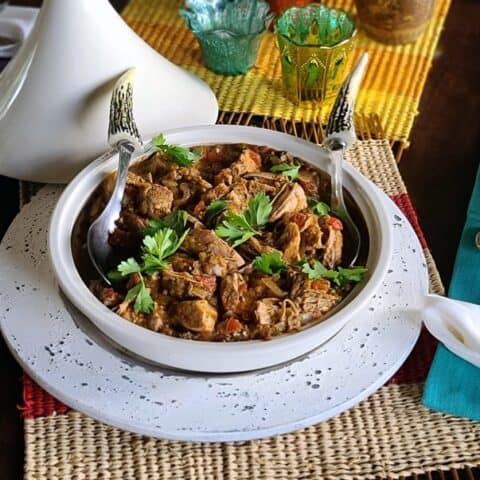 Easy 5-Ingredient Green Chile Taco Pork
Ingredients
3 to 3 ½ lbs. pork tenderloin, cut into about 4"pieces
1 sweet onion, Vidalia, large, French cut
1 package (1 oz.) organic taco seasoning + sea salt/pepper to taste
12 oz. green Chile sauce + 1/4 cup water to rinse out jar
12 oz. pico de gallo, can be store bought + 1/4 cup water to rinse out container
Salt and pepper to taste
Instructions
Put the pork pieces and onion slices in the slow cooker. Sprinkle on the taco seasoning.
Add the Chile sauce and pico de gallo.
Set slow cooker on [High] for 5 hours. Meat should shred when done. Cook longer if needed to make the meat tender and shreadable with a fork.
Shred larger pork chunks and let it sit in the juices for about 20 minutes before serving.
Notes
This pork is so versatile. Use for nachos, tacos! Wrap in tortillas. Serve on rice or pasta. Use for sloppy joes or sandwiches. Perfect for Cuban sandwiches.