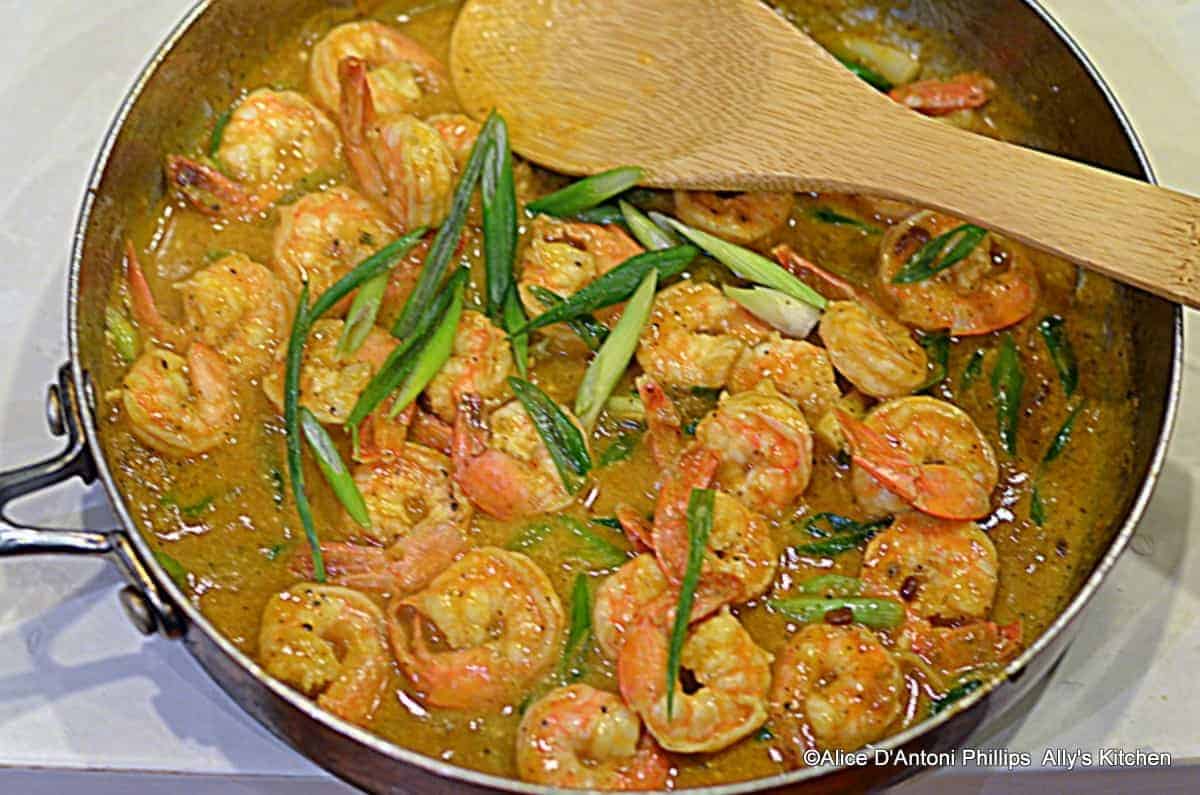 Food in India
Madras curry shrimp will let you escape to the exotic cuisine of India without even going through TSA! If you love spicy and robust flavors, this is it!
Food in India. I've never even ventured into that kind of ethnic cooking and now I'm getting my toes wet with trying this very first dish. Maybe it was the intriguing movie 'The Life of Pi' that sparked my interest even more so. I've always loved the design flair of the women's attire, the colors, patterns, the jewelry. All so mysteriously exotic to me! So, I was at the Fresh Market and World Market, and found so many different types of Indian sauces, spices and food products, so without buying everything, as I tend to get really gungho about new adventures, I tempered my impulse to load up my cart! Honestly, I was really proud of myself when I checked out and had only this one jar of 'Madras Curry Sauce'. This was simply delicious, and having the sauce made it really much more convenient, easy and encouraging to do more!
Indian cuisine dates back thousands of years. Dependin gupon the region, you'll find different traditions, religious and cultures that shape the food. The cuisines of Persia, China and Mongolia have influenced Indian food. The common thread in Indian cuisine is the unique and very distinct mixing of spices. And, curry powder and madras curry powder are favorites.
Madras Curry Powder
Indian cuisine and eating is a social affair. Groups dine together and everyone stays until satisfied. Your plate is filled with all of your courses rather than one course at a time. Varying degrees of spice and heat with the food, mild, sweet, spicy and hot, all come together. And, you can be assured that madras curry powder and other curry powders are used in the preparation of these dishes.
Madras curry powder is usually hot or can be very hot. The hue can be brown or red. There's also a spice mixture called vindaloo, a spicier and even hotter version of madras curry powder. Red chilis give madras curry it's hue as does turmeric. Then other spices like feugreek and cumin round out the flavor.
Curried Shrimp Recipe
Since shrimp is such a mild seafood making it curried shrimp truly intensifies and magnifies the flavors. This curried shrimp recipe is super easy because you're going to use a prepared madras curry sauce. If you want to venture into making your own sauce, then no problem. But, if you're just dipping your tastebuds into India cuisine, then you might want to start with something that makes the cooking more convenient. I found that this Maya Kaimal Madras Curry (on Amazon) is super tasty. It's a perfect combination of the spices in a coconut milk and curry leaves mixture. However, there are some options below on curry sauces that you can try. Experiment with them. Why not try this Thai red curry coconut corn! Just looking at the pictures will make you drool!
xox ~ally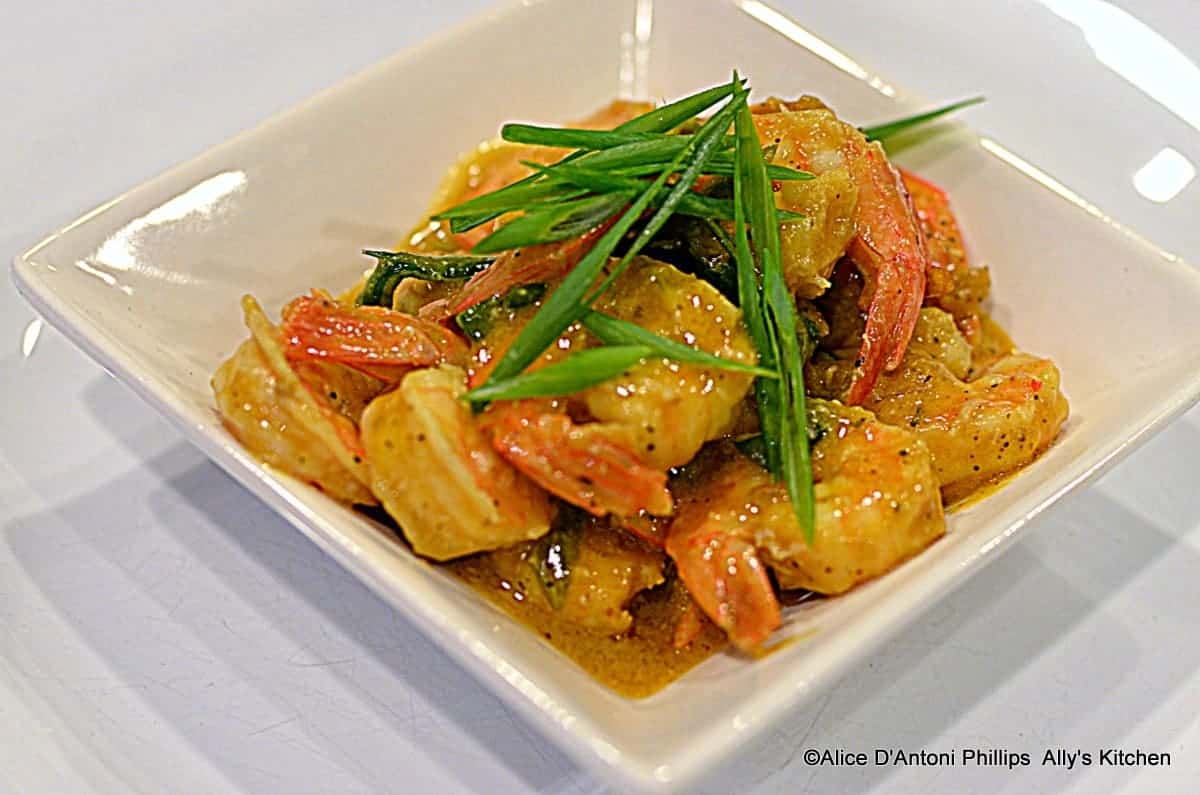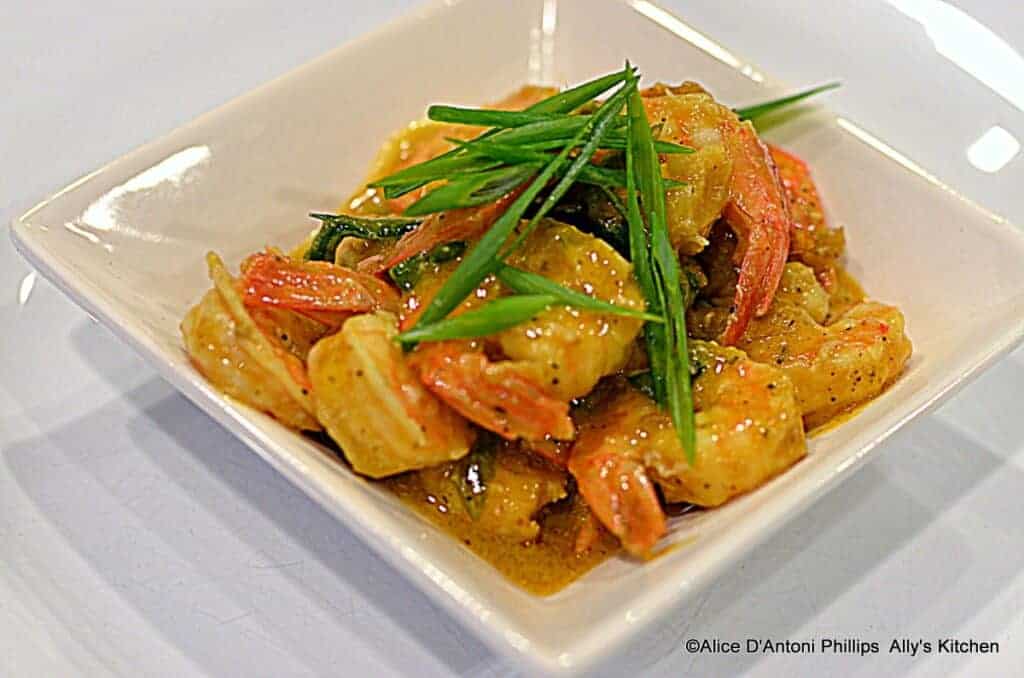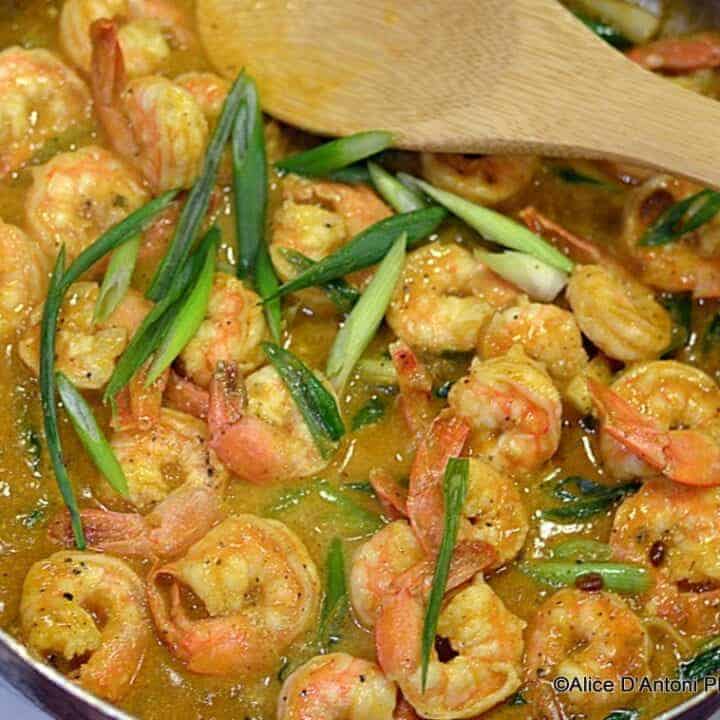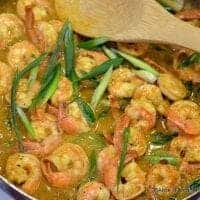 madras curry shrimp
Madras curry shrimp will let you escape to the exotic cuisine of India without even going through TSA! If you love spicy and robust flavors, this is it!
Ingredients
1 pound shrimp, large, peeled, deveined, tail-on 
2 Tbl. butter
4 Tbl. olive oil
½ tsp. sea salt
1 tsp. coarse ground pepper
1/3 cup white wine
½ cup Indian Simmer Curry Sauce
½ cup green onions, garnish
Instructions
In a medium skillet over medium heat, melt butter and add olive oil.

Add shrimp, salt and pepper.Toss and cook about 3 minutes.

Add wine and bring to a bubbling boil for about 2-3 minutes.

Add curry sauce and blend and cook another 3-5 minutes.

Blend in green onions and serve over rice or just eat the shrimp!