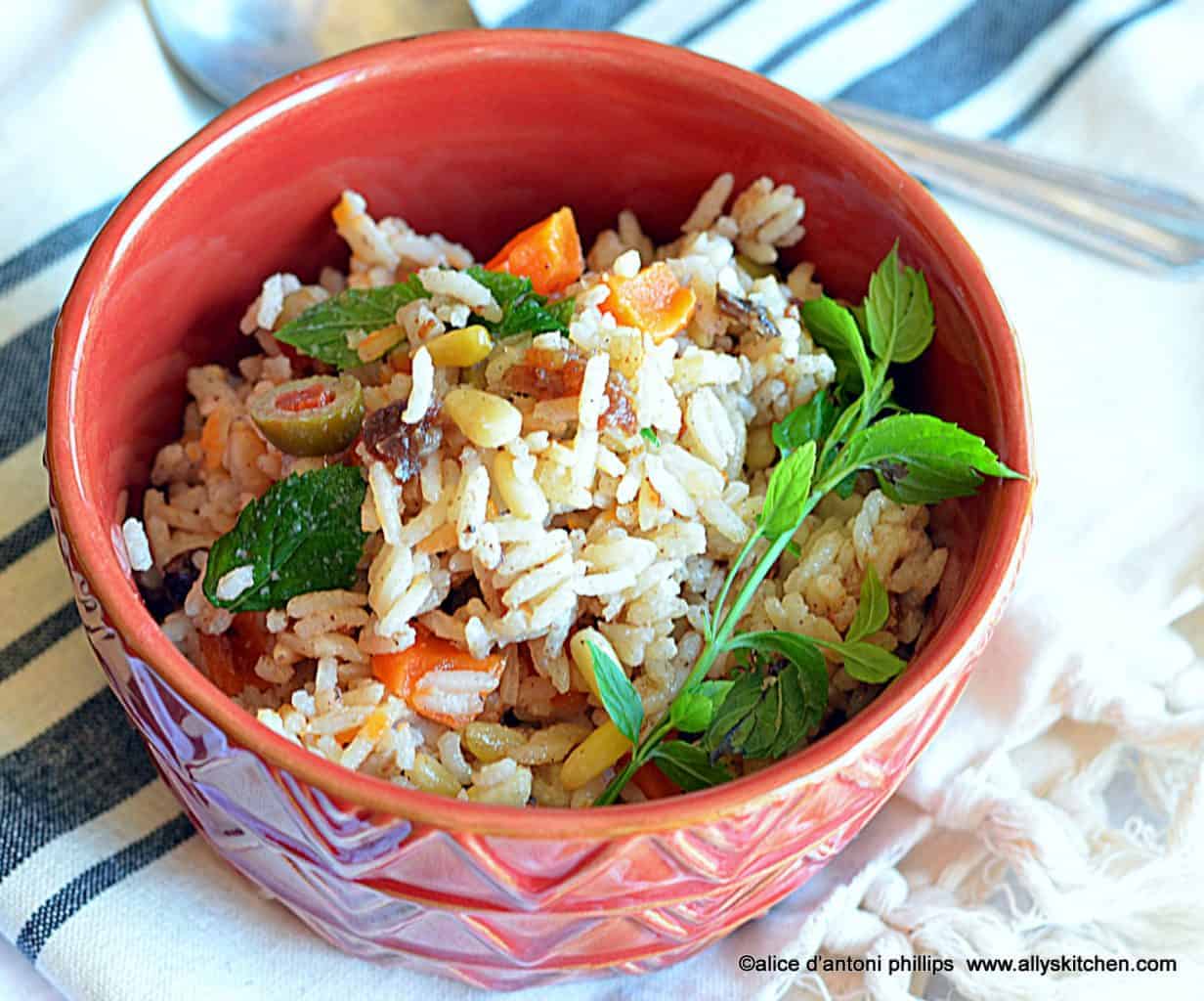 When my husband tastes something that he's found in the refrigerator and doesn't even know that it's a new recipe creation. Just something he's stumbled upon while foraging for food, and he hollers at me 'Wow, this is really good…' Then you know what?  It makes the blog list!  Yes, this is precisely how this recipe that I've names  "north african rice dates & olives" has landed right here in your laps.  Now, I was kind of surprised because he's not a huge fan of olives, but in this case, the olives simply add the saltiness to harmonize the sweetness of the succulent dates and other dried fruit.
Another nifty feature of this dish is that it's versatile and can be served as a side or add some meat or grilled seafood, and it becomes the entree.  Got leftovers?  How 'bout stuffing pita pockets, adding some sliced grilled chicken or shrimp, some seasoned sour cream, chopped cilantro, and you have another meal.  So, my luvs, here's to jasmine being more than just a lovely Southern scent… ~peace & nameste~ xoxo ally
This is a sponsored post in partnership with Dole Packaged Foods~click here as to why~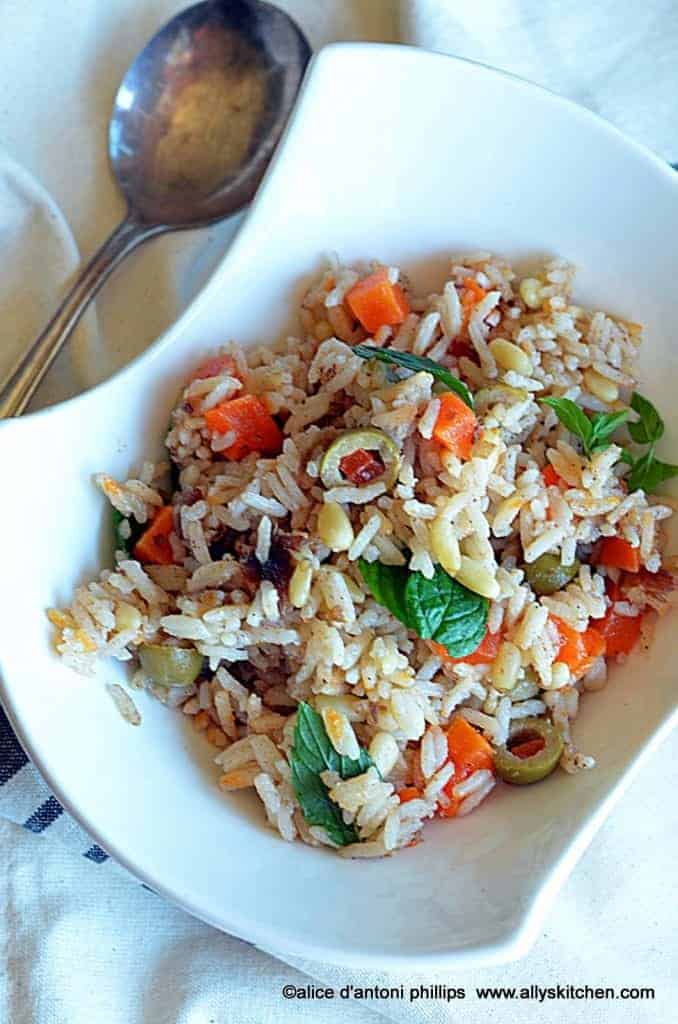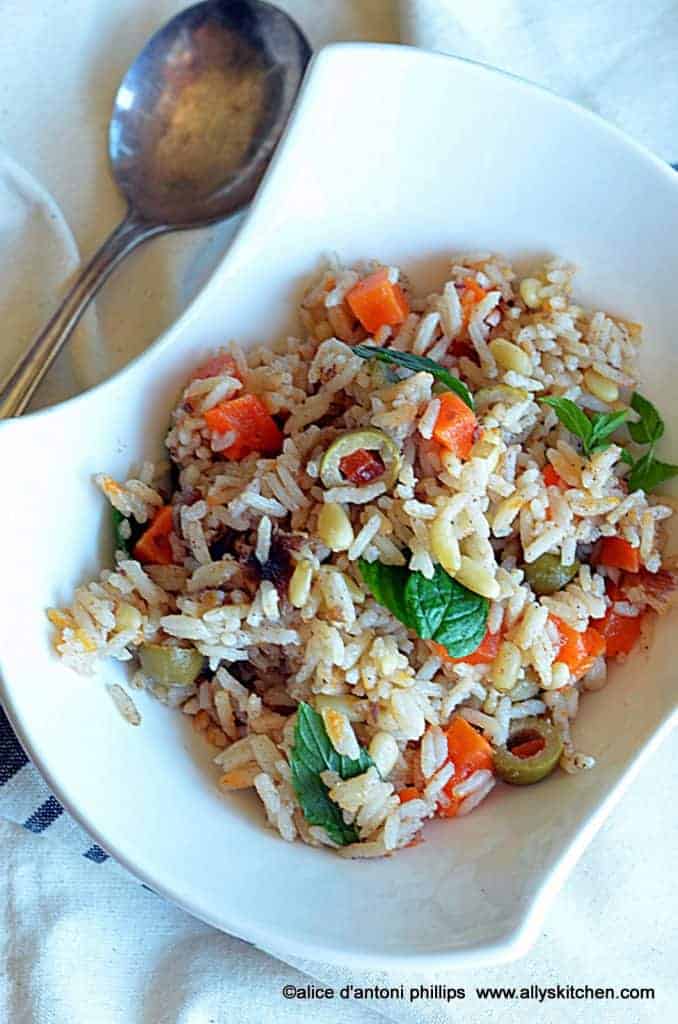 north african rice dates & olives
Ingredients
1 cup jasmine rice (prepared to package directions—best to use chicken broth for richness and more nutritional value)
1/3 cup green olives, sliced in halves
¼ cup dried mango pieces, bite size
¼ cup Dole Packaged Foods dates, chopped
¼ cup pine nuts
½ cup coconut milk, thick creamy type (I used Native Forest unsweetened organic classic coconut milk)
½ tsp. ground allspice
¼ tsp. sea salt
2 Tbl. fresh mint, chopped
Instructions
Prepare rice according to package directions using chicken broth. Once the rice is done, remove from the heat, stir and mix using a fork to separate the grains.
Add the olives, mango, dates, pine nuts and blend. Cover with a lid and let this sit 10 minutes.
Add the coconut milk, allspice and salt and blend well with a fork. Cover with a lid and let the rice sit another 10 minutes. Ready to serve. Rice can be heated up on very low heat or in a microwave.
https://allyskitchen.com/north-african-rice-dates-olives/
©ally's kitchen intellectual property