This is a sponsored post in paid partnership with True Aussie Beef and Lamb. This recipe and what you're reading is entirely my own creative intellectual property. Enjoy!
In my family and among my friends, I'm considered the party queen. Yes, I love to celebrate special events and occasions, large or small (I mean it doesn't have to be anything Earth shattering!), with a gathering of old friends, family and new friends with a party. My parties range from as small as six to as many as over one hundred. Most of the time, I love to orchestrate and host these parties at our home.
Now, there's no way I could do these parties without the support and help of my adoring husband, Ben. I mean, he puts up with my shenanigans, chips in time and energy and loves these parties. Maybe not to the level that I do, but, nonetheless, he is a real champ and for that I'm truly able to do what I love to do. I suppose that's part of the definition of true love is when your spouse or significant other works side by side with you creating something that makes you happy.
This party was truly sooooooooooo much fun to conceptualize and create. My oldest son and his adoring wife are pregnant. Now, my son didn't marry until he was 40 (his first marriage). I called him my 'George Clooney' really thinking that he'd be a bachelor well into his 50s. But, he was smitten by Kristen, ten years his junior, and the only woman that I ever knew who could really manage my boy. A Mom knows instinctively whether someone is good for their child, especially for marriage, and our entire family knew that once we met Kristin! OMG, what a gem, what an amazing girl, and oh, how she adores and loves my son. Yeah, this makes a Mama happy!
Competitive Diapering
So this party was for them. A 'Couples Shower'! And, I can't even imagine having a baby shower and not inviting the guys because talk about laughing hysterically as the competitive game of diaper the baby was played! These guys were such good sports. Blindfolded and timed, they had to diaper a Cabbage Patch doll, yeah, about the size of a new born, in record time. I mean some of these dudes had never even looked at a disposable diaper. Had no idea how it worked. And, some of the results, inspecting the babies after diapered, were hilarious! Booties hanging out. Diaper around the legs only. No tape to secure the diaper. What a blast this was!
Writing Love Notes
Another really poignant part of this event was what I called "Love Notes". Yes, our guests had to write two notes. Each was given cards/envelopes/pens. The first note was to Emeline Claire, the baby. And, their message to her was to be about becoming a teenager and advice. These notes were sealed, and sweet EC can open them on her 13th birthday. Imagine how fun this will be! Reading advice from Mom and Dad's friends and family who celebrated her birth.
I can tell you that our guests took this assignment so seriously. Some had tears rolling down their cheeks as they were writing, and most all of them filled up the cute brown paper bag design cards back and front. The second note was written to the new Mommy and Daddy. And, each guest shared with them a little bit of wisdom on parenting. Once EC is born, they can open these notes. These notes contain pearls of wisdom that you just can't buy with any amount of money, and they will be rocks of foundation for the new parents.
Of course, throughout the night there was great food! Seasoned lamb chops cooked on an open fire grill that the guests could pick up and eat like lollipops since they were long-boned lamb chops. And, THE best Lamb Bolognese with Rigatoni you ever want to put in your mouth! And, you're getting this amazing recipe! Keep in mind that I doubled this recipe, since I had a tribe of guests.
You can certainly freeze this sauce because it keeps for several months very well. Just put in freezer zip lock bags or containers and into the freezer. Perfect for pulling out in a pinch and when you need some crazy good comfort food. It's also versatile, so use it on your pizza, in lasagne, with other types of pasta, as a base for chili and more. Get creative!
Enjoy some of the photos of the party…I'm going to get around to making a video soon! xoxo ~ally
For these MOST AMAZING PICTURES! Photo Credit: Jacqueline Pettie Photography  WEBSITE
Here's another great Aussie Leg of Lamb recipe…Moroccoan style! Check the video!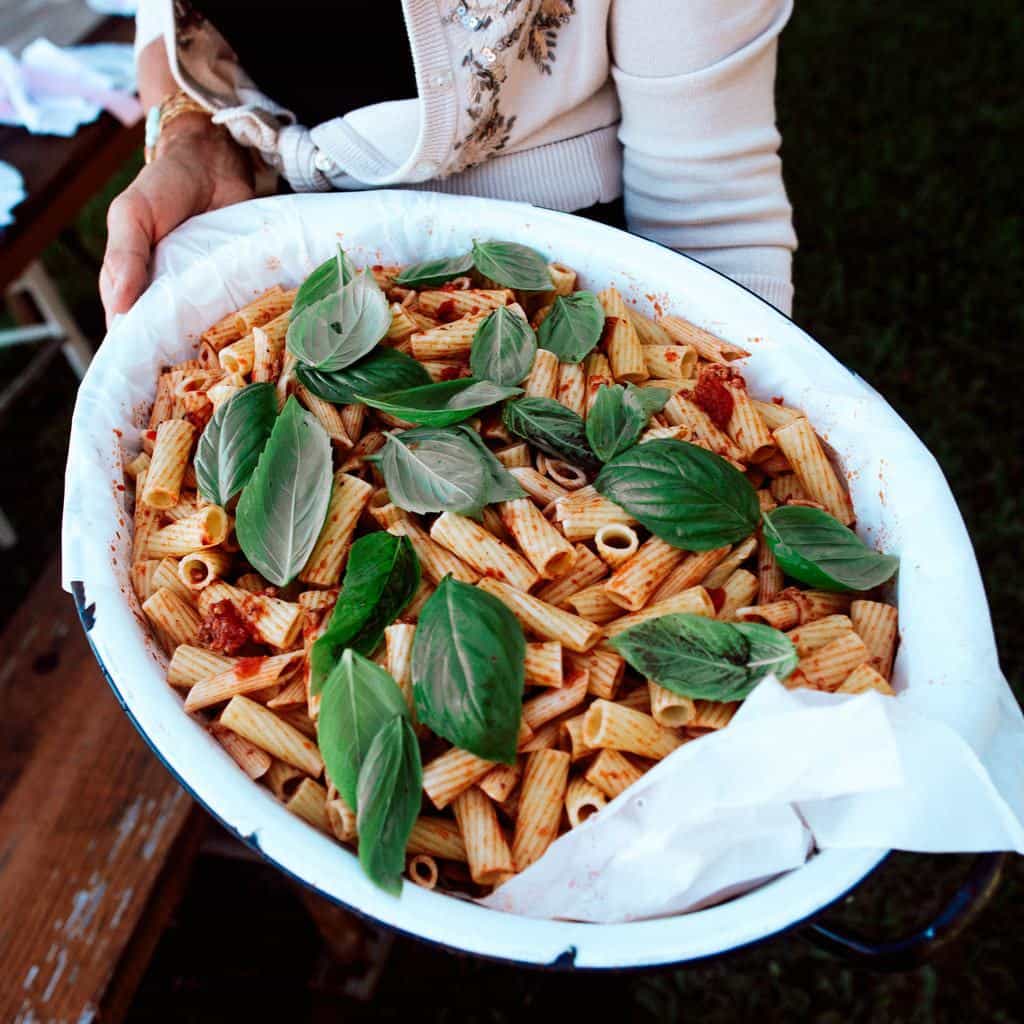 aussie lamb bolognese and rigatoni
Ingredients
1 cup carrots, chopped
1 cup sweet onions, cut in chunks
1 cup celery, cut in 3-4 pieces
5 garlic cloves, peeled
2 tsp. sea salt
1 tsp. coarse ground pepper
1/3 cup extra virgin olive oil
3 lbs. Aussie ground lamb
1 cup pepperoni, finely diced
1 can (12 oz.) tomato paste
1 jar (25 oz.) organic marinara sauce + 3 cups water (rinse out jar & use in sauce)
1 Tbl. dried Italian seasoning
1 tsp. red chili flakes
1/2 cup Parmesan reggiano, grated
1 cup fresh basil, roughly chopped + more for garnish
GARNISH
Parmesan reggiano
Fresh basil sliced and whole leaves
Instructions
Put the carrots, onions, celery, garlic, salt, pepper and olive oil in the food processor and grind into a fine mixture.
In a large heavy pot over medium high heat, put the ground mixture and sauté about 5 minutes. Add the ground lamb and brown (about 5-7 minutes). Add the pepperoni and blend in. Work in the tomato paste and cook for about three minutes stirring frequently.
Add the marinara sauce (plus water), Italian seasoning, and chili flakes.. Stir and blend. Bring to a simmering boil and cook about 45 minutes. Reduce heat to medium.
Cover with a lid and cook for another about 45 minutes stirring occasionally. Add the Parmesan and basil. Blend in. Reduce heat to low and simmer until ready to serve.
https://allyskitchen.com/aussie-lamb-bolognese-and-rigatoni/
©ally's kitchen intellectual property