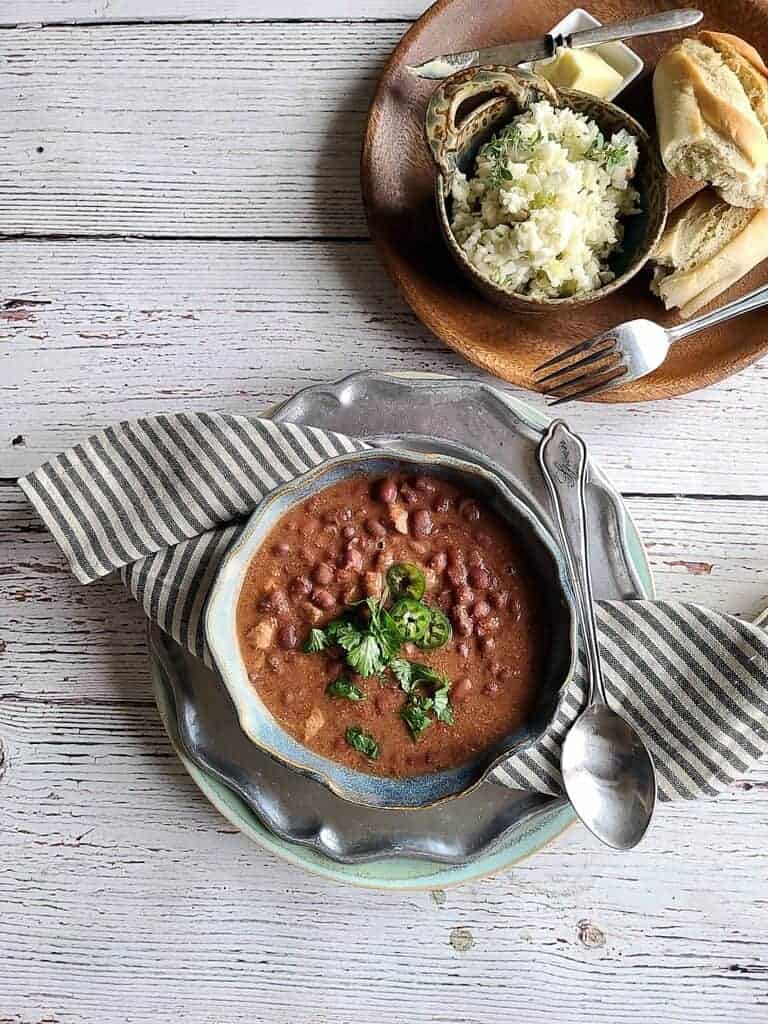 These pork taco red beans can make several meals! From a bowl of the luscious beans to mounds of nachos, you want to make this EASY slow cooker recipe!
Mexican Beans
Talk about Mexican beans!
While Mexican beans are usually considered refried beans, when you use any of these pork taco red beans as leftovers, you can have your regular beans and refried beans, too! Just mash up these lusciously delicious beans and pile high on your homemade nachos!
Beans with Pork Recipe
I grew up on pork and beans and my beans with pork recipe here is basically a home version of pork and beans. But, these are like no other pork and beans you've ever tasted. Don't even try to think they're like the 'canned' type. I'm hoping that from this day forward you'll make your own pork in beans using this recipe!
Pork in Beans
Pork in beans just goes together. And, pork is a perfect seasoning for making these small red beans totally and outrageously delicious. When camera girl and I were filming this video, we decided to do some nachos with them, too. Well, filming production came to a screeching halt. After I styled and 'bowled' the nachos, we had to take a break and devour them!
Pork Taco
Pork tacos can also be made with this recipe. Yes, simple pile some of these beans with chunks of pork in taco shells and you've got a pork taco. If you want a burrito, yep, it's easy with this recipe. And, did I say how easy this recipe is. Well, you're going to pull out your slow cooker then go about your day doing other things. You'll be coming home to goodliness!
Taco Mix Seasoning
Taco mix seasoning is going to make your recipe prep super simple. No need to pull out a variety of Latin spices and make your own. I like to try to find the organic version of seasoning mixes if I can. Keep that in mind when you're shopping. If you can't find organic, then certainly get the taco mix seasoning you like best. And, you can selected mild or hot depending upon your palate and heat level preference!
Jamaican Foods
I love most any kind of Caribbean food or Latin foods, so you might want to try some of my other recipes! For more, just type in 'jamaican jerk' in my search box!
Jamaican Jerk Spiced Crispy Chicken
Carribbean Jerk Pork and Red Lentils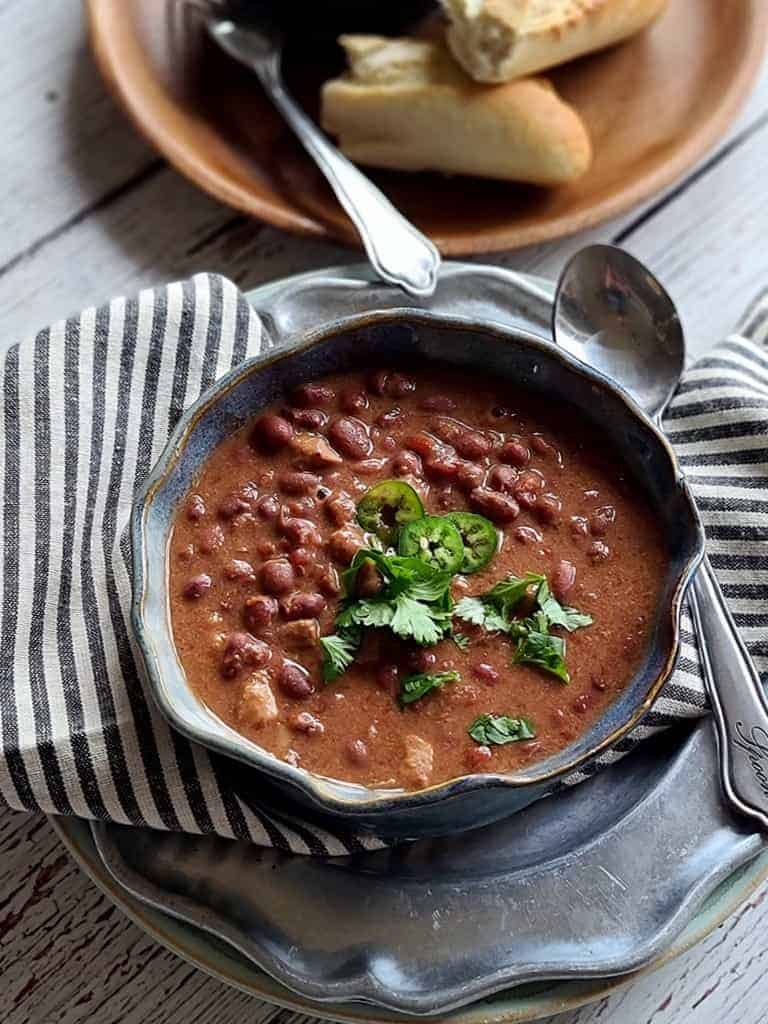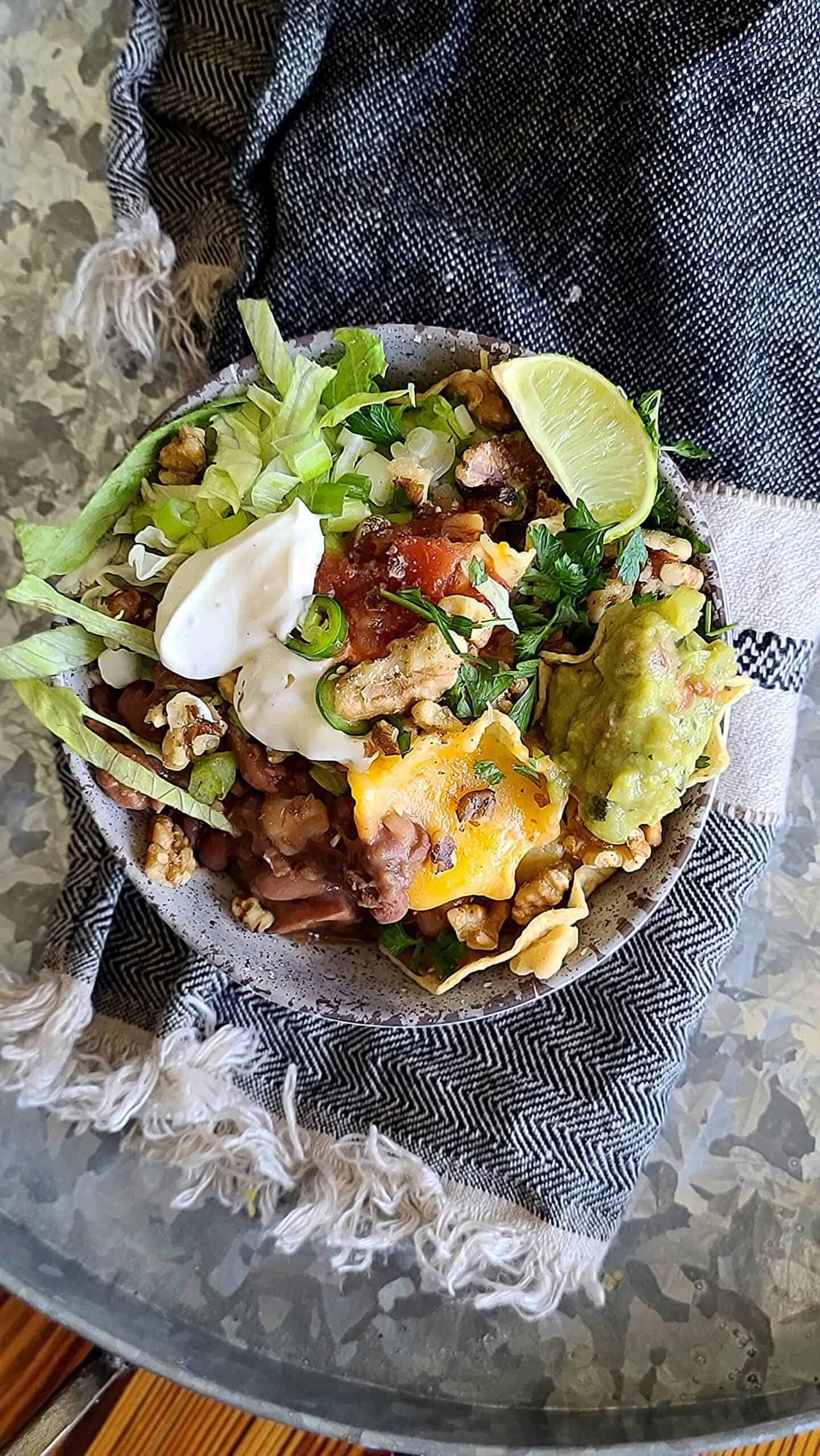 pork taco red beans
These pork taco red beans can make several meals! From a bowl of the luscious beans to mounds of nachos, you want to make this EASY slow cooker recipe!
Ingredients
1 lb. small red beans, washed and rinsed
2 Tbl. nutritional yeast
1 (1 oz.) packet organic taco seasoning mixture
1 lb. pork chop(s), boneless, small dice
1 can (14.5) oz. chopped tomatoes + 1 cup water, rinse can
1 can (10 oz.) cream of onion soup + 1 cup water, rinse can, see notes for substitution
Salt & Pepper to taste
Instructions
Put all ingredients in the multicooker. Blend together. Set to [slow cooker] setting to [High] for 6 hours.


Beans can stay in the multicooker on [Warm] until ready to serve.
Notes
1. Any type of dried bean works in this recipe. My favorites are pinto, anasazi, cannellini, Great Northern.

2. You can substitute ground pork for pork chops. Bone in pork chops will work also. Just remove the bone after cooking the beans then shred the tender chop meat.

3. Substitution for cream of onion soup is: 1 can coconut milk, 8 oz. chopped mushrooms, one cup diced onions. Sautee mushrooms and onions in 2 TBL olive oil. Add coconut milk. Put into mixture with beans.

4. Substitution for water: beef bone broth Kettle & Fire. Use code ALLYSKITCHEN at checkout for 20% discount on your order.

5. Create your bean taco 'bar' with toppings including: chopped walnuts, chia seeds, shredded lettuce, salsa, guacamole, lime wedges, shredded cheese, sliced green onions, plain Greek yogurt, sour cream, corn chips, soft tacos and more! Everyone builds their bowl to their liking!

6. If you prefer more broth in your beans, then simply add some liquid: bone broth (beef or chicken), sometimes I use V8 juice, vegetable broth, water.