Salads can sometimes get boring. I mean we do the same ol' thing the same ol' way. Some lettuce greens, tomatoes, cukes, maybe onions. Then throw on the salad dressing, oftentimes straight from a bottle. Same thing with slaw or coleslaw. We just stick to the same way we've always done it. Well, anyone who knows me knows that I love changing things up. I love new twists on regular everyday things we so love to eat. And, this bokchoy cabbage ginger slaw is just one example of it!
Ginger. It's not typically thought of for salads, especially a southern tradition like coleslaw. But, I love the medicinal and healing values of freshly grated ginger. And, these medicinal values are powerful. It's in the same family as turmeric and cardamom two other spices that I often cook with. It's great for nausea and digestion. I remember as a little girl when I'd get a tummy ache or was throwing up, Mom would give me room temperature gingerale. Duh, little did I know that she knew so well why sips of this drink would help soothe my tummy. It also has anti-inflammatory properties for joint pain and stiffness. and may improve brain function against things like Alzheimers. There's more value in ginger and you can read on and on!
If you're shying away from ginger then incorporate it in your homemade salad dressings and other salads too. In this recipe I use a tablespoon, but you could double or triple that amount and not have too much of a gingereeee taste. Yes, as one of the world's healthiest ingredients, make sure you always have ginger on hand. You can use it in so many things and start benefiting from its healing powers!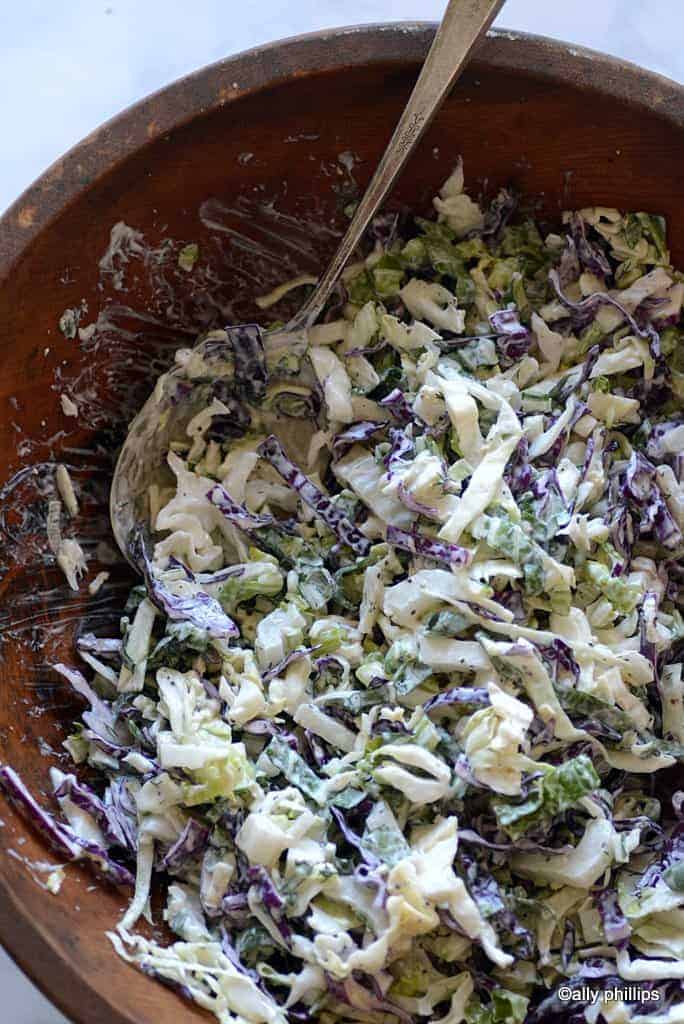 bokchoy cabbage ginger slaw
Ingredients
2 cups bokchoy, sliced thinly with leaves
2 cups purple cabbage, sliced thinly & rough chopping
3 cups cabbage, sliced thinly and rough chopping
5 green onions, sliced thinly with some of the green tops
1 ½ tsp. sea salt
1 ½ tsp. coarse ground pepper
1/3 cup mayonnaise
½ cup sour cream
1 Tbl. fresh dill, chopped
1 Tbl. sugar
1 Tbl. fresh ginger, grated
1 lemon, juice and zest
Instructions
In a large mixing bowl, combine the bokchoy, purple cabbage, cabbage and green onions. Add the salt and pepper and toss with your hands.
In a small mixing bowl combine the mayonnaise, sour cream, dill, sugar, ginger, lemon juice and zest. Whisk together well.
Pour on to the slaw and toss and blend. Refrigerate about an hour before serving.
Notes
This coleslaw is good for a couple of days when refrigerated.
To add some variety, toss in sliced seedless red grapes and walnut pieces.
This coleslaw is great on BBQ sandwiches and with just about anything else!
https://allyskitchen.com/bokchoy-cabbage-ginger-slaw/
©ally's kitchen intellectual property