refreshing rice grape salad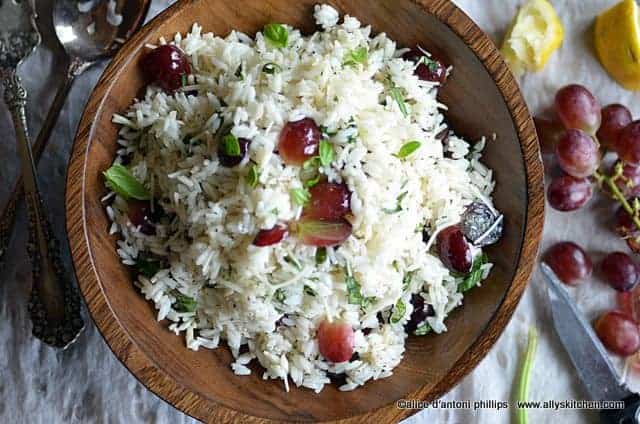 Rice Salad Recipes
I happen to love rice, especially when it's made into this refreshing rice grapes and peas. It's simple to prepare and is a great twist on rice grape salad!
Yes, I'm a salad lover of any type kind and with an array of ingredients. Maybe some avoid rice because of the carbs, but rice salad recipes can come with lots of other healthy ingredients that mean you can adjust the rice amount in the salad. I wanted to actually make this rice grape salad as a cold (or room temperature) side dish rather than strictly a salad. You'll just pile this salad on your plate with whatever else you're eating.
Rice
Rice. Such a ubiquitous food. It serves as nourishment for many people around the globe. In fact, it's the staple of over half the world's population! And, the history of it and how it's influenced different world cultures is fascinating.
There's long, medium and short grained rice. Then there are various types, red, brown, white, black, basmati, jasmine, purple Thai, wehani. And, if you want to read more about the varieties, well, get ready for a 'novel' according to what Wiki says! Spend some time studying rice, and you'll get a rich and complex global history lesson. That's the beauty of food!
Grape Salad
Besides making grape salad, there are so many things you can do with grapes. If I have grapes that are slightly shriveling and I want to use them, but maybe not on display like a charcuterie platter, I'l reconstitute them by roasting them in the oven. Coat with just a tad bit of olive oil, sprinkle on sea salt and roast at 400 for about 7-10 minutes.
Other things you can do with grapes
Use them on kabobs
Make grape salsa
Use in homemade dressings, pulse them in a food processor
A slushie or in a smoothie
Freeze them! Perfect for hot steamy days!
Wild Rice Grape Salad
Wild rice grape salad is great, but what about white rice salad. Yes, this recipe is versatile, so choose your rice.
I happen to love rice, both wild and white, especially when it's made into this refreshing rice grape and basil salad. It's simple to prepare and with the light and flaky rice that adds just enough tender texture for the sweet juice grapes and hint of fresh basil, you'll not get a heavy feeling after eating!
What is Pancetta
If you love bacon, you'll love pancetta. It's the Italian version of America's love for bacon, thick cut, peppered, hardwood smoked, apple smoked and more! Both are made from pork bellies. The big difference between them is how they're prepared and cured.
The pork belly side is salted and peppered, lots of it, in the Italian version. Then it's curled into a tight roll and wrapped in a casing so it retains its shape. The slices are usually very thin, prepacked versions you might find at the grocery store. But, you can get thicker cuts at the meat deli. Pancetta also comes in the small diced version, which I used in this recipe.
Recipes with Pancetta
Recipes with pancetta are similar to recipes with bacon. Again, these are first cousins of pork bellie, so you use interchangeably.
You can fry/saute diced pancetta with onions and garlic, as you would bacon, making a soup, pasta, rice or risotto base. Fried pancetta slices are thin and crispy and are perfect crumbled on top a salad, baked potato, on a sandwich and more. I love using pancetta when I make spaghetti carbonara or in my wonderful bolognese recipes. Experiment with pancetta. I think you'll find that it's a tasty diversion from bacon, but you're still getting your bacon fix!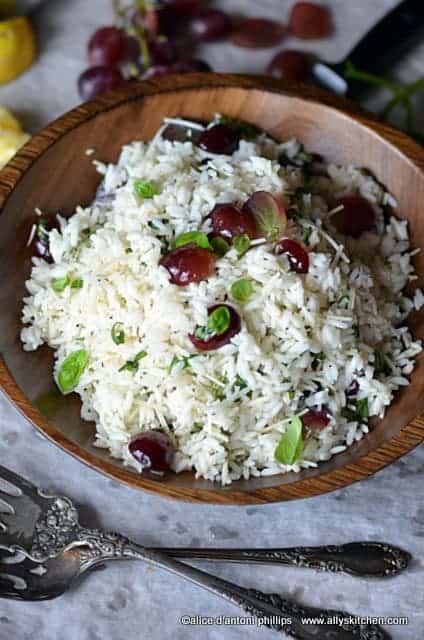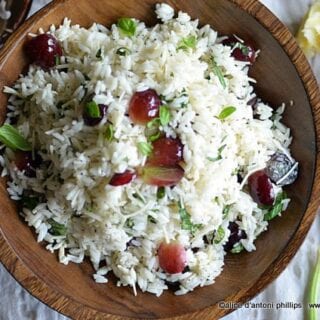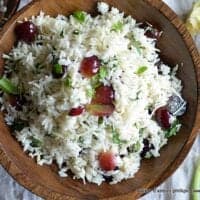 refreshing rice grape & salad
I happen to love rice, especially when it's made into this refreshing rice grapes and peas. It's simple to prepare and is a great twist on rice grape salad!
Ingredients
2 Tbl. extra virgin olive oil
½ lb. thick cut (about ¼") pancetta, small dice (Note: You can have the pancetta sliced at the deli.)
¼ cup shallots, finely diced
1 tsp. garlic, finely minced
3 cups cooked rice, basmati, jasmine or wild rice
1 cup packaged frozen petite peas, somewhat thawed, or fresh peas
2 cups fresh pea shoots, loosely packed
2 cups red grapes, seedless, sliced lengthwise in halves
Salt and Pepper to taste
Instructions
Put the olive oil in a large cast iron skillet over medium heat. Add the diced pancetta. Cook about three minutes.

Add the shallots and garlic and sauté a couple of minutes until translucent.

Reduce heat to low. Add the precooked rice, blend, cover and cook about five minutes. Add the peas and blend. Cover and let the peas steam a few minutes. Not too long as you don't want the peas to lose their vibrant green color.

Remove from heat, put into a large serving bowl. Toss in the pea shoots and grapes. Salt and pepper to taste.

Serve immediately.
Notes
Leftovers keep well for a couple of days refrigerated!