When I created this recipe for coconut jasmine rice, I thought it would serve eight plus. After four of us had it for dinner and there was just about 2 cups remaining, I revised to say six! If you love rice, then this tandoori coconut jasmine rice can be an entire meal or just add a piece of grilled meat and you're totally complete.
I did pan seared chicken breast filets with it, and, of course, this was a special meal for #teamblake and #thevoice. Our Monday night love affair with the amazing TV show! The recipe's really simple, just gather your ingredients and have your microwave ready, and you'll realize there's not that much to it. I loved serving it from the cookie sheet~~with a large spoon and the pot of honey garlic orange marmalade sauce, everyone could help themselves!
Why not serve this coconut jasmine rice with some meatballs! I mean a fusion of Italian and Asian! Here's the recipe.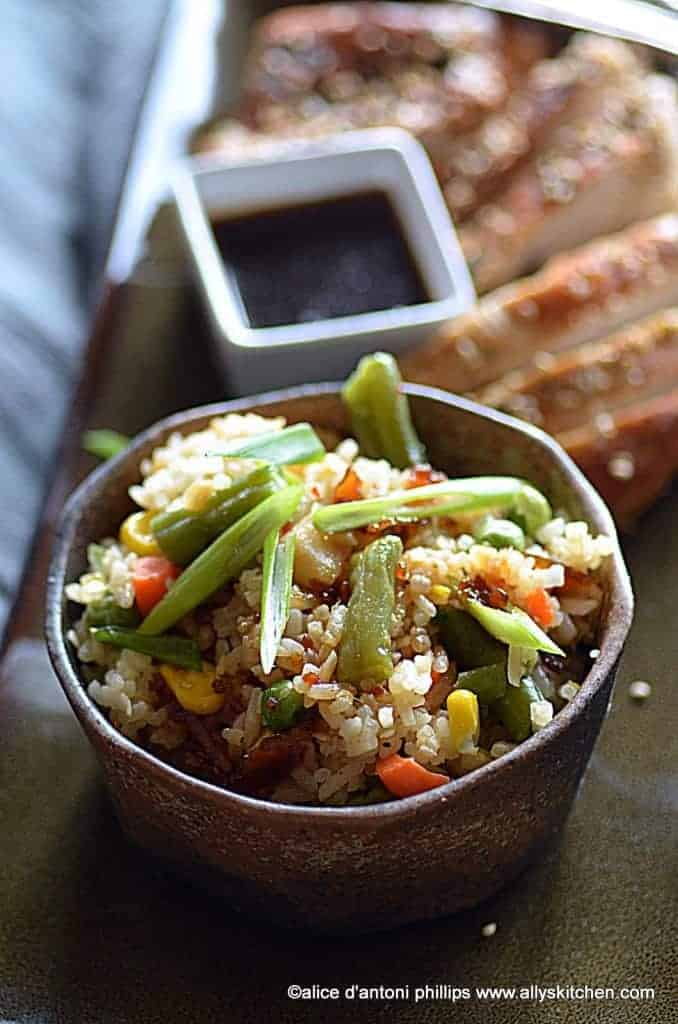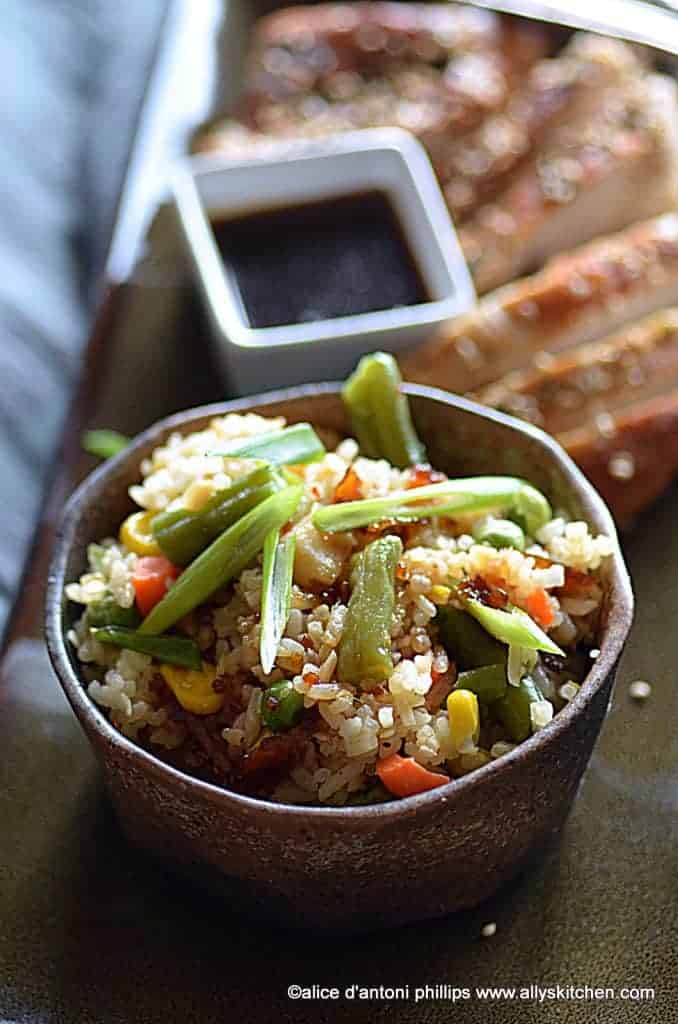 tandoori coconut jasmine rice with water chestnuts & vegetables
Ingredients
2 cups jasmine rice
2 cups water
1 cup chicken broth
2 Tbl. butter
4 Tbl. sesame oil (divided)
2 tsp. tandoori seasoning
2 tsp. lemon pepper
1 cup water chestnuts, roughly chopped
1 Tbl. fresh ginger
2 tsp. garlic, minced
1 Tbl. dried minced onions
½ cup shredded sweet coconut
3 cups frozen mixed vegetables
½ tsp. red chili flakes
2 green onions, chiffenade cut with greens
SAUCE:
2 tsp. garlic, minced
1/3 cup soy sauce
¾ cup honey
1/3 cup orange marmelade
1 tsp. sriracha
2 Tbl. butter
Instructions
Combine the rice, water, chicken broth, butter, 2 tablespoons of sesame oil, tandoori and lemon pepper in a microwavable large bowl. Make sure all is blend well together. Cover with a plate and microwave on high for 18 minutes. Remove and fluff the rice with a fork. Cover and let it sit 5 minutes.
Add the water chestnuts, ginger, garlic, onion and coconut and blend well. Recover and let the rice sit another 15 minutes. Add the frozen mixed vegetables. Toss gently blending in the vegetables and separating the grains. Cover and keep warm. When ready to serve, sprinkle on top the red chili flakes, green onions and then drizzle with 2 tablespoons of sesame oil, sprinkle on the red chili flakes and garnish with the green onions.
SAUCE: Combine all the ingredients in a heavy pot, put on medium low, bring to a simmer boil for about 15-18 minutes. Remove and let sit. Serve as a sauce for drizzling on rice (optional).
https://allyskitchen.com/tandoori-coconut-jasmine-rice/
©ally's kitchen intellectual property