Slow Cooker Caribbean Pork and Red Lentils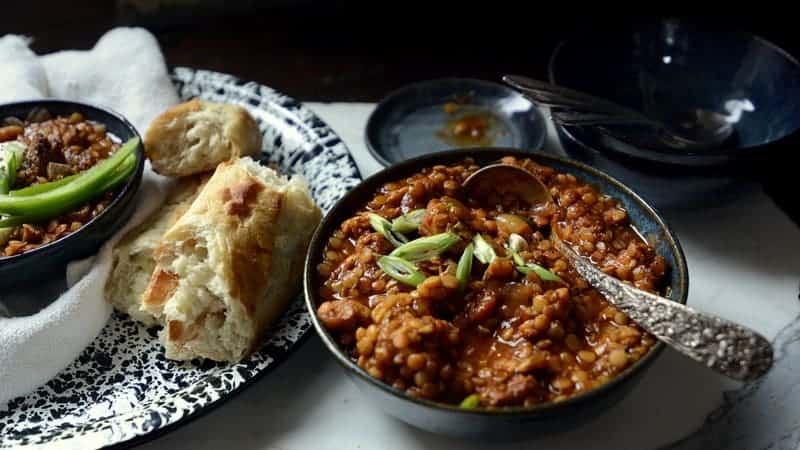 This slow cooker Caribbean pork and red lentils is one thick rich unbelievably deeelish soup! Get ready to taste the islands!
Slow Cooker Caribbean Pork
The slow cooker the Caribbean porks are the ones that can go best with the Chorizo red lentil soup because the thick rich and unbelievably delicious soup is when added to the Caribbean pork it will do wonders to your taste buds. It depends on what kind of thickness you'd like to have in your pork because you can easily adjust the liquid and make it edible with a fork.
And, if you want to swap the Caribbean flavors for authentically Indian flavors, then you're sure to love this Pork and Potato Curry Vindaloo! Oh, golly, sooooo good! And, super easy. Only five ingredients!
What to Serve with Jerk Pork
If you are also wondering that the guests are arriving and you need something to serve with the jerk pork then I have the best option for you and that is the Pork taco red beans because first this is an easy slow cooker recipe and second it gives you the lusciously delicious taste.
Slow Cooker Caribbean Pork and Red Lentils
The pork in beans goes hand in hand and if you want more fun add nachos for a crunchy taste. So, just select the mix seasoning and select the mild and hot depending upon your choice.
Lentil Stew Recipe
What to serve with this Slow Cooker Caribbean Pork and Red Lentils? I have a fabulous idea!
The Bokchoy cabbage ginger slaw can be the perfect dish to end your weekend because you know salads sometimes become boring when eaten regularly, we all deserve something that tastes different than our regular meals and here it is the bokchoy cabbage ginger slaw.
However, you can make a perfect sandwich with the bokchoy cabbage as well. The richness of ginger is a must as it is the healthiest ingredient of all and can be good for health.
Slow Cooker Pork Roast
While you can make the Slow Cooker Caribbean Pork and Red Lentils like a soup, you can also try lentils totally differently.
Lentils are a loved-by-all kind of food and when it is about making the Lentil granola cups and eating it with a cup of coffee, ahh! What can sound better than this? Most of the time you have added lentils in soups, burgers, salads and other savory dishes but this time let us try something sweet and combined with some other healthy ingredients that can be a great choice for all.
Here's a great recipe with pork that will become your favorite for so many applications from tacos and burritos to pasta and rice!
Pork in Crockpot
This dish is inspired by the Latins and Cuban style pork picadillo can be made in one skillet with ease. You must have seen a lot of flavoured dishes that are enriched with certain spices and mixtures but picadillo here is unique, it's a simple staple. You can use the ally kitchen's recipe to morph your dish into so many other dishes and from tacos to stuffed peppers, from burritos to empanadas it's all good and versatile.
Slow Cooker Recipes for Pork
So, for people who are feeling all Mexican today, the Mexican street pork fajita bowl might be the right choice for you to have in your dinner. Just grab a few basic ingredients and you are all set to make the easy-peasy Mexican dish. Not to exaggerate but these street pork fajita bowls are the most delightful food you can ever have. Incredibly ideal and incredibly tastier. So, welcome your friends over and enjoy the heartiest meal.
Crockpot Recipes with Pork
The Creole pork tostadas are the favorites of many, so to make your crockpot recipe with pork easily, just add the tacos, that is the apple pies, and tostadas, the corn tortillas. Doesn't matter if it is fried or baked, it completely depends upon your taste. Or if you'd like to add some mandarins to your ground chicken it will be great for the flavors.
How to Cook Lentils
Cooking lentils is an easy task. You can just soak them beforehand and let them drain. It depends on what type of lentils you are going to make for you today. This means that if you are going to make honey soup or stews then the brown or green lentils will do the work. Or if you are looking for something easy and quick to make then the yellow or red lentils might be the right choice for you.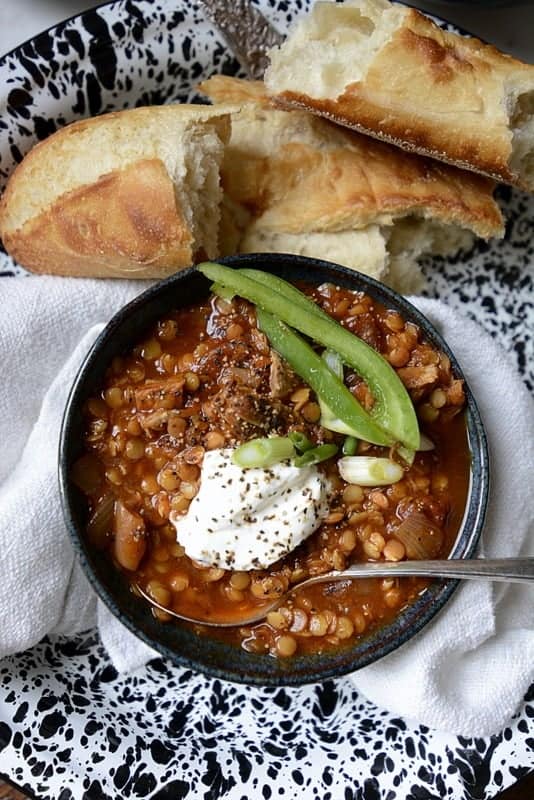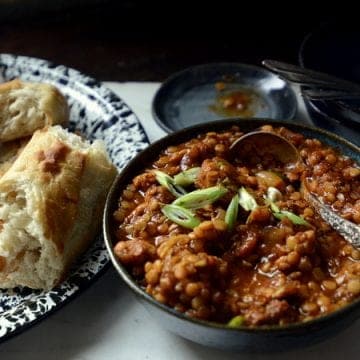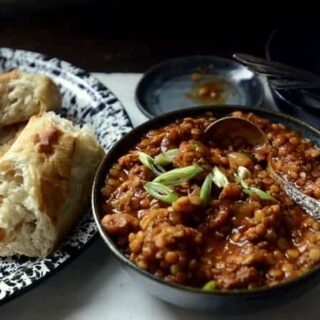 Slow Cooker Caribbean Pork and Red Lentils
This slow cooker caribbean jerk pork and red lentils is one thick rich unbelievably deeelish soup!
Ingredients
¼ cup extra virgin olive oil
2 lbs. pork chops, bone in, thick cut
3 cups V8 juice
1 (15 oz.) can tomatoes, diced + 1 can water
1 (1.25 oz.) pkg. chili seasoning
1 ½ cups sweet onions, diced
1 ½ Tsp. Cajun Seasoning, can substitute creole seasoning, or something similar
1 ½ tsp. sea salt
1 tsp. coarse ground pepper
2 cups dried red lentils
GARNISH
Sour Cream
Green Onions, sliced
Green Pepper, sliced thinly or diced
Instructions
Put the slow cooker on high for 4 hours. Add the olive oil, pork chops, juice, tomatoes, water, chili seasoning, onions, Cajun seasoning, salt, and pepper. Cover and let it cook.
Remove the pork chops and debone cutting/shredding the meat into bite size chunks. Return to the slow cooker. Put the bones back in the mixture to let them cook and get more delicious taste. Add the lentils and blend. Cook another hour on high.
Add water as needed. You determine whether you want the mixture really thick or soupy. Remove the bones before serving!
Serve with optional garnishing.
Notes
This is a meal! Just add a salad and you're all set!

Leftovers can be frozen. Use freezer zip lock bags or freezer containers.

Depending upon your preference for consistency, add liquid (water, chicken stock, beef stock, vegetable stock) to lessen thickness. (We like our thick! Can even eat with a fork!)