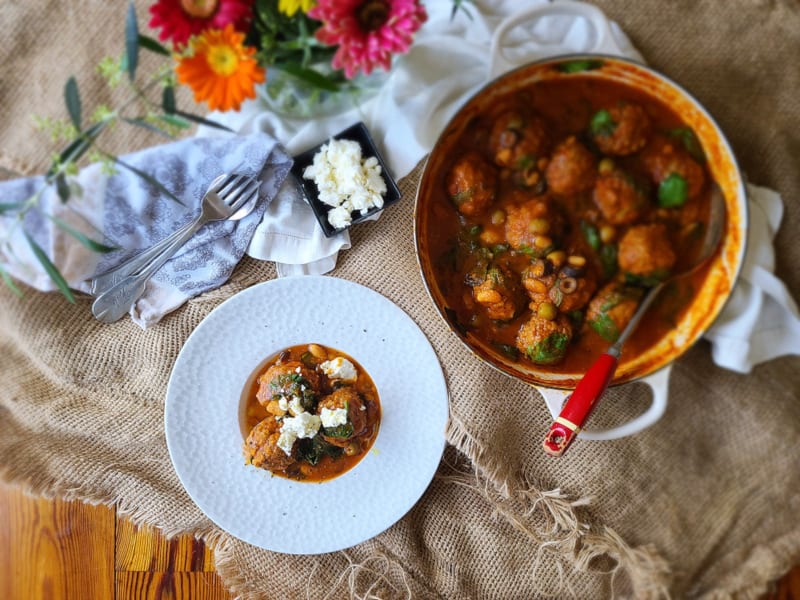 Easy taco meatballs will be your go to for dinner anytime! Full of flavors, textures and a one skillet dinner in no time!
Taco Balls Recipe
What makes a taco meatballs recipe. Well, come see these ingredients that are packed with flavor!
Meatballs with Taco Seasoning
When you use a great packaged taco seasoning mixture, you save time and energy making meatballs. No taking out four or five different spices to come together for the flavors you want.
Meatballs with Gravy
Now these meatballs have a gravy that's rich and thick thanks to some simmering for a while and for the thickening with the addition of beans.
Simple Meatballs Recipe
And, speaking of the beans, the type you choose is up to you. I love white beans, cannellini, navy or great northern, for this recipe.
Meatballs Ingredients
But if you want to use black beans, garbanzo, pinto or some other type of canned beans, it's totally up to you.
Ultimate Meatballs
For me, ultimate meatballs are those that get better on days two and three. So you might want to prepare these say 24 hours in advance. Let them congeal and come together in the refrigerator then warm up very slow and low on the stovetop, not microwave. And, you might need to add some liquid to thin the gravy because I'm tellin' you, it gets thicker.
How to Cook Meatballs in Sauce
Cooking those meatballs in sauce saves some time and mess by not browning the meatballs. Talk about no splatter and splash. It's just the tender juicy meatballs that cook in the sauce. All those flavors simmer together.
Meatballs and Gravy Recipe
This meatballs and gravy recipe has another component that adds immense flavor, I think. And, that's the addition of olives. Yes, you can omit, but if you do, think about adding something else that will offset flavors. Maybe pepperoncini rings!
Taco Meatballs with Doritos
I used kind of stale crackers, a combination of them, crushed them, actually hammered them to death with an olive oil bottle! But if you have almost stale doritos or tortilla chips, those, too, could serve as your binding agent to bring together the meatballs.
Taco Meatballs Recipe
Serving these taco meatballs really is like a meal. You might add a salad. And, here are some of my choices for them. I'm talking contrasting flavors. Not your typical boring salads.
Mediterranean Celery Olive Salad
What to Serve with Taco Meatballs
More side dish options include:
Picnic Fresh Italian Green Beans
Meatball Tacos Recipe
And, just in case you need some other meatball inspiration, here you go. Oh, how we love love meatballs in our house!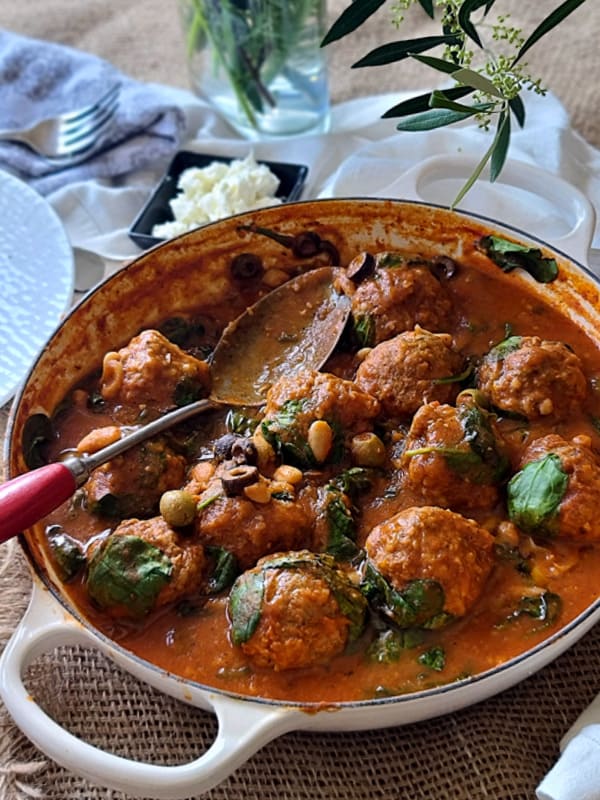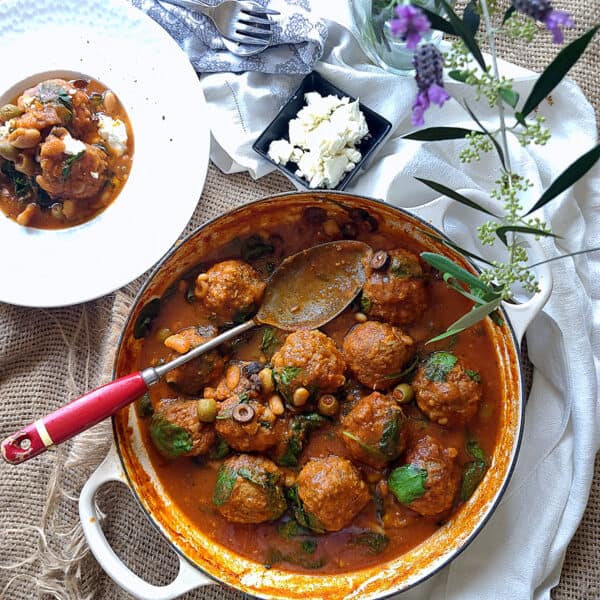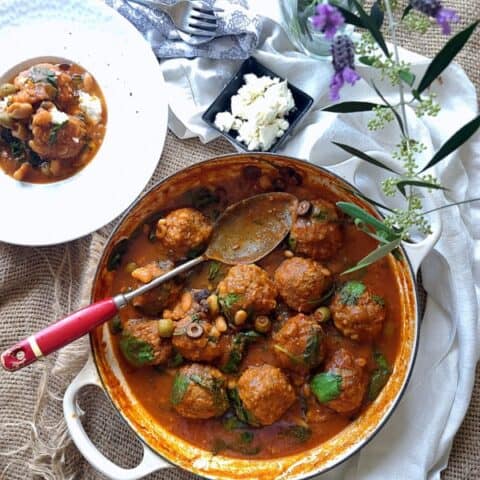 easy taco meatballs
Yield: Makes: About 14-16 meatballs
Ingredients
3 Tbl. extra virgin olive oil
2 lbs. ground Italian pork
1 packet (1 oz.) taco seasoning mix
2 eggs
1 ¼ cups breadcrumbs or cracker crumbs
1 can (24 oz.) tomato garlic and herb sauce
1 can (15 oz.) cannellini beans
1 cup olives, green and black mixture, optional
4 cups baby fresh spinach, optional
Instructions
Drizzle the olive oil in a large braising pan (with a lid).
In a large mixing bowl, combine the ground pork, taco seasoning eggs and bread crumbs.
Blend well and form into about 14 to 16 meatballs. Place in pan. Add tomato sauce, cannellini beans, and olives. Bring to a simmering boil, covered, on the stove top over medium to medium low heat.
Cook for about 45 minutes. Turn off blaze. Add the spinach, cover and let it wilt for a few minutes. Gently work the wilted spinach into the meatball mixture. Ready to serve!