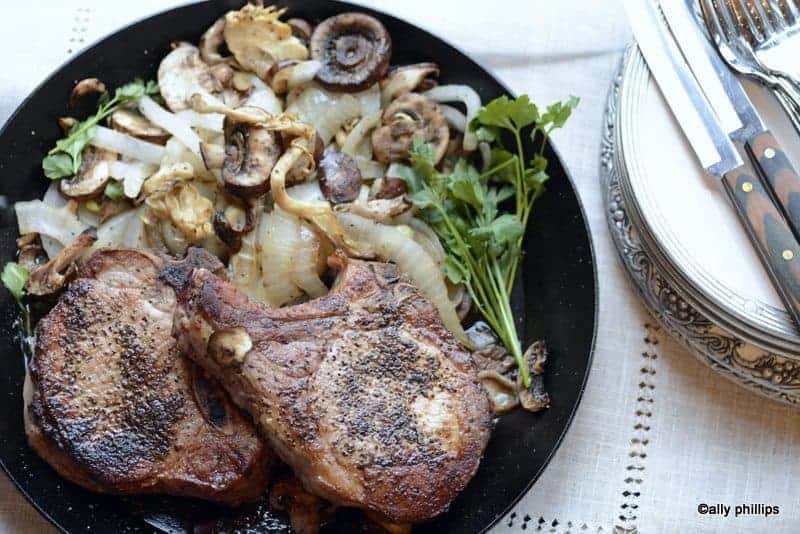 Pork has always been a big part of my life. My Mom used to talk about how her father would celebrate Christmas with roasting a whole pig. Of course, this was a huge luxury back in the 1930s for her immigrant family. Money was tight. There was a lot of eating pinto beans and cornbread. But, when Christmas came there was rejoicing and celebrating with nuts, fruits, vegetables and a whole pig.
Roasted over a pit open fire. I'm sure all of the neighbors gathered round and the entire affair became a social event. Many immigrants were coal miners and living in the hollers of West Virginia was rough, meager, harsh and the holidays were a time to rejoice and give thanks for all their blessings. Most importantly, being in America and have the unlimited opportunities that were out there.
Growing up, we ate pork often. Maybe that's why I so love pork and pork products like bacon, ribs, ham hocks, pork roast, sausage, pork chops. Yes, pork is 'the other white meat' that's been around since 5000 B.C. and is the world's most consumed meat. Most popular in the East and Southeast Asia, pork is versatile and exceptionally flavorful.
These big daddy pork chops are simple to prepare and with the onions and mushrooms, there's a full meal in one skillet. Adding a vegetable like steamed English peas or a salad can round out these fabulous chops that are seasoned sparingly only to bring out the natural flavors. One skillet dinners are always the best. And, those that can be on the table in under 30 even better!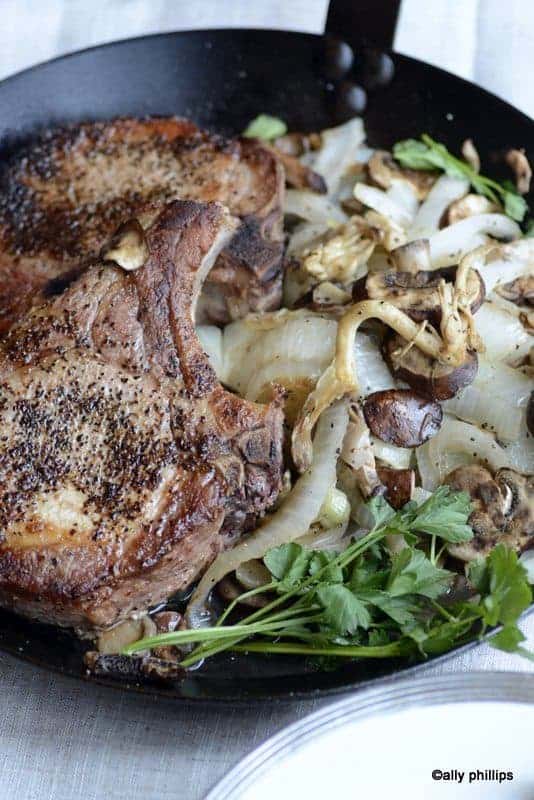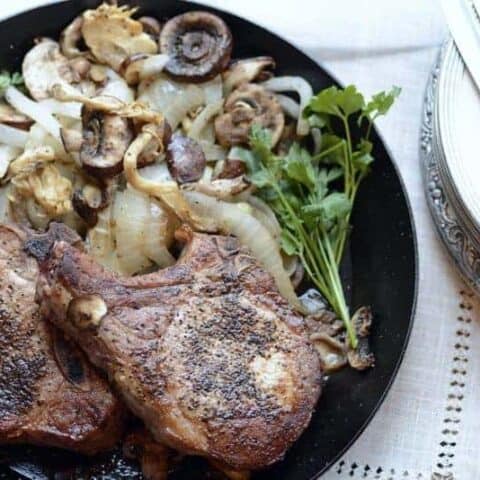 big daddy pork chops
Ingredients
Cooking Spray
2 pork chops, bone in, thick cut
2 tsp. lemon pepper
1 tsp. coarse ground pepper
1 tsp. sea salt
3 Tbl. bacon drippings
1 cup sweet onions, sliced
2 cups mushrooms (I used a combination of shitake, oyster, baby bella.)
1/4 cup fresh flat parsley, chopped
Instructions
Coat both sides of the pork chops with cooking spray. In a small bowl, mix the lemon pepper, pepper and salt. Sprinkle on both sides of the pork chops.
In a large heavy skillet (preferably cast iron or diamond cast iron skillet) on medium heat, put the bacon drippings and let it get hot. Place the pork chops in the hot drippings. Increase heat to medium high, cover with a lid and pan sear on each side for about 2-3 minutes. What you want is a golden brown.
Reduce heat to medium, cover and cook the pork chops 4-5 minutes. Remove the chops to a plate. Cover with a lid or foil.
Using the same skillet, increase heat to medium high and put the onions and mushrooms in. Using tongs, toss and turn, cover and cook about 5 minutes. Move onions/mushrooms to one side of the skillet then put the chops (and broth that has collected in the plate) back in.
Turn heat to low, cover and let steam cook about 8-10 minutes. Garnish with the parsley.