sweet pepper ginger panko chicken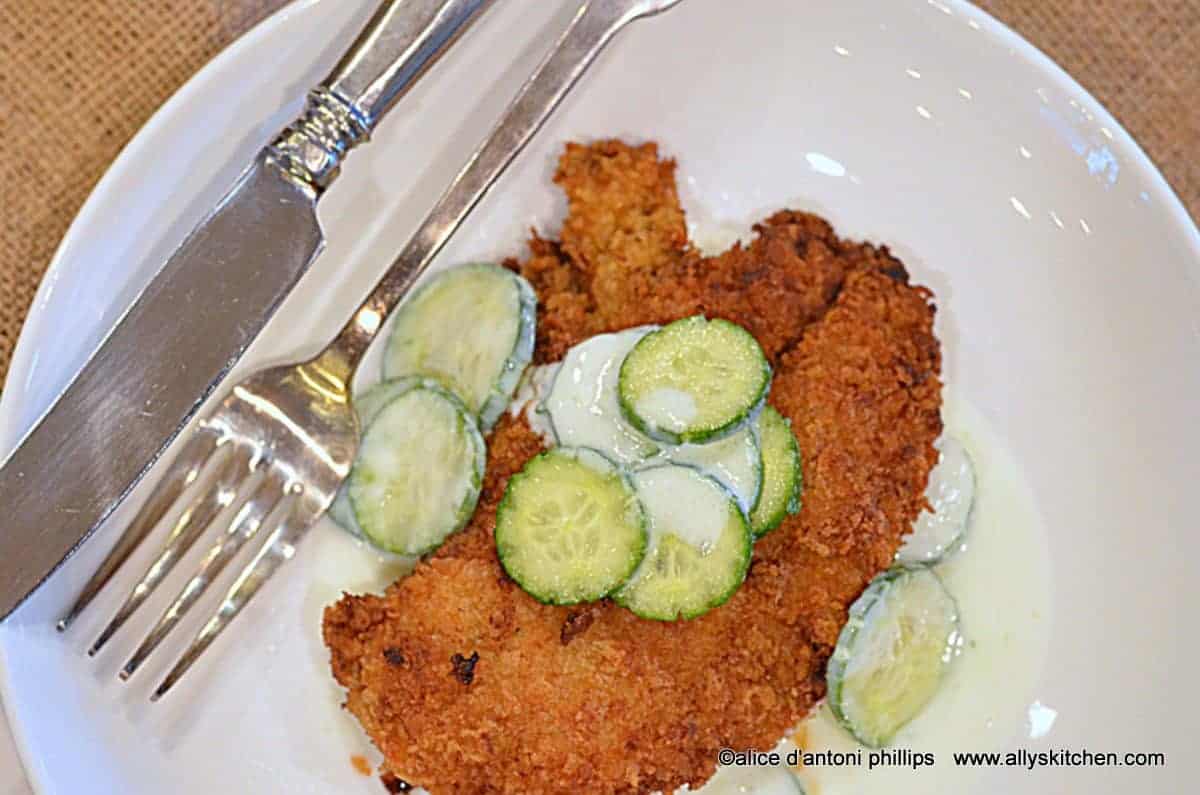 You're gonna be so glad you gathered all these mouth-watering ingredients to marinade your chicken because, it's worth all the effort! After the chicken breast filets float in this goodness, then it's a simple matter of setting up your assembly line to dunk and dredge them in more tastiness. A few steps and this sweet pepper ginger panko chicken is ready to serve!
A quick pan fry in hot oil to lock in the flavors then into the oven to finish cooking~~yes, have a bowl of water in your sink to wash those fingers cuz you will get them all gooed up~~but, that's where all the soul comes from when you serve up this luscious dish.
The cuke sauce is my version of a tzatziki sauce, which is a Greek sauce~mine's just a tad bit different.   Variations of this luscious sauce can be found in Turkey, Iran, Iraq and India. Just make sure it's very cold when you serve it with the hot crispy chicken filet! Indulge yourself and  feel like you're on the island of Cyprus dining while overlooking the Adriatic!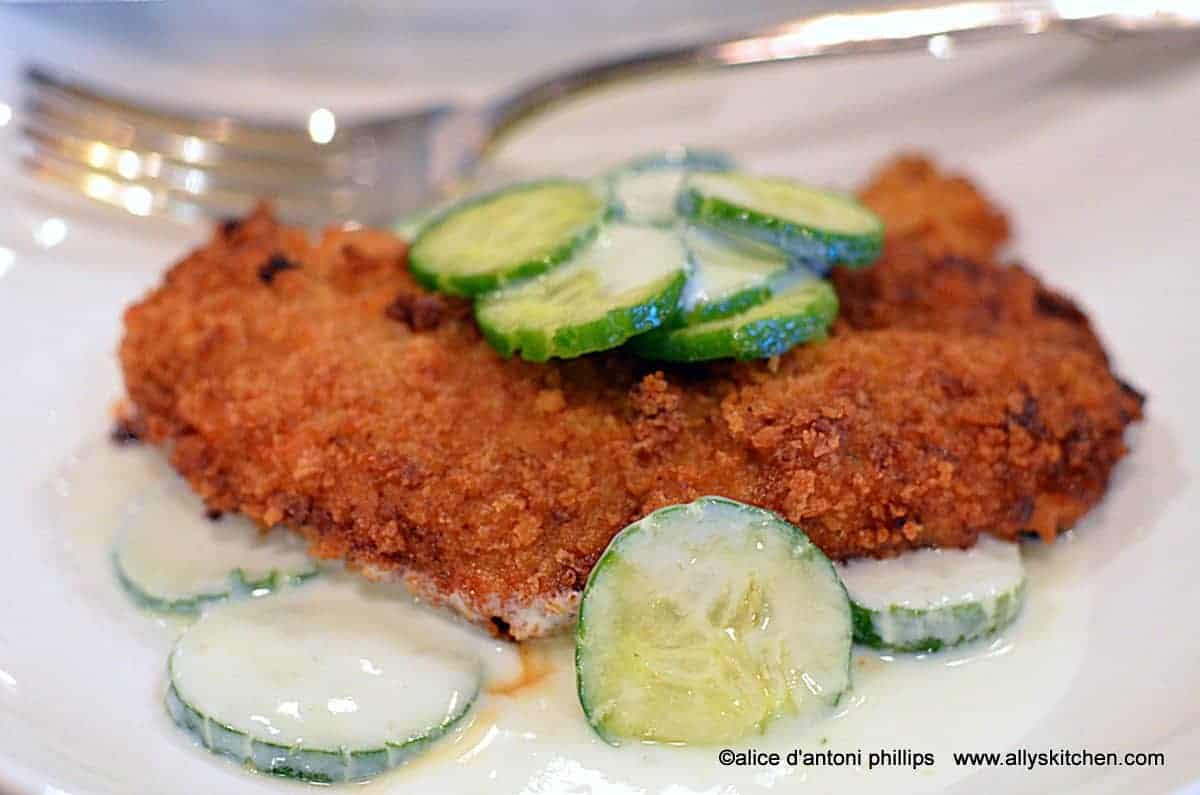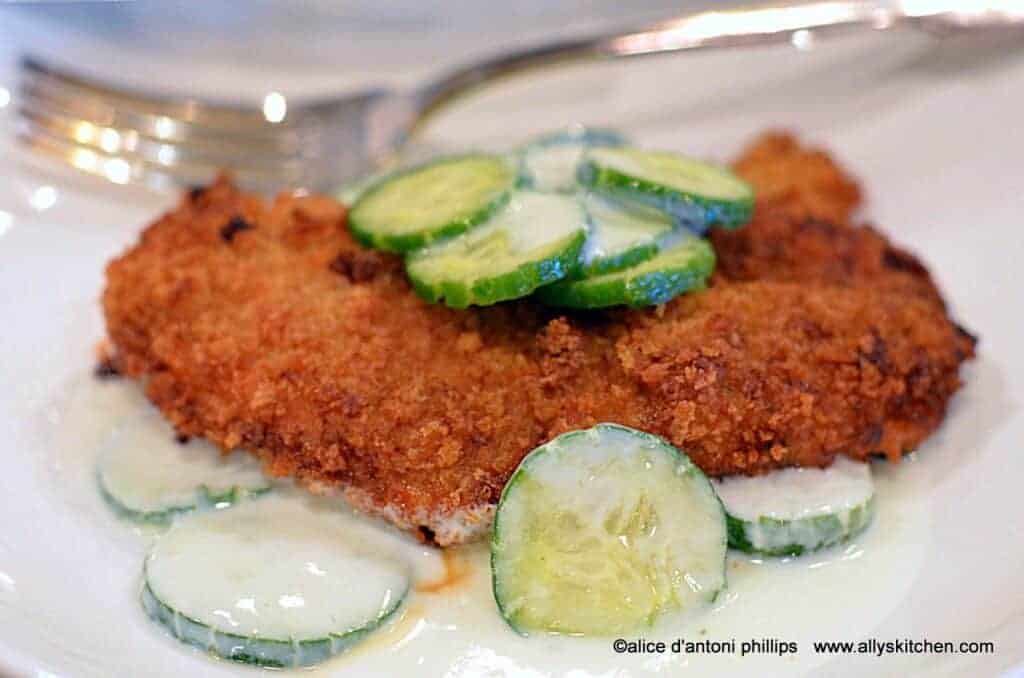 Serves: 3-4
Preheat oven to 325
What you need:
1 ½ pounds chicken breast filets thin pieces (about 5-6 filets)
1/3 cup canola oil
Marinade ingredients:
1 two-inch nub of fresh ginger, peeled and cut into 2 pieces
2 peppers, mini sweet and small ones (cut or stem end and cut in each in half)
1 small shallot, peeled
2 large garlic pieces peeled
1 tsp. smoked hot paprika
1 tsp. cumin
½ tsp. all spice
1 ½ tsp sea salt
1 Tbl. dark brown sugar
1 Tbl. dried mint
¼ cup olive oil
Panko Crusting Procedure:
1 ½ cups panko plain bread crumbs
½ cup all-purpose flour
½ tsp sea salt
½ tsp. red chili flakes
1 egg, beaten
1 cup buttermilk
Buttlermilk Cuke Sauce:
2 cups sliced fresh cucumbers (Note: Sometimes I cut the cukes into cubes rather than slices, too!)
1 cup plain Greek yogurt
1 cup buttermilk
½ tsp sea salt
½ lime, juice/zest
½ tsp red chili flakes
8 small tender cucumbers sliced into rounds about ¼" thick (reserve about 15-18 pieces for garnish)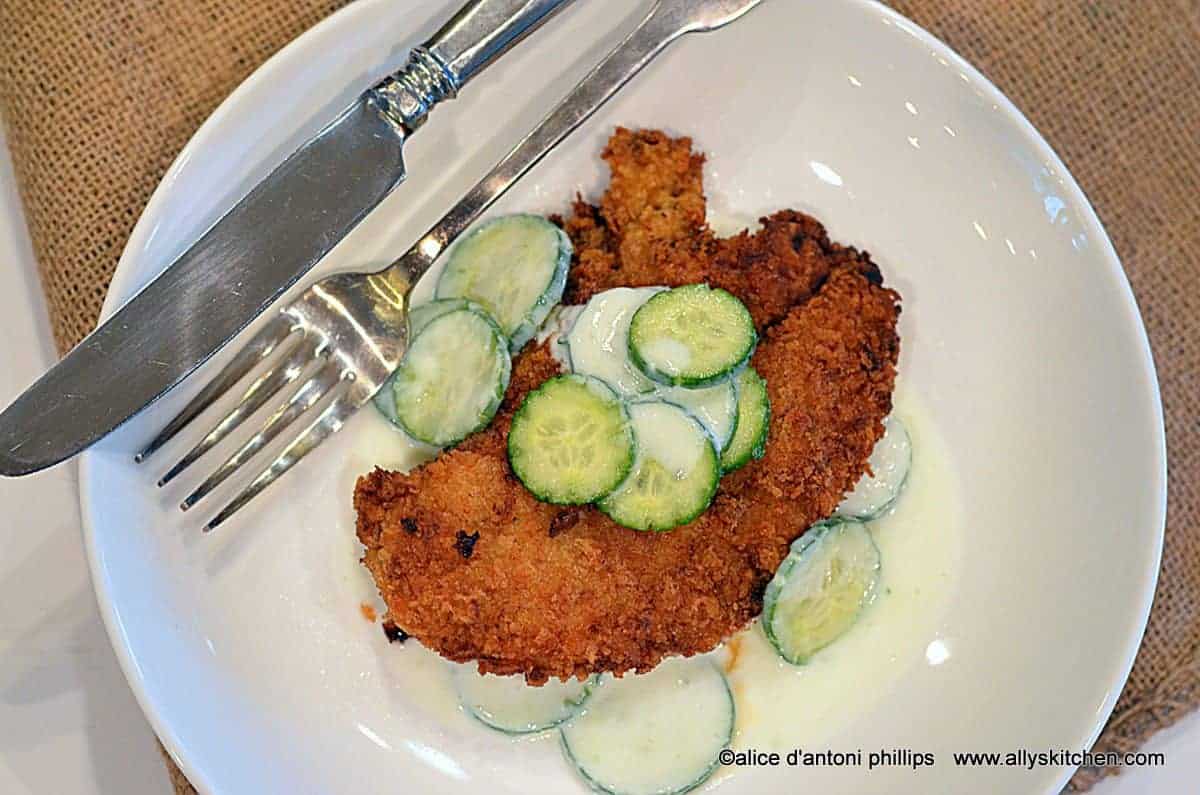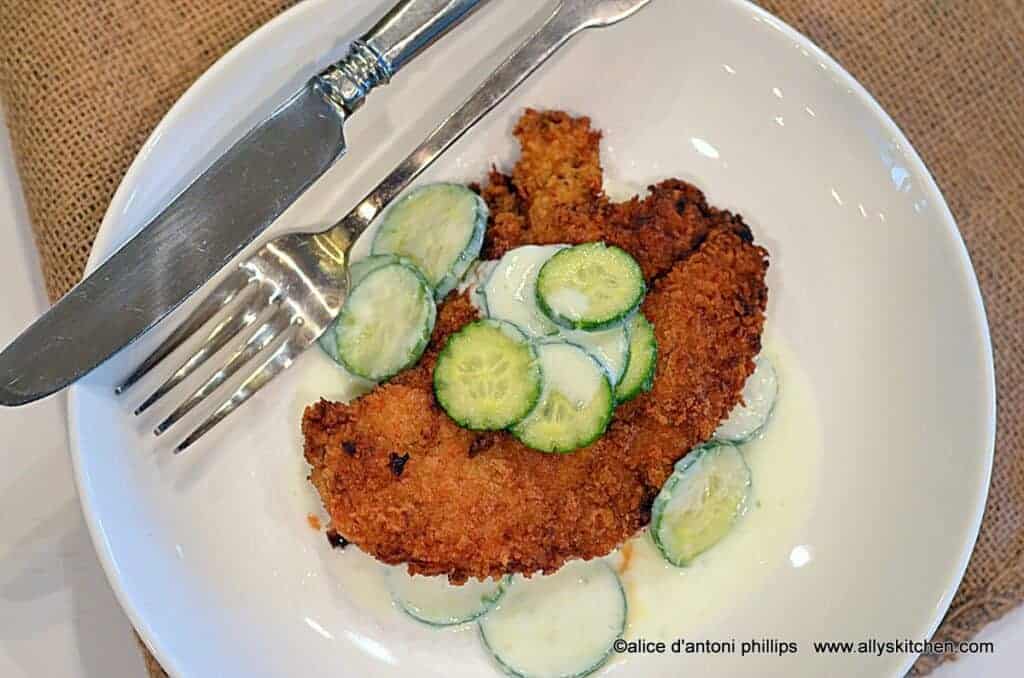 What you do:
Place chicken filets in an 8×8 baking dish.
Marinade ingredients:
Combine all of the ingredients into a food processor and pulse until blended. Pour onto the chicken filets. Make sure each piece is coated with the marinade. Cover with plastic wrap and put the chicken in the refrigerator at least an hour (or even overnight) until ready to move on to preparing.
Panko Crusting Procedure:
Combine in a pie plate the panko bread crumbs, flour, salt, chili flakes and blend. Combine in another pie plate the egg and buttermilk.
Preparing Chicken:
Put the oil in a 10" cast iron skillet over medium to medium high heat. Let it get hot.
Have your yogurt/buttermilk/egg mixture and panko mixture in separate pie plates. Take one piece of chicken, shake off some of the marinade. Dip in the wet mixture then put in the panko mixture and cover well patting into the chicken. Place in the hot skillet and brown on both sides until golden brown (about 1-2 minutes/per side). Place a metal draining rack on a cookie sheet. Using tongs, remove the chicken to the draining rack. Continue until all pieces of chicken are fried.
Place the chicken (keeping on the draining rack) into a preheated 325 oven for about 12-15 minutes. Remove and let rest.
Buttermilk Cuke Sauce:
Combine the ingredients in a mixing bowl and blend well.
Serving Suggestion:
Place some of the sauce/cucumbers in the bottom of a large bistro-type bowl. Lay the chicken on top of the sauce. Garnish with a few cucumbers.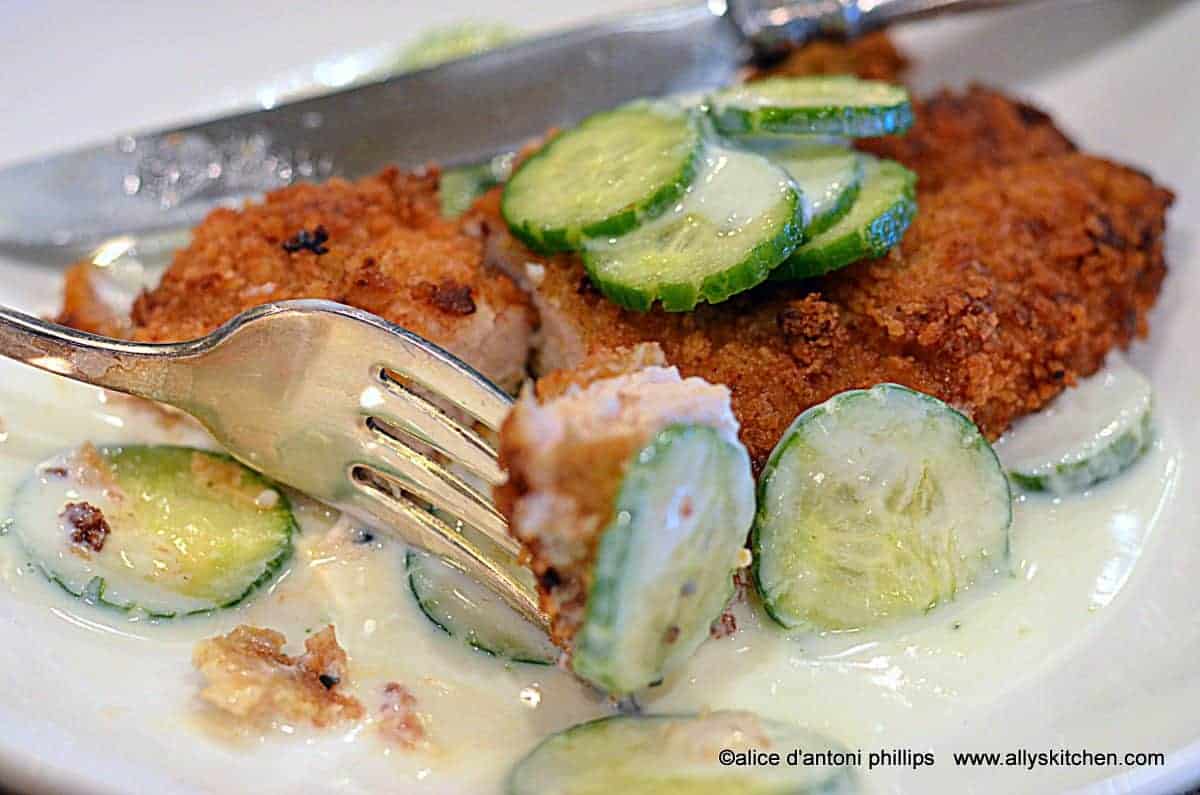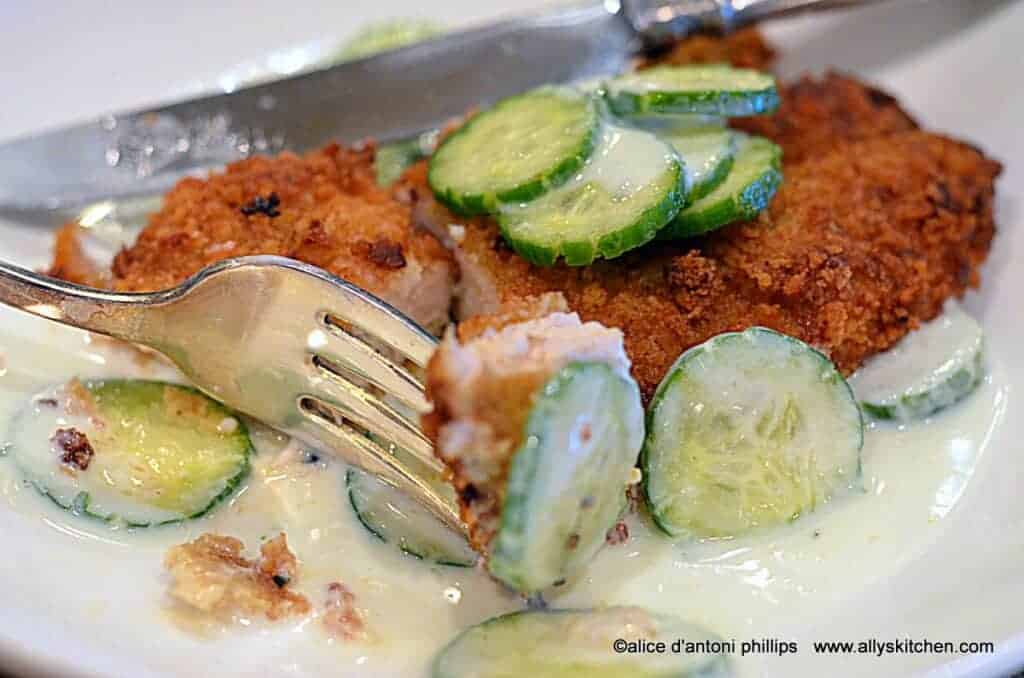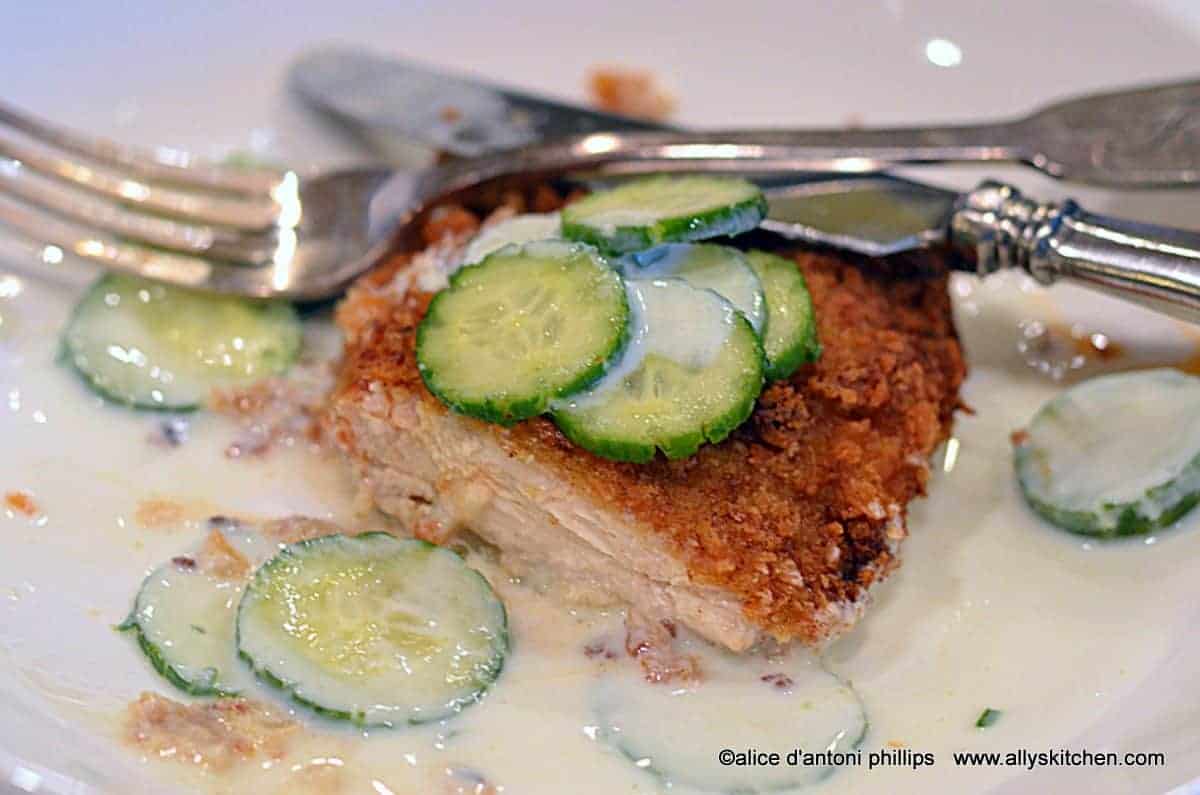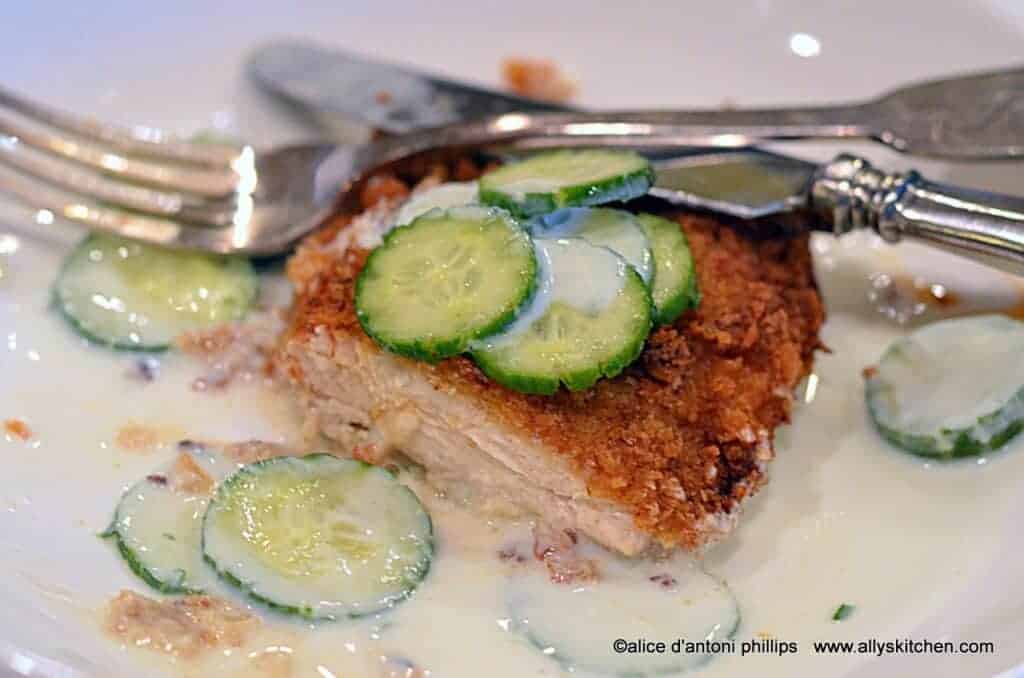 ©alice d'antoni phillips www.allyskitchen.com