red curry chicken skewers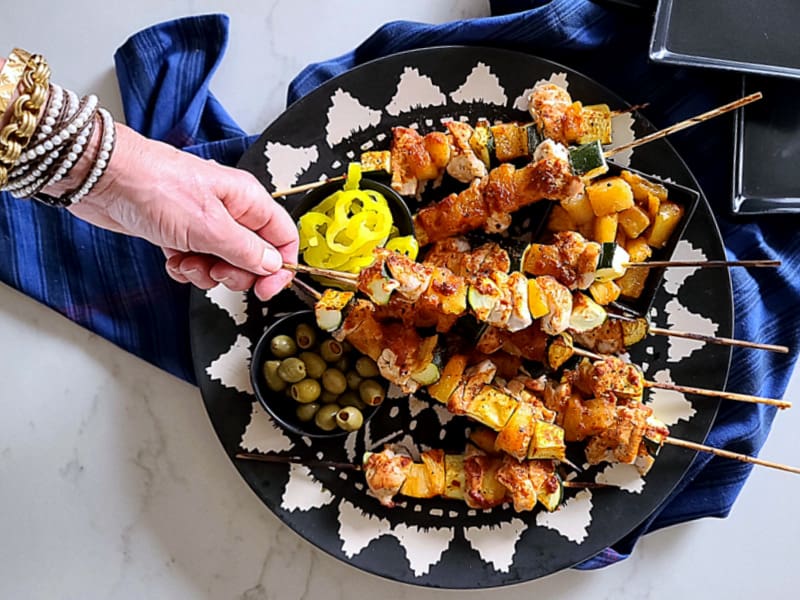 Four ingredients and you'll be devouring these red curry chicken skewers! Cooking just got easier because red curry is packed with flavor!
Thai Chicken Skewers
When you're talking this easy for a delicious recipe, then you're going to be making these Thai chicken skewers. If you want to substitute something like shrimp, pork, lamb or beef, then that's up to you!
Skewered Chicken
When you skewer your check, you'll be working with small chunks of meat. That means it's going to cook faster. But, just remember that the internal temperature of cooked chicken is 165 degrees. So pull out your meat thermometer and double check!
Chicken Kabab
Chicken kabab or chicken skewer/ They're basically the same thing. What I love about this recipe is that you've got the sweet and savory working together with the spice and heat of the red curry.
Grilled Chicken Curry
These chicken skewers are perfect for the grill, too. Just remember to soak wooden skewers well. Drench them with moisture. Or better yet, pull out your metal skewers for a scorching hot grill or live fire.
What is Kebab
It's really simple as to what defines a kebab. It's essentially cubes of meat cooked with vegetables. And, it's all on a skewer. Yes, if you want to let the skewers marinade in the sauce or paste that's going to intensify the flavors.
According to some sources, kebab is generally considered an Arabic-origin meat dish. Probably coming from peasants who learned early on to cook their meats and vegetables on what was available in their surrounds, sticks.
Curry Kebabs
Now curry is a wonderful marinade for these chicken skewers. There are differences not only in color of curry paste but also flavor profiles. Red curry is made from dried red chillies, which is the base for the paste. While green paste has more coriander roots, hence the green hue, and is much sweeter. Green curry is also made with young chillies, while the red curry is from the older dried red chillies.
Chicken Skewers Thai
Thai curies usually are spicy. Yellow seems to be the lesser of the spiciness. I use dried yellow curry often in my jasmine rice. Along with a few strands of saffron, the cooked rice has this rich golden hue that's just gorgeous.
Thai Curry Pastes
If you want to learn more about Thai curry pastes and the differences, then here's a great post from The Spruce Eats. Everything you need and want to know!
And, here's my Easy Red Curry Coconut Shrimp Noodle Bowl! Perfect for dinner anytime!
Thai Curry Sauces
You can make your Thai curry sauce(s) from scratch. Or you can purchase them pre-made. I've done both. I always keep red curry paste on hand because it's just so versatile for roasting vegetables as well as fruits. Yes, fruits roasted or grilled and combined with the heat are just delectable. These sauces are perfect for recipes like my skillet stuffed chicken with spinach & ricotta and cumin chicken.
Here are some of the red curry pastes you might consider:
Recipes for Red Curry Paste
If you're looking for more red curry paste inspiration and how to use it in your cooking, then these recipes, all simple, will be your go tos!
hurricane sesame glazed chicken
Red Curry & Cumin Chicken Soup
Thai Red Curry Lemongrass Pork
Asian Chicken and Ramen Noodles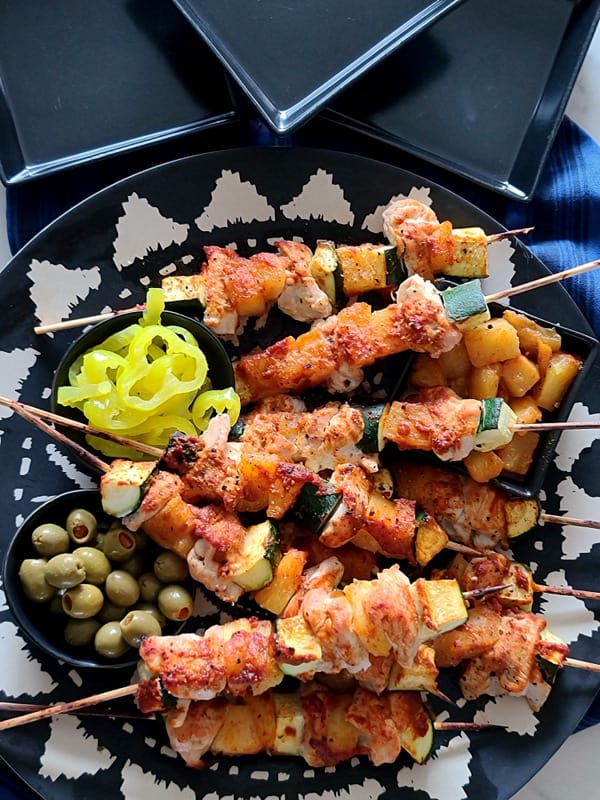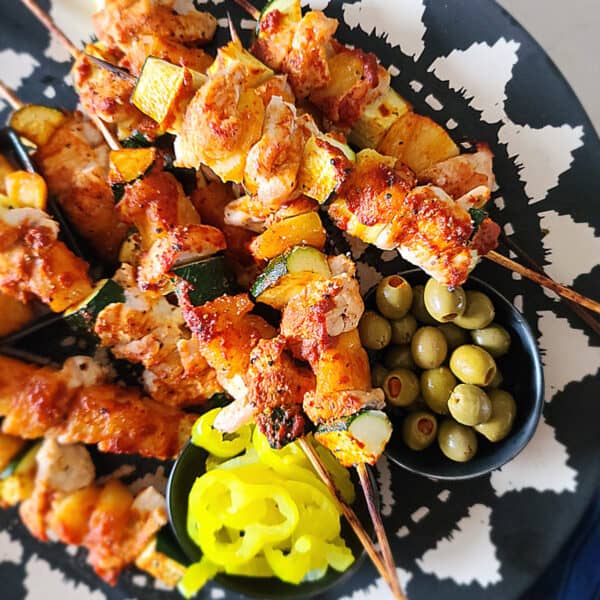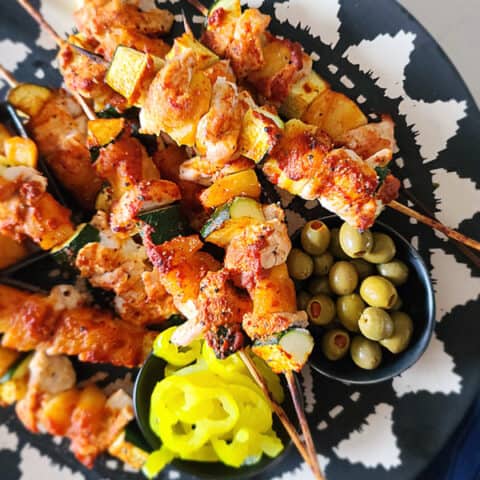 red curry chicken skewers
Ingredients
Preheat oven to 425
10-12 wooden skewers, 8" length, presoaked in water for about 20-30 minutes
1 ¼ to 1 ½ lbs. boneless skinless chicken breasts, cut into bite size chunks
1 large zucchini, cut into bite size chunks
3 cups pineapple chunks, bite size pieces
½ cup red curry paste, prepared, store bought
Coarse ground pepper
Instructions
Skewer equal amounts of chicken, zucchini and pineapple chunks on each of the skewers. Start with a zucchini chunk to anchor the skewer then alternate the three ingredients. Leave about 1" to 1 1/2" at the tip of the skewer.
Place the skewers on a parchment paper covered cookie sheet.
Use a pastry brush to coat both sides of each skewer liberally with red curry paste. Finish each skewer with fresh ground pepper.

Cook in a preheated 425 oven about 21 to 25 minutes.
Remove. Cover loosely with foil. Let the skewers rest about 5 minutes. Ready to serve!

Notes
If there is leftover chunks of zucchini and/or pineapple, use another skewer or simply place on the cookie sheet and roast.
Not a fan of pineapple? No problem. Try mango chunks. Frozen chunks are great. Saves a lot of time and mess from peeling and cutting the mangoes. Another idea, and somewhat different, are chunks of kiwi or large strawberries.
Remember, you want some type of naturally sweet fruit to offset the savory and heat of the red curry. And, you want a fruit than can withstand the heat of cooking in the oven and remain on the skewer!