Sharing with others the experiences of my global traveling is pure joy to me. I know that many folks can't travel extensively to many of Earth's continents for a multitude of reasons. Since I'm pretty awesomely lucky to do so, I consider myself sometimes as you own personal travel bug. And, yes, I'm bringing back ideas and inspiration for your food that will give you hints of new flavors without having to even pack your bags!
Easy Asian Food to Make at Home
Growing up in the coalfields of West Virginia, we didn't eat much Asia food, even Asian inspired food. Most of our grub, was Appalachian style, which was stick to your ribs and not real fancy or expensive to make. But, I can see in some of our mountain cuisine hints of Asian cuisine, which is intriguing. And, since I've eaten my fair share of delicious Asian food, whether it's while in Thailand, China, Hong Kong and other places, then I've incorporated some of these tastes, textures and inspiration into this dish.
Now if you're looking for one of my Appalachian recipes, then this simple no cook, totally beautiful and healthy cucumber salad is your ticket!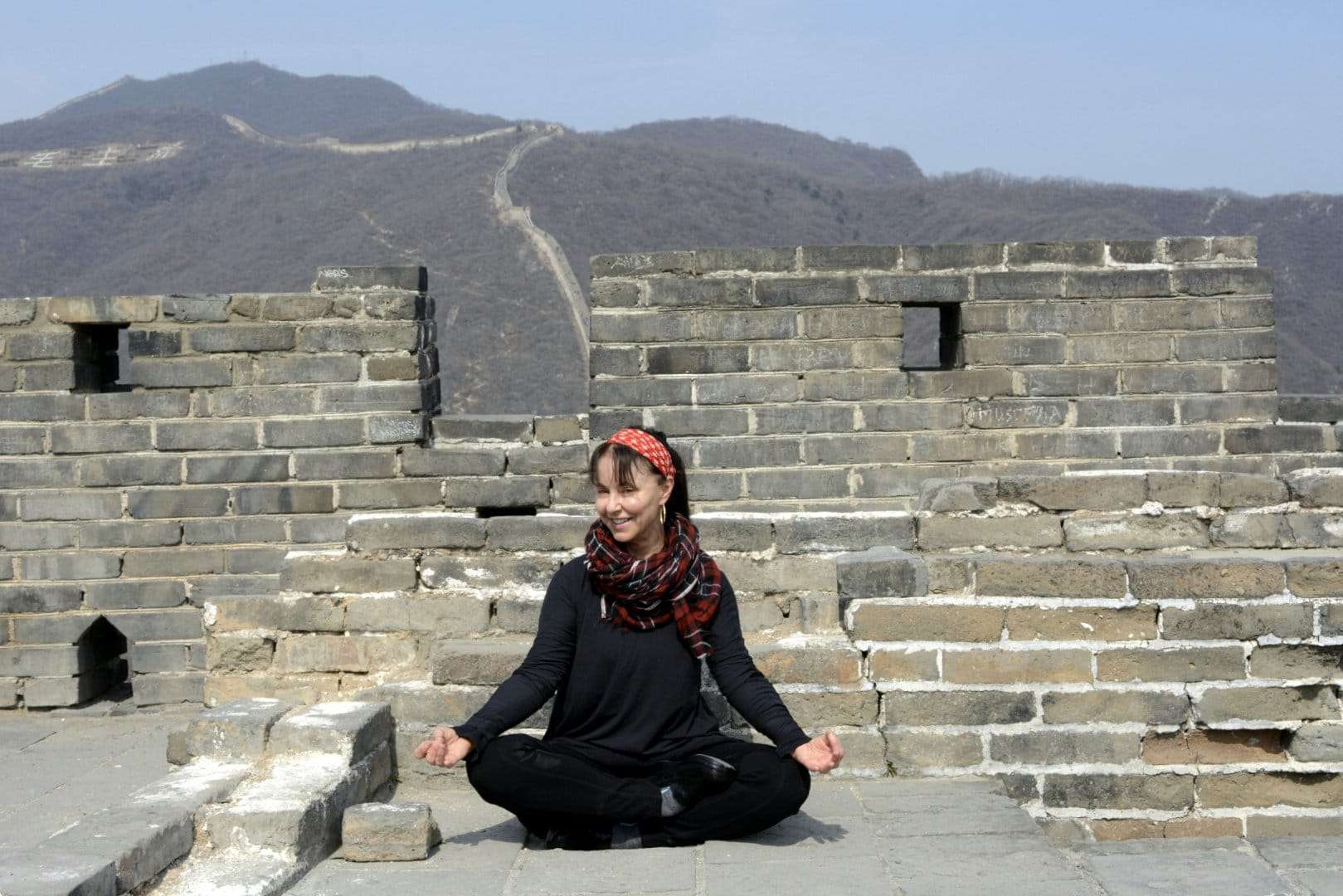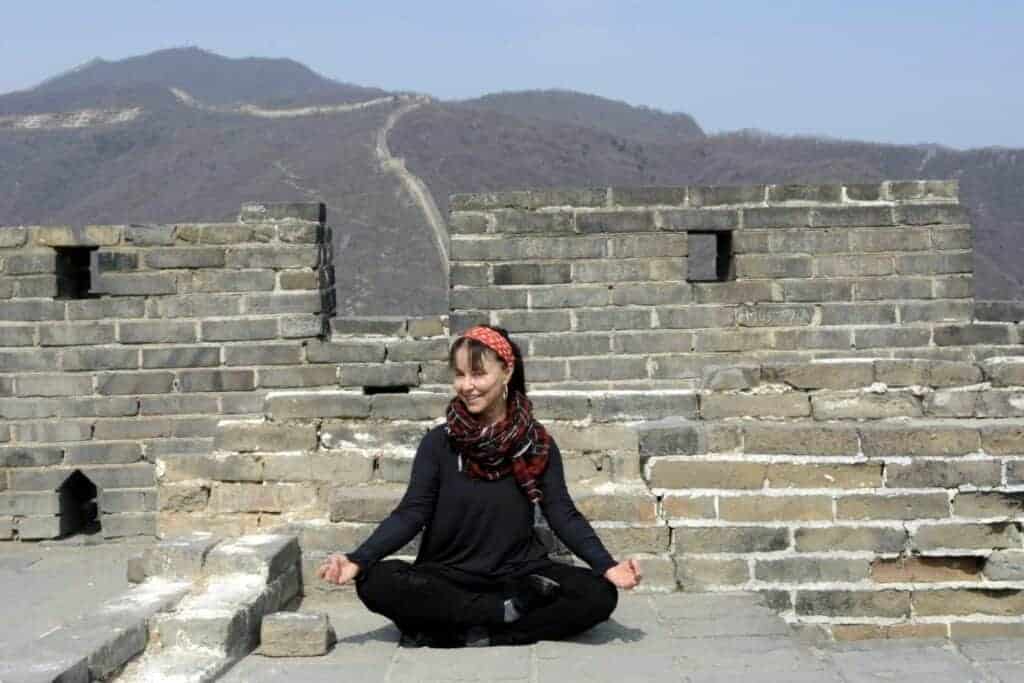 Asian chicken and ramen noodles is a recipe that comes from my amazing experiences in Asia. I've eaten at the finest restaurants, tasted street food, been tutored in how to make dimsum, had a Kelong dinner, eaten poisonous snake soup, explored wet markets, tasted new fruits like mangosteen and chowed down at hawker stands as I've meandered through Shanghai, Bejing, Hong Kong, Singapore and many places in Thailand.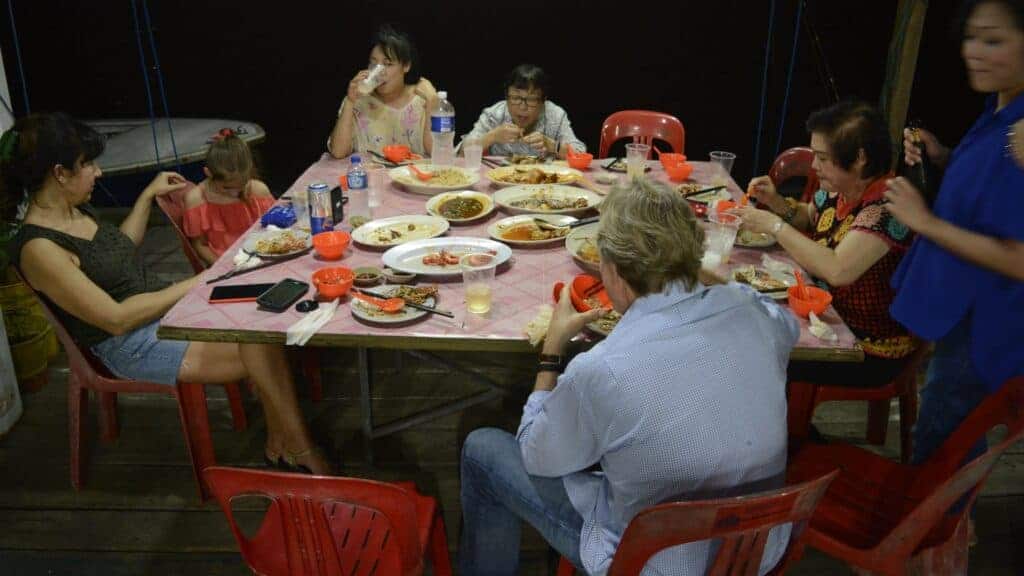 The Recipe Creation Challenges
The challenge with creating these ethnic inspired recipes is that I have to keep some basic tenets in mind and totally focus on you, my peeps who will, hopefully, be replicating the recipe.
It can't be complicated.
You don't want something that ties you to the kitchen.
Ingredients have to be accessible. Not everyone lives in large cities where there are ethnic markets. Or you might live in an area where there are only a few local grocery stores.
The steps in this recipe need to utilize tools, utensils and cookware that you already have. You're not going to be happy if you have to purchase a new gadget, cook pan, skillet, or appliance.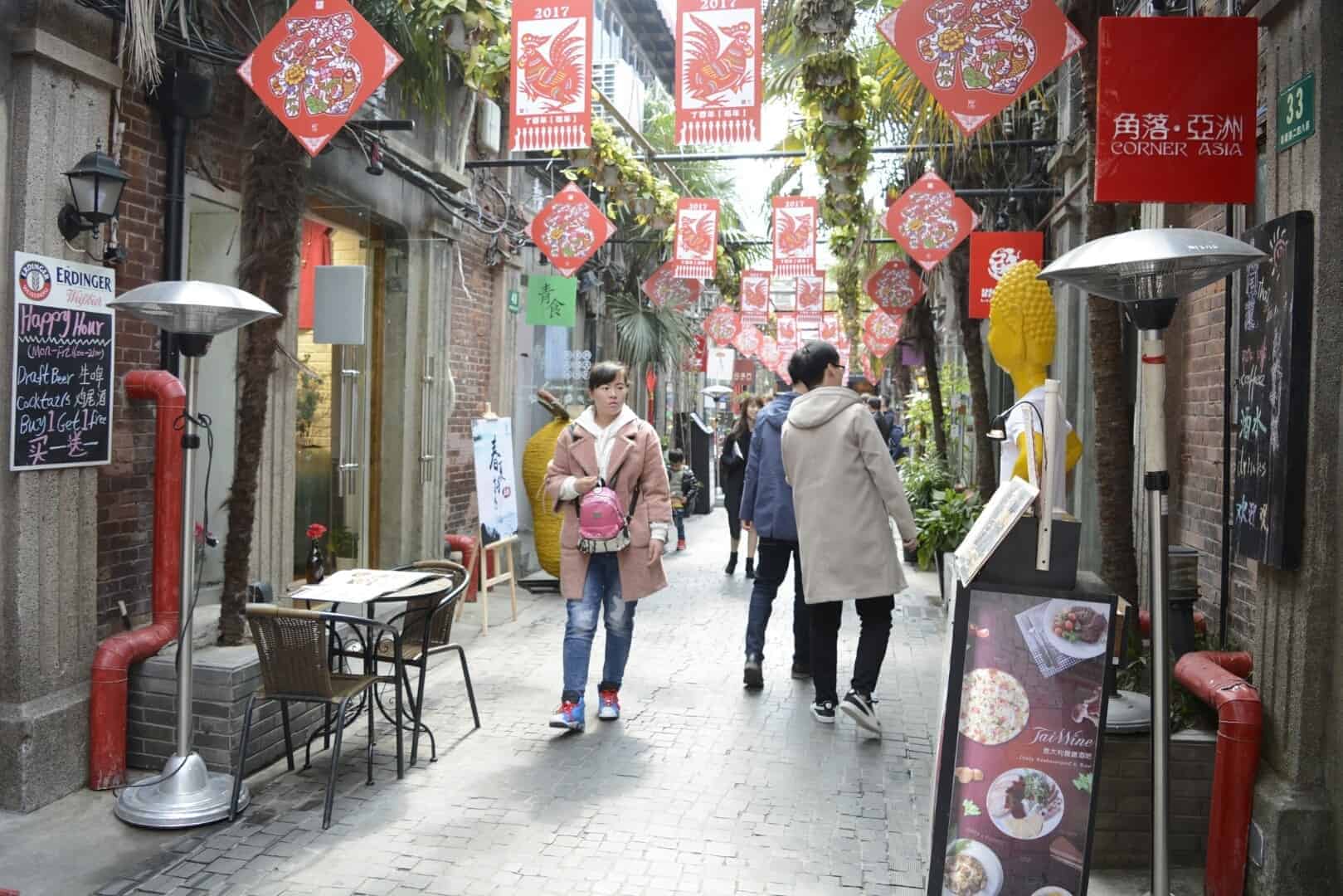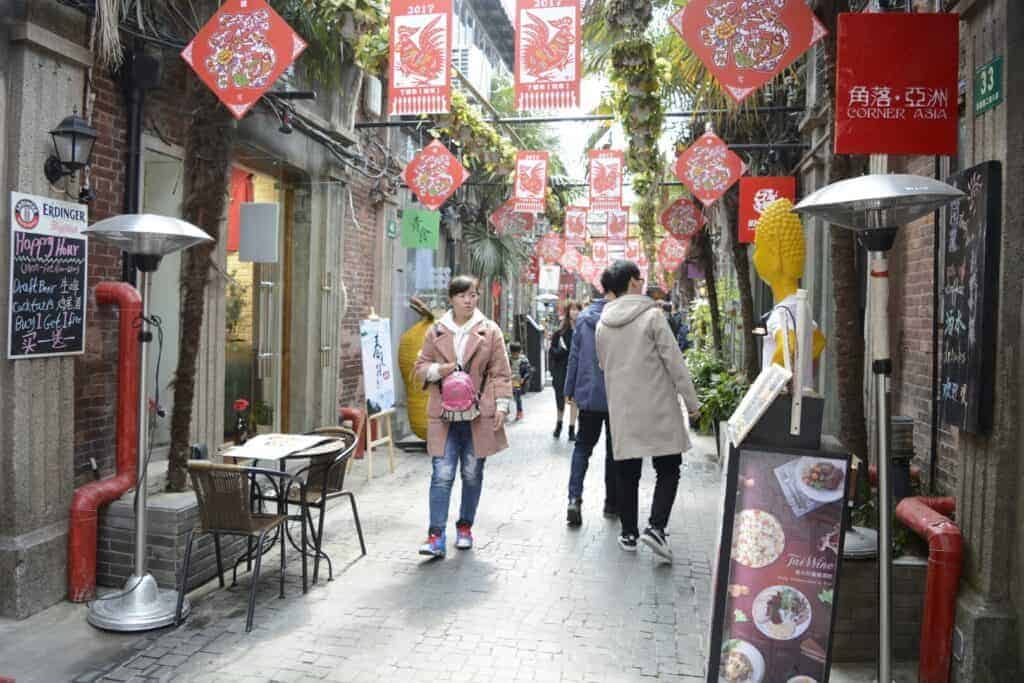 A note on the ramen noodles I used. I purchased them in the package and discarded the seasoning packets. I just wanted to noodles. You could also use any other type of noodle including egg noodles. You can find them dried. You can also find frozen noodles. If you're lucky enough to have Asian grocery stores in your area, you can find many varieties. I've provided Amazon product links after the recipe. And, yes, I do receive a minuscule fraction of 'income' if you buy.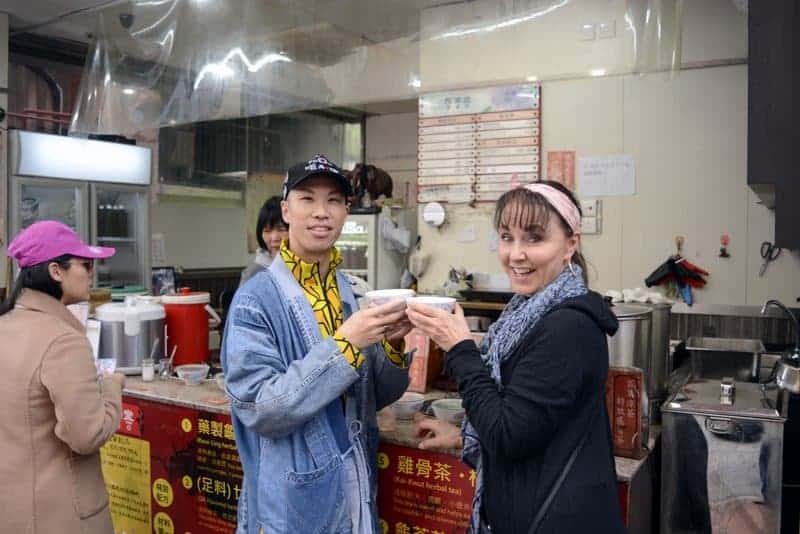 How about something Mexican inspired? Oh, you're gonna love this Mexican Fajita Bowl!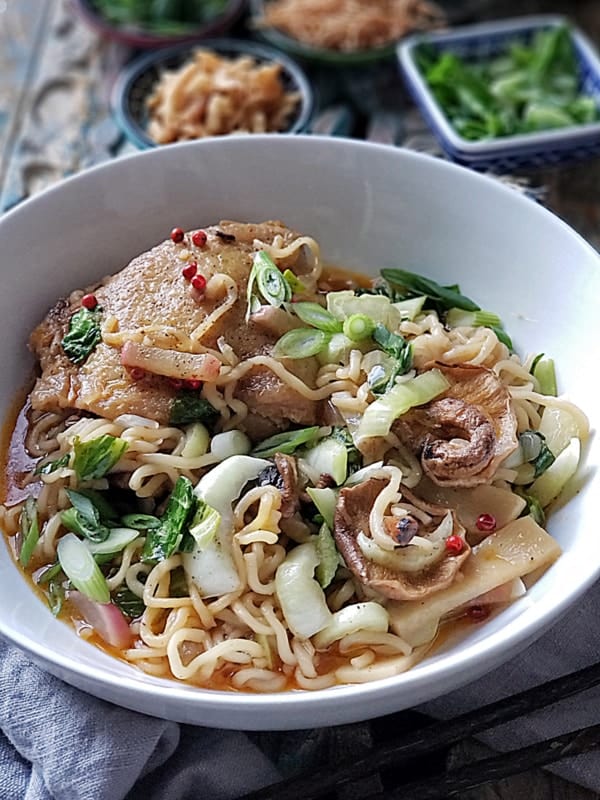 asian chicken and ramen noodles
Ingredients
Preheat oven to 400
2 lbs. chicken thighs, skin on and bone in
¼ cup oil, canola
3 Tbl. toasted sesame oil
32 oz. chicken stock
2 Tbl. grated fresh ginger
2 Tbl. garlic, minced
2 Tbl. Korean chili sauce
¼ cup soy sauce
8 oz. ramen noodles, dried
1 ½ cups sweet onions, small dice
8 oz. sliced bamboo shoots
2 cups mushrooms, your choice (I used shitake.)
1 cup radishes, matchstick cut
4 cups baby bokchoy, sliced with green
Instructions
In a heavy large cast iron skillet over medium high heat, get the skillet hot. Add the canola and sesame oil.
Add the chicken, skin side down, and pan sear for about five minutes until the skin is golden brown.
Remove from blaze and put chicken and oil into a large deep casserole baking dish. Place chicken to one side of the dish leaving room to put the ramen noodles on the other side.
Sprinkle all over the chicken and ramen noodles the onions, bamboo shoots, mushrooms and radishes.
Mix into the chicken stock the ginger, garlic, chili sauce and soy sauce. Pour over the ingredients in the baking dish.
Cover and cook in a 400-degree preheated oven for 40 to 45 minutes.
Remove and uncover. Take a large fork or pasta utensil to separate the ramen noodles letting it 'swim' in the broth. Add the bokchoy to the mixture. Recover and let it sit for about 10 so it will steam a little.
Uncover and gently mix the all ingredients into the broth and noodles.
Notes
If the ramen noodles have seasoning packets with them, toss out. Just use the noodles.
To garnish, I've added pink peppercorns and green onions. Totally optional!
https://allyskitchen.com/asian-chicken-and-ramen-noodles/
©ally's kitchen intellectual property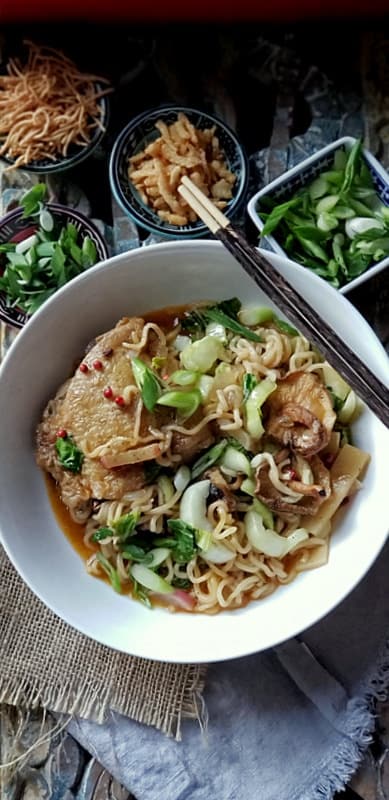 Noodles Noodles