thai red curry lemongrass pork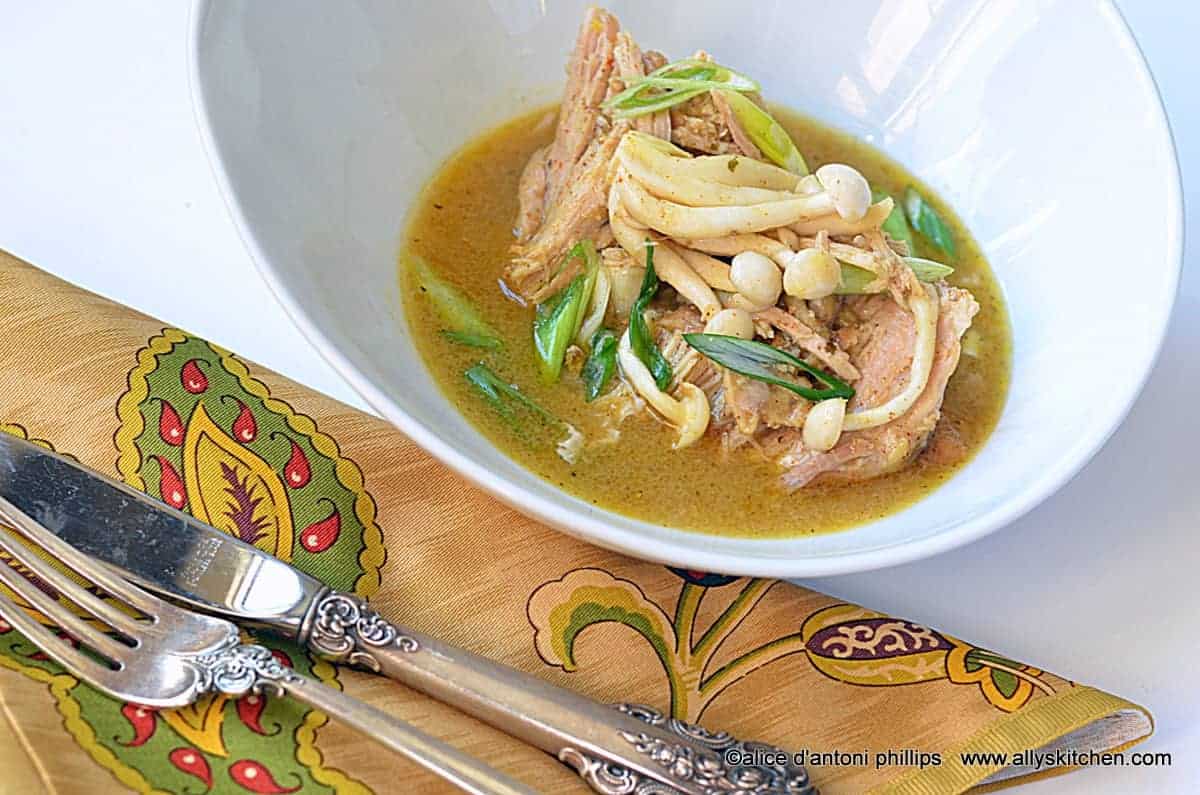 Pork is a favorite meat of mine, and I'm always trying to put new twists on it. Rather than just roast the pork then put it with potatoes and veggies, I decided to take an Asian slant, well, Thai, and use red curry, ginger, mushrooms, green onions and things that you usually see in these type dishes.
Another new twist to this recipe are my mushrooms and finding enoki mushrooms. These are just so beautiful and graceful looking. They almost look like snow white pea shoots. Their long stems and snow-white caps are joined at the base, and I simply gently separated them. They have a mild, almost fruit flavor and crisp texture. Regardless of which mushroom you choose to use, add it the the dish about 15 to 30 minutes before serving.
If you love pork then you're going to want to make this PORK RECIPE! I promise boholiciousness! Twas my oldest son's favorite growing up!
Another fabulous red curry recipe? My 4 ingredient Red Curry Chicken Skewers!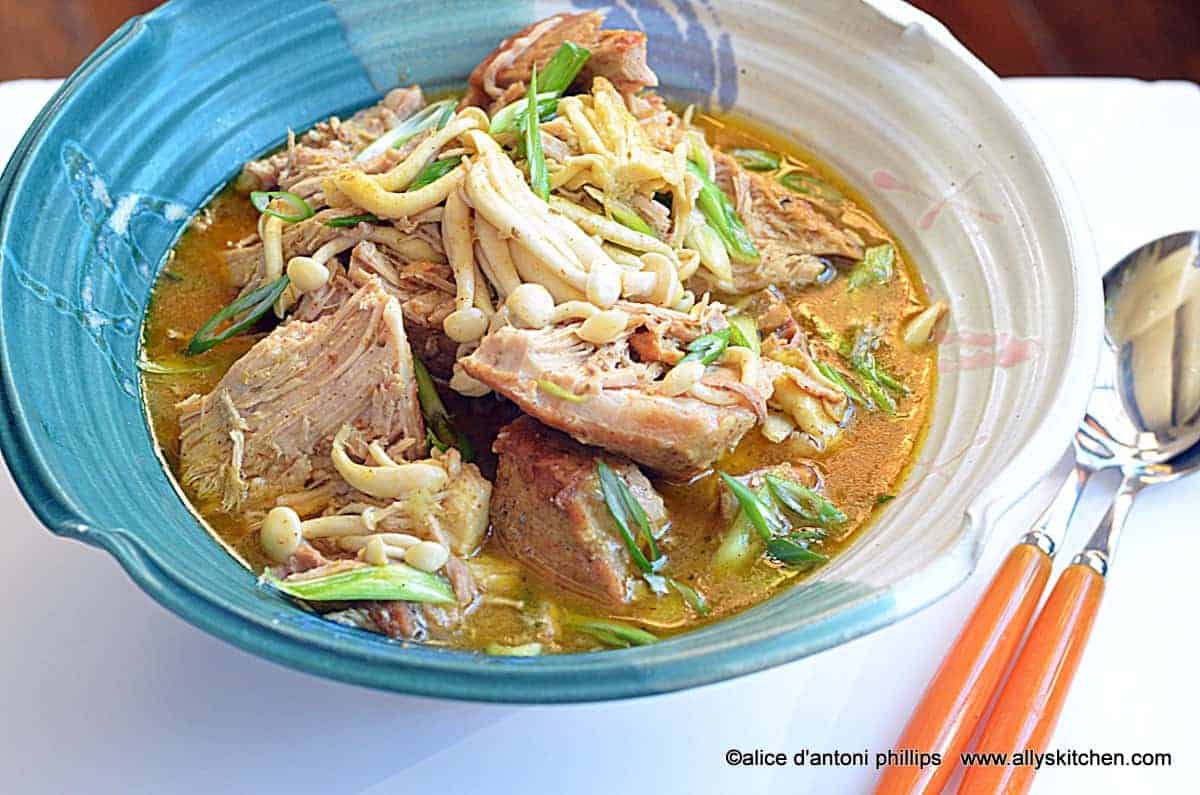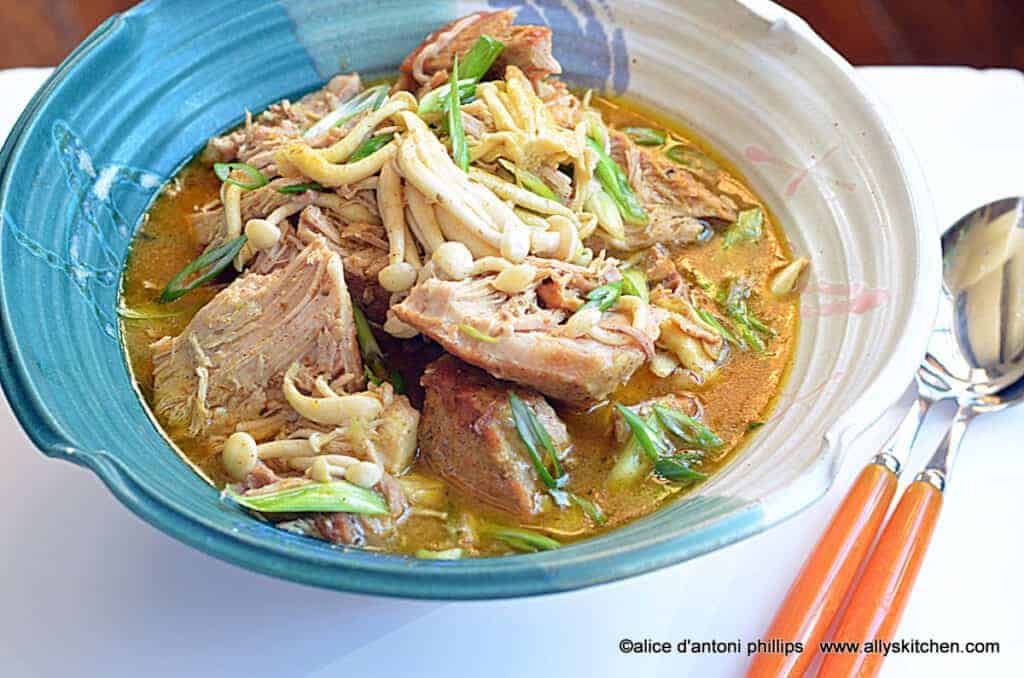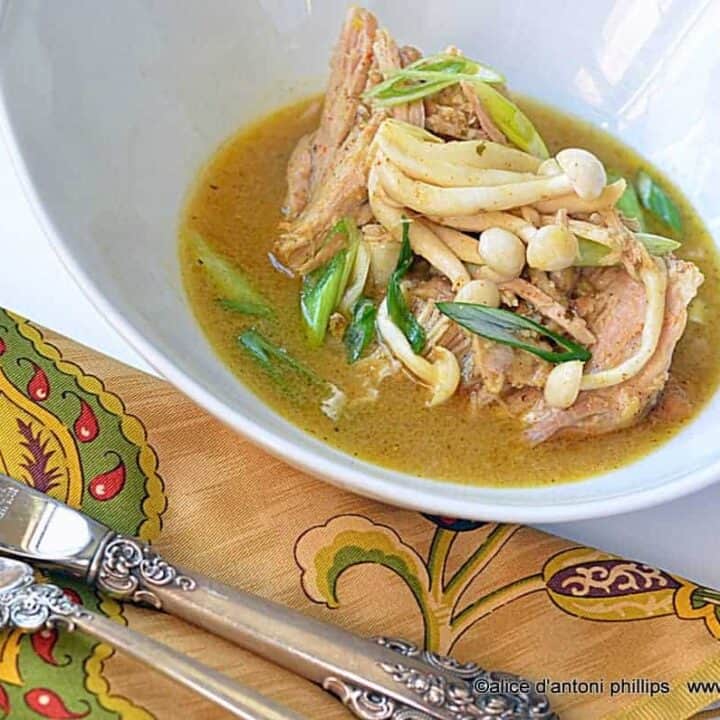 thai red curry lemongrass pork
Yield: 6+ healthy eating folks
Ingredients
1/4 cup coconut oil
2 1/2 to 3 lb pork roast, boneless and cut into 3-4 big chunks
2 tsp. sea salt
1/4 cup flour (I used quinoa flour. You can use another version like rice if you want to stay GF or regular all-purpose flour)
2 cups chicken broth
1 Tbl. + 1 tsp. red curry spice
2 tsp. lemongrass
2 tsp. ginger, freshly grated
5 whole smashed cloves of garlic
2 containers (6 oz. each) Coconut Milk plain yogurt
2 cups of mushrooms
3/4 cup thinly sliced green onions/tops + more for garnish
Instructions
Put the coconut oil in a heavy cast iron skillet on medium high heat. Coat the pork with the salt and flour. Put in the skillet when the oil is hot, and sear on all sides getting a golden brown.
Remove meat to the slow cooker that is on 'high' heat. Add the chicken broth, red curry spice, lemongrasss and ginger and swirl around and blend into the broth.
Add the garlic cloves to the skillet in which the pork was browned. Saute on medium heat about 2 minutes then add 1/2 cup water and deglaze the skillet. Add this to the slow cooker. Add the coconut yogurt and blend.
Let the pork cook three hours on the 'high' slow cooker mode. Reduce the slow cooker to 'low, add the mushrooms and cook another 15 to 30 minutes.
The pork will be fork tender pull apart. Add thegreen onions right before serving. Garnish with green onions when serving.
Notes
If you can't find coconut milk yogurt, use coconut milk in the can.