This is one of those meals that you can make in about 30 minutes and feel like you're eating somewhere really fancy dancy! Because these veal cutlets are thin, they cook quickly, and once you've made the pasta, you're just about ready to serve up something boholicious!
Garam Masala is one of those spice mixtures that I highly recommend having on hand because it's just so versatile and fabulous~  Here's the Wiki description of it~~ Garam masala (from Hindi: गरम मसाला, garam ("hot") and masala (a mixture of spices)) is a blend of ground spices common in North Indian and other South Asian cuisines.[1] It is used alone or with other seasonings. The word garam refers to intensity of the spices rather than capsaicin content.
Be sure to toast with a martini and give that blessing because life sure does taste good especially when you're eating on my magic carpet!  xox ~~ally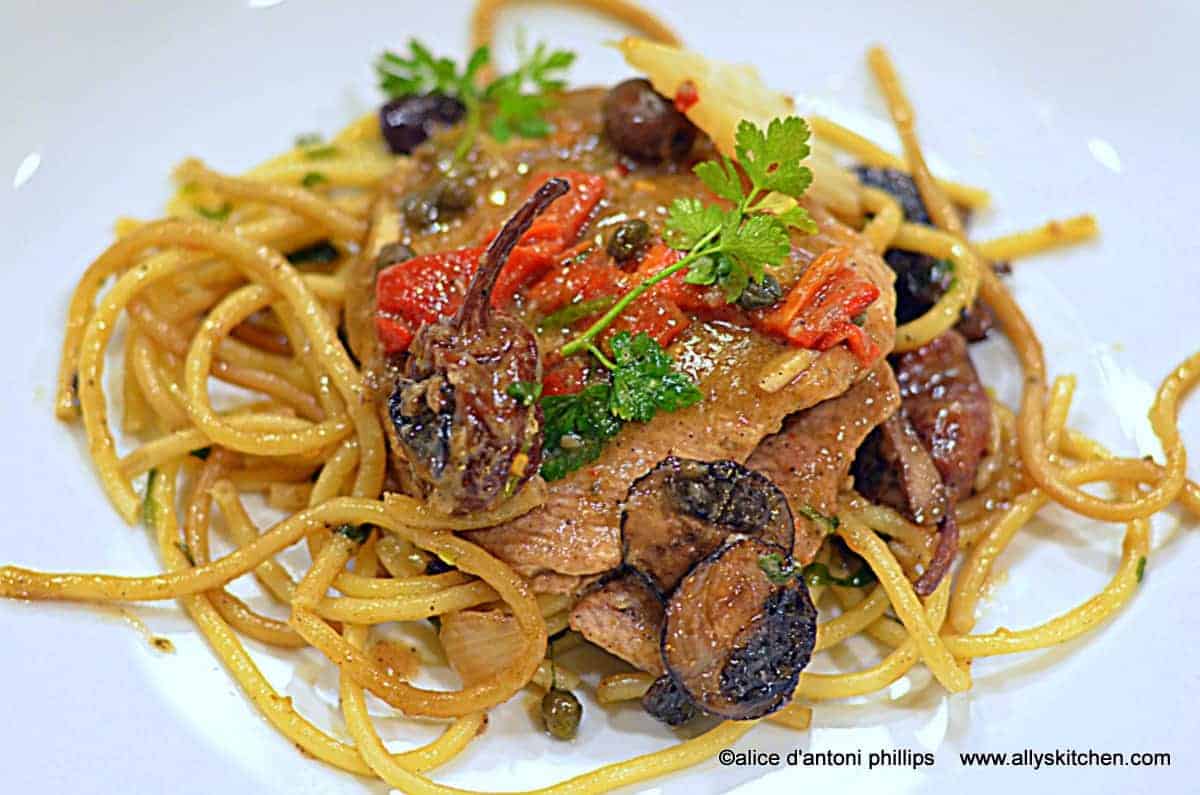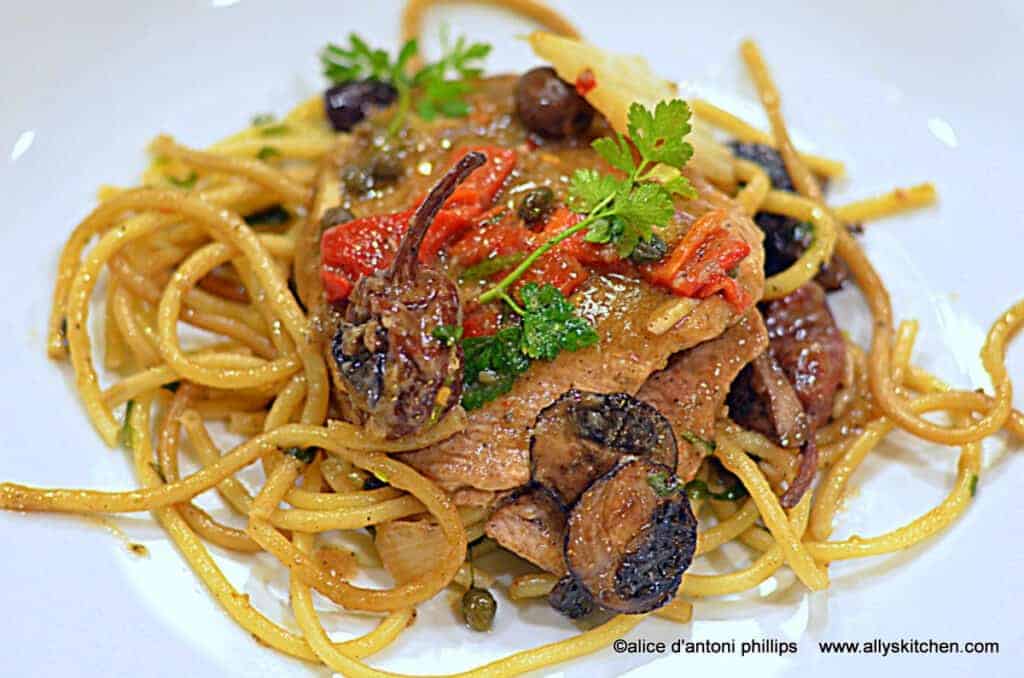 Serves:  4-6
What you need:
1.5 lbs veal cutlets (thin slices)
1/3 cup olive oil (or canola oil) (divided)
¼ cup flour
1 tbl + 2 tsp garam masala
1 tsp sea salt
1 tsp pepper
2 tbl minced shallots
2 tbl minced garlic
3 tbl flour
½ cup white wine
2 cups beef broth
1 tsp red chili flakes (adjust to your heat level)
¼ cup drained capers
½ cup roasted red peppers cut into bite size pieces (store bought jar)
1/3 cup olives (your choice)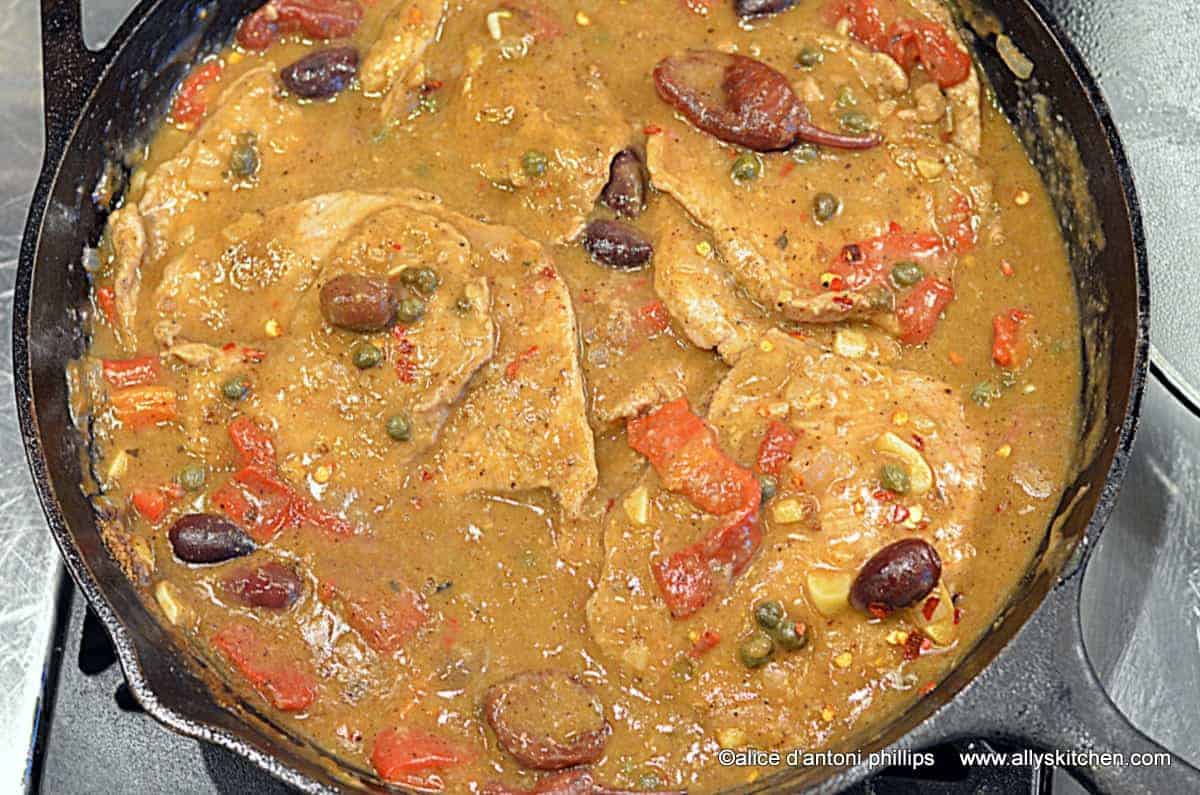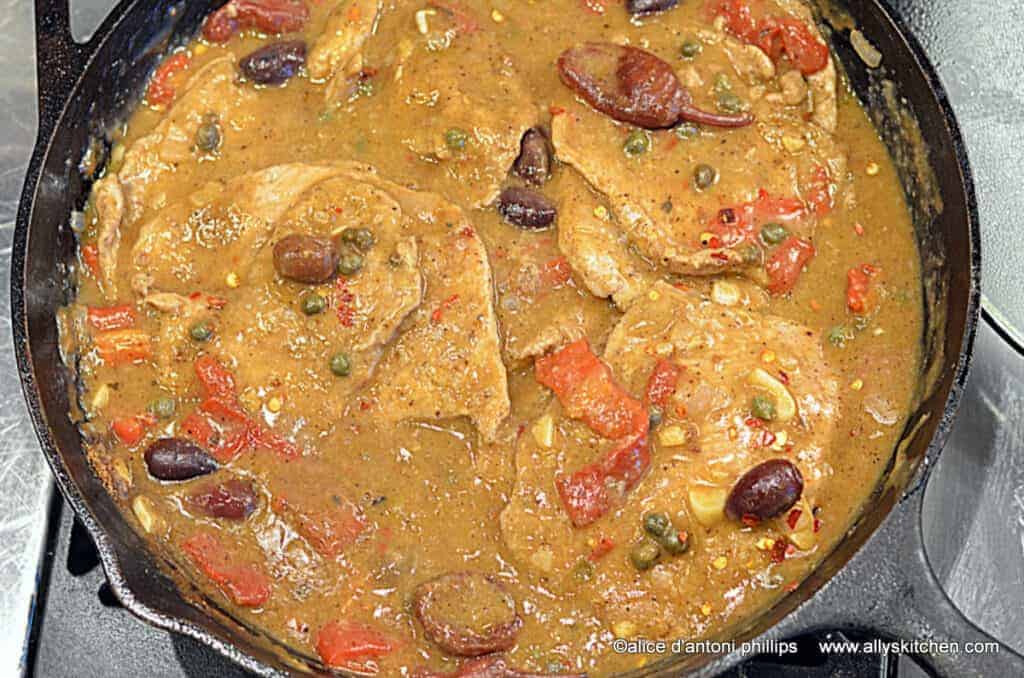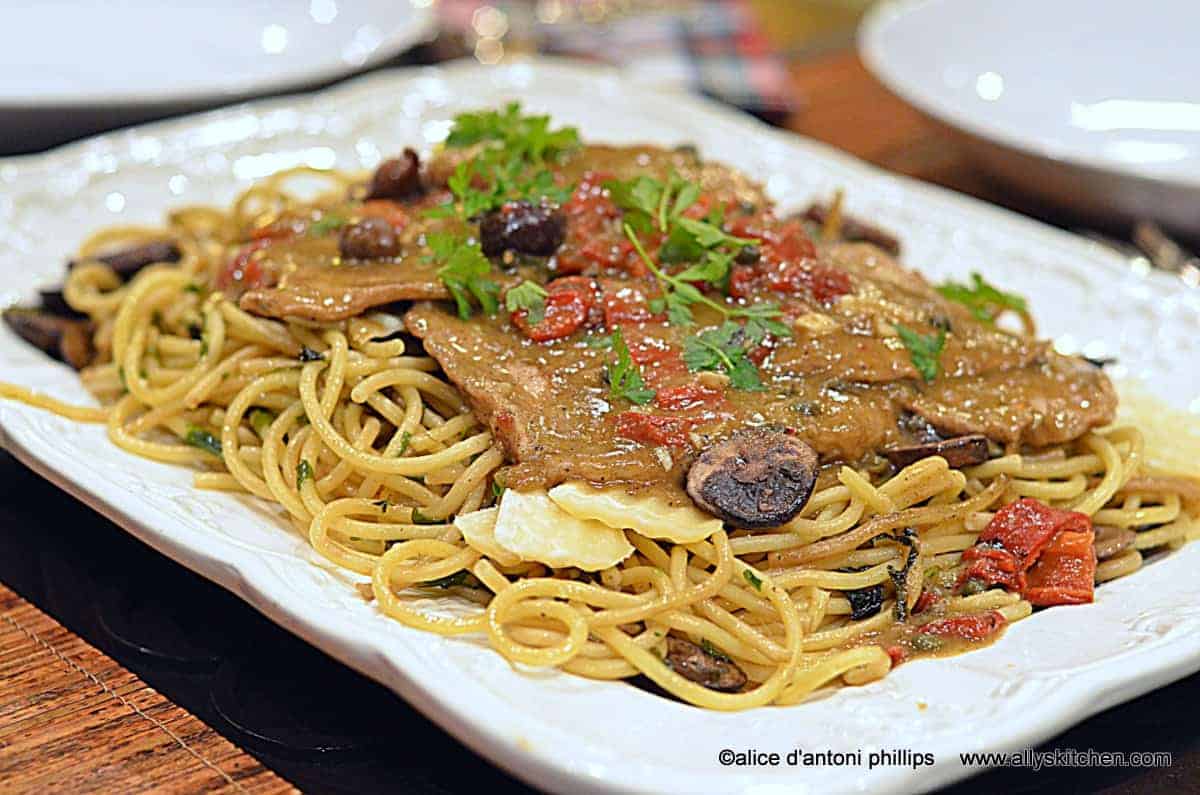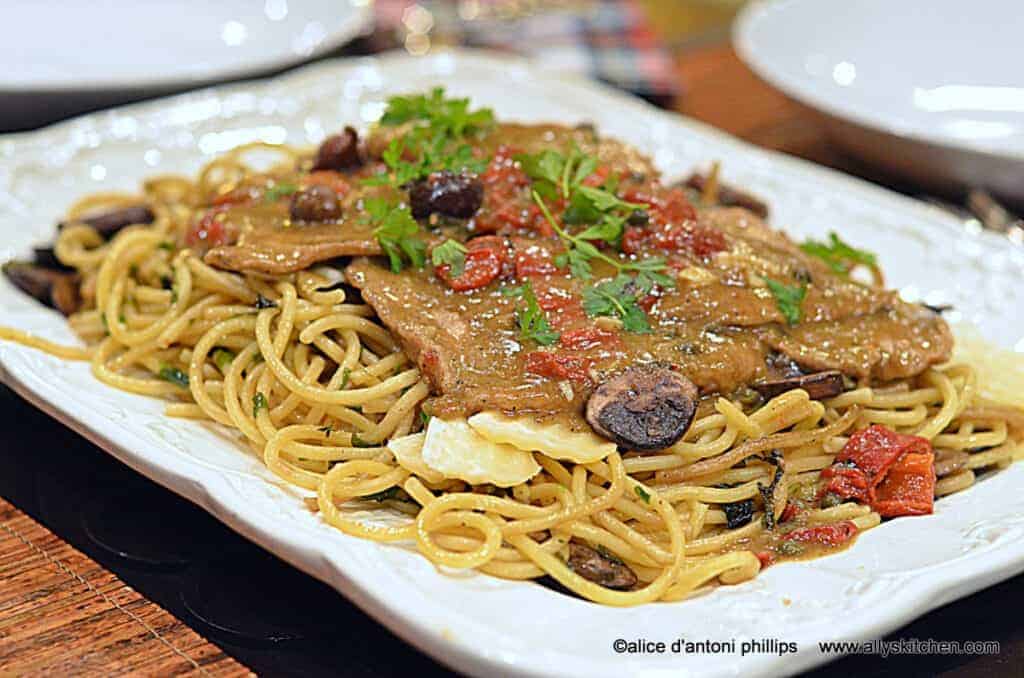 What you do:
Combine the flour, garam masala, salt, and pepper in a small cup and blend.  In a large heavy skillet heat half the oil over medium heat.  Coat the veal cutlet pieces with the flour/spice mixture both sides. (I lay the cutlets on a parchment paper-lined cookie sheet and use a small hand sifter to dust on the flour/spice mixture.)
Put the cutlets a few at a time in the hot skillet cooking about 30 seconds/side, then remove to a plate.  Continue until all the cutlets are done.
Add the remaining oil to the skillet (medium heat) and sauté the shallots and garlic about 3 minutes.  Add the flour and blend.  Then add in the wine and whisk cooking about 3 minutes.  Add the beef broth and continue blending into a sauce, not a thick gravy.
Add the capers, red peppers and olives and blend.  Reduce heat and put the cutlets in and coat with the sauce.  Reduce heat to low and let the mixture cook about 45 minutes or until ready to serve.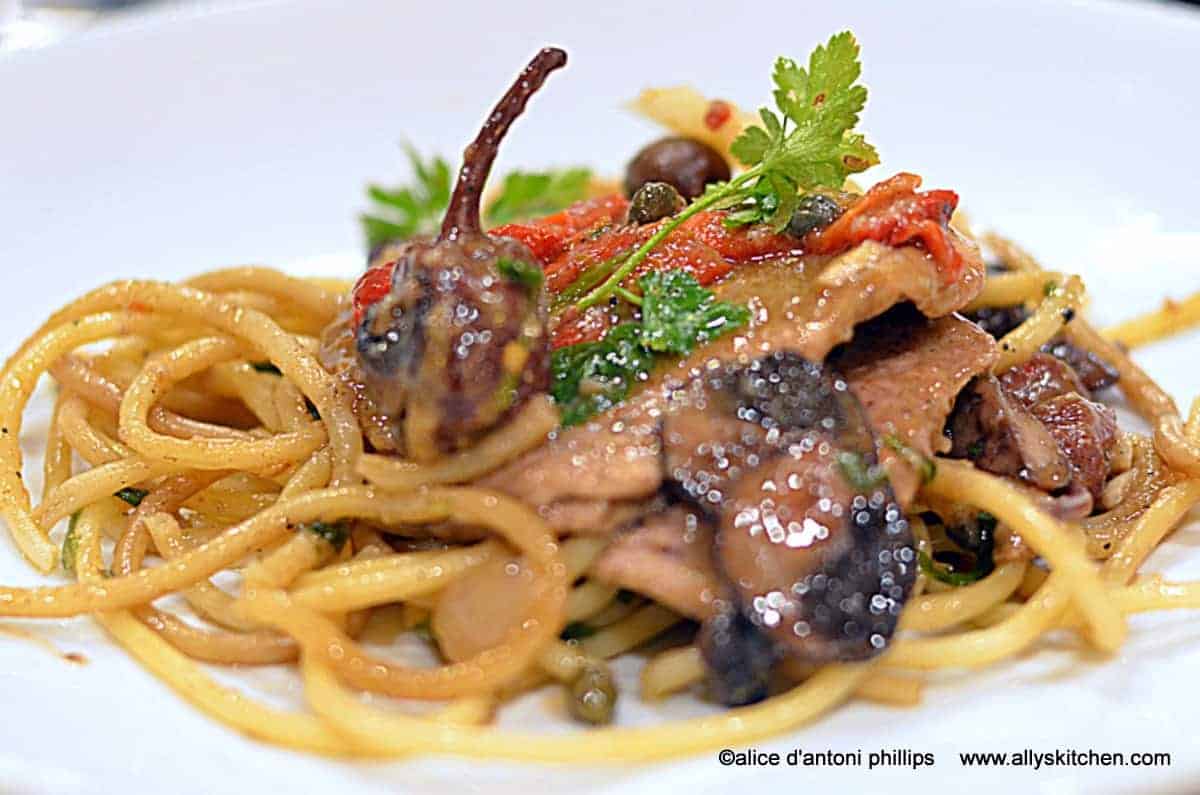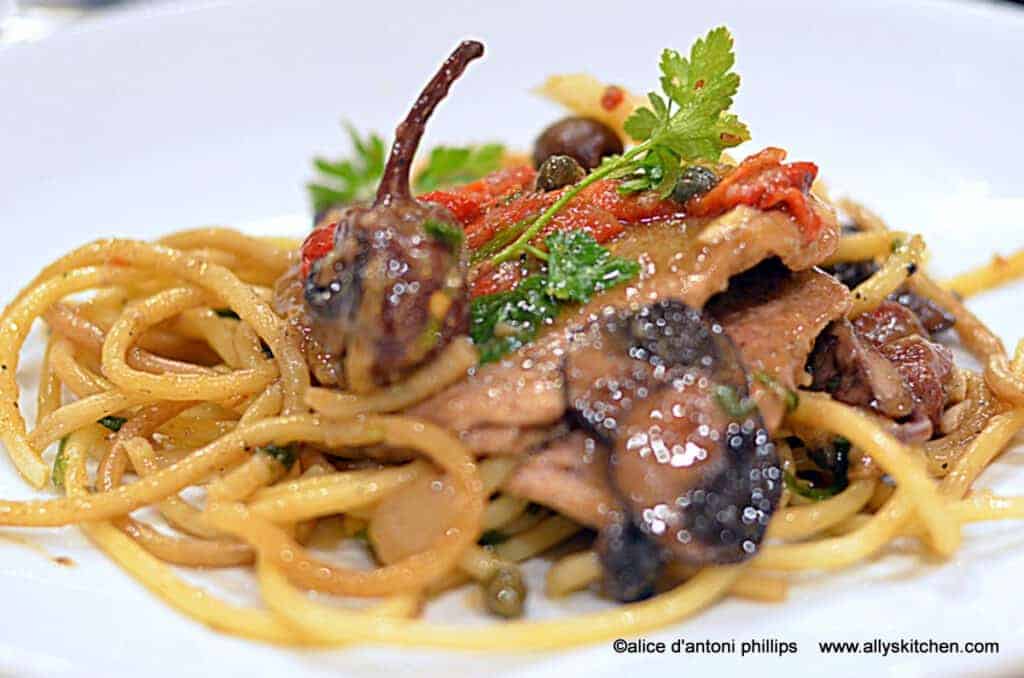 ©alice d'antoni phillips www.allyskitchen.com