brilliant one pan dinners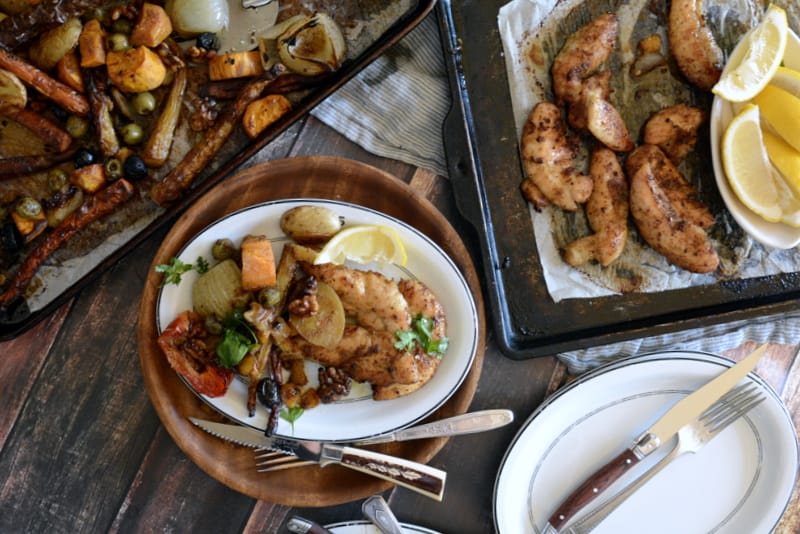 Why do we love brilliant one pan dinners? Less clean up. Less kitchen time. More time with family & friends. And, always deliciously perfect!
One Dish Meal
Who doesn't love less time in the kitchen. Not a stack of dishes, pots and pans to clean up after cooking. And, a delicious meal faster than you can shake a stick at! Well, let's talk one dish meals!
One Pot Dinner
Doesn't matter whether we're using a pot, pan, sheet pan, skillet or whatever. As long as there's just one of it for completing the meal, then all's good!
Sheet Pan Meal
Sheet pan meals are all the rage. They're entirely flexible and there are no rules when you put together your ingredients. Here are a few of my favorites in my collection. And, of course I love chicken!
One-Dish Salmon and Vegetables
Sheet Pan Mango Habanero Chicken Tenders
Skinny Girl Sheet Pan Creole Chicken
Sheet Pan Chicken
You can use virtually any cute of chicken for a one pan dinner. Whatever the cut is will certainly impact how long your chicken needs to cook. Bone in will take longer to cook than boneless. And, if you're using smaller chicken pieces like chunks, tenders or thin cut chicken breasts, then it takes no time at all. Just remember that the internal temp of your chicken needs to be 165.
Sheet Pan Recipes Healthy
Now this type of cooking technique in the oven with a high heat, 400 or 425, really is one way to make your finished dish healthier. So doesn't matter if you're using chicken, pork, salmon, shrimp, fish filets, whole fish, whatever, the sheet pan meals in the oven are a sure-fire way to eat healthier.
Veggie Sheet Pan
I love making a big pan of roasted veggies at the beginning of the week and eating them all through the week. They're perfect cold, room temperature or re-warmed. And, these slightly charred and roasted veggies are perfect for breakfast with a fried egg on them!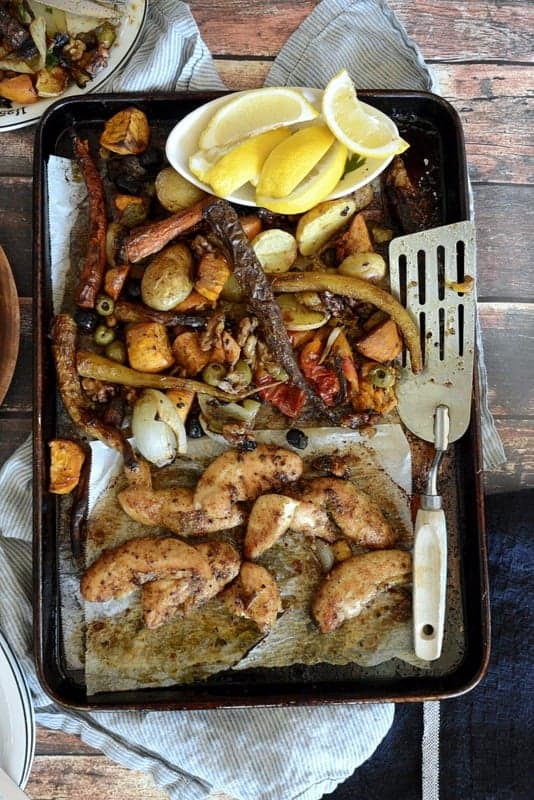 Sheet Pan Dinner
Sheet pan dinners are really the kind of meal that you can fix in no time at all. The big thing is to have your refrigerator stocked with healthy veggies to go with your protein if that's your choice. One even easier sheet pan meal is to use a smoked turkey sausage. Cut it into bite sizes then add in the veggies. This will be done in no time at all. Probably about 20 minutes at 400 to 425 degrees.
One Pan Meals
Salmon is perfect for preparing in a hot oven. And, you well know, it's going to be done in 15 to 20 minutes. So select the vegetables that will cook properly in that amount of time also. Another technique with your veggies is how you slice and dice them, the smaller they are, usually the more quickly the cook. I like to use vegetables like zucchini, squash, peppers, onions, fennel, broccoli, brocollini. If I'm using potatoes I might pre-cook them in the microwave then finish them in the oven since they take a little longer to cook.
One Pan Recipes Healthy
There's nothing healthier than brilliant one pan dinners! And, sitting down to a meal like this Super Easy Oven Baked Salmon will be a hit, plus you'll save time, energy and cleanup!
brilliant one pan dinners