one dish salmon and vegetables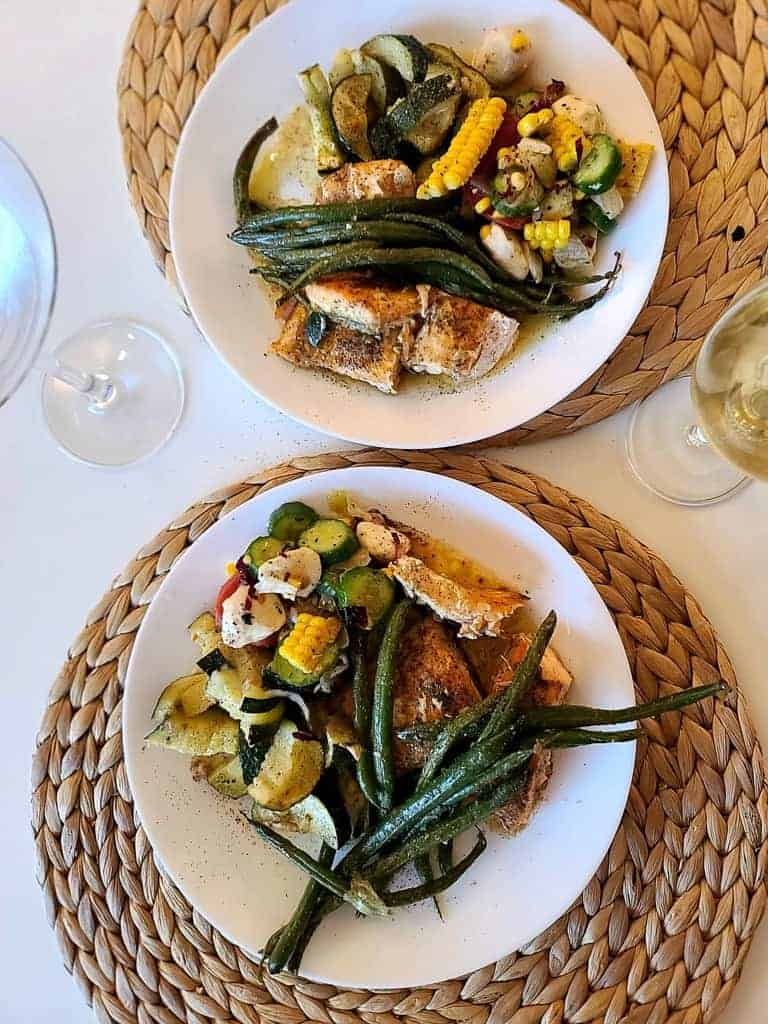 One dish salmon and vegetables might just be your Houdini recipe that dazzles your family and guests with! It's easy and fine dining quality!
Sheet Pan Salmon Dinner
Nothing's easier than a sheet pan salmon dinner. But, in this case we're going to be using a large casserole dish! You could certainly use a sheet pan, but the vegetables and salmon love being snuggled together tightly in the casserole dish!
Salmon with Vegetables
Salmon with vegetables is one easy dish to prepare even if you're home late from work. This entire meal takes about 35 minutes. And, you can choose your own vegetables. Just adjust your baking time depending upon the vegetables.
If you're using potatoes, cut them into smaller bite size pieces, so they'll cook faster. Other options are onions, tomatoes, carrots, brussels sprouts (sliced in halves), asparagus, chopped kale/chard and more. If you want peas, you might consider putting them in midway during the baking. They cook rather quickly
Vegetables with Salmon
Vegetables with salmon is one healthy dinner. And, vegetables can be frozen during the winter months if you can't get that fresh squash or zucchini. A medley of frozen vegetables also works!
Oven Baked Salmon Recipe
This oven baked salmon recipe takes no time at all. Your salmon is basically cooked throughout. You can use either skin on or skin off salmon. I used the former for this recipe.
How Long to Bake Salmon at 425
It takes about 20 to 25 minutes to bake salmon in a hot 425 oven. Your salmon is tender moist and cooked throughout. If you like your salmon cooked less, more moist and translucent when you cut into it, then you'll reduce the cooking time. But, your vegetables may need to cook longer.
Healthy Baked Salmon Recipes
Healthy baked salmon recipes make for weeknight dinners that are super quick and easy.
Oven Baked Salmon with Skin
When you have this oven baked salmon this skin, you simply slide the tender flaky meat off the skin. It's not issue at all. But, if you prefer skinless salmon then you'll pay a little more for this convenience.
One Pan Salmon
Honestly, we eat a lot of salmon in my house, so if you're looking for more great easy ideas, check out some of these recipes! They're all 'fine dining' quality! And, you're doing it right at home in your own kitchen!
Honey Mustard Salmon and Walnuts
Thai Mango Baked Salmon
Smoked Paprika Salmon Chunks
Lemon Thyme Salmon
Asian Inspired Salmon and Mandarin Oranges
Super Easy Oven Baked Salmon
oatmeal almond chewies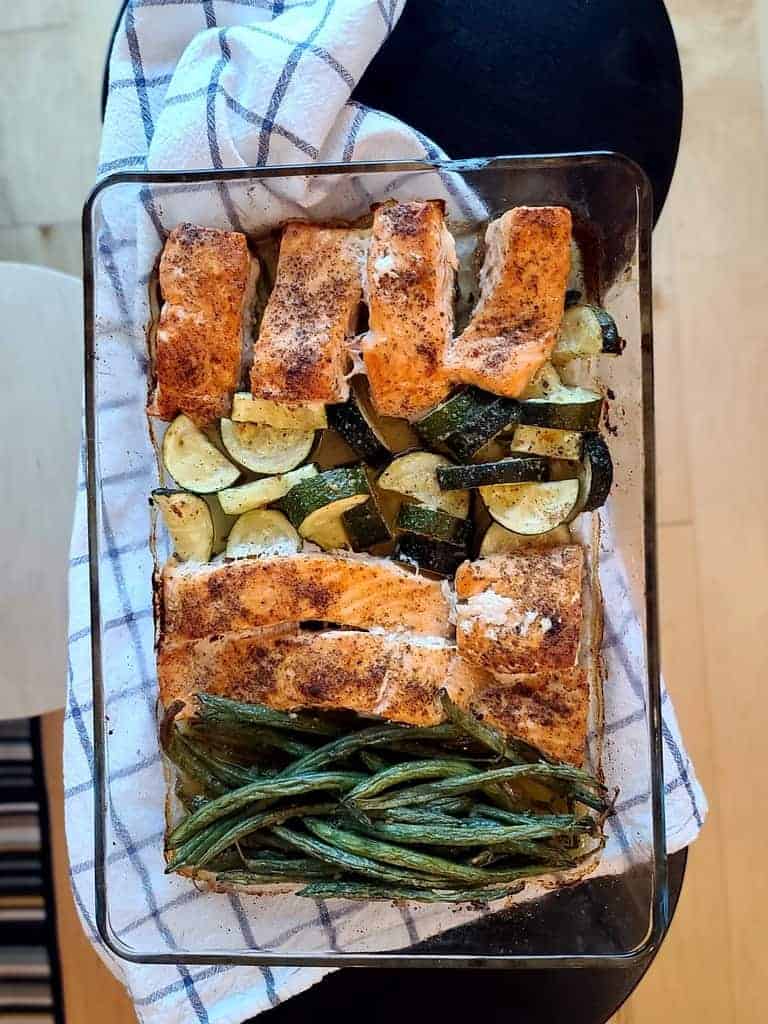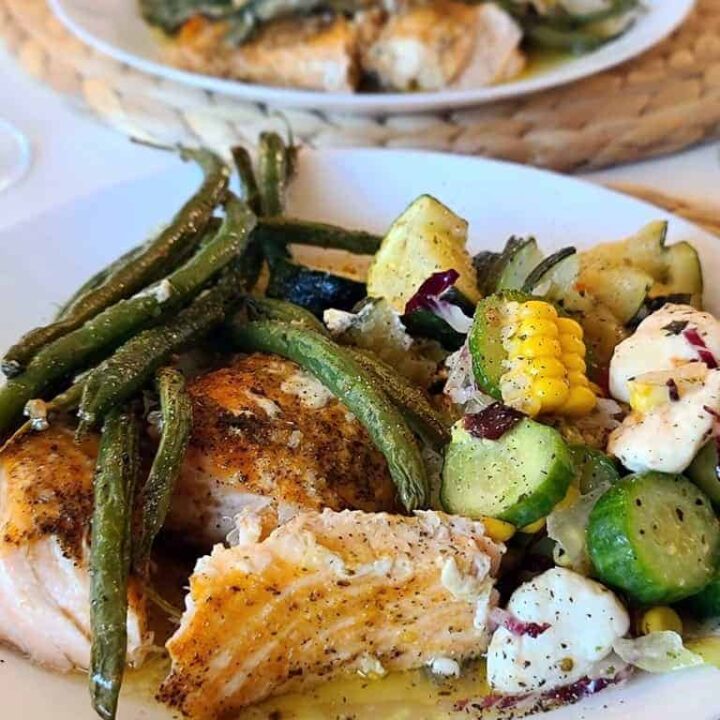 one dish salmon and vegetables
One dish salmon and vegetables might just be your Houdini recipe that dazzles your family and guests with! It's easy and fine dining quality!
Ingredients
Preheat oven to 425
1.5 to 2 lbs. salmon filet, skin on, cut into several serving pieces
16 oz. fresh green beans, rinsed, clean, patted dry
2 zucchini, cut into bite size pieces
1 tsp. sea salt
1 tsp. pepper
2 tsp. Trader Joe's 'Everything but the Elote Seasoning Blend', can substitute Cajun or Creole or similar mixture
1/4 cup Italian with Romano Cheese Dressing
2 Tbl. extra virgin olive oil
Instructions
In an 11 x 17 baking dish, put the beans and zucchini. Add the salmon pieces between the vegetables.

Sprinkle evenly the salt, pepper and seasoning blend on everything. With your hands, toss the beans and zucchini coating them well.

Drizzle on the dressing and then the olive oil.

Cover tightly with foil. Bake in a preheated 425 oven for 25 minutes. Remove the foil and turn oven to broil to brown for about 5 minutes. (Baking dish should be about 15 to 20 inches from broiler.

Remove and let it rest a couple of minutes. Scoop and serve.
Notes
Leftover salmon is perfect for breakfast with eggs. Warm in a skillet and serve with some greens.