skinny girl sheet pan creole chicken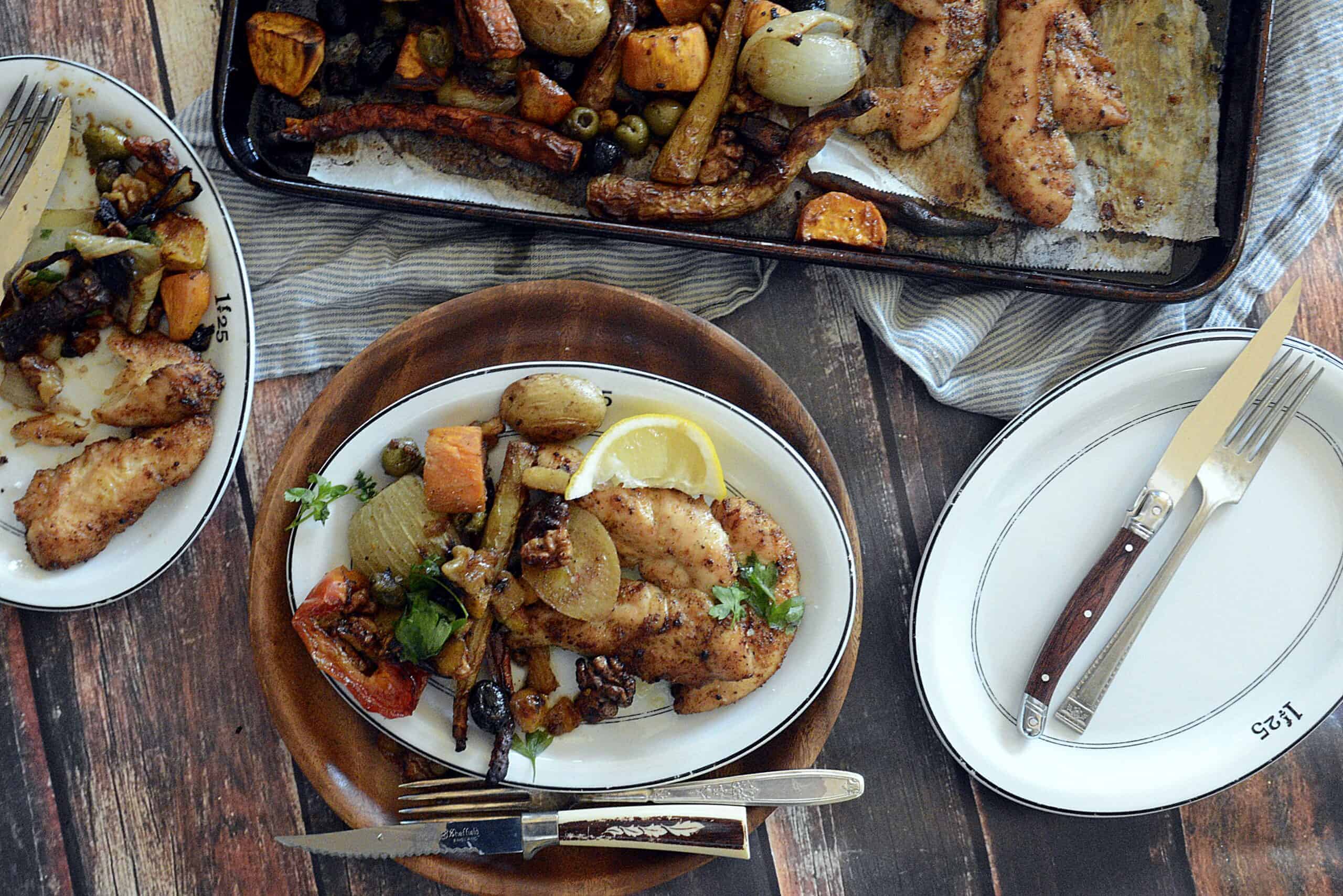 This skinny girl sheet pan creole chicken tenders is all you need to have a healthy one-pan quick chicken dinner tonight!
Spiced Chicken Breast Recipes
Know why I call this recipe skinny girl sheet pan creole chicken? Are you just dying to know why? Well, it's because I'm thinking, 'Girrrrrl! If you wanna get skinny and still be able to eat more and more of something, then you'd better be making this recipe!'
And, if you're looking for more recipes that are low carb and low glycemic, then check out these options!
Cajun Chicken Breasts
Creole chicken tenders is hitting on everything that's groovy and happy for people. Gluten free. Low carb. Low glycemic. Easy to make. No cooking skills required. Little mess and clean up. Pretty darn quick and in your tummy in a flash.
Chicken Sheet Pan Dinner
Yeah, this is skinny girl sheet pan creole chicken. And, you might call it creole chicken tenders. one pan chicken recipes, or healthy chicken recipes. Doesn't matter. It's all of these things!
And, if you're thinking, hummmm, I want a salad, too. Then here's what I'd serve with it. My Mediterranean Pea Salad. It's bursts of chilled peas, onions, tomatoes, and I think it pairs well with the spicy chicken!
Sheet Pan Chicken and Vegetables
And, add to these above mentioned plusses. I'm throwing in three, not just one, not two, but three, surprise ingredients that will make you think, wowzeeee, I never thought of adding this to the recipe! Yes, my bohemian boho food flair just reached an apex with this recipe!
Healthy Chicken Recipes
One more thing, you don't have to be female to do this recipe. This could just as easily be 'healthy skinny boy' sheet pan creole chicken. Regardless of who you are, you are gonna add this to your 'dang, I love this food' recipe ideas!
More Skinny Recipes Coming
I'm creating more of the 'Skinny Girl' series of recipes. Skinny isn't taken 'literally' by any means. It's more of eating healthy. Taking food and creating recipes that can be eaten, sometimes with seconds is you want, and not feel guilty nor pack on unnecessary calories. They're basically the good stuff for you, low glycemic, nutritious, low carbs and more!
Here's another Skinny Girl recipe! Easy Asian Cucumber Salad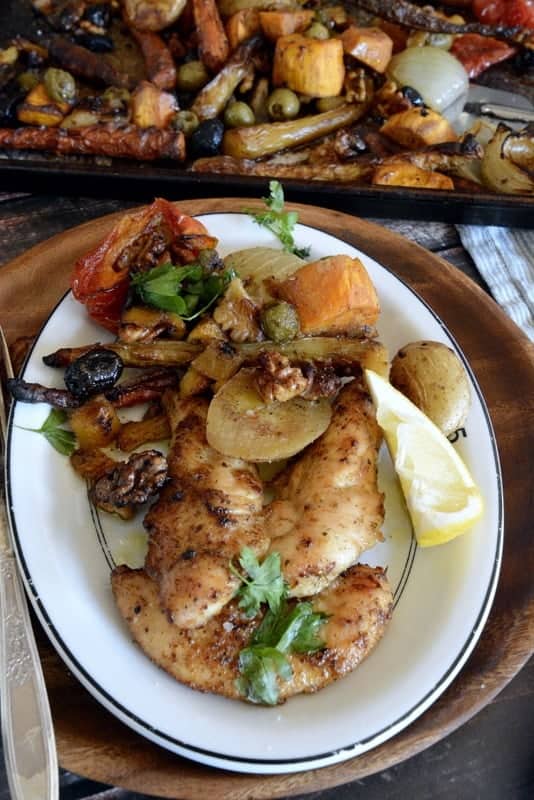 skinny girl sheet pan creole chicken
Ingredients
Preheat oven to 400
1 Tbl. Tony Cachere's Originial Creole seasoning, or similar creole seasoning mixture
1 Tbl. Kirkland Organic No-Salt Seasoning, or similar spice/herb mixture
3 lbs. chicken tenders, boneless skinless
¾ cup olive oil, divided
VEGGIES
6-8 whole carrots
3 cups sweet and baby yukon potatoes, cubed and sliced in halves
1 red bell pepper, quartered
1 sweet onion, quartered
¾ cups olives, pitted, black and green
¾ cup walnuts, whole and halves
2 (4 oz.) Dole Sunshine peaches and mango fruit cups, drained
1 lemon, cut into wedges
½ cup flat parsley, roughly chopped
Instructions
In a small bowl, combine the seasonings. Set aside.
Put the chicken tenders in a large mixing bowl. Drizzle on one-fourth of the olive oil. Sprinkle on half of the seasoning mixture. Toss and blend. Place the tenders on a parchment paper covered sheet pan. Set aside.
In another large mixing bowl, combine the carrots, potatoes, pepper, onion, olives, walnuts peaches and magnoes. Drizzle on one-fourth cup olive oil and the remaining seasoning mixture. Toss and blend. Place on a second parchment paper covered sheet pan.
Place both sheet pans in a preheated 400 oven for about 32 to 35 minutes. When done, remove and cover loosely with foil to let the meat and veggies rest about 5-7 minutes.
Plate and serve with an additional drizzle of olive oil, lemon wedge and parsley garnish.
Notes
If you want to have more golden brown of the chicken and vegetables, turn oven to broil for a couple of minutes for each tray.